Grill up those hamburgers (and hot dogs) this weekend because these gluten free hamburger (and hot dog) buns are the best you'll ever have!
Some of the items linked in this post are affiliate links, meaning, at no additional cost to you, if you click through and make a purchase, I will earn a small commission.
One of my favorite things to eat on Memorial Day Weekend are hamburgers (or cheeseburgers). But for years I've eaten those in a lettuce wrap (which is actually quite good!) or on their own with a knife and fork. But sometimes you just want a bun, like everyone else, am I right?  I've tried so many store bought buns over the years and they're either too hard or too bread-y.
I like a bun that I can squish down like a proper hamburger bun should.  Know what I mean? And these hamburger buns give just the right combination of squishiness and softness for the perfect hamburger buns!  
why you should make this recipe
We should only eat a burger wrapped in lettuce if we WANT to, not if we HAVE to! Not that there's anything wrong with lettuce-wrapped burgers. They're actually quite good. But sometimes we want that soft bread to envelope our burgers instead of crunchy lettuce.
This is the BEST recipe you'll find on the internet for burger buns. They're soft and squishy and they taste AMAZING! No one will know they're gluten free.
It's an easy recipe to make and the dough can be made a few days in advance.
Once baked, the rolls can be frozen for up to 3 months.
here's what you'll need to make these squishy buns
Kim's gluten free bread flour blend — as always, I truly mean it when I say you won't get the same results with another type of flour blend. You may get "okay" results, but nothing quite like this. I strongly suggest you make my flour blend because once you do, you won't want breads made with any other.
Psyllium husks — for this recipe, psyllium husks are, in my opinion, a must. They offer such a great extensibility to these bread rolls. This is in addition to the xanthan gum in the bread flour blend.
Baking powder — in addition to the yeast in this recipe, baking powder is also used to give the gluten free dough an amazingly soft texture and lift.
Sugar — don't be alarmed. There is a LOT of sugar in this entire recipe. BUT, please remember that sugar is not only for sweetness but also for tenderness. And this recipe makes a TON of dough, enough for 15 large buns. Maybe more depending on the size you make them!
how to make gF hamburger buns
Whisk all dry ingredients in large bowl until combined.
Add wet ingredients and knead dough for 5 minutes on medium speed.
Cover and proof until doubled in size.
Refrigerate for at least 6 hours, preferably overnight.
Knead dough on well-floured surface until smooth.
Portion out dough into 3-4 ounce pieces.
Roll into smooth, round dough balls.
Place about 2 inches apart onto parchment-lined baking sheets.
Cover loosely with plastic wrap and proof until nearly doubled in size.
Preheat oven to 375 degrees F.
Brush each hamburger bun with an egg wash. If desired, sprinkle with sesame seeds.  
Bake rolls for 15-20 minutes, or until puffed and golden brown.
Remove from the oven and brush the rolls with melted butter.
But Wait! There's a Whole Cup of Sugar in the Dough!! Are you serious?
First and foremost, my mission is to try to make gluten free recipes that are just as good (or better) than those things we remember eating before going gluten free. That rarely means healthier. This is not a blog for healthy gluten free recipes.
I know one cup of sugar sounds like a lot. But you have to remember we're trying to make something the same texture that we remember it being back in our BC (before Celiac) days. I've found that sometimes it requires more drastic measures.
Take a look at the amount of yeast in this recipe. It's more than double the amount that is usually in a bread recipe of any kind (regular OR gluten free). A cup of sugar does add a little sweetness to the dough, but more importantly it feeds the yeast. This is crucial in order to create the texture we really want–light, fluffy, soft–all those qualities of gluten-filled bread that we miss so much.
Also look at the amount of servings made from this one recipe. Using my 3-ounce starting point, we can make 15-16 gluten free hamburger (or hot dog) buns. In just ONE recipe!! That's a whole lotta buns if you ask me! Are you gonna sit and eat all of those at once? Most likely you'll have a bun with your burger or dog and then freeze the rest individually. They'll be resting peacefully awaiting the next time you have a burger or dog.
I have tried numerous times to reduce the sugar in this dough and every single time the texture has been compromised. Sure, they might come out "okay" and we'll have buns that are "decent." I don't know about you, but "decent" isn't a word I want to describe something I'm eating. I want it to "heavenly" or "amazing" or "I can't tell they're gluten free." My best test is to feed my gluten-eating family, especially my husband, with my gluten-free creations. If they pass the husband test and he can't tell they're gluten free, I know I've done well!
not a hamburger person? make hot dog buns instead!
Shaping hot dogs buns is just as easy. You can roll them into individual ropes, but I wanted a split top bun and I was lazy. So I found my method a little easier.
Begin by rolling out your dough into a rectangle that's about 1/2-inch thick. Cut the dough into strips that are roughly equal in size. Lay them on their side (cut side up) on a baking sheet. Press down lightly to make an evenly sized roll that's about one inch high. Do this with the rest of the rolls, spacing about 1/2 inch apart. These will end up touching when they're fully risen and baked, but that's what we want for nice, soft-sided rolls.
more gluten free bread recipes to try
Get your grill on this weekend and have that hamburger with a bun that squishes down just like we want. Or have a hot dog without needing a knife and fork. Or just eat one of each and call it a day!!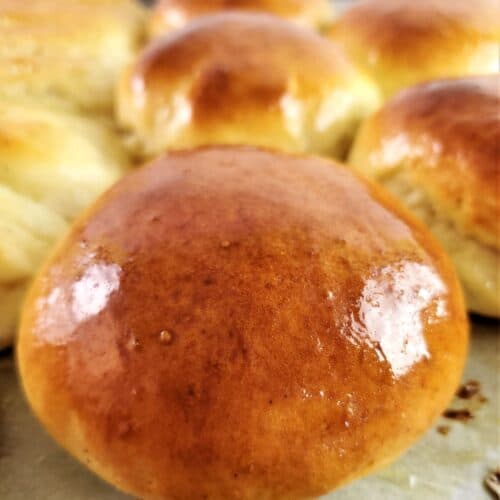 Gluten Free Hamburger Buns
Grill up those hamburgers this weekend because these gluten free hamburger buns are the best you'll ever have!!
Ingredients
DOUGH:
3½

cups (495g)

Kim's gluten free bread flour blend

2

tbsp (10g)

whole psyllium husks or 1 tbsp plus 1 tsp psyllium husk powder

1

cup (200g)

granulated sugar***

(see notes)

1¾

tsp

baking powder

2

tbsp plus 1½ tsp (24g)

instant yeast

1

tsp

kosher salt

1¼

cups (300 ml)

whole milk

(non-dairy milk can be substituted)

2

large

eggs, at room temperature

¾

cup (1½ sticks or 169 g)

butter, melted or very soft

1

large

egg for egg wash

2-3

tbsp

melted butter for brushing onto baked rolls
Instructions
Blend the dry ingredients in the bowl of a stand mixer using a whisk or the paddle attachment. With the mixer running on low, slowly add the milk, followed by the eggs and the butter.

Turn the mixer up to medium and beat for about 5 minutes. The dough should be smooth and somewhat stretchy, but still pretty fluid and not at all like bread dough should be. More like a slightly thinned out cookie batter.

Remove the paddle attachment and scrape the dough together into a rough ball or mound using a bowl scraper or spatula. Cover the bowl with plastic wrap and place it in a warm, draft-free area for about 2 hours, or until at least doubled or even tripled in volume. It should be fluffy and almost look like frosting.

Refrigerate for at least 6 hours, but preferably overnight.
SHAPING HAMBURGER BUNS:
Divide the dough into approximately 3-ounce sized portions and roll each portion into a tight ball (see my video for shaping Hawaiian rolls here).

Place on parchment paper-lined baking sheet, spaced about 2 inches apart. Flatten each to about 1/2-inch thick so they'll rise up and not out. Cover loosely.
SHAPING HOT DOG BUNS:
Roll dough out to a rectangle that's about ½-inch thick. Cut into strips with a bench scraper or sharp knife. Place each strip on its side (cut side up) on the baking sheet and press down lightly until they are about one-inch thick.
PROOFING AND BAKING THE BUNS:
Cover the buns with plastic wrap loosely and allow to rise until about doubled in size, which can take anywhere from a half an hour to an hour and a half, depending on the temperature of your proofing area. When buns are just about finished rising, preheat oven to 375° F.

Make an egg wash by whisking one egg with a splash of water. Brush this onto each roll. Sprinkle with sesame seeds, if desired.

Bake rolls for about 15-20 minutes, or until golden brown and they spring back when lightly touched.

Remove from the oven and brush with melted butter. Allow to cool before slicing and toasting or grilling for your hamburgers and/or hot dogs.
Notes
Buns can be kept in a ziptop bag at room temperature for 2-3 days.  Or they can be frozen, individually wrapped and then placed in a larger ziptop bag, for up to 3 months.  
To refresh rolls and soften (if not eating fresh), cut in half (or down the middle for split top hot dog buns) and place in a skillet with a little melted butter.  Cover the skillet and place over low heat and lightly toast.  Or steam wrapped in a damp paper towel in the microwave for 15-20 seconds.  Or wrap several buns in aluminum foil and place in a 350 degree F oven and bake for about 10-15 minutes.  
***If you hit that "jump to recipe" button and didn't see in the post where I explained the use of a whole cup of sugar, please go back through the post and read that.