These Gluten Free Crusty French Rolls are the perfect rolls to serve with any dinner. They're crusty on the outside, fluffy on the inside, and so easy to make!
Some of the items linked in this post are affiliate links, meaning, at no additional cost to you, if you click through and make a purchase, I will earn a small commission.
I love my Gluten Free Hawaiian Rolls. They are soft and squishy and absolutely perfect, and no one ever believes me when I tell them they're gluten free. They're a little bit sweet, just like a good Hawaiian roll should be. Nine times out of ten these are the rolls I make when we're having a meal with rolls. But occasionally I'd like a different kind of roll. Something that's not the usual soft and squishy enriched roll. Something that would be sturdy enough to hold up to perhaps mashed potatoes and gravy.
If you've made my Gluten Free Artisan Bread, you already know that it's a very crusty bread. So it would only make sense to use that very same dough to make these crusty French rolls. I love how we get the best of both worlds with these rolls all in one bite. They still have that crustiness that's so beloved from the original bread recipe, but at the same time you get the softness of the interior of the roll. Slathered with butter or maybe dipped in gravy, these crusty rolls are the perfect roll to compliment any meal.
here's what you'll need
Kim's gluten free bread flour blend — the main ingredient in all of my gluten free breads, it's required to get results just like what I demonstrate.
Honey — this little bit of honey helps feed the yeast. It's not normally in lean bread doughs, but this is gluten free baking and sometimes we need a little extra boost to get things going.
Olive oil — also not typical in lean doughs, but the little bit of fat adds flavor to the dough and helps tenderize the crumb.
Xanthan gum — a small amount of additional xanthan gum added to this dough recipe helps with the stretch of the dough.
Whole psyllium husks — this is actually an optional ingredient, and you can also substitute whole psyllium husks with psyllium husk powder (see the recipe card for amounts). Some other gluten free bloggers may tell you that you can't knead gluten free bread dough without it, but I'm here to tell you that you can IF you use my bread flour blend. However, psyllium husks do add a little extra oomph to the dough, allowing it to be stretched a little further.
Instant yeast — I always use instant yeast in all my breads, unless I'm making sourdough. If you can't get your hands on instant yeast, you can substitute with active dry yeast, but you'll need to activate it first. Make sure you use warm water (between 100-110 F) and dissolve the yeast with the honey in the warm water until foamy. Otherwise, your water can be at room temperature. No need to warm it.
Kosher salt — I've heard from several people stating there's not enough salt in this recipe, so I've tested it with one teaspoon more salt and it made a big difference.
divide and conquer
After you've made the dough, it literally takes about 5-10 minutes to divide the dough and shape the rolls. Then it's all just about inactive time waiting for the rolls to rise.
Divide the dough into equal amounts. I prefer a smaller roll for dinner rolls (2 ounces), but you can also make these larger for use as, say, a burger or sandwich bun (4 ounces). It helps to use your scale to weigh each, but you can also eyeball it if you're good at that sort of thing (I'm not, lol!)
Shape each into a tight roll using a non-floured surface (you need the friction between the roll and the surface). Cup your hand around the dough, like a backwards "C", and push and roll it around within your cupped hand until it forms a tight round ball.
Place rolls about 4 inches apart on a parchment-lined baking sheet and cover loosely with plastic wrap. Allow the rolls to rise until doubled in size in a warm place, such as a turned off oven (turn your oven on to the lowest setting for a few minutes and then turn off).
When fully risen, slash the top of each roll with a sharp knife or a bread lame (affiliate link). Place sheet tray in the oven and spray the rolls liberally with water (to create steam). Bake at 450 degrees F for 10-12 minutes, or until golden brown and crusty.
crusty rolls faqs
What kind of bread has a crunchy crust?
Usually it's a lean bread, meaning there are little to no enrichments, such as butter, eggs, etc.
How do you get a crusty exterior on crusty French rolls?
Steam. It's all about adding steam to the oven. In commercial ovens, they have steam injectors. In our home ovens, there are several ways to add steam. Toss a few ice cubes on the bottom of your oven, add very hot water to a shallow pan on the bottom rack, and/or spray the rolls directly with water using a spray bottle.
How can I re-crisp crusty rolls?
Here's the best method I've found. It sounds weird, but it totally works. Run each of the rolls under your kitchen faucet very briefly, just to wet the exterior. Place in a hot oven (400 degrees F) for just a few minutes (5 tops). They will crisp right up!
more gluten free rolls recipes
Take some of that dough that's already sitting in your fridge and try these Gluten Free Crusty French Rolls with your next meal. You'll be glad you did when you take that first bite!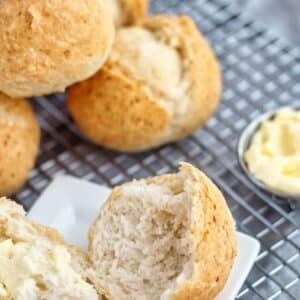 Gluten Free Crusty French Rolls
These Gluten Free Crusty French Rolls are the perfect rolls to serve with any dinner. They're crusty on the outside, fluffy on the inside, and so easy to make!
Instructions
Make Bread Dough
In the bowl of a stand mixer fitted with the dough hook, add all dry ingredients and whisk using a handheld wire whisk. Add the honey, olive oil, and water. Place on mixer and mix briefly to incorporate. Turn the mixer up to medium high and knead for 5 minutes. Remove the dough hook and scrape the dough into a cohesive mass using a plastic dough scraper or a rubber spatula (or scrape into another bowl). Cover and place the bowl in a warm, draft-free area and allow it to rise (proof) for 1-2 hours, or until doubled in volume.

Refrigerate for at least 6 hours, preferably overnight, but up to 10 days. 

Remove half of the dough from the fridge (or more) and knead it until smooth on a well-floured surface. Divide the dough into 2-4 ounce pieces (2 ounce for small rolls and 4 ounce for larger rolls to be used as buns).

Flatten each piece slightly and pull in the dough from the sides to create a taut dough. Pinch the dough together and turn over to where the pinched dough (the seam) is on the bottom. Put ball of dough on a smooth surface that isn't floured (the flour will cause the dough to slide around and you want friction). Put your hand over the dough with the outer edge of your palm where your pinky finger is creating a "cage" over the roll (the side of your hand should always touch the surface of the counter). Move your hand in a counter clockwise direction, pushing the dough around inside the "cage" until the roll is nice and round. If it sticks a little, that's okay. Just use your bench scraper to release it from the surface.

Place rolls 3-4 inches apart on a parchment-lined baking sheet and cover loosely with plastic wrap. Allow to rise in a warm, draft-free area until puffed, but not necessarily doubled in size. This will take anywhere from 30 minutes to an hour or possibly two, depending on the temperature of your proofing area (don't be surprised in winter months if it takes longer–this is perfectly normal, especially considering the rolls come straight out of the fridge before shaping).

Preheat oven to 450° F. When rolls have risen, slash the tops of each with a bread lame or sharp knife.

After placing the rolls in the oven, immediately create steam. This can be done by pouring very hot water into a shallow pan on a lower rack, throwing a couple of ice cubes directly onto the floor of your oven, or spraying the rolls directly with water using a spray bottle. Immediately shut the oven door and bake the rolls for 10-12 minutes, or until golden brown and crusty.
Notes
You can make these rolls without psyllium husks.  You will need to reduce the amount of water to 1 1/2 cups (360ml).
Store rolls in an airtight container at room temperature for 2-3 days.  Rolls may also be frozen, well wrapped, for 3-6 months.  
To reheat rolls, run each roll under running water (sounds weird, but it works) and place in a 400 degree oven for 5 minutes.  
Did you make this recipe? Snap a pic and tag @letthemeatglutenfreecake on Instagram so I can see your creation!