My gluten free yeasted naan bread is just as soft and delicious as what you'll find in Indian restaurants with beautiful charred blisters to boot!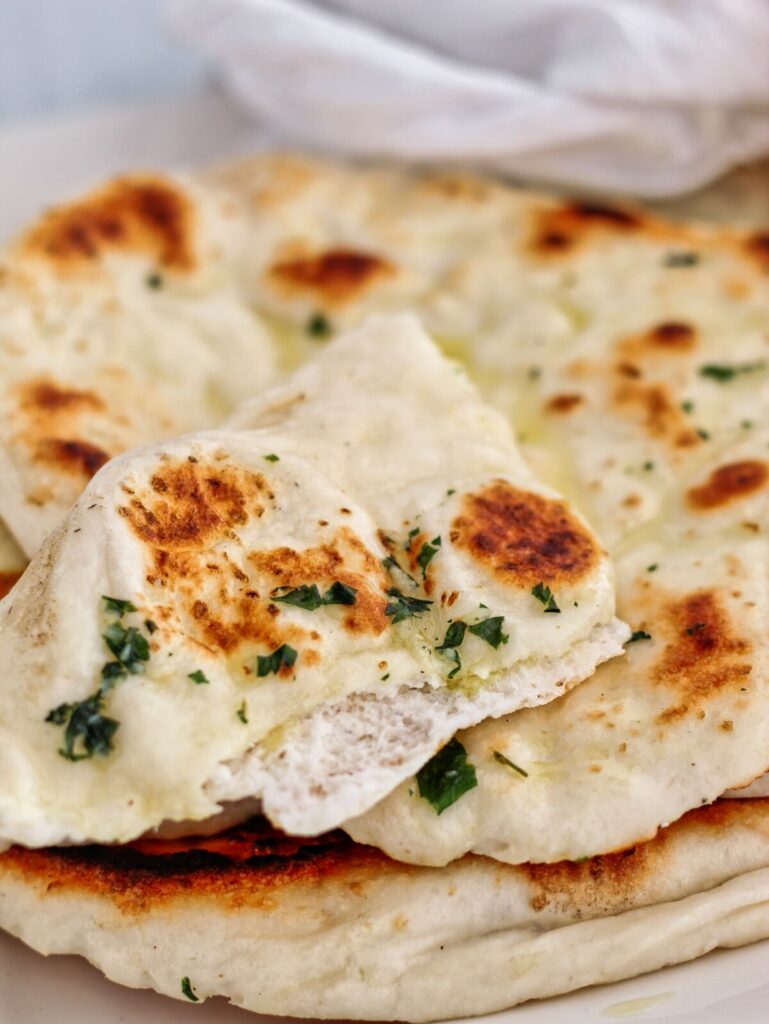 Some of the items linked in this post are affiliate links, meaning, at no additional cost to you, if you click through and make a purchase, I will earn a small commission.
Ahhhh, naan bread. That soft and tangy flatbread always served in Indian restaurants to dip in curries and such. I remember years ago going to one of our local Indian restaurants, pre celiac. We ordered naan and roti as appetizers and they came with some kind of dip I can't remember. I think that was the first time I had true naan and I was hooked from there on out. After that, I'd often pick up those packages of naan from the grocery store to make wraps filled with grilled chicken and vegetables. They were never as good as the Indian restaurants, though, but they were better than nothing.
Now, we've been demoted to nothing. Nothing is what we're offered in the stores and in the restaurants. Unless we're at Disney. The only place I've ever had gluten free naan is at Disney World at Sanaa. They were just "okay", but nothing like I had at that Indian restaurant here in town. The best part of those naan at Disney, however, were the dips. If you ever get a chance to go, check out my review here because even though the naan isn't the absolute best, the dips more than make up for it. Bonus: if you need a travel agent for your Disney trip, contact my sister at Magical Vacation Dreams by Pam Pine. She's the best Disney travel agent there is!
I've actually been making gluten free yeasted naan bread for years now. And it's always been delicious. But I found my old dough very difficult to work with. And apparently so did other people. So I got to work at reimagining a much better recipe. It's not only soft and delicious and better than I could imagine, it's a BREEZE to work with. I was actually able to flip the dough back and forth between my hands to dust off the excess flour (watch the video on my YouTube channel here if you don't believe me)!
what you'll need to make gluten free yeasted naan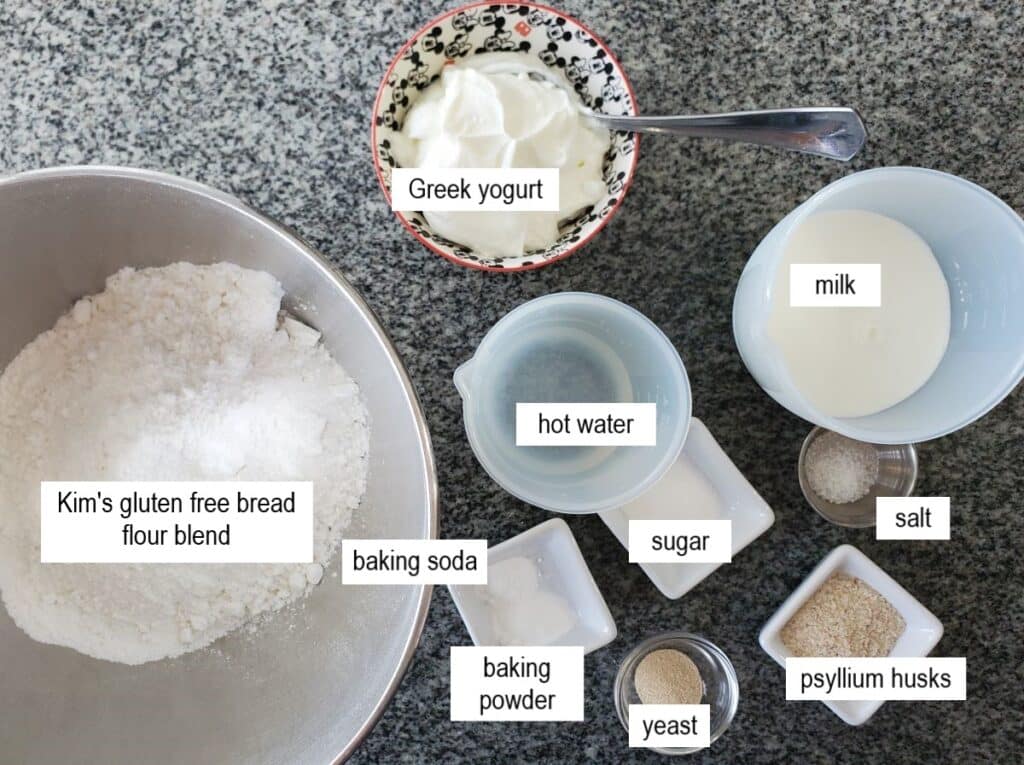 Kim's gluten free bread flour blend — this recipe has only been tested with my bread flour blend.
Greek yogurt — this is what gives naan its characteristic tang and also tenderness.
Baking powder and soda — in addition to the yeast, the baking powder and baking soda offer an extra boost of lift for the ultimate in light and airy naan.
Psyllium husks (affiliate link) — not every gluten free bread requires psyllium husks, but this one definitely benefits from the additional stretch offered by them.
here's how easy it is to make gf naan!
Mix up the dough. Add all the ingredients to a stand mixer (or handheld mixer with dough hooks, or use a Danish dough whisk).
Let the dough rise for about 2 hours, or until doubled in volume.
Refrigerate overnight.
Knead dough briefly on a well-floured surface.
Divide dough into 8 pieces and roll into 1/4-inch thick ovals.
Shake off excess flour by flipping each naan between your hands.
Cover and let rest on the counter for 30 minutes to an hour (mainly to take the chill off and allow them to proof ever so slightly).
Heat cast iron skillet over medium high to nearly smoking (make sure you have good ventilation in your house or open a door or window or run a fan).
Place one naan in skillet and immediately cover.
Set a timer for 2 minutes.
Flip and cover, and "bake" for another 1-2 minutes or until puffed and blistered.
Brush with garlic butter, if desired.
gluten free naan bread faqs
Why is there yogurt in gluten free naan?
Gluten free, and gluten filled, naan almost always have yogurt in the dough because it really creates a soft and fluffy dough and gives that characteristic tang to the naan. The tang also goes really well with curries.
Do I have to brush garlic butter on gluten free naan?
While garlic naan is the most popular type of naan, it isn't the only way to serve it. There are lots of ways to serve gluten free naan. You can leave it plain and dip the plain naan in dips and curries. Or fill it with cheese before it's baked. You can also add herbs and spices to the dough prior to baking.
How long does homemade gluten free naan last?
Gluten free naan will last for 1-2 days if well wrapped. To refresh it and bring it back to its previous fluffy life, you can do one of two things. If you have a gas stovetop, turn one burner on to a medium flame and hold one naan at a time over the flame using long tongs. Flip it back and forth until reheated. You can also heat a cast iron skillet over high heat and reheat one naan at a time in the hot skillet, flipping over a few times to get both sides.
If I don't have a cast iron skillet, can I still make gluten free naan at home?
Yes, you can make gluten free naan in a nonstick skillet if you don't have a cast iron skillet. Follow the same directions as if using a cast iron skillet.
more gluten free flatbreads
You're gonna LOVE this gluten free naan bread!! It's so soft and so versatile (naan pizza for one, perhaps?) you'll be making it all the time 🙂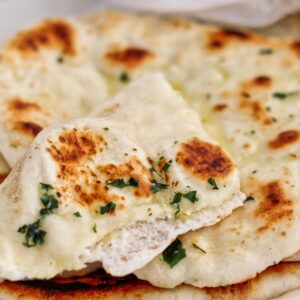 Gluten Free Yeasted Naan Bread
My gluten free yeasted naan bread is just as soft and delicious as what you'll find in Indian restaurants with beautiful charred blisters to boot!
Ingredients
Garlic Butter
4

tbsp (56g)

salted butter

1-2

cloves

garlic, pressed or finely chopped

1-2

tbsp

fresh parsley, chopped
Instructions
In bowl of stand mixer, whisk together flour blend, yeast, psyllium husks, sugar, salt, baking powder, and baking soda. With the mixer running, pour in the hot water, followed by the milk and yogurt, and mix or knead until well combined. Turn the mixer up to medium and mix for 5 minutes. Alternatively, the dough can be mixed vigorously by hand in a large bowl with a Danish dough whisk or with a handheld mixer, preferably with dough hooks.

Remove bowl from mixer and scrape the sides, moving the dough into a cohesive mass in the center of the bowl (or transfer the dough to another bowl). Cover bowl and place in a warm, draft-free area to proof until doubled in size. This should take roughly 2 hours, but it will depend on the warmth of your proofing area. You can speed it along by placing the bowl in a preheated and turned off oven or clothes washer.

Refrigerate dough for several hours, preferably overnight or even up to 3-5 days ahead.

Remove dough from refrigerator and knead briefly on a well-floured surface until smooth. Divide into 8 equal pieces (if weighed, they should weigh around 52 grams each). Shape each piece into a round and then roll, using a rolling pin, into an oval that's ¼-inch thick, but no thinner. Cover rolled naan with plastic wrap or large towels and allow to rest and come to room temperature for 30 minutes to an hour.

While waiting for the naan, make the garlic butter by melting butter in small saucepan and adding garlic. Saute briefly and sprinkle in parsley. Swirl pan to fully combine, not letting garlic brown. Remove from the heat and set aside.

Heat a cast iron or nonstick skillet over medium-high heat until nearly smoking. If you don't have proper ventilation, make sure to open a window/door or turn on a fan as it may get smoky.

Place one naan in the hot skillet and immediately cover it with a lid. Set a timer for 2 minutes. Remove the lid, flip the naan over, and replace the lid. Continue to "bake" for 1-2 more minutes, or until puffed with charred blisters on the bottom. Remove naan from the skillet, wrapping it in a tea towel until you finish "baking" all the other naan.

Brush garlic butter on each naan and serve warm or at room temperature.

Store wrapped in foil on counter for just a few days. To reheat, preheat oven to 350° and reheat naans wrapped in foil for about 15 minutes, or until heated throughout. May be frozen well wrapped for 3 months.
Adapted and inspired by Half Baked Harvest's Homemade Naan
Gluten Free Yeasted Naan was originally posted on May 13, 2019 and has been updated with an entirely new recipe, new pictures, and a video.