A tangzhong makes these pillowy soft gluten free dinner rolls the best ever! Soft, fluffy, buttery--what more could we ask for?
Some of the items linked in this post are affiliate links, meaning, at no additional cost to you, if you click through and make a purchase, I will earn a small commission.
This recipe has been on the blog for three years (under a different name) and since that time, I've learned so much more about baking gluten free. I had worked on this bread dough for years when I finally posted it for the first time. It's a dough that's not too sweet, but something that creates soft, fluffy rolls that will serve as simple dinner rolls, buns for hamburgers, hot dogs, or sandwiches.
I wanted to update this recipe with the addition of psyllium husks for better stretch and workability, and also to give it a refresh with fresh new pics and a video!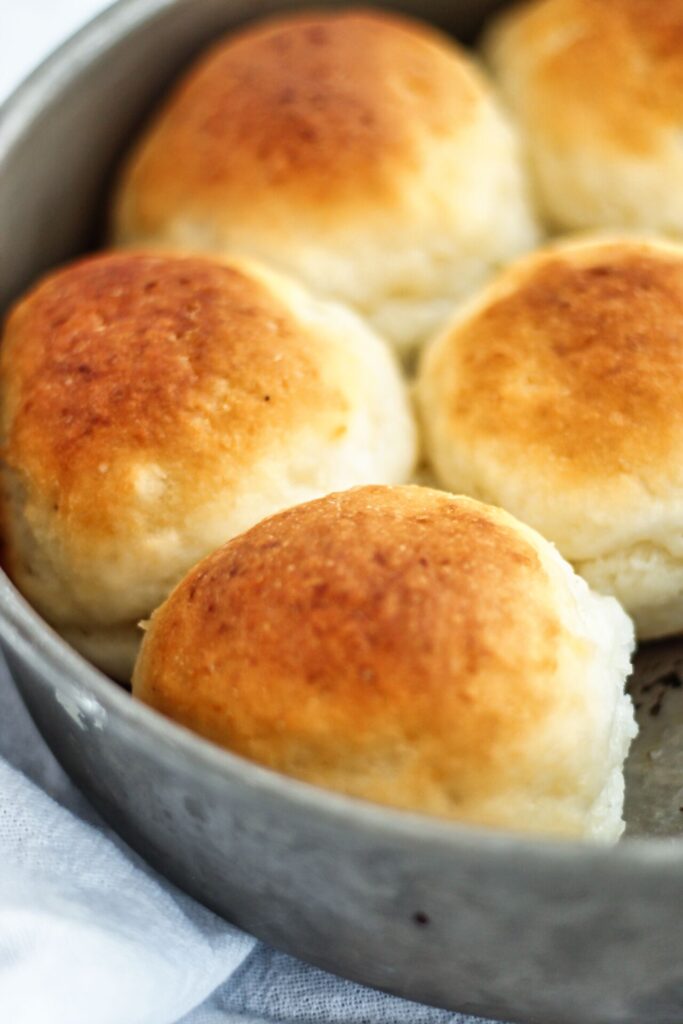 The Ingredients You'll Need to Make These Rolls
Milk
Granulated sugar
Salt
Egg
Butter
WHAT'S THE MAGIC THAT MAKES THESE ROLLS SO SOFT?
If you've made my gf white sandwich bread or Olive Garden style breadsticks, then you already know about a tangzhong and the magic that it works in bread baking. This, combined with some dry milk powder and a few enrichments, is what makes these rolls so darn soft.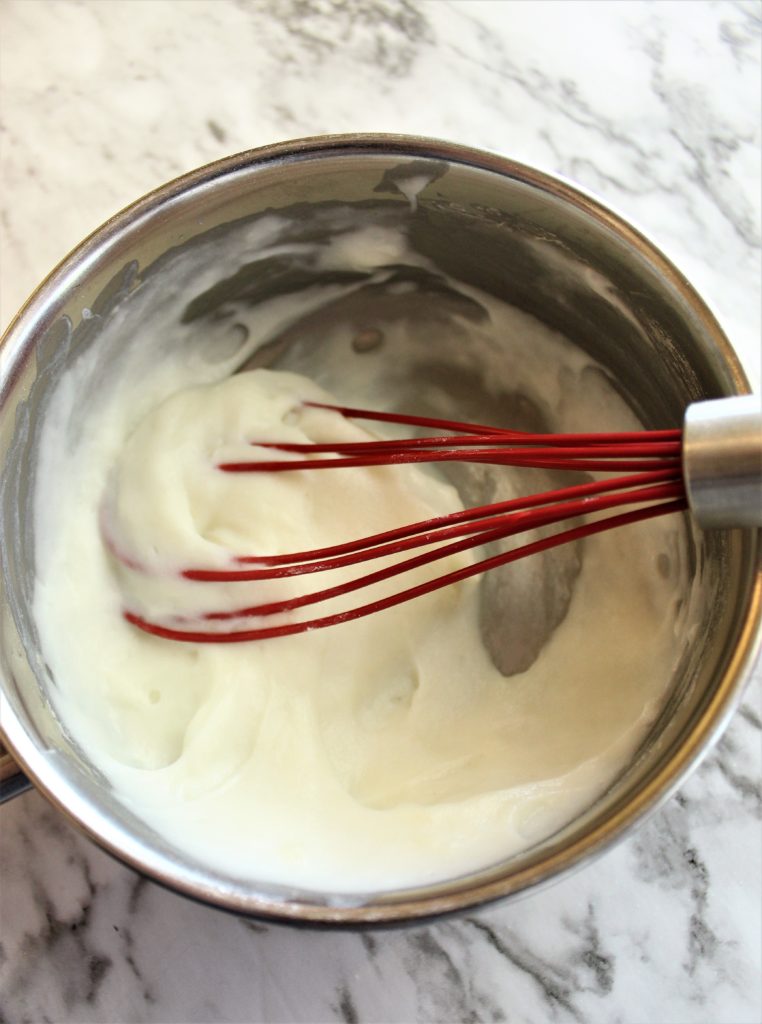 To recap what a tangzhong is, it's when a small amount of the flour from the bread is cooked with a small amount of liquid (milk or water, or both) and it creates a thick paste. This paste pre-gelatinizes the starches in the flour, which means they can absorb more liquid. It's able to hold onto that extra liquid throughout the entire bread making process, which helps these rolls in a couple of ways:
The dough is less sticky and easier to knead and work with.
The rolls may rise higher due to the increased liquid causing more steam.
Because the bread retains more liquid while baking, it's able to stay soft and fresh longer.
How to Make the Rolls
Make the tangzhong by whisking the tangzhong ingredients in a small saucepan until they come together into a thick paste. Set aside to cool slightly.
Whisk together the dry ingredients for the rest of the dough in the bowl of a stand mixer.
Using the dough hook, begin mixing and add the milk, egg, and butter until a dough forms.
Add the tangzhong and turn up the speed to medium high. Knead for 5 minutes.
Cover dough and proof until doubled in size. Refrigerate overnight.
Dump dough onto a well-floured surface and knead until smooth. Separate into small portions for rolls and shape as desired.
Place on parchment-lined baking sheet and cover loosely with plastic wrap.
Proof until nearly doubled in size.
Brush rolls with melted butter and bake until golden brown.
Brush again with melted butter as soon as they come out of the oven.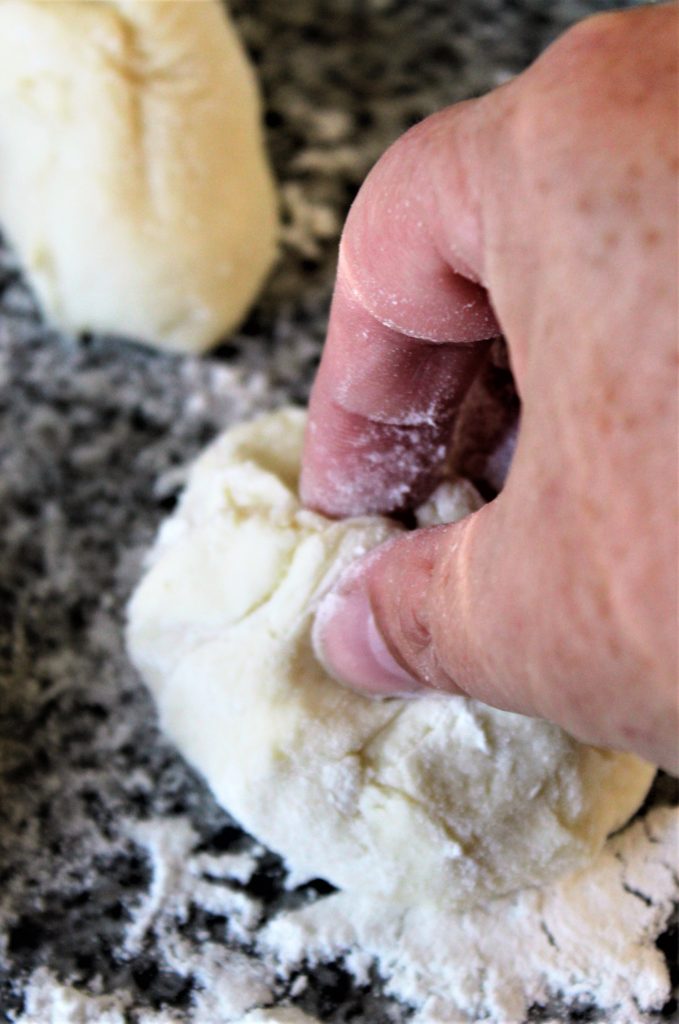 What I love so much about these rolls is that they're not "bready." I'm not quite sure how to explain what I mean other than if you've ever had a Walmart brand (Sam's) gluten free hot dog bun, you know what I'm talking about. It's pretty soft, but there is just SO MUCH BREAD!!! You almost have to take half the bread off the bun in order to eat a regular hot dog. These are light, not too "bready" and soft as can be!!
Soft Dinner Rolls FAQs
Can I Shape These Rolls Into Buns for Hamburgers or Hot Dogs?
Absolutely! For hamburger buns, divide dough into 3-ounce portions and space about 2 inches apart on a parchment-lined baking sheet. Proof and bake as directed in recipe. For hot dog buns, roll 3-ounce pieces into ropes and place about 1 inch apart on parchment-lined baking sheet. Proof and bake as directed in recipe.
How Long Will These Rolls Last?
Because of the tangzhong, these rolls will last much longer at room temperature, up to five days! Keep them in a sealed ziptop bag and they will remain soft for that time, without the need for reheating (unless you want to serve them warm).
I'd Like to Add Herbs/Spices. Any Ideas?
Add chopped fresh herbs (rosemary, parsley, thyme, basil, etc) to the dough, or after baking brush the rolls with a mixture of melted butter and chopped fresh herbs. Mix honey and cinnamon into softened butter and serve with warm rolls.
How Can I Make These Rolls in Advance?
To freeze unbaked rolls, shape and place in baking pan. Wrap baking pan with plastic wrap and foil. Freeze for 2 months. Thaw in fridge overnight and then remove from fridge and allow to rise until doubled in size before baking. To freeze baked rolls, wrap individually in plastic wrap and store in a gallon ziptop bag for 2 months. Wrap rolls in foil and reheat at 300 degrees F for 15 minutes.
For gluten free soft dinner rolls that will stay soft for days, you've come to the right place!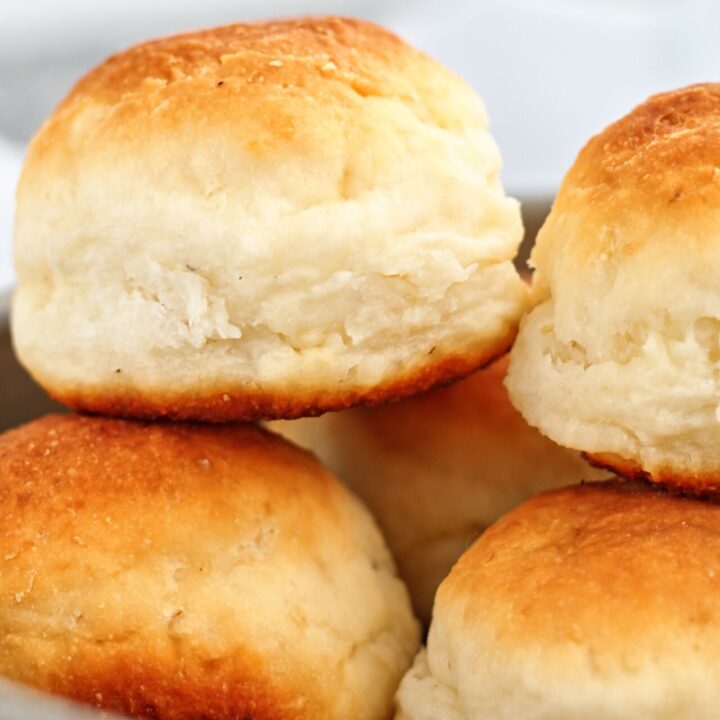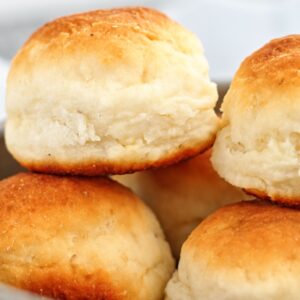 Pillowy Soft Gluten Free Dinner Rolls
Who says we can't have the softest gluten free rolls ever? Not me...anymore!! These rolls will blow your mind and make you question whether you're actually eating the real deal. Soft, fluffy, buttery--what more could we ask for in a gluten free roll?
Ingredients
FOR BRUSHING ONTO ROLLS
2

tablespoon

butter, melted
Instructions
FOR THE TANGZHONG
In small saucepan, add milk, water, and flour and whisk to combine.  Continue whisking over medium low heat until mixture starts to get very thick and paste-like.  Remove from heat and set aside to cool slightly.
FOR THE DOUGH
In the bowl of stand mixer, add flour, sugar, yeast, psyllium husks, dry milk, and salt.  Whisk to combine.  With mixer running on low speed with the dough hook attached, add the butter and then slowly add milk. Add egg and mix briefly. Stop mixer and add tangzhong. Increase the speed to medium high and knead for 5 minutes.  

Scrape dough together and cover bowl (or transfer to another bowl). Place in a warm, draft-free area and allow to proof until doubled, 1-2 hours.  Refrigerate dough overnight (at least 8 hours).   

When ready to make rolls, remove dough from refrigerator and dump onto a well-floured surface.  Knead until smooth, adding additional flour as needed to create a smooth, less sticky dough.  
SHAPING ROLLS
Divide dough into portions.  For dinner rolls, I divide into 2-ounce pieces. If making hamburger or hot dog buns, 3-4 ounces is standard. Flatten each piece slightly and pull in the dough from the sides to create a taut dough. Pinch the dough together and turn over to where the pinched dough (the seam) is on the bottom. Put ball of dough on a smooth surface that isn't floured (the flour will cause the dough to slide around and you want friction). Put your hand over the dough with the outer edge of your palm where your pinky finger is creating a "cage" over the roll (the side of your hand should always touch the surface of the counter). Move your hand in a counter clockwise direction, pushing the dough around inside the "cage" until the roll is nice and round. If it sticks a little, that's okay. Just use your bench scraper to lift it up and place it into a prepared pan*.   

Cover rolls with plastic wrap and place in warm, draft-free area to rise until not quite doubled in size, 30 minutes to an hour.  Before baking, brush rolls with melted butter.  Bake in a preheated 350° oven for about 20 minutes, or until golden brown and they bounce back when lightly touched.  Brush with remaining melted butter and, if desired, cover with a towel to further soften the crust.
Notes
*These rolls can be baked in greased round 8-inch cake pans, 8 or 9-inch square baking pans, or 9 by 13-inch rectangular baking pans for soft-sided dinner rolls.  For hamburger buns, place them on a large parchment-lined baking sheet about 2 inches apart. 
You can bake as little or as many rolls as you would like at one time.  For instance, half the dough can be left in the fridge, well covered, and you can shape and bake half one night and half 2-3 days later.  Because of the egg in the dough, you shouldn't hold the dough in the refrigerator for more than 3-4 days.  However, the dough can be wrapped tightly and frozen for 2-3 months.  Thaw in fridge overnight before proceeding with recipe.