Filled with nooks and crannies, this Gluten Free English Muffin Bread is incredibly easy to make and perfect for beginners!
Some of the items linked in this post are affiliate links, meaning, at no additional cost to you, if you click through and make a purchase, I will earn a small commission.
You know how some parts of the country have things that other parts don't? Here's an example: brisket. When I visited my sister in Texas, Texas is THE brisket capital of the world, whereas here in Virginia you mostly find pulled pork. Don't get me wrong. I LOVE me some pulled pork. But ever since I've had brisket, it's my absolute favorite thing. And it's hard to find around here.
Same for English muffin bread. My mom is from Minnesota and every time we'd go up there we'd have English muffin bread. We would toast it for breakfast and it was so crunchy with all those little nooks and crannies, just like an actual English muffin, only in bread form. We loved it, but could never find it here in VB. So we often had my aunt ship it to us…several loaves at a time! My mom would freeze it and we'd pull out slices when we'd want them.
I've reformulated my original gluten free English muffin bread so it will rise taller and be more gassy and full of lots of nooks and crannies. It's SOOOOOOO easy to make and so delicious! This reformulated recipe requires a second rise, but it's minimal and makes such a difference, you won't even care. You'll be eating yummy gluten free bread in no time!
the ingredients needed to make english muffin bread
This recipe is so simple you won't believe it. It starts with some of the basics of bread making, plus a few others:
Kim's gluten free bread flour blend–there really is no substitute for my bread flour blend, but there are some substitutes within the blend itself. You'll find all the info you need on my flour blends page here.
Yeast–the yeast I use can be found on Amazon here. Once I open the package, I store it in the refrigerator in a glass jar with a tight-fitting lid. It can also be stored in the freezer for a few years (yep, years!). Make sure for this recipe you stick with instant yeast, not active dry.
Baking soda — this is what gives the dough that final lift right before it goes into the oven.
how i reformulated this recipe
This bread is different than the original recipe in that it does require two rises. Don't worry, though. The second one takes no time at all because it's jump started by adding the baking soda at that time. Instead of adding the baking soda at the beginning of the recipe, it's added at the end. After the first rise, dissolve it in a very small amount of water and beat it into the risen dough. This will knock all of the air back out of the dough, but don't worry. That's only temporary and the baking soda will activate from here, creating all those nooks and crannies.
Cover the dough again and let it rise once more. This rise, however, will take minutes instead of hours so watch it carefully. Depending on the warmth of your rising area, it could take as little as 20 minutes! Have your oven preheated because we want to get it into the oven as quickly as possible. While this is an extra step from my original recipe, it's so minimal that you'll be done from start to finish in under 3 hours!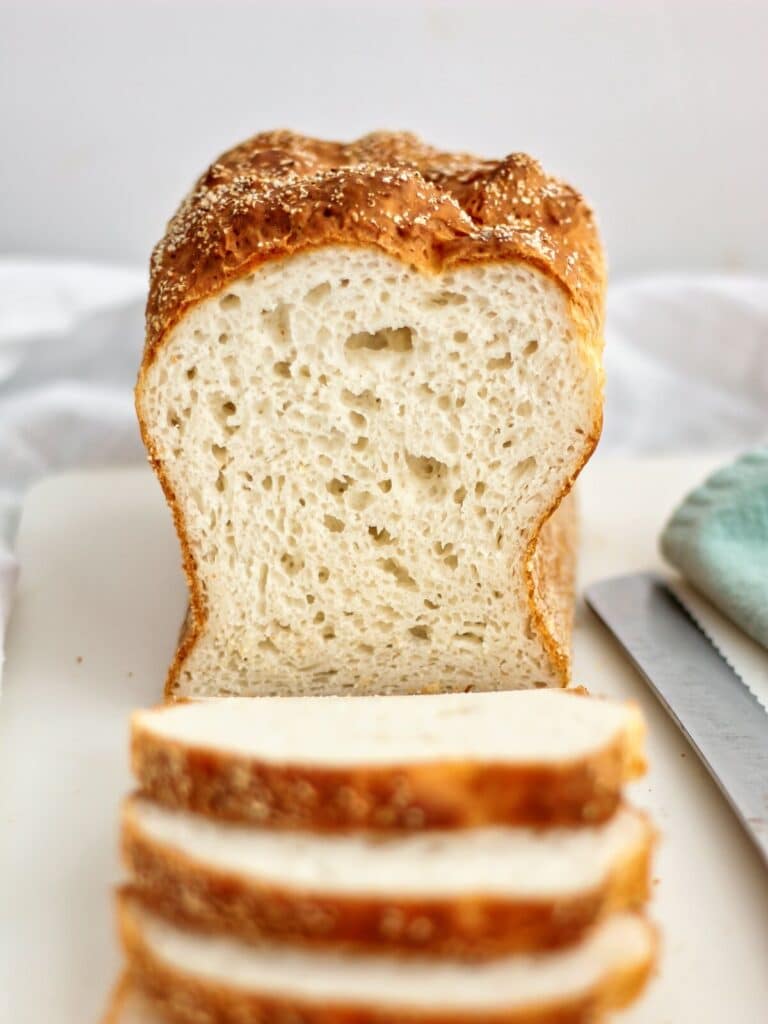 English Muffin Bread Frequently Asked Questions
Can I Use English Muffin Bread for Sandwiches?
You can; however, it's not a super soft bread and is meant more for toasting and spreading with butter, jam, or to make avocado toast.
Is the Second Rise Required?
It actually is NOT required. You can add the baking soda in with the dry ingredients at the beginning of mixing, spread the batter into the loaf pan and allow it to proof once, and bake. You won't get quite as tall of a loaf and the nooks and crannies will be smaller as the crumb will be tighter.
What is the Best Size Loaf Pan for English Muffin Bread?
The best size loaf pan is a 9″ by 5″ loaf pan as this will make a nice and tall loaf. If you only have an 8″ by 4″ loaf pan, you may need to divide the dough into two pans.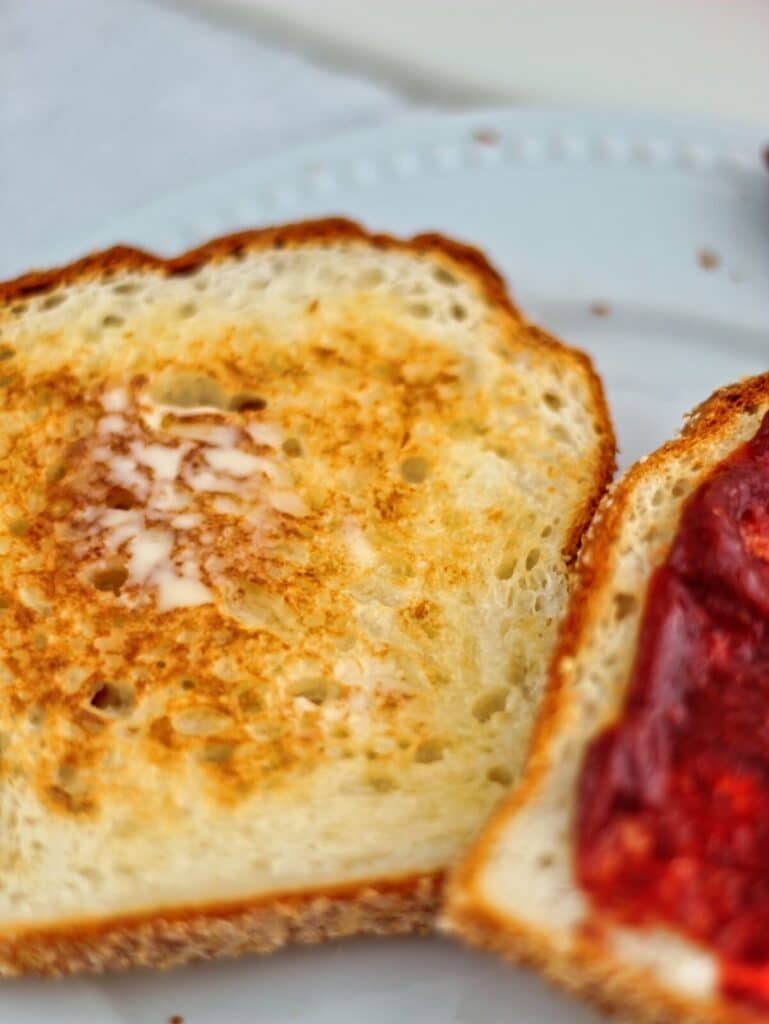 Simple, easy, and quicker than most, this gluten free English muffin bread is the perfect starting point for bread baking!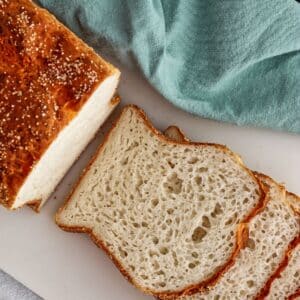 Gluten Free English Muffin Bread
You know all those nooks and crannies that catch the melted butter in English muffins? This gluten free English muffin bread has those SAME nooks and crannies, only in bread form!
Ingredients
3

cups (420 g)

Kim's gluten free bread flour blend

1

tbsp (14 g)

granulated sugar

1½

tsp

salt

1

tbsp

instant yeast

1¾

cups (420 ml)

milk, warmed to around 90-95° F

½

cup (120 ml)

water, warmed to around 90-95° F

2

tbsp

canola or vegetable oil

½

tsp

baking soda dissolved in 1 tbsp water

gluten free cornmeal for sprinkling in pan and on top of dough
Instructions
Whisk together the flour, sugar, salt, and yeast in the bowl of a stand mixer (or a large bowl using a handheld mixer or Danish dough whisk).

Combine the milk, water, and oil in a measuring cup and pour slowly into dry ingredients with mixer running. Use the batter/beater blade.

Once all the liquid has been added, beat the mixture at high speed for a few minutes. You can also beat the mixture by hand vigorously for an additional few minutes, or until the dough is smooth and elastic. It's a very loose dough, almost like a batter.

Scrape the batter-like dough into the center of the bowl and cover and proof until doubled in size, 1-1½ hours.

Uncover the bowl and set it back onto the mixer with the beater/batter blade attached (or use a handheld mixer or Danish dough whisk). Dissolve the baking soda in the 1 tbsp of water and add it to the dough. Beat on medium speed for just 30 seconds to a minute, or until fully combined and the baking soda is distributed throughout.

Lightly grease a 9 by 5-inch loaf pan and then sprinkle the bottom and sides with cornmeal. Preheat the oven to 375° F.

Scoop the dough into the pan and use wet hands to smooth the top as much as possible. Sprinkle more cornmeal on top and cover loosely with plastic wrap. Allow the dough to rise in a warm, draft-free area until it reaches the top of the pan or goes no more than ½ inch over. This can take anywhere from 20-45 minutes, so watch it closely.

Remove the plastic wrap and bake the bread for 40-50 minutes, or until it's golden on top and the inner temperature reads 190°-200° F using an instaread thermometer.

Remove the bread from the oven and place on a rack to cool in the pan for 10-15 minutes before removing from the pan to cool completely before slicing. If you don't allow it to cool completely, the center will be gummy as this is a wet dough/bread.

Store the bread in a plastic bag (ziptop works well) for a few days on the counter. If storing longer than a few days, cut the bread into slices, freeze the slices on a baking sheet until firm, and then store those slices in a freezer ziptop bag for up to 3 months. Frozen slices can be toasted from frozen (but they may need a few cycles in the toaster).
Notes
If you only have an 8 by 4 inch loaf pan, you may have to divide the dough into 2 pans.
Inspired by Seasons and Suppers English Muffin Bread