Not only is this pita bread gluten free, it's also more soft and delicious than any pita bread you've ever had before!
Some of the items linked in this post are affiliate links, meaning, at no additional cost to you, if you click through and make a purchase, I will earn a small commission.
I don't know about you, but I was never really that into pita bread. Sure, it made great dunkers for hummus, but most supermarket pitas were always so dry. Almost to the point of needing a drink with every bite. By the time places like Cava came along with their soft-looking pitas, I was already gluten free and couldn't try them anyway.
I tried many recipes and variations on what I found to be the basic pita dough recipes, all without luck. Sure, some of them puffed up with no problems and even made great pockets, but they were still just so dry, tasteless, and not worth posting (or eating).
Enter this Soft Gluten Free Pita Bread. They are like no other. They're plush. They're soft. They even have lots of flavor. And they're NOT DRY! They puff up nicely and they tear apart beautifully. They're everything I never knew pita bread could be.
ingredients you'll need to make pita
Kim's Gluten Free Bread Flour Blend -- as always, I created my own blend because none of the store bought ones would do the job. I strongly urge you to use my recipe for best results.
Milk -- this is not a typical ingredient in pita bread recipes, but substituting some of the water with milk creates a more tender pita.
Olive oil -- another ingredient not necessarily in other pita recipes, but the olive oil, combined with the added milk, helps to create a softer pita. You can substitute olive oil with either canola oil or vegetable oil.
Instant yeast
Sugar
Salt
Psyllium husks -- see recipe card below for adjusting liquid measurements if not using psyllium husks.
Butter for brushing onto the baked pita.
how to make homemade pita bread
Add wet ingredients to a large bowl, followed by the dry ingredients. Mix the dough for 5 minutes on medium speed. A stand mixer is the best choice, but the dough can be made using a handheld mixer or a Danish dough whisk (affiliate link). You'll need to whisk vigorously and for several minutes if making dough by hand.
Cover and place directly in the refrigerator to cold proof at least 24 hours, but up to 4 days.
When ready to make pita, set the oven rack to the lowest position with a baking steel (affiliate link), baking stone (affiliate link), or overturned baking sheet (affiliate link) on the rack. Preheat the oven to 450 degrees F.
Divide the dough into 8 pieces that are 95 grams each.
Shape each piece into a round, smooth dough ball.
Coat each ball of dough well with extra gf bread flour and, using your rolling pin, roll out to 6 inches in diameter, picking up and moving pita constantly to avoid sticking.
Place two shaped pita onto a piece of parchment and slide the parchment into the oven onto the steel, stone, or overturned baking sheet. Bake for 2 minutes.
Flip over with a spatula and bake for an additional 2-3 minutes, or until the pita puffs and the bottom browns slightly.
Remove to a paper towel-lined baking sheet, brush with butter, and cover with another paper towel and a tea or dish towel.
Repeat with the remaining dough.
FAQs
Is pita bread normally gluten-free?
No, it is not normally gluten free. To make it gluten free, you must use a gluten free flour blend in the dough.
Can I use a cast iron skillet to make gluten free pita?
You can, although it may not completely puff. It will still be delicious, however, and can be cut or pulled open where it doesn't puff.
Why aren't my gluten free pitas puffing up?
The dough must be rolled to the proper thickness, which is approximately ¼ inch.
How can I make this recipe dairy free?
You will need to substitute the whey protein isolate in the bread flour blend with another form of protein that is dairy free (suggestions are listed on the flour blends page). Then use a non-dairy milk alternative in the dough and a dairy-free butter for brushing.
tips for success
Do not use warm water or milk when making the dough. You MUST use COLD water and COLD milk in the dough as this will inhibit premature fermentation, which helps give pitas their puff and pockets.
Weighing each dough ball is the best way to achieve consistency.
Roll each pita to an even thickness, which will also promote proper puffing.
make it a meal
Pita can be eaten alone, but most pita breads are made as the basis of many meals, sandwiches, and such. Here are a few ideas to turn your pita into a meal:
Stuff a pita pocket with my Classic Chicken Salad, Curry Chicken Salad, or Easy and Delicious Chicken Salad for the perfect lunch break.
Fill pitas with falafel and a light salad of greens, tomato, and cucumber for a light vegetarian meal.
Make my Out of This World Gluten Free Meatballs. Place hot meatballs on a whole uncut pita and top with marinara or pizza sauce and top with shredded mozzarella cheese. Fold over for the most incredible gluten free meatball "sub."
Grill chicken and stuff into cut pita halves with chopped romaine and shredded parmesan. Add Caesar dressing for a handheld grilled chicken Caesar salad.
Use it as the vehicle for my Easy Gluten Free Chicken Souvlaki. It can even be "baked" right on the grill! (No need to turn on the oven in the hot summer months).
how to store homemade pita
Your homemade gluten free pita will keep well in an airtight container or ziptop bag for up to 5 days at room temperature. Beyond that, you can store them in the freezer, individually wrapped with plastic wrap and stored in a freezer ziptop bag for up to 3 months.
To reheat pita, stack and wrap in a foil pouch and heat at 350 degrees F for 5-10 minutes. Another way, if you have a gas stovetop, is to hold one over an open flame (like you would heat a corn tortilla) using tongs and flipping over constantly to avoid burning. Yet another option is to place them in a cast iron skillet over medium heat with a well-fitting cover and turn a few times until heated throughout.
Give these fabulous Gluten Free Pita a try, even if you think you don't like pita. This recipe is sure to change your mind.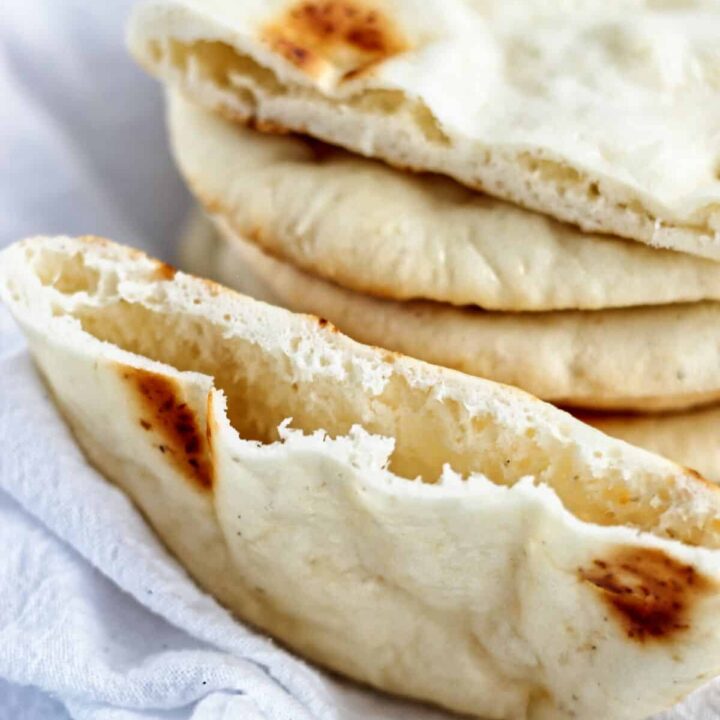 How to Make Gluten Free Pita Bread
Not only is this pita bread gluten free, it's also more soft and delicious than any pita bread you've ever had before!
Instructions
Place ingredients in mixing bowl in the order they are listed above. Using the dough hook, knead dough on medium speed for 5 minutes. A large bowl and handheld mixer may be used, or even a Danish dough whisk. However, you will need to mix or whisk vigorously to achieve the same texture.

Cover the dough and refrigerate it for at least 24 hours and up to 4 days.

When ready to make pita, set rack on the lowest oven position and place a baking steel, baking stone, or overturned baking sheet on rack. Preheat oven to 450°F.

Knead dough on well-floured surface until smooth. Divide dough into 8 equal pieces (for best results, each piece should weigh 95g). Roll each piece into a smooth ball.

Coat one dough ball with a generous amount of gf bread flour on both sides and roll out into a diameter of 6 inches (no more than ¼-inch thick). Place two pita on a sheet of parchment paper. Repeat with each dough ball.

Launch two pita at a time (on parchment paper) onto baking steel or stone and bake for 2 minutes. Open oven, flip each pita over using a spatula, and bake for an additional 2-3 minutes, or until puffed and light golden.

Remove from oven and place on a paper towel-lined baking sheet. Brush each side with butter and cover with another sheet of paper towels, followed by a tea or dish towel. Repeat with remaining pita. Serve warm.
How to Grill Pita
Preheat grill to high heat. Each grill is different so you'll need to adjust your grill for the proper heat. My gas grill set over high heat worked perfectly. However, my pellet grill was way too high and burnt the pita.

Place rolled out pita dough on the grill grates over direct heat. Close the lid and allow it to cook for 2-3 minutes. Some may not puff, but they will still taste delicious.
Notes
Pita will keep well in an airtight container or ziptop bag at room temperature for up to 5 days.  For longer storage, they may be frozen, individually wrapped in plastic wrap and stored in a ziptop bag or freezer container.  
*If not using psyllium husks, decrease the water to 100 grams.  
Inspired by Helen Rennie's Pita That Puff