The potato in these Gluten Free Potato Brioche Buns makes them so incredibly pillowy and light, you won't believe they're gluten free.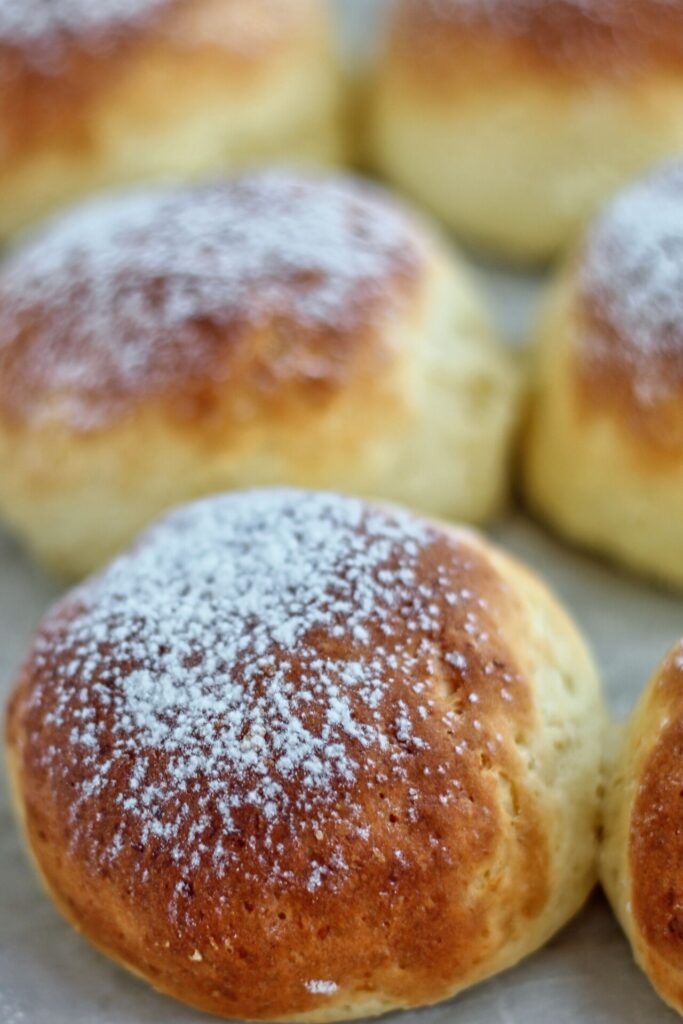 Some of the items linked in this post are affiliate links, meaning, at no additional cost to you, if you click through and make a purchase, I will earn a small commission.
I have been dying to attempt making gluten free potato buns for so long now, but they always slip my mind when I'm thinking of ideas for new posts. I finally began testing potato buns about a month ago and after just two tests, I finally got it and am SO glad I did. These are some seriously bouncy, pillowy, soft, fluffy, squishy buns. If I could think of other adjectives to describe these buns, I'd list them all. But I just want to get to telling y'all all about how to make 'em cuz they are that good, you'll wanna make them immediately, just in time for Fourth of July weekend!
what you'll find in this post
ingredients for potato brioche buns
how to make the buns
potato rolls frequently asked questions
what to serve these buns with
more gluten free bun/roll recipes
here's what you'll need to make gluten free potato brioche buns
Instant dry yeast
Psyllium husks or powder
Baking powder
Kosher salt
Sugar
Whole milk
Butter
Eggs and egg yolks
Cooked, mashed potatoes
let's get rolling
Good (actually great) rolls and breads are what we gluten free people live for, am I right? So let's get to making them:
Make dough. Combine all dry ingredients, including sugar, in bowl of a stand mixer. Add mashed potatoes, butter, egg, egg yolks, and milk. Mix on medium high speed for 5 minutes using the dough hook OR the beater blade.
Bulk ferment. Cover dough and allow to rise in a warm, draft-free area until doubled in volume, 1-2 hours.
Refrigerate. In order for this dough to be kneaded and shaped properly and with ease, you must refrigerate the dough for at least 6 hours, preferably overnight.
Knead. Remove dough from fridge and knead it on a well-floured surface until smooth and all air bubbles have been knocked back.
Shape. Divide into equal-sized pieces and shape into round rolls/buns.
Proof. Allow buns to rise until nearly doubled in size.
Bake. Bake buns at 375 degrees F for 15 minutes.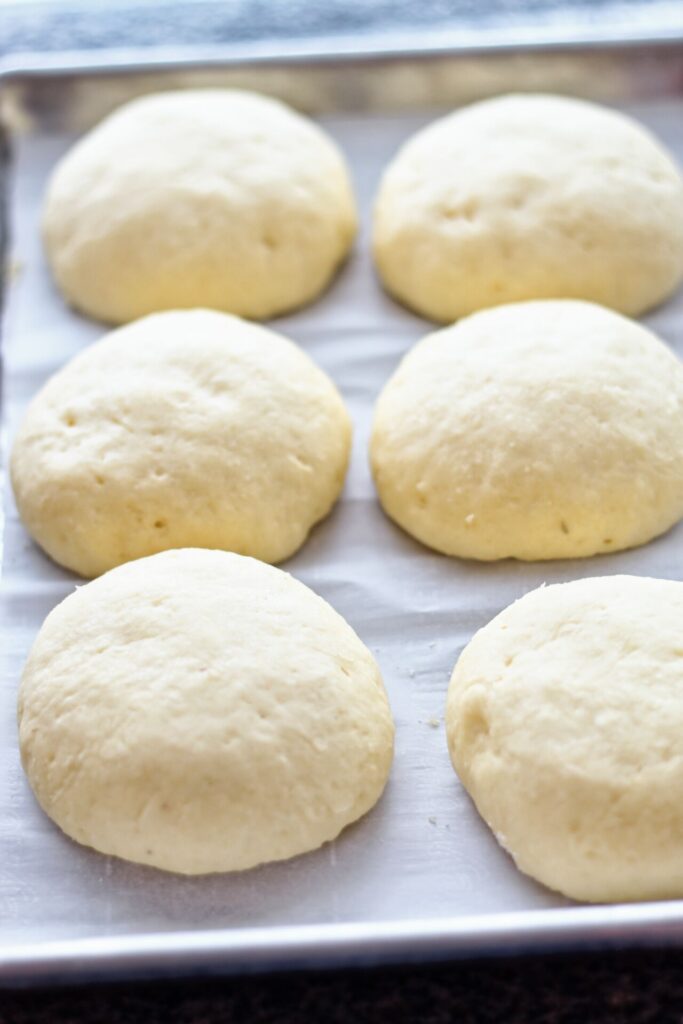 gluten free potato buns FAQs
Can Any Gluten Free Flour Blend be Used?
Unfortunately, no. I developed my gf bread flour blend because none of the store bought ones I tried (and I tried every one) gave me the results I wanted. You will not get the same results if you use another blend.
Can I Use Potato Flakes?
No, unfortunately it won't work the same as potato flakes are dehydrated and this will change the hydration of the dough.
How About Using My Leftover Mashed Potatoes From Dinner?
Only if they don't have any added butter or milk, etc.
How Long Do Potato Rolls Last?
Because of the potato's ability to retain more water, these rolls will stay soft for up to 4 days.
what should we serve these buns with?
Gluten free potato brioche buns are so versatile, you can serve them with just about anything. Here are a few suggestions:
more gluten free roll/bun options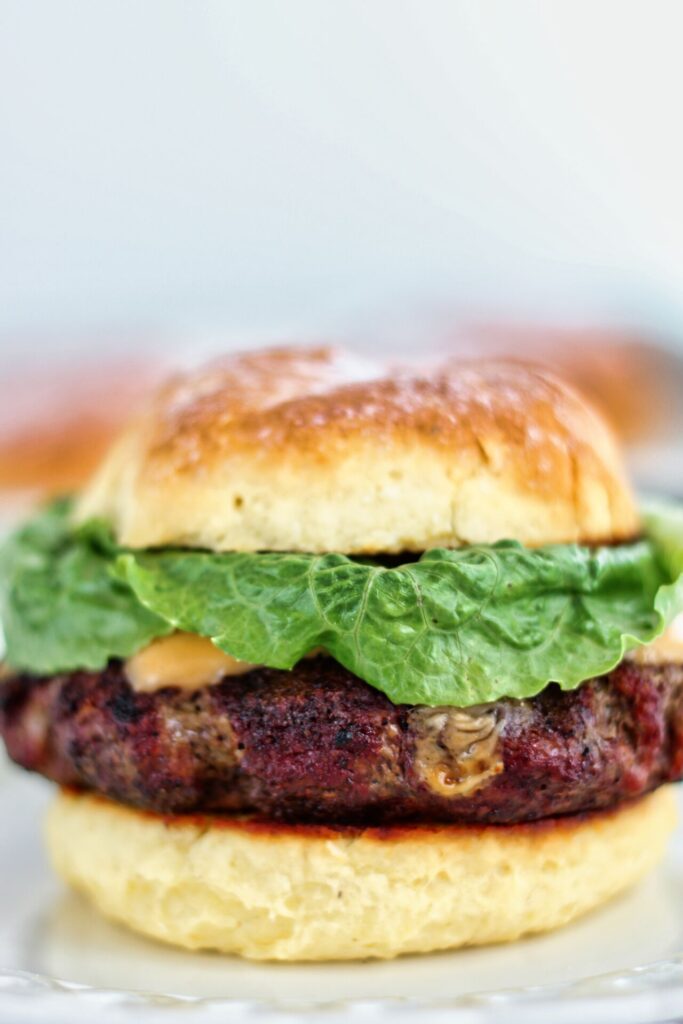 Give these Gluten Free Potato Rolls a try for your next cookout or dinner rolls. I think you'll be pleasantly surprised by the plush texture, as well as the flavor.
Gluten Free Potato Brioche Buns
The potato in these Gluten Free Potato Brioche Buns makes them so incredibly pillowy and light, you won't believe they're gluten free.
Print Recipe
Ingredients
3

cups (420 g)

Kim's gluten free bread flour blend

2

medium potatoes (or enough to equal 200 g)

peeled, cooked, mashed, and cooled

½

cup (100 g)

granulated sugar

1

tsp

baking powder

1

tsp

kosher salt

1

tbsp plus ¾ tsp (12 g)

instant yeast

1

tbsp

whole psyllium husks, or 1½ tsp psyllium husks powder

6

tbsp (85 g)

butter, very soft

1

cup (240 ml)

whole milk

1

large

egg, at room temperature

6

large

egg yolks, at room temperature

1

tbsp

potato starch, for dusting OR 2 tbsp melted butter, for brushing after baking
Instructions
In the bowl of a stand mixer, add the gf bread flour blend, granulated sugar, baking powder, salt, yeast, and psyllium husks. Whisk together. Add mashed potatoes, egg, egg yolks, butter, and milk and mix on low using the dough hook until combined. Increase the speed to medium or medium high and knead for 5 minutes.

Cover dough and allow to proof for 1-2 hours, or until doubled in size. Refrigerate at least 6 hours, but preferably overnight.

On baking day, remove the dough from the fridge and knead on a well-floured surface until smooth. Divide into 3 oz (85 g) pieces and shape into rolls by folding sides up and into the middle and pinching them together, flipping over and rolling using a cupped hand on a non-floured surface until smooth.

Place rolls an inch or two apart on a parchment-lined baking sheet (closer together if you want them to be more pull-apart style). Cover loosely with plastic wrap. Place in a warm, draft-free area to rise for 25-30 minutes, or until nearly doubled in size.

Meanwhile, preheat oven to 375° F. For floured potato buns, sprinkle risen buns with a little bit of potato starch, or you can leave buns unadorned for baking.

Bake rolls for 15 minutes, or until golden brown. They should feel very light when picked up. At this point, you can brush the buns with melted butter as an alternative to dusting with potato starch.

Let buns cool to warm or room temperature before serving.