This Easy and Delicious Chicken Salad is a great recipe to have in your back pocket. It uses just a few ingredients and is perfect for a backyard barbeque, potluck, or school lunches. It's even better when prepped ahead of time, which makes it great for meal prepping!
I'm somewhat of a chicken salad connoisseur, I guess you can say. Every time I went to a cafe or deli back in the day (the day before Celiac), I would check out the chicken salad. If it mentioned nothing about onions (I loathe onions!), I'd most likely order it. There were a couple that became such favorites of mine that I began recreating them at home. It would satisfy my cravings, especially after I could no longer eat at the places they came from. Here in Virginia Beach, we're kinda behind the times when it comes to gluten free restaurants and delis. Half of the people don't even know what gluten is, let alone how to make something gluten free (although great strides have been made in the past few years).
Zachary's was a little Jewish deli that looked like it was just another cafeteria in a medical office building. But once you tried their food, you knew it was far from cafeteria and more like an upscale cafe. When we first went there, I saw chicken salad on their menu and quickly asked the person behind the counter if there were onions in it. As soon as they said no, I knew what I was getting. And after that, there was no trying anything else at Zachary's because that sandwich was unbelievably good and I'd sure miss it if I chose not to order it.
Zachary's chicken salad is a flavor and texture explosion that all works together. There's a little sweetness from the fresh and dried fruit. There's also a crunchy component from nuts and celery, and then the creamy texture from both mayonnaise and sour cream.
The Ingredients You'll Need for This Chicken Salad
Cooked chicken
Mayonnaise
Sour cream
Celery
Golden raisins
Sliced toasted almonds
Sliced red grapes
Celery salt
Garlic powder
Sugar
Making the Chicken Salad
I told you this salad is so easy! If you can throw it all in a bowl and mix it together, you can make it. Cuz that's all you have to do. Seriously. You can even serve it right away, although I prefer to let the flavors meld for a good hour in the fridge before serving.
Delicious Chicken Salad FAQs
What's the Best Way to Cook Chicken for Chicken Salad?

I personally like to roast bone-in skin-on chicken breasts in a 375-degree F oven for 30-40 minutes, or until a thermometer registers 165 degrees F. If you only have boneless chicken, you can also poach them in some slowly simmering water for 20 minutes, or until you reach the same temperature on a thermometer. Yet another option is to shred breasts from a rotisserie chicken. I prefer to use only white meat, but that's a personal choice.
How Do You Toast Almonds?

Preheat an oven to 350 degrees F and spread almonds in a single layer on a baking sheet. Bake for 15-20 minutes, or until lightly toasted. Watch closely as they can go from toasted to burnt in a matter of seconds.
Can Yogurt Be Substituted for the Mayo and Sour Cream?

Yes, you can substitute Greek yogurt for the mayo and sour cream. If it's still a little too thick, add a tablespoon of milk.
Other Chicken Recipes
Make Easy and Delicious Chicken Salad for your next potluck, get together, or packed lunch. It's something everyone always loves and is a great make ahead option!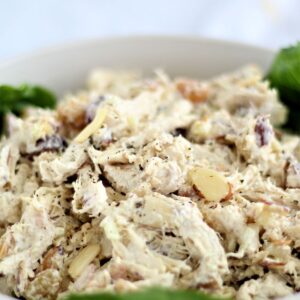 Easy and Delicious Chicken Salad
This Easy and Delicious Chicken Salad is a great recipe to have in your back pocket. It uses just a few ingredients and is perfect for a backyard barbeque, potluck, or school lunches.
Ingredients
3

cups

cooked chicken, shredded into large shreds

1

cup (240 g)

mayonnaise or Greek yogurt

½

cup (120 g)

sour cream or Greek yogurt

½

cup

toasted sliced almonds

2

cups

red grapes, cut in half

⅓

cup

finely chopped celery

½

cup

golden raisins

1

tbsp

celery salt

1

tbsp

sugar

1

tsp

garlic powder
Instructions
In a large bowl, stir all ingredients together until well combined. Serve immediately or, for better results, refrigerate at least one hour and up to 3 days. Stir again before serving.
Did you make this recipe? I'd LOVE to see it!!! Post a picture and tag @letthemeatglutenfreecake on Instagram.