Kim's Gluten Free BREAD Flour Blend is my pride and joy, my personal creation for making all kinds of glorious gluten free breads!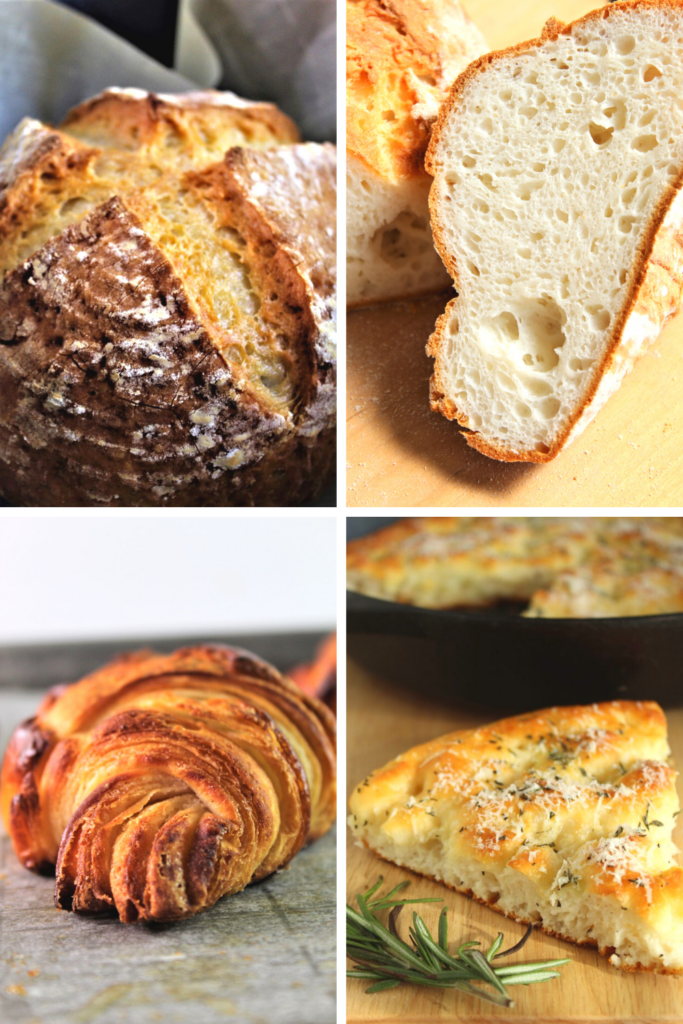 Why is Kim's Gluten Free Bread Flour Blend in Grams and Not Cups?
I developed my blends in grams because it's so much more precise AND unbelievably easy to weigh ingredients than to measure by volume. My blends don't translate very well to cups. I sure don't have an 18th of a cup measurement, do you? I strongly suggest you invest in a scale (they're very cheap) and weigh your ingredients–you'd be surprised at how easy it is and you'll most likely never switch back.
Can't I Use a Store Bought Gluten Free Flour Blend Instead?
For any of my bread recipes, only my bread flour blend will work as I intended the results to be. Sure, there have been people who made my cinnamon rolls with Bob's Red Mill 1:1 and said they were great. And I don't doubt that they are great for gluten free. However, when I developed my recipes using my own blend, it was after trying every blend under the sun, both store bought and from other bloggers, without getting results that were PERFECT.
For instance, there are people who have no problem with Udi's or Canyon Bakehouse. I'm not saying these are horrible, but for me, I don't want something that's just "okay" or "good for gluten free." What I want is to be able to fool my husband, son, and anyone else I feed (especially myself) into thinking they're eating gluten. I want top of the line, the best of the best, a cinnamon roll that will rival Cinnabon.
Having said all that, there ARE some substitutions that can be made within the blend itself, which I have listed below. I haven't tried these myself, however, so I cannot attest to whether they work. I'm simply giving you options that you'll need to play around with if you'd like. My expertise is in gluten free baking (and there's always something new to learn). When it comes to the other stuff (vegan, dairy free, soy free, etc), I admit I'm a bit challenged.
THE LIST OF INGREDIENTS
| | | | | |
| --- | --- | --- | --- | --- |
| Kim's Gluten Free Bread Flour Blend | 5 cups 700g | 10 cups 1.4kg | 15 cups 2.1kg | 20 cups 2.8kg |
| Bob's Red Mill potato starch, Anthony's potato starch (clickable links) or any fine potato starch | 285 grams | 570 grams | 855 grams | 1140 grams |
| superfine white rice flour, fine white rice flour, or ultra fine white rice flour (clickable links) (do NOT use regular rice flour, such as Bob's Red Mill) | 250 grams | 500 grams | 750 grams | 1000 grams |
| Anthony's tapioca flour, Bob's Red Mill tapioca flour (clickable links) or any fine tapioca starch/flour | 75 grams | 150 grams | 225 grams | 300 grams |
| Now Foods whey protein isolate, Isopure whey protein isolate, Opportuniteas grass-fed whey protein isolate, (clickable links) or any other brand of whey protein isolate. Whey protein is lactose free, but for dairy free you can try soy protein, hemp protein, pea/quinoa protein, egg white protein, pumpkin protein, (clickable links) or any other pure protein powder. ****IMPORTANT: See below about substitutions! | 75 grams | 150 grams | 225 grams | 300 grams |
| Anthony's premium xanthan gum, It's Just xanthan gum, Bob's Red Mill xanthan gum, (clickable links), or any other brand of xanthan gum | 15 grams | 30 grams | 45 grams | 60 grams |
About Substitutions
***Of note, the whey protein isolate substitutions are simply suggestions. My bread flour blend works best if there are NO substitutions, but I do understand that some of you may have other allergies. I've heard from many readers who stated pea protein doesn't work (it becomes quite hard and inedible), but others have stated that it works fine. Some stated hemp protein worked beautifully (giving the finished bread a light green hue). One reader stated that a product that combines pea and quinoa protein (here) worked beautifully for her. However, I DID try this product and did NOT get the usual rise and texture to my breads. In fact, they were very flat and inedible and not up to the standards that I'm used to in my recipes.
I hope you find success in ALL your gluten free baking endeavors and that Kim's gluten free BREAD flour blend is a part of your success😊