Cinnabon, who? These Ultimate Gluten Free Cinnamon Rolls will put Cinnabon to shame! Warm, gooey, and SOFT, you won't believe they're gluten free.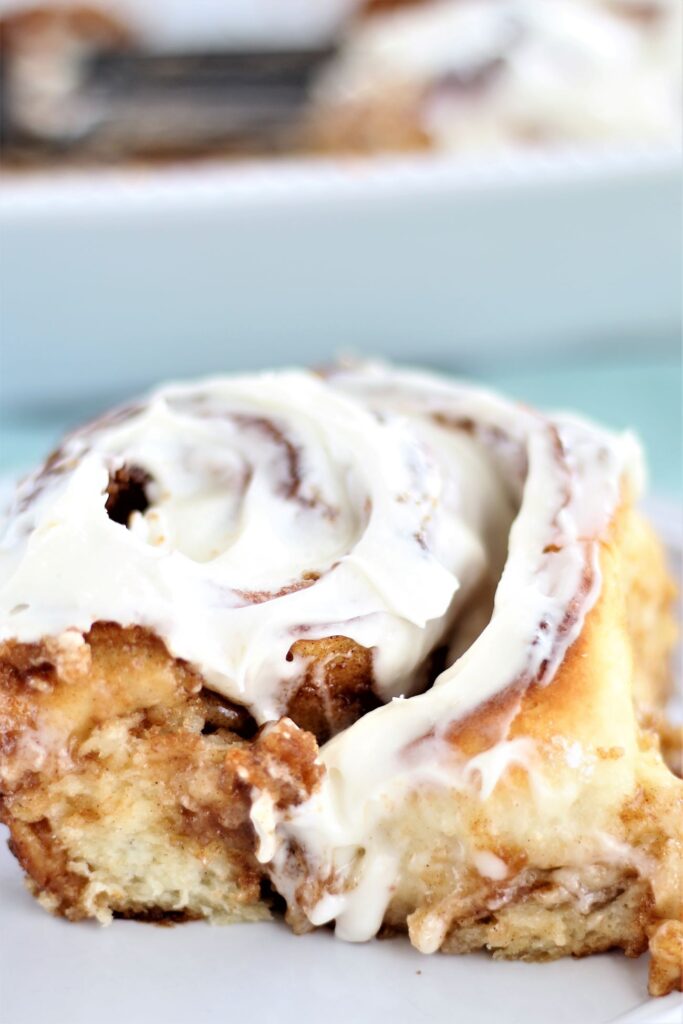 Some of the items linked in this post are affiliate links, meaning, at no additional cost to you, if you click through and make a purchase, I will earn a small commission.
There are some recipes floating around on the world wide web for gluten free cinnamon rolls that aren't bad tasting. Believe me, I've tried almost all of them. But what they always lack is not in flavor, but texture! Am I right, fellow gluten free people??? Isn't that usually the case with all gluten free foods, or at least breads? The texture is just beyond intolerable. It's what we've all settled for over the years. "It's good, for gluten free." Blah, blah, blah.
Well, I refuse to settle for rock hard rolls that don't have that feathery-like texture that you can unroll and tear apart, if that's the way you eat your cinnamon rolls (like I do 😋 ). I can't even begin to tell you how many hockey pucks I threw right in the trash over the years. Way too many to count! But I rarely give up when it comes to baking, so I just kept trying. And trying. And trying. Gluten free hockey pucks, 100. Soft and fluffy ones, zero! Until now…
The picture below is not an illusion. It's not a trickery of a gluten-filled cinnamon roll pretending to be gluten free. This is the actual gluten free cinnamon roll in all its glory, and it is UNBELIEVABLE!!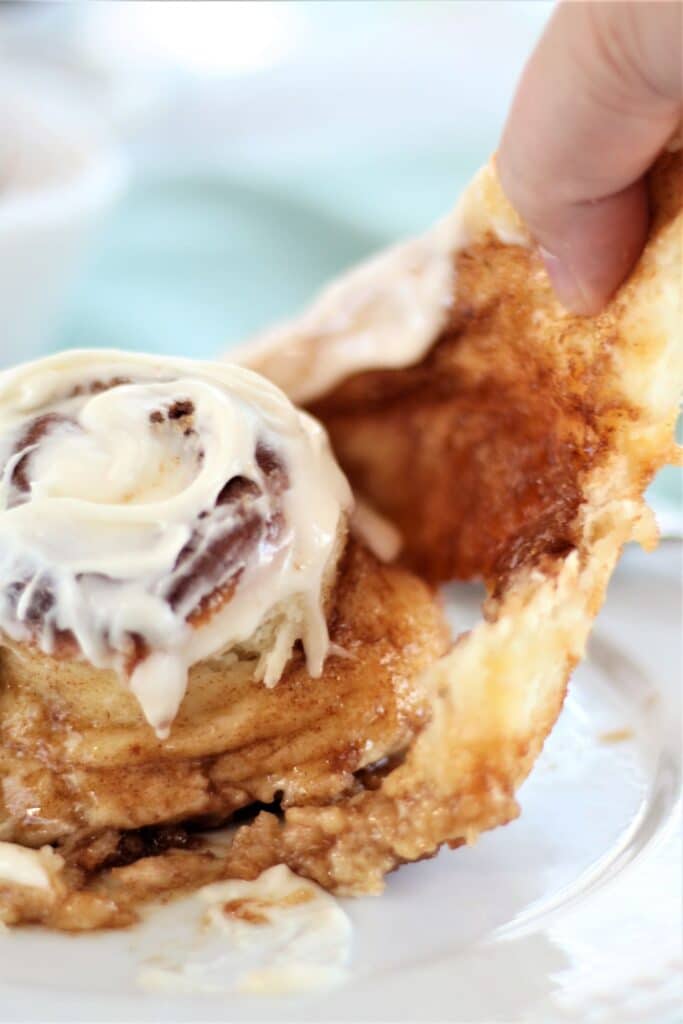 What You'll Need to Make These Cinnamon Rolls
Dough
Granulated sugar
Baking powder
Instant yeast
Psyllium husks, optional–I use these (affiliate link) whole psyllium husks because I like the little bit of a "wheaty" taste they give. You can also use psyllium husk powder and this (affiliate link) is the one I would recommend. You'll need to adjust the amount, which is given in the recipe card below.
Salt
Milk
Butter
Eggs
Filling
Butter
Brown sugar
Cinnamon
Frosting
There are two options for frosting your cinnamon rolls, one a cream cheese Cinnabon-style frosting and the other a powdered sugar glaze. Choose what you like best!
Cream Cheese Frosting
Cream cheese
Butter
Powdered sugar
Vanilla extract or vanilla bean paste
Powdered Sugar Glaze
Powdered sugar
Milk
Vanilla extract
HOW TO MAKE CINNAMON ROLLS
The Morning Before
Make the dough–once you have all your ingredients measured out, it takes about 7 minutes to make this dough.
Bulk ferment–this just means to proof the dough as a whole for 1-2 hours, or until doubled in size.
Refrigerate the dough–allow the dough to chill for at least 4 hours, preferably 6.
The Evening/Night Before
Make filling–beat the filling together with a stand or handheld electric mixer until smooth and fluffy, about 3-4 minutes. Beating it this long actually helps the filling stay in the rolls and not leak out to the bottom of the rolls when baking.
Knead and roll out the dough–briefly knead the dough just until smooth and roll it out on a well-floured surface into a rectangle that's roughly 1/4 inch thick.
Spread with filling–spread the filling evenly over the dough and leave a 1/2-inch at the one border (to seal it).
Roll–roll up the dough as tightly as possible.
Cut–using a piece of dental floss is so easy. Just position it underneath the roll of dough, cross it on top and pull. You can also use a serrated knife to cut the rolls.
Place rolls in baking pan and cover with plastic wrap.
Refrigerate overnight.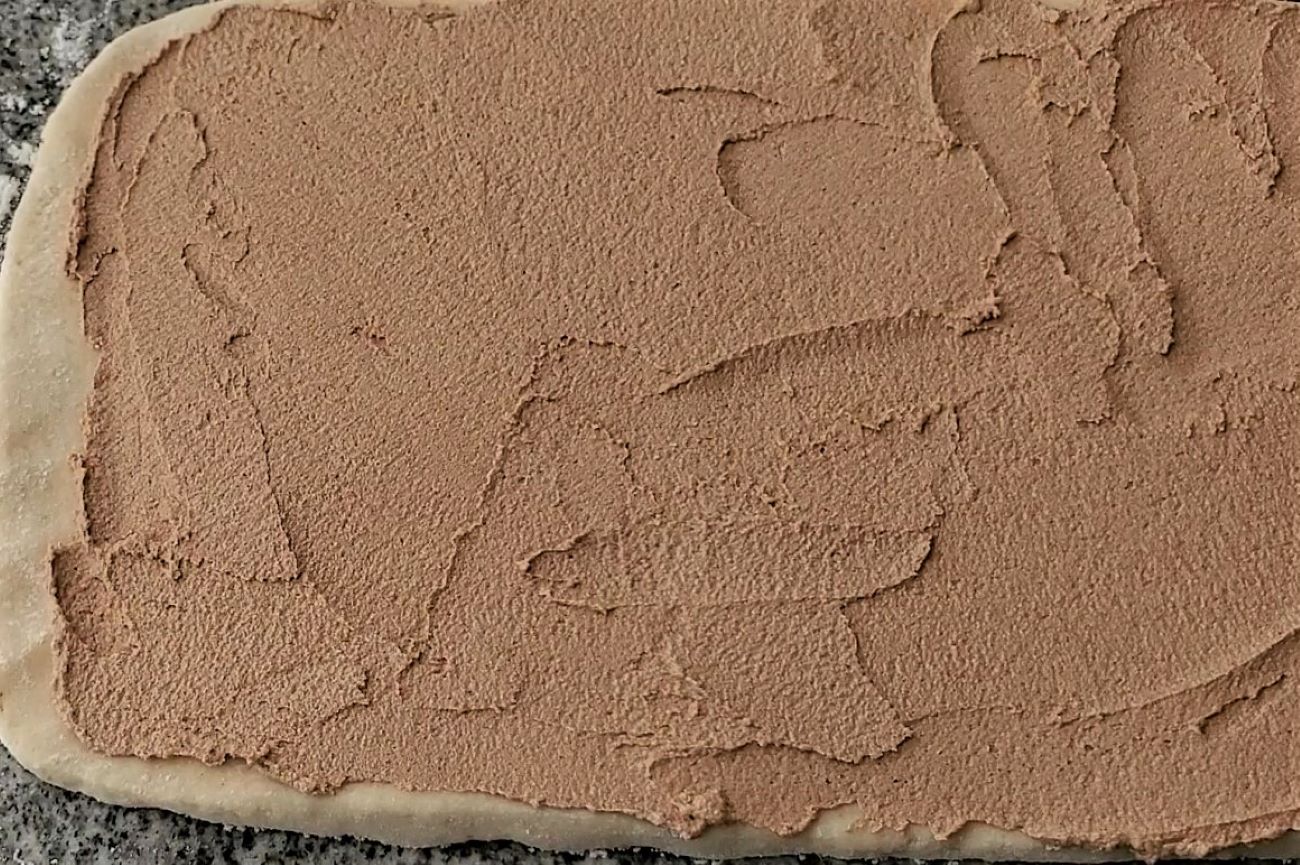 The Morning Of
Take the rolls out–remove them from the refrigerator at least one hour prior to baking. This will allow them to come to room temperature and also allow for any extra rising that didn't happen overnight in the cold of the fridge.
Make the frosting–beat together the frosting ingredients until smooth; cover and set aside.
Bake the rolls at 350 degrees F for 20-25 minutes. If you made larger rolls, they may require 5 more minutes in the oven.
Frost–frost the rolls while they're still warm. Enjoy!
Gluten Free Cinnamon Rolls FAQs
Can These Rolls be Made Dairy Free or Vegan?

They can be made dairy free with the use of a dairy free alternative in the bread flour blend as well as for the butter and milk. I've had one reader state that she made them with JUST egg as an egg substitute and they were amazing!
Does the Dough Need to be Refrigerated?

In order to work with most of my gluten free doughs, a lengthy time in the fridge is very helpful in shaping and rolling. Properly chilled dough will be very easy to knead and shape.
Can a Glaze be Used Instead of Cream Cheese Frosting?

Absolutely! I have a recipe for not only the cream cheese frosting, but also a powdered sugar glaze in the recipe card.
Are Psyllium Husks Necessary?

These cinnamon rolls can be made without psyllium husks and will still be delicious and whomever eats them won't know the difference. The only person that may know the difference is the one making them. Psyllium husks make the dough a little more extensible and easier to handle and, therefore, roll out.
Now–go and eat an ultimate gluten free cinnamon roll, the best you will ever have!!!!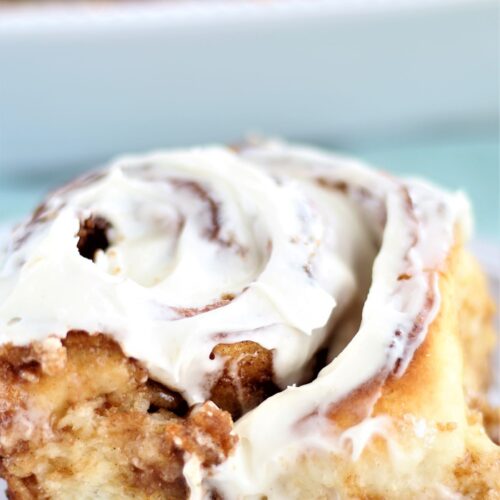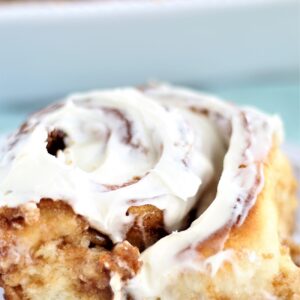 The Ultimate Gluten Free Cinnamon Rolls
You will feel as though you've died and gone to heaven when you make these ultimate gluten free cinnamon rolls!  They truly are magical:  warm, gooey, soft and feathery, they're everything a cinnamon roll should be, and then some 😋
Ingredients
DOUGH
3½

cups (490 g)

Kim's gluten free bread flour blend

1

cup (200 g)

granulated sugar

1¾

tsp

baking powder

2

tbsp plus 1½ tsp (24 g)

instant yeast

2

tbsp

whole psyllium husks (or 1½ tbsp psyllium husk powder), optional

(see notes below)*

1

tsp

salt

1½

cups (360 ml)

milk

(or dairy-free alternative) (see notes below)*

¾

cup (1½ sticks or 169 g)

butter, very soft or melted

(or dairy-free butter alternative)

2

large

eggs, lightly beaten
CINNAMON SUGAR FILLING:
½

cup (1 stick, 8 tbsp, or 113 g)

butter, softened

1

cup (220 g)

brown sugar

4

tsp

cinnamon
CREAM CHEESE FROSTING:
4

oz (113 g)

cream cheese, softened

4

tbsp (½ a stick or 57 g)

butter, softened

2

cups (250 g)

powdered sugar

1

tsp

vanilla extract or vanilla bean paste
OR GLAZE:
2

cups (250 g)

powdered sugar

3-4

tbsp

milk, or more as needed for desired consistency

1

tsp

vanilla extract
Instructions
MIX THE DOUGH AND PROOF
Blend the dry ingredients in the bowl of a stand mixer*** using the paddle or dough hook attachment. With the mixer running on low, slowly add the wet ingredients into the dry ingredients.  Once completely combined, turn the mixer up to about medium or medium high and beat for 5 minutes.  The dough should be smooth and somewhat stretchy, but still pretty fluid and not at all like bread dough should be.

Remove the dough hook or paddle attachment. Scrape the dough together into a rough ball or mound using a bowl scraper or spatula. Cover the bowl and place it in a warm, draft-free area for about 2 hours, or until at least doubled in volume (see the pics above). Turning your oven on to the warm function (about 160-170° F) and then turning it off before placing the dough inside is a great area for dough proofing. It should be fluffy looking and almost look like buttercream frosting. Chill for at least 4-6 hours. See within the post for my timeline to make overnight cinnamon rolls.
MAKE THE FILLING
Mix together the filling ingredients with a stand mixer or handheld mixer until fluffy, 3-4 minutes. Cover and set aside.
KNEAD THE DOUGH, FILL, ROLL, AND CUT
On baking day (or the night before baking), remove the dough from fridge. On a well-floured surface (using extra gf bread flour blend) knead dough into a smooth ball, adding extra flour as needed until dough is smooth.  Roll out to a rectangle that's about ¼-inch thick.

Spread the filling over the surface of the dough, leaving a ½-inch border at the far edge to seal. Roll up jelly roll style and place seam side down. Using a piece of dental floss, position it underneath the roll and pull it up on both sides. Crisscross it and pull down to cut each roll. You can also use a serrated knife if you don't have dental floss, but first place the entire roll in the freezer for 15 minutes. This will allow you to cut it cleanly.

Place rolls into a greased baking dish (depending on the size of your rolls, you'll need either a square 8 by 8 inch or a rectangular 9 by 13-inch pan or similar). Cover with plastic wrap and proof again until noticeably larger, but not quite doubled in size. (If baking the rolls the next morning, place them in the refrigerator overnight at this point).

If rolls have been refrigerated overnight, remove from the fridge about an hour before you plan to bake them (to allow them to come to room temperature and finish their second rise). They should rise until puffed and noticeably larger, but not quite double in size.

Preheat the oven to 350° F. When the rolls have risen sufficiently (they will rise more in the oven), remove the plastic wrap and bake for 20-25 minutes (larger rolls may take 5 minutes longer), or until golden brown.   Frost as desired.
MAKE CREAM CHEESE FROSTING
Beat together frosting ingredients until smooth.
…OR GLAZE
Use this glaze instead of the cream cheese frosting for an easy, quick and pourable topping. Whisk all glaze ingredients in a small bowl and drizzle over warm rolls.
Notes
*I've had great results with stretchiness of the dough and a slightly softer texture by using psyllium husks.  My original cinnamon roll recipe is phenomenal and doesn't require psyllium husks to make it wonderful so if you don't want to use psyllium husks or powder, you will need to reduce the milk to 1 1/4 cups (300 ml).
**If you don't have instant (or fast-acting yeast), you can use active dry yeast by letting it bloom first in the milk.  Heat the milk to about 100-110 degrees and add about 1 tsp of the sugar to the bowl, along with the same amount of yeast.  Stir together and let sit until foamy on top.  Proceed with the recipe as instructed.
***If you don't have a stand mixer, it might be difficult to get the proper consistency for the dough.  If you have a handheld mixer, you could try to use one (I haven't tried it) but you most likely will need to beat it for about 5 minutes more (for a total of 10 minutes).  If that doesn't work (or you don't have a handheld mixer), you could attempt to mix the dough vigorously by hand, maybe using a dough whisk like this one.  I've never done it by hand so I can't say if it will work or not.  You'll need to use your own judgement to see if this will work for you.  Another option might be to use a food processor to mix the dough.   
*****Rolls can be frozen up to the point right before baking.  Freeze in the pan they are in, wrapped in a layer or two of plastic wrap and then foil.  Thaw in the fridge, still wrapped, overnight.  Proceed as above.  
*DISCLAIMER:  The reason I created my own flour blends is because I could not obtain the results I wanted with flour blends that were available in stores, online, or from other gluten free bloggers.  My recipes have been developed to be used with my own bread flour blend that I created after painstakingly testing for, in some cases, YEARS to develop what I believe to be a superior gluten free bread like no other.  If you do not use my gluten free bread flour blend for this recipe, I cannot speak for the results you will obtain.    While store bought blends may give you a satisfactory result, they may NOT give you the results intended in my recipe. 
These cinnamon rolls were originally posted on September 11, 2019 and have been updated with new pictures, new tips and tricks, and a new, more detailed video.