Like we stepped right into Germany, this Gluten Free Sourdough Soft Pretzel Recipe is as good as any pretzel you've ever had, maybe better!
When we went out for dinner one night when my sister was in town, everyone ordered these giant Bavarian pretzels as appetizers to share (except for me of course). My husband said it was the best pretzel he'd ever had and he's been dreaming of it ever since. Although I'm so used to being gluten free and have learned to deal with it over the years, it still sucks when you see something like that coming to your table, hanging from this contraption with two wonderful dipping sauces underneath it. I mean, when you're a foodie like I am, you still tend to get a little jealous at all the other things everyone around you gets to eat.
But this eventually lights a fire under my ass (not to be blunt, but at the same time to be totally blunt), and I get literally obsessed with figuring out a way to make it gluten free. And perhaps better than the gluten filled ones that everyone else had. Because there's one thing I know about my husband, he's gonna tell me if it sucks because he WILL be totally blunt like that, haha! And that's actually what I want from him. He will tell me how close I am to getting it right.
When I set out to make these pretzels, I started with my original soft pretzel recipe. But, honestly, my husband told me it wasn't quite like the one at the restaurant. So I went back to the drawing board with an entirely new recipe, one that is less like a mall-style really soft pretzel, and more like a Bavarian style pretzel with a dark, chewy crust. My husband and son (both gluten-eating guys) declared them "perfect". So here we are. Me sharing another one of my triumphs in the kitchen to put another notch in our gluten free belts.
here's what you'll need to make these pretzels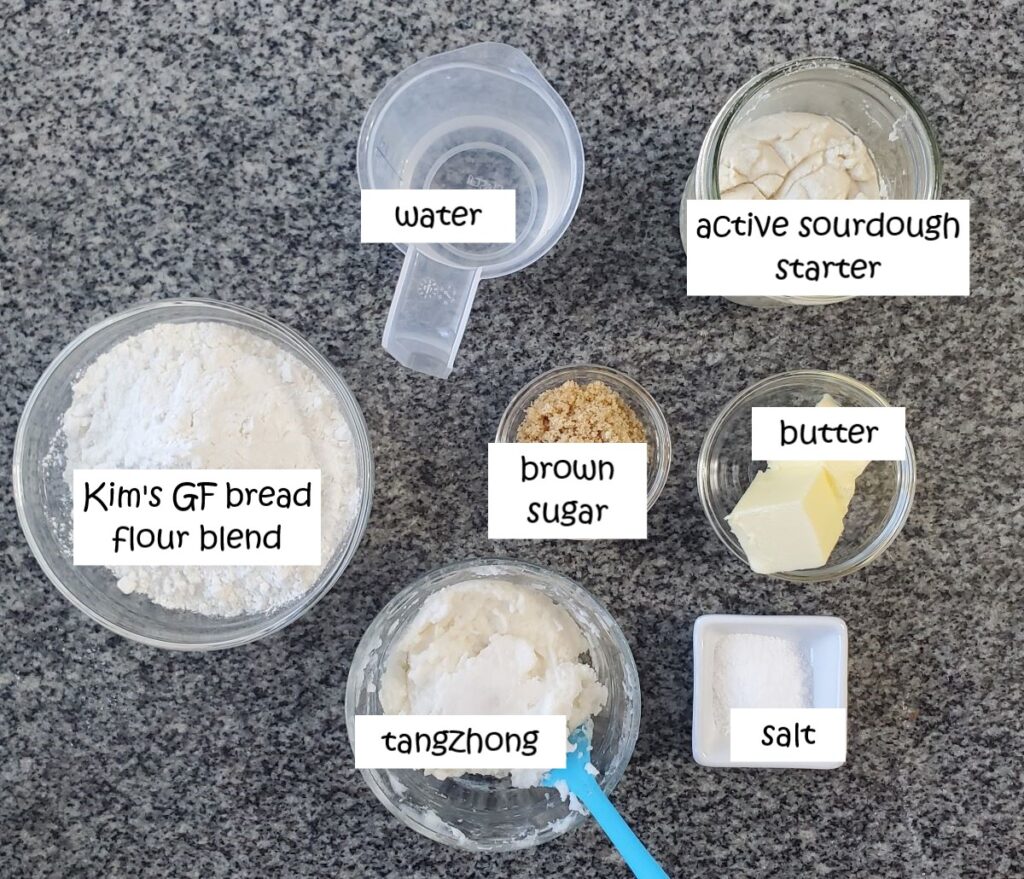 Kim's gluten free bread flour blend -- there is no substitute for my gf bread flour recipe, but I do have some options for substitutions within the blend itself.
Baked baking soda -- I know it sounds strange, but check out this post on why you should bake your baking soda if making pretzels. It makes total scientific sense and I'm all about trying to improve my pretzels without using something dangerous and hard to get like lye.
Sourdough starter -- I used to be so afraid of anything with the name sourdough attached to it, until I found Elaine Boddy's book The Sourdough Whispererhttps://amzn.to/45IZifw (affiliate link). Her method for making a sourdough starter works phenomenally and is beyond easy and really forgiving. If you don't have a sourdough starter yet, go ahead and get that going before you make this recipe.
Tangzhong -- whether you call it tangzhong or yudane (the Japanese name), this flour roux is remarkable for not only making a softer bread, but also for retaining the softness for days AND for adding a bit of natural sweetness to the dough without the need for more sugar.
Baked Baking Soda
Traditionally soft pretzels are dipped in a lye solution, but because lye is not only hard to come by and apparently can be dangerous to work with, I decided to use baked baking soda. When baking soda is baked, it makes it more alkaline, closer to the alkalinity of lye, but a little less dangerous. You can use regular baking soda (unbaked), but the pretzels won't be quite as dark and chewy.
To bake your baking soda, preheat the oven to 300 degrees F and line a baking sheet with foil. Pour your baking soda onto the foil and spread it into one layer. Bake the baking soda for one hour, let it cool completely, and then carefully pour it into an airtight container. Use it whenever you're making these or any other pretzels.
how to make sourdough soft pretzels
Feed your sourdough starter. You'll need to have 200 grams of active sourdough starter for this recipe, so the best thing to do is to feed your starter with 100 grams of flour and 100 grams of water. Go to the sourdough starter post for all the details on how to start the starter and maintain it.
Make the tangzhong. Combine the amount of flour needed for the tangzhong with the amount of boiling water into a smooth, thick paste. Cover and allow to cool at room temperature; refrigerate until ready to make the dough.
Make the dough. Combine all dough ingredients in the bowl of a stand mixer and mix on low until combined. Increase speed to medium high and mix for 5 minutes. Scrape into center of bowl and cover bowl. Let rise in a warm, draft-free area until almost doubled in size. Refrigerate overnight.
Shape pretzels. Remove dough from fridge and knead briefly on lightly-floured surface. Divide into 6 equal-sized pieces and roll into long ropes. Shape into a large "U" shape and then twist the ends together twice before folding them down to meet the bottom curve. Place on a baking sheet lined with parchment paper squares. Cover and freeze while you get everything else ready.
Preheat oven to 425 degrees F and begin boiling water on stovetop.
Add baking soda and molasses to boiling water and reduce to a simmer. Gently place pretzels in alkaline solution using parchment squares, and carefully remove parchment with tongs. Simmer pretzels for 2 minutes each.
Remove pretzels from baking soda solution and place on a greased parchment-lined baking sheet. Brush with egg wash and sprinkle with flake sea salt.
Bake for 20 minutes, or until deep golden brown.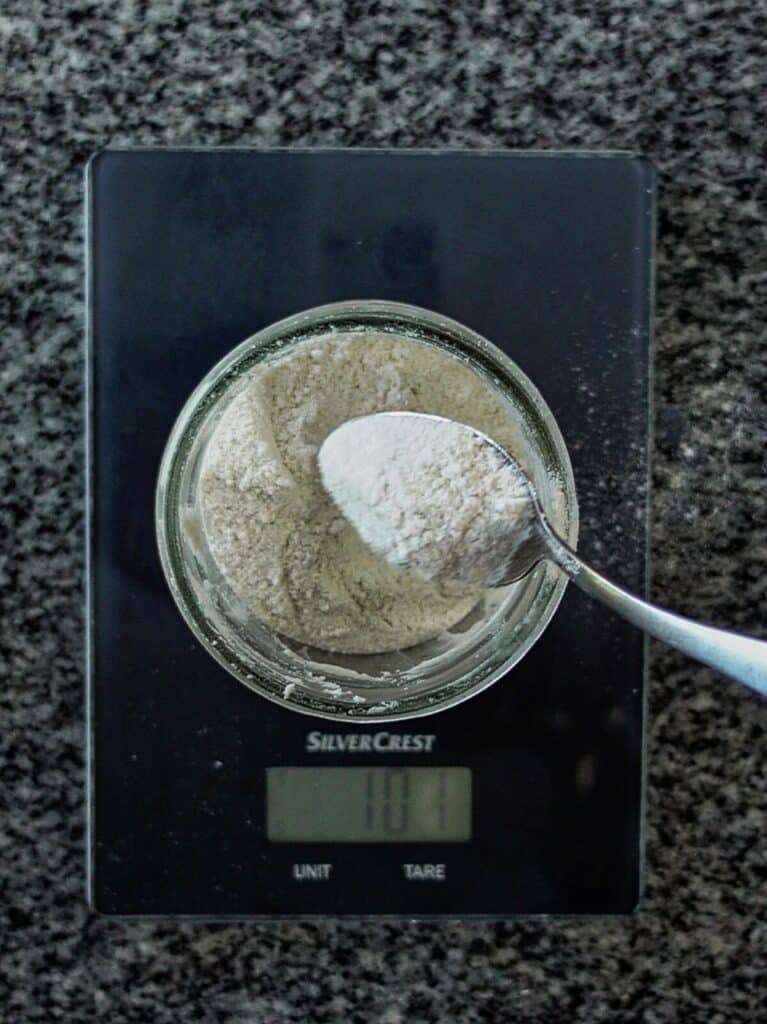 deep fried pretzel sticks??? yes please!!
Before I was diagnosed with celiac, I went to Applebee's with my kids one day and we ordered soft pretzel sticks as an appetizer to share. They honestly were some of the best pretzels we'd ever had. I knew they were different in some way, and my guess was they were deep fried!
I dreamt of those pretzels at Applebee's ever since I was diagnosed, so I went straight to work researching all I could about how to deep fry pretzels. And guess what? I found NOTHING! Not one spec of information on the internet (at that time at least). So I tabled the idea until we went to that restaurant and my husband and son both said those large Bavarian pretzels had to be deep fried.
I finally figured it out, after months and months of testing, so here's how you do it:
Make the pretzel dough through step 3 above. You can shape these into the traditional pretzel shape or go for the stick version like I've done below. Sticks are much easier, but either one will work.
Cover and freeze while you bring water to a boil on the stovetop.
Boil in baking soda solution as per the recipe and dry thoroughly on parchment paper.
Fry pretzels in hot oil for 2-3 minutes, flipping over halfway through. Drain on paper towels or a wire rack and immediately sprinkle with salt.
Gluten Free Sourdough Pretzels FAQs
What makes a soft pretzel different from other baked breads?
Soft pretzels are first "poached" in an alkaline solution, usually lye, to create the chewy and deeply golden crust. However, similar results can be obtained with baked baking soda.
Can soft pretzels be made in advance?
Yes, the raw dough or baked pretzels can be frozen for up to 2 months in an airtight container or ziptop bag. I would suggest not salting them if you plan on freezing them as the salt will eventually melt into the pretzels. To refresh, either microwave for 20-30 seconds or place in a 350 degree oven for 5-7 minutes.
Can I make these sourdough pretzels into bites?
Yes, you can! Just roll them out into a rope as you would for the pretzel shape and cut them into 1 inch pieces. Proceed with the instructions in the recipe for the baking soda bath and baking.
what can i serve with these gluten free pretzels?
Yellow mustard
Honey mustard
Spicy mustard
more gluten Free bread recipes You'll Love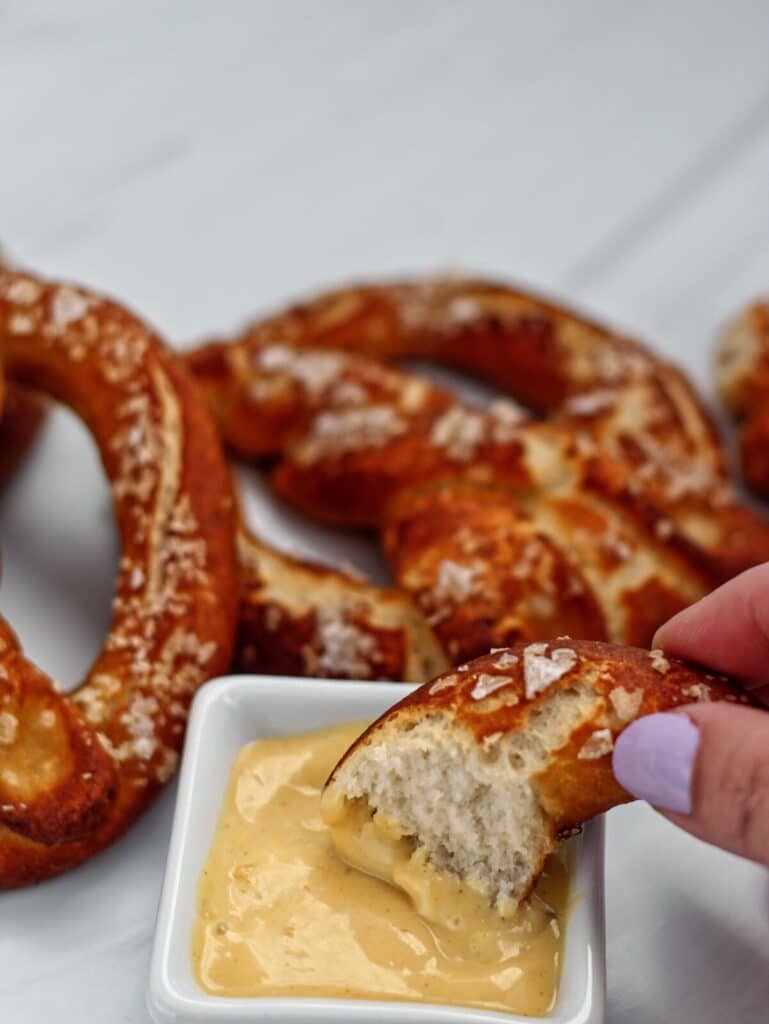 If you want to try the best soft pretzel you'll ever have, you HAVE to make this Gluten Free Sourdough Soft Pretzel Recipe. You'll never try another pretzel recipe again!
Gluten Free Sourdough Soft Pretzels Recipe
Like we stepped right into Germany, this Gluten Free Sourdough Soft Pretzel Recipe is as good as any pretzel you've ever had, maybe better!
Ingredients
Pretzel Dough
200

grams

active gluten free sourdough starter

30

grams

water

6

grams

kosher salt

120

grams

Kim's gluten free bread flour blend

28

grams

butter, softened

12

grams

light brown sugar

tangzhong

(recipe follows)
Tangzhong
40

grams

Kim's gluten free bread flour blend

60

grams

boiling water
Boiling Solution
2

liters

water

60

grams

baked baking soda

(see below)
Finishing Pretzels
1

large

egg, at room temperature

flake sea salt, for sprinkling

(kosher salt or pretzel salt can be used instead)
Fried Pretzel Sticks
peanut oil for frying

(canola or vegetable oil may be substituted)
Instructions
Feed Sourdough Starter
Remove your sourdough starter from the refrigerator and feed it with 100 grams of a wholegrain flour of choice and 110 grams of water. Stir, put the lid on, and leave at room temperature until doubled in size (this could take anywhere from 6-12 hours, depending on the temperature of your proofing area). If the starter is ready and you're not, simply place it back in the fridge, where it will "hold" for a few days.
Make Tangzhong
Place the 40 grams of bread flour blend in a small bowl and pour 60 grams of boiling water over. Stir quickly to hydrate all of the flour. It will be a very thick paste. Cover the bowl and cool before using.
Bake Baking Soda
Preheat your oven to 300° F. Line a baking sheet with foil and pour baking soda onto foil, spreading it into one even layer (it doesn't matter how much you bake, as long as you have ¼ cup (60g) for the pretzels).

Bake for one hour, cool completely, and carefully pour into an airtight container. Store at room temperature until you're ready to make pretzels (or bagels). d
Make the Dough
Add the water, salt, bread flour blend, butter, brown sugar, 200 grams of active sourdough starter, and the entire tangzhong into the bowl of a stand mixer. Mix on medium high for 5 minutes. Cover and allow to proof until puffed, but not completely doubled in size. Refrigerate at least 4-6 hours, preferably overnight.
Shape the Pretzels
Knead the dough on a lightly-floured surface until smooth. Divide dough into roughly 6 90-100 gram equal pieces (although you can make them bigger or smaller as desired).

On an un-floured work surface, roll each piece into a long rope about 20 inches in length. On your counter, pull the ends up so the shape is like a long "U". Then twist the ends once or twice (I like twice for the added stability) and fold them down to meet the "belly" of the pretzel. Press lightly to adhere.

Place the shaped pretzels on a baking sheet that's been lined with squares of parchment paper. The parchment squares make it easier to transfer the pretzels to the boiling water. Cover the pretzels and place in the freezer while you boil the water.
Boil Pretzels
Bring a pot of water to a boil and stir in the molasses and the baking soda. Turn the heat down to a low simmer. Also, preheat the oven to 425° F.

Carefully lower the pretzels on the parchment squares into the simmering water. Use tongs to carefully slide the parchment out from under each pretzel. Boil pretzels for 1½-2 minutes. There's no need to flip them over if you use a spatula or spoon to "baste" the top of the pretzels with the water.

Remove pretzels carefully from the water and place onto a greased parchment-lined baking sheet. Brush with the egg wash and sprinkle with flake salt.
Bake
Bake for 20 minutes, or until puffed and deep golden brown. Cool slightly before serving.
To Deep Fry Pretzel Sticks
Shape pretzels into a rope about 6 inches long and ¾ of an inch wide. Boil as above and allow to dry while you heat oil in a saucepan or cast iron skillet to 330° F.

Carefully lower pretzel sticks into hot oil and fry for 2-3 minutes, rolling over in oil to get all sides.

Remove from oil and place on paper towels to drain. Immediately sprinkle with flake salt and serve warm.
Notes
Pretzels will keep for 4-5 days, wrapped well.  They can be reheated in a 300-degree F oven for 5-10 minutes, until crisp and warm.