Prepare for your guests to be WOWED with this Gluten Free Buffalo Chicken Bread! It's beautiful, but also very easy AND tasty!
Some of the items linked in this post are affiliate links, meaning, at no additional cost to you, if you click through and make a purchase, I will earn a small commission.
How many times have you gone to a party and there is buffalo chicken dip? I think at every party I've ever been to, someone would always bring it. And I LOVE it!!! But I wanted to do something a little different this time around. Hence, this sunflower buffalo chicken bread was born. It's surprisingly easy to make and so beautiful with that WOW factor. But the taste is beyond what I ever would have imagined!
What You'll Need to Make Buffalo Chicken Bread
Gluten free sweet dough — this is one of my favorite doughs ever, mainly because it tastes so good and it has such an incredible texture, but also because it's so easy to work with and shape.
Mozzarella cheese
Cheddar cheese
Hot sauce — my favorite kind of hot sauce is Frank's Red Hot (affiliate link). If you like something else, use whatever you like.
Ranch dressing
Egg — for an egg wash
Pepper — for decorating the middle of the bread, if desired. You could also use black sesame seeds or poppy seeds.
How to Make Stuffed Sunflower Bread
It's surprisingly simple to make this sunflower-shaped bread!
Make the filling. Mix together all of the filling ingredients in a small bowl and set aside.
Divide the dough into two equal pieces. I always use a scale for dividing dough and since you should already have one in your gf baking arsenal, it should be no problem to do this. However, it you feel like you can eyeball it with great precision, go for it!
Roll out each piece into roughly 10 by 10-inch rounds. Once you roll the first one out, place it on a sheet of parchment and move on to the next one.
Working with the round that will be the bottom, keep it on the piece of parchment and scoop the filling onto the dough, leaving about a 1/2 inch ring around the outer edge.
Place the other round on top of this one. Pinch around the edges to seal the layers together. Place something round in the middle just to leave an impression (not something that could cut through the dough, however). Begin cutting at opposite ends through the dough layers — think of it as a clock and cut one at 12 and one opposite that at 6. Then cut one at 9 and the other at 3.
Cut each of these four sections in half and then each of those into thirds. This should leave you with 24 pieces total.
Gently lift up each piece and twist it sideways once, so that the filling is showing and facing up on each.
If there's a lot of extra dough at the ends of each piece, take some kitchen shears and snip off the excess.
Cover loosely with plastic wrap and set in a warm, draft-free area to rise until noticeably puffy, about 30 minutes. It won't double in size, but it should definitely be puffed.
Brush the entire loaf of bread with an egg wash (one egg beaten with one tablespoon of water and a pinch of salt). Bake at 350 degrees F for 15-20 minutes, or until cheese is melted and bubbly.
Sunflower Bread FAQs
Can I Use a Different Dough That's Not Sweet?
The best dough for shaping is my gluten free sweet dough and the sweetness goes very well with the spiciness of the buffalo chicken filling. However, you may be able to try my croissant dough (minus the butter block) or my white sandwich bread dough.
I Prefer Blue Cheese Dressing with Buffalo Chicken.
Just replace the ranch dressing with the same amount of blue cheese dressing.
How Far in Advance Can This be Made?
The filling can be made a few days in advance. The dough can also be made a few days in advance. The whole thing can be assembled, covered well, and refrigerated overnight. If it doesn't rise overnight in the fridge, allow it to rise before baking.
More Gluten Free Appetizers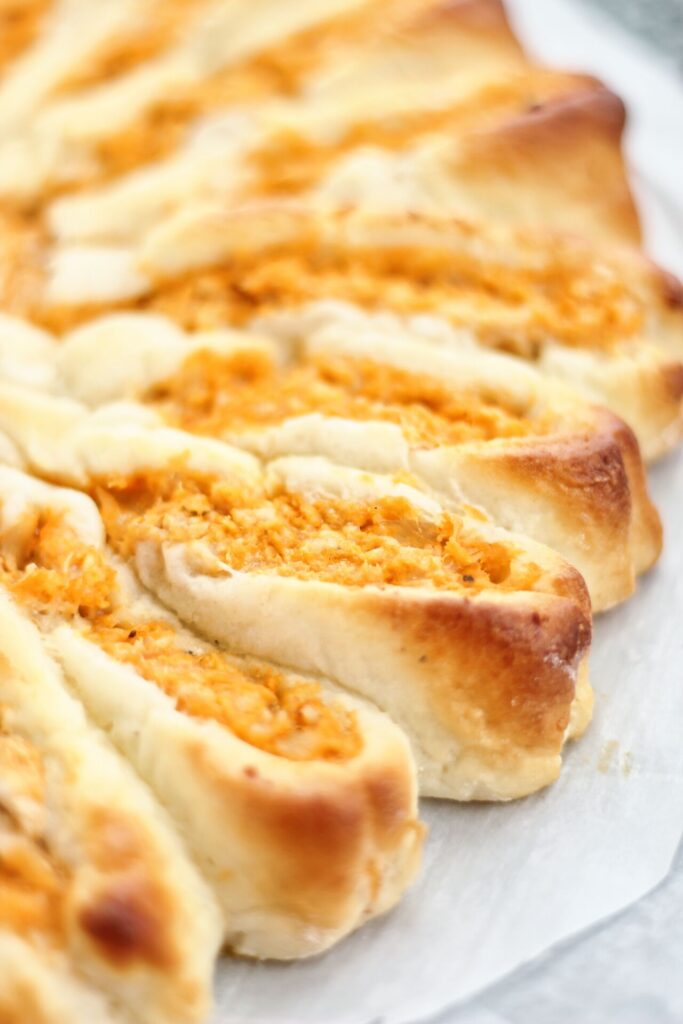 This Gluten Free Sunflower Buffalo Chicken Bread is gonna be the talk of your party! It's not only stunning and beautiful, but is as yummy as you would imagine!
Gluten Free Sunflower Buffalo Chicken Bread
Prepare for your guests to be WOWED with this Gluten Free Sunflower Buffalo Chicken Bread! It's beautiful, but also very easy AND tasty!
Ingredients
Filling
1

6 oz (172 g)

cooked chicken breast, shredded

4

oz (113 g)

shredded mozzarella cheese

2

oz (57 g)

shredded cheddar cheese

¼

cup (60 ml)

hot sauce

(I use Frank's Red Hot)

3

tbsp

ranch or blue cheese dressing

1

large

egg beaten with one tbsp water and a pinch or two of salt
Instructions
Combine all filling ingredients in a small bowl and set aside.

Divide dough into two equal-sized pieces (I use a scale to get as accurate as possible).

Roll out each piece into about a 10-inch by 10-inch circle and place each on a sheet of parchment paper.

Leaving the bottom one on the parchment, set it onto a non-rimmed baking sheet or a pizza stone (or anything you have that it can bake on). Spread filling over the dough to within about ½ inch of the edge. Carefully place the other dough circle over top, lining up the edges as best you can. Press to seal the edges together.

Using something round as a guide (I used an overturned ramekin), make an impression in the middle of the top circle, just as a guide to where not to cut.

Begin cutting four sections across from each other up to the middle circle, as if they were the face of a clock at 12, 6, 9, and 3. Then cut those sections in half, and then cut each of those into thirds. You should be left with 24 pieces cut.

Carefully grab a piece and twist it once to where the filling is exposed and facing up. Go around the entire loaf of bread and twist each piece. When you're done, if you have extra dough on the points of each "petal," cut it off with kitchen shears and press to seal the ends.

Cover loosely with plastic wrap and allow to rise in a warm, draft-free area until noticeably larger and puffy, 30-45 minutes. Meanwhile, preheat the oven to 350° F.

Brush the risen loaf with egg wash and bake for 15 minutes, or until lightly golden and fully baked.

Remove from the oven and serve while still warm. "Petals" can be pulled off individually or they can be cut in between each with a knife for easier removal. Serve with extra ranch/blue cheese and hot sauce on the side, if desired.