This classic chicken salad is simple, yet so tasty, and only contains five ingredients. There's a secret method to making this the easiest and quickest chicken salad ever!
This Classic Chicken Salad was originally posted in September 2019. It has been updated with new photos, new content, and a video.
Some of the items linked in this post are affiliate links, meaning, at no additional cost to you, if you click through and make a purchase, I will earn a small commission.
Remember when we used to be able to go to a restaurant or sandwich shop with no worries? If there was chicken salad on the menu I would order it. Those were the days, weren't they?!?! I miss those days so much!
But fear not! I've recreated many of those chicken salads I used to order, and here is one of 'em. This classic chicken salad is just like the chicken salad I used to order from a local place called Gourmet Gang. We used to order from them pretty regularly when I worked out of the house, and I LOVED their chicken salad. They always served it on a bed of lettuce with buttery crackers, fruit on the side, and the "pasta du jour." Now it can be made at home in literally minutes and I think it's better than what I remember.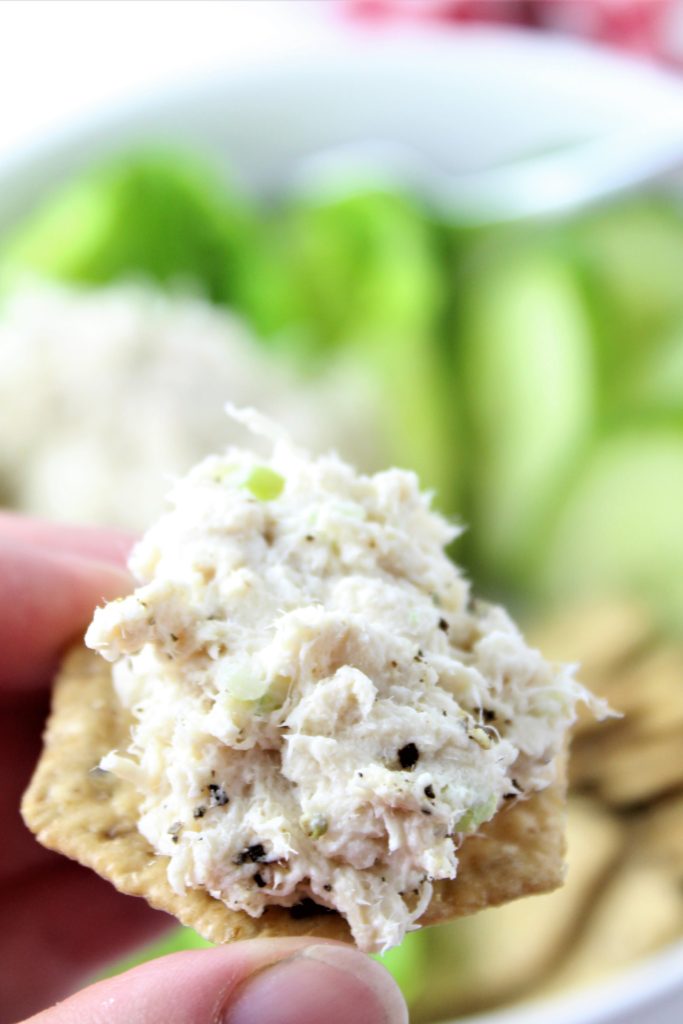 the five ingredients needed to make classic chicken salad
Chicken — cook your own (I like to poach chicken breasts for chicken salad), use leftover chicken, or grab a rotisserie chicken from the store. It's your choice.
Mayonnaise — you can use light mayo for a lower calorie chicken salad.
Sour cream — use Greek yogurt for a lighter alternative.
Celery — a handful of finely chopped celery gives the salad a little bit of crunch.
Jane's Krazy Mixed Up Salt (affiliate link) — I experimented with different spices and flavorings to get just the right taste of the chicken salad I missed so much. This salt has a little bit of everything mixed in. Once I used it, I knew I found the missing puzzle piece to the classic chicken salad I remembered so fondly.
the secret method that makes this recipe so easy
A while ago, I saw this technique floating around the internet for how to chop chicken in your Kitchen Aid (affiliate link). I thought it was a gimmick, but had to try it to find out for myself. Lo and behold, it worked!!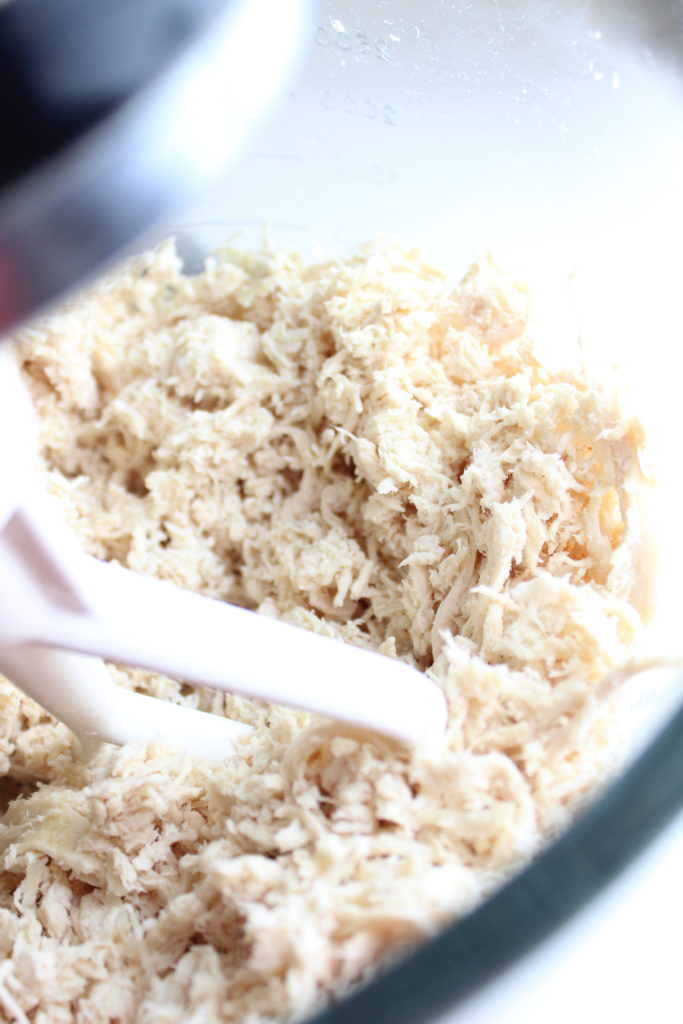 I put boneless, skinless chicken breasts in the bowl of my Kitchen Aid (affiliate link) and turned it on low. Pulsing on and off, the chicken was chopped into tiny bits within minutes, if not seconds! I was so amazed!! Standing there chopping the chicken for this salad was always soooooo tedious to me. Now I don't have to, and neither do you!!
In fact, the entire recipe can be made in the mixer bowl, aside from chopping the celery. It's such a simple, easy salad to throw together in less than 10 minutes (if you're using pre-cooked chicken). And if you need to cook your chicken, even that can be done in 20 minutes, so the whole thing, start to finish, can be done in under one hour!
classic chicken salad faqs
Is classic chicken salad made with all white meat?
You can make chopped chicken salad with all white meat, all dark meat, or a mixture of both.
How can classic chicken salad be made lighter?
You can make chopped chicken salad a little more figure friendly by using light mayo and either light sour cream or Greek yogurt in place of sour cream.
How long does classic chicken salad last?
Classic chicken salad can be kept in the refrigerator, well covered, for up to 4 days.
more gluten free chicken recipes
what to serve with classic chicken salad
A simple side salad
A scoop of chicken salad on a bed of lettuce with cucumbers and store bought gluten free crackers
With a side of homemade gluten free Ritz style crackers and a fruit salad
On two slices of toasted gluten free white sandwich bread or gluten free Italian bread
As an open-faced sandwich on a pillowy soft gluten free bun with a slice of Brie melted on top
If you're looking for a quick, but tasty meal for lunch, or even dinner, look no further! This Classic Chicken Salad is perfect on greens, crackers, or toasted gf bread. Any way you scoop it, it's delicious 🙂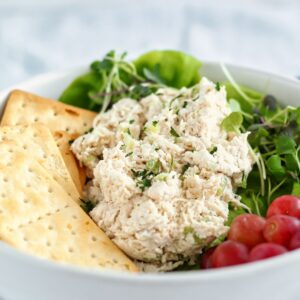 Chopped Chicken Salad
This chopped chicken salad is incredibly simple, yet so tasty, and only contains five ingredients. And there's a secret method to making this the easiest and quickest chicken salad ever!
Ingredients
1.5-2

lbs (454-681g)

fully cooked boneless, skinless chicken

(poached, pulled from a rotisserie chicken, or pre-cooked) (all white or a mixture of white and dark)

¾

cup (180g)

mayonnaise

¼

cup (60g)

sour cream

(Greek yogurt may be substituted)

1½

tsp

Jane's Krazy Mixed Up Salt

2-3

stalks

celery, finely chopped

pepper to taste
Instructions
Place chicken in the bowl of a stand mixer.  Pulse mixer on and off until chicken is finely chopped.  Alternatively, finely chop chicken and place in a large bowl.

Add mayo, sour cream, Jane's Krazy Mixed Up Salt, finely chopped celery, and pepper.  Blend very briefly until mixed thoroughly.  Taste and adjust seasonings if needed. For best results, allow to chill in the refrigerator for at least one hour for flavors to blend.

Serve on greens, with gluten free crackers, or on gluten free bread or toast. Keeps well in refrigerator in covered container for up to 4 days.