Get ready for the cheesiest, creamiest Gluten Free Baked Macaroni and Cheese of your life! No dry mac and cheese here–only creamy, dreamy comfort food at its finest.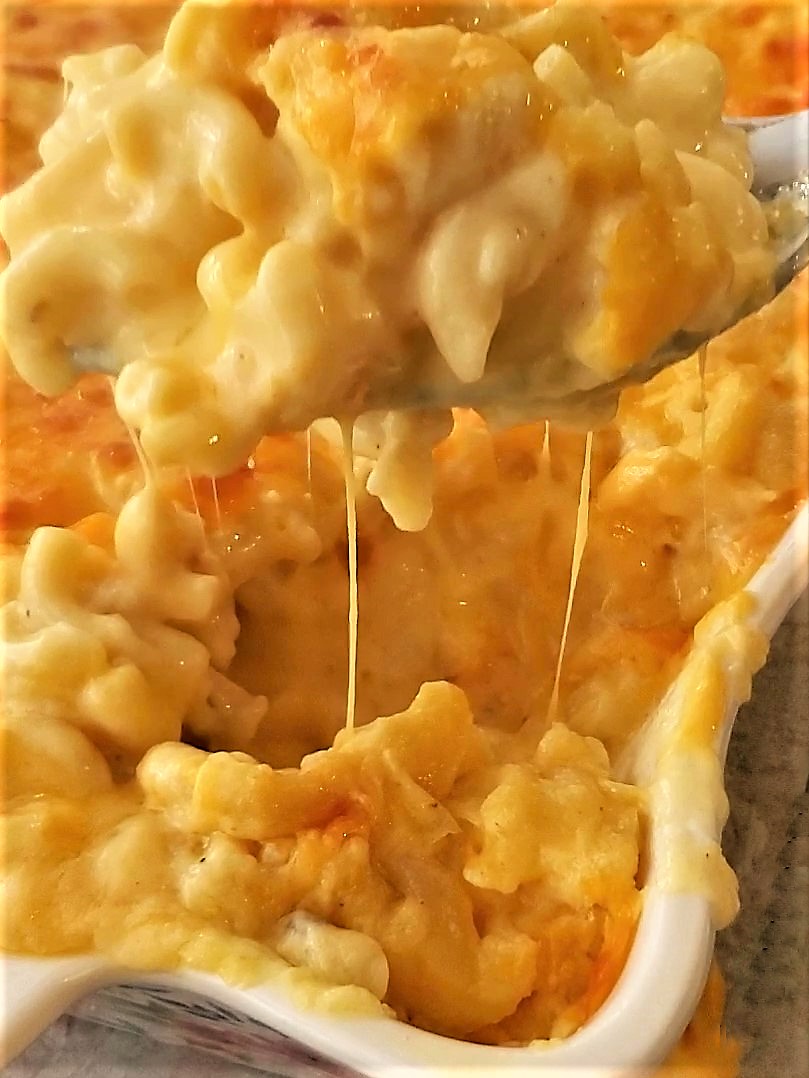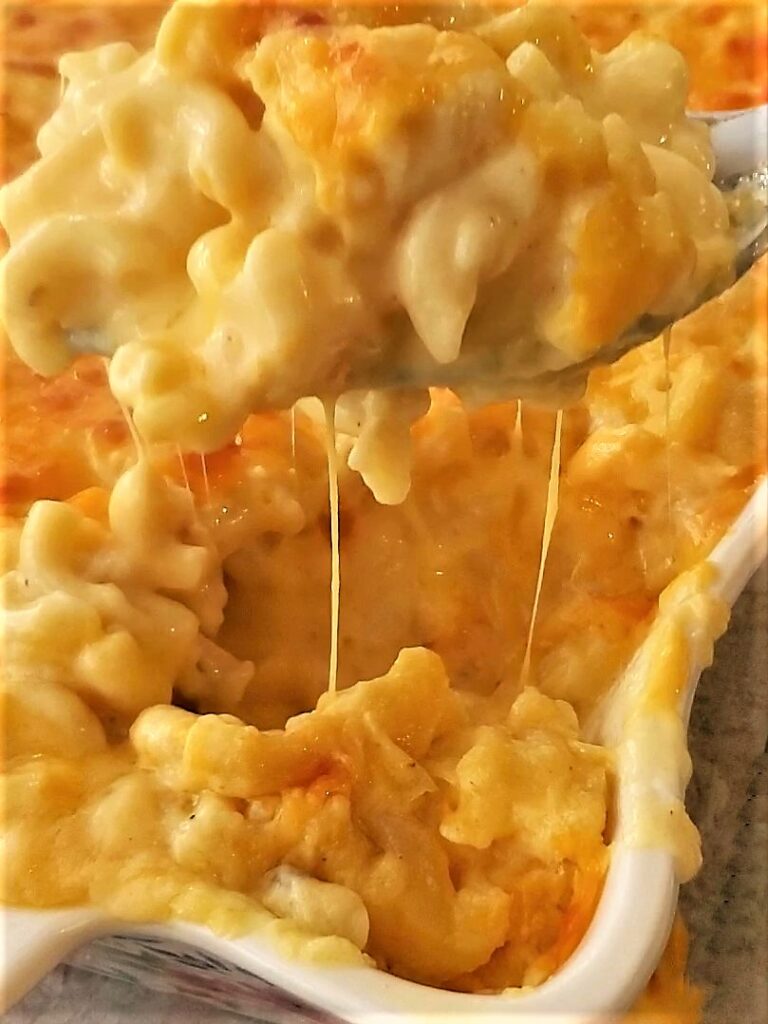 Have you ever tried a baked mac and cheese recipe and it came out so dry you threw it away? Even though the recipe promised it was the creamiest mac and cheese ever? Yeah, me too! I almost gave up on making my own baked mac and cheese. And I know of NO restaurant in my area that offers a gluten free baked mac and cheese either, so I was pretty accepting that I would never have it again.
But I did some digging and I eventually found this one recipe that looked promising, especially because of some unusual techniques I hadn't heard of before. So I tried it and lo and behold, it was amazing! No dry, thick, overly cooked, almost curdled like filling. No siree bob! Not this recipe. I served it to Scott and Brandon and they agreed, it was the best mac and cheese ever. And they're mac and cheese people, being that they can eat it wherever they go and all. So it was settled. This is my new go-to baked mac and cheese. And I had to share it with you!
The Ingredients
Gluten free elbow macaroni–I like Ronzoni, but any brand is fine
Extra sharp cheddar cheese
Sharp cheddar cheese
Velveeta cheese
Butter
Cornstarch or arrowroot
Milk
Cream
Kosher salt
Garlic powder
Dry mustard
Paprika
Black pepper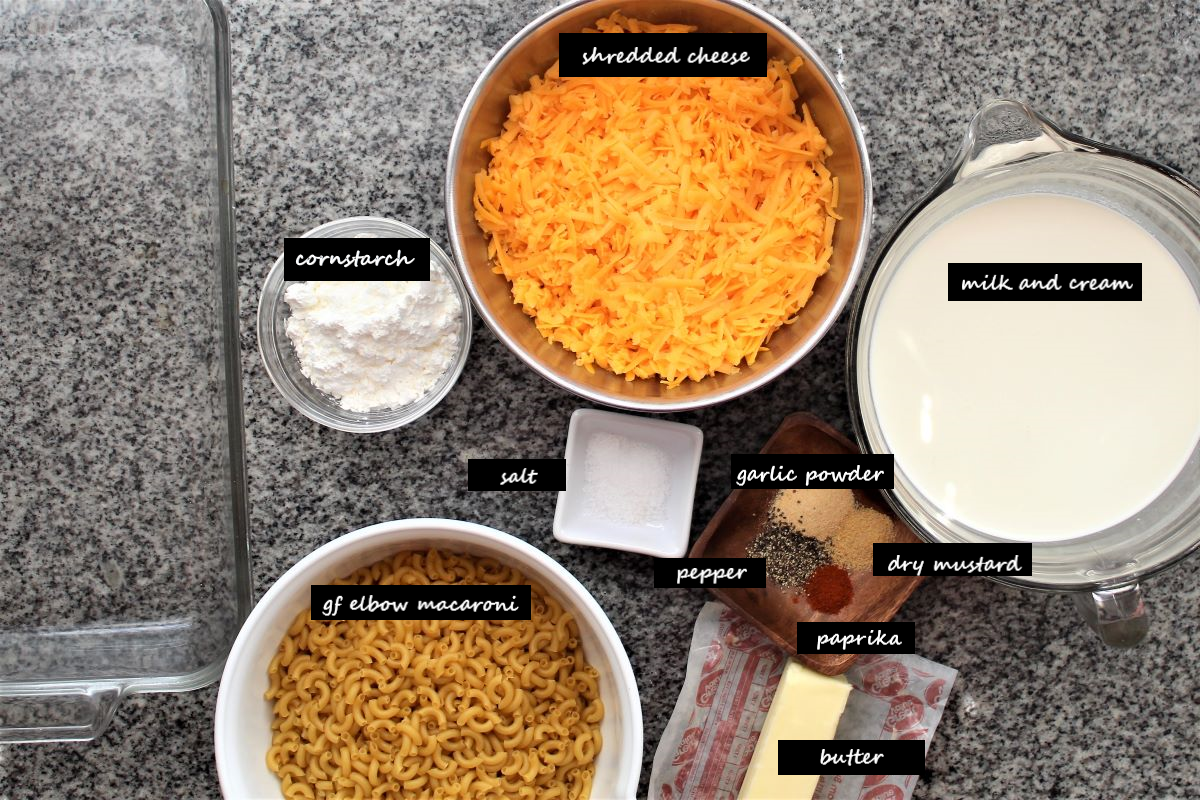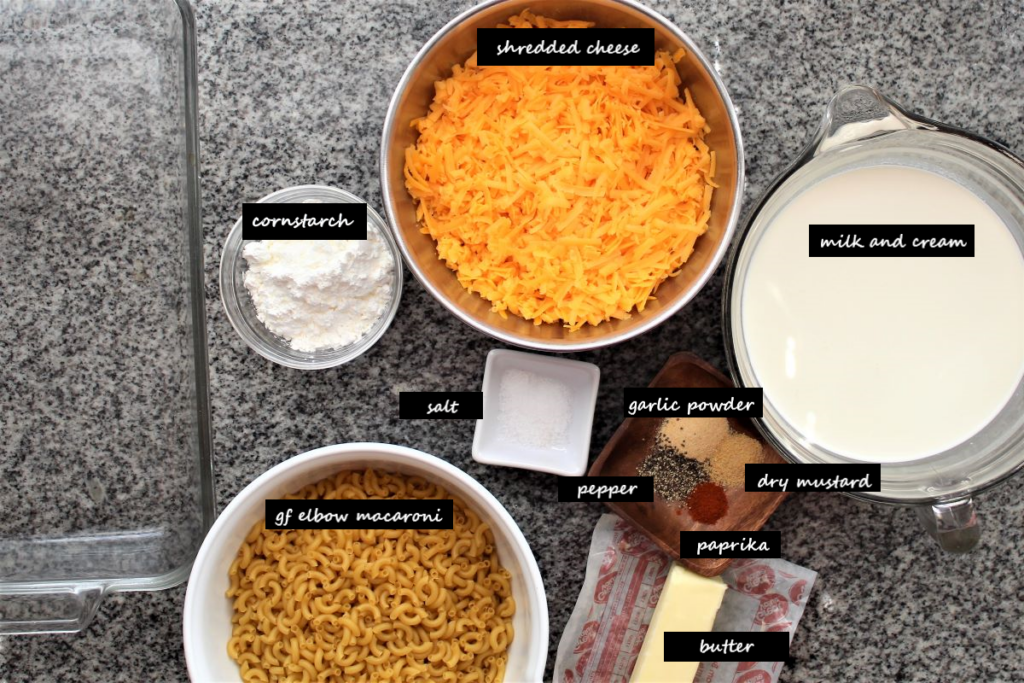 HOW TO MAKE BAKED MACARONI AND CHEESE
There are a few little tricks I learned when researching baked mac and cheese. They make every difference in the world between a great mac and cheese and a dry one:
Boil the noodles. One of the best tips I learned from my research is to undercook the pasta. Undercooking the pasta by just a couple of minutes helps separate the pasta from the sauce and allows them to join together in the oven, instead of the pasta breaking down into the sauce (like gluten free pasta is well known to do).
Shred your own cheese. This should really go without saying, but shredding your own cheese, to me, is a must in anything where cheese is the star of the recipe.
Make a roux. What is a roux? A roux is just a fat mixed with flour to create a thickening base for many sauces. In this case, melt the butter and add the cornstarch or arrowroot. You can use my xanthan gum-free flour blend (or a store bought blend without xanthan gum), but it's even easier to use cornstarch so I don't bother. After the roux has been made and allowed to bubble for one minute, slowly add the milk and then the cream. Adding it slowly will allow you to keep lumps from forming. Then add the spices and continue cooking until the sauce thickens.
Add 1/3 of the cheese to the sauce. We only want to add 1/3 of the cheese to the sauce because we're going to layer the cheese with the noodles and sauce.
Add the undercooked macaroni to the sauce. Here's the other CRUCIAL part of making baked macaroni and cheese that's still creamy and not dry and curdled. (ncal.com) There will be a significantly higher amount of sauce to pasta and that's what you want. In the oven, it will all "set" and be absolutely perfect.
Begin layering. In a casserole pan (9 by 13 rectangular pan or similar), layer half the noodles and sauce on the bottom, followed by another 1/3 of the cheese. Repeat this layering one more time, ending with the final third of cheese on top.
Bake for a short amount of time, fifteen minutes or so. You can switch to broil at the end to get the cheese nice and bubbly and browned, but watch it closely so it doesn't burn.
BAKED MAC AND CHEESE FAQS
Can the Mac and Cheese be Made Ahead?

I wouldn't recommend making this too far in advance, but if you want to assemble it and keep it in the fridge for a few hours prior to serving, that would be fine. Any longer than that and the sauce will absorb too much into the macaroni. You'll need to add a few minutes to the bake time due to the cold temperature of the entire dish.
Can I Halve or Double the Recipe?

Yes, this recipe works well for reducing or increasing for your needs. Just halve everything or double everything accordingly, making sure to scale up or down the size of your saucepans and casserole dishes.
How is Mac and Cheese Stored?

This macaroni and cheese will keep in the fridge, covered, for 3-5 days. It can be reheated in the microwave in short bursts or in a low oven (300 degrees F), covered with foil so it doesn't dry out, for 15-20 minutes. You can also freeze it and then thaw it in the fridge overnight before proceeding as above.
Can I Use Other Cheeses?

Feel free to mix up the cheeses in this mac and cheese. Using cheeses like gruyere, fontina, or mozzarella in addition to one of the cheddar cheeses or to replace both of them would work very well. I would, however, at least use the Velveeta in the sauce because it creates a texture like no other.
Possible Add-Ins
I like my mac and cheese straight up, but if you want to add some extra embellishments, here are some suggestions:
Bacon
Lobster
Gluten free breadcrumbs. Mix homemade or store bought gluten free breadcrumbs with a little melted butter and sprinkle them on top of the final layer of cheese. Bake as directed.
Vegetables. Broccoli comes to mind because it goes so well with cheese, but cauliflower or roasted butternut squash also sound amazing.
Meat. Rotisserie chicken, cubed deli ham, etc would make it a meal in one.
It's September and all the comfort foods will be blowing up your feeds everywhere. Why not start your comfort food journey this fall with the Creamiest Gluten Free Baked Macaroni & Cheese ever?
Creamiest Gluten Free Baked Macaroni & Cheese
Kim
Get ready for the cheesiest, creamiest Gluten Free Baked Macaroni & Cheese of your life! No dry mac and cheese here–only creamy, dreamy comfort food at its finest.
Ingredients
16

oz (454 g)

gluten free elbow macaroni

(I like Ronzoni)

8

oz (227 g)

extra sharp cheddar cheese

8

oz (227 g)

sharp cheddar cheese

8

oz (227 g)

Velveeta cheese

½

cup (113 g)

butter

½

cup (60 g)

cornstarch or arrowroot

4

cups (960 ml)

milk

1

cup (240 ml)

heavy cream

1½

tsp

kosher salt

1

tsp

garlic powder

½

tsp

dry mustard

¼

tsp

paprika

½

tsp

freshly ground black pepper
Instructions
In a large saucepan filled with salty water (salty like the sea), boil the macaroni 2 minutes less than the package directions. Drain and rinse and set aside.

Preheat the oven to 325° F. Spray a large casserole dish (9 by 13 inches or similar) with nonstick spray.

Shred the cheddar cheeses and set aside. Cube the Velveeta cheese and set aside.

Melt the butter in the same large saucepan over medium heat. Add the cornstarch and whisk constantly for one minute. Slowly add the milk, a little bit at a time, whisking constantly so no lumps form. Add the rest of the milk and the cream, followed by all the spices.

Turn the heat up to medium high and allow the sauce to thicken slightly (until it coats the back of a spoon). Turn the heat off and add ⅓ of the shredded cheddar cheese and stir to melt the cheese.

Add the par-cooked macaroni to the sauce and stir to combine. If using, add cubed Velveeta cheese and stir to combine. It doesn't need to be completely melted.

Add about 1/3 to 1/2 of the noodle/sauce mixture into the bottom of the prepared pan (depending on the size of your pan, you will get either 2 or 3 layers). Top with 1/3 to 1/2 the remaining shredded cheese. Add the rest of the macaroni and sauce on top of the shredded cheese and top with the rest of the cheese.

Bake for 15-20 minutes, or until the cheese is melted. You can switch to broil at the end just to brown the cheese and get it nice and bubbly.
Recipe adapted from Baking a Moment's Baked Macaroni & Cheese Recipe