Raise your hand if you wish Chick-fil-A was gluten free ✋🏻✋🏾. Until that happens (if it ever does), we'll make our own gluten free Chick-Fil-A style chicken and we'll love it!!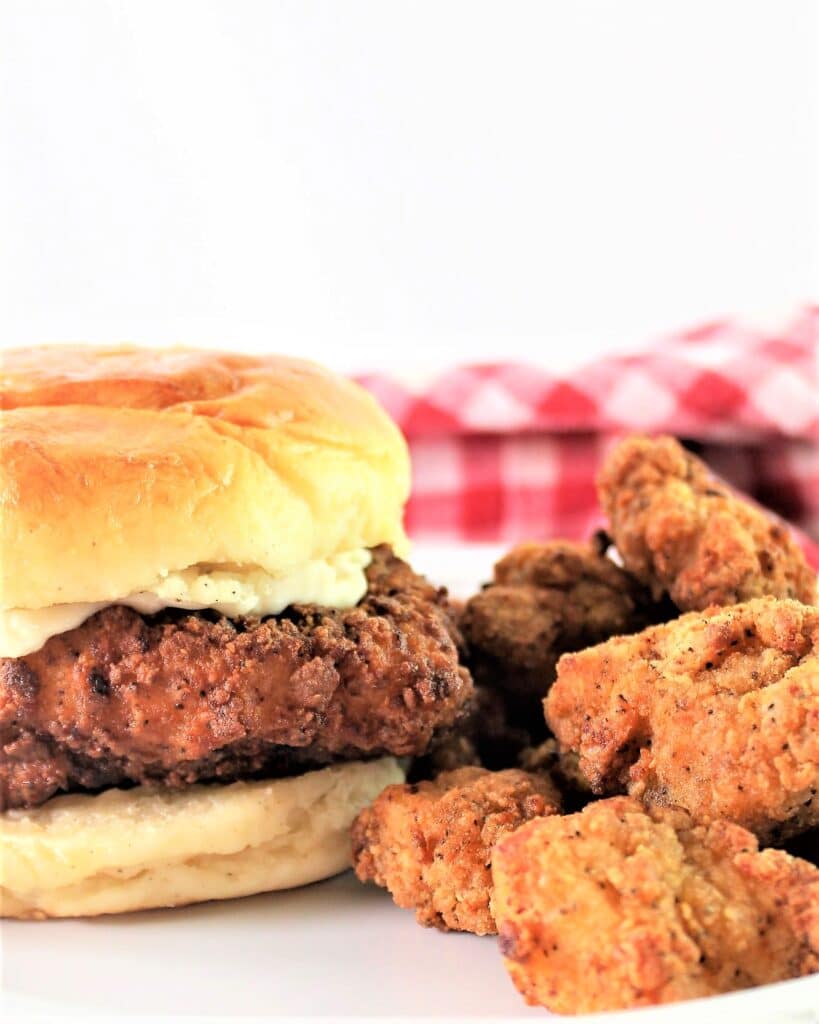 When I first found out I had Celiac, one of the first things I thought of, believe it or not, was Chick-fil-A chicken sandwiches and chicken nuggets. Sure, they have grilled chicken sandwiches (now with a gluten free bun even, which isn't bad I have to say).
But Chick-fil-A isn't one of the most successful fast food joints because of their grilled chicken. They excel at FRIED chicken, plain and simple. Theirs is such a unique recipe that the Chick-fil-A by our house always has a line wrapped around the building and sometimes overlapping for the drive thru! They are just so popular around here. And for good reason.
What's Different About Chick-Fil-A Chicken?
I think the biggest difference in Chick-fil-A's chicken from all the other fast food joints is that their nuggets and chicken aren't super crispy. They're just crispy enough (not soggy), but otherwise the coating is tender and light. And the flavor is very unique.
So what's in their chicken that makes it so addicting? I went to Chick-fil-A's website and looked at the ingredients and, mostly, the flavors and textures are pretty similar to any other breaded chicken, with the exception of sugar and baking powder in the coating.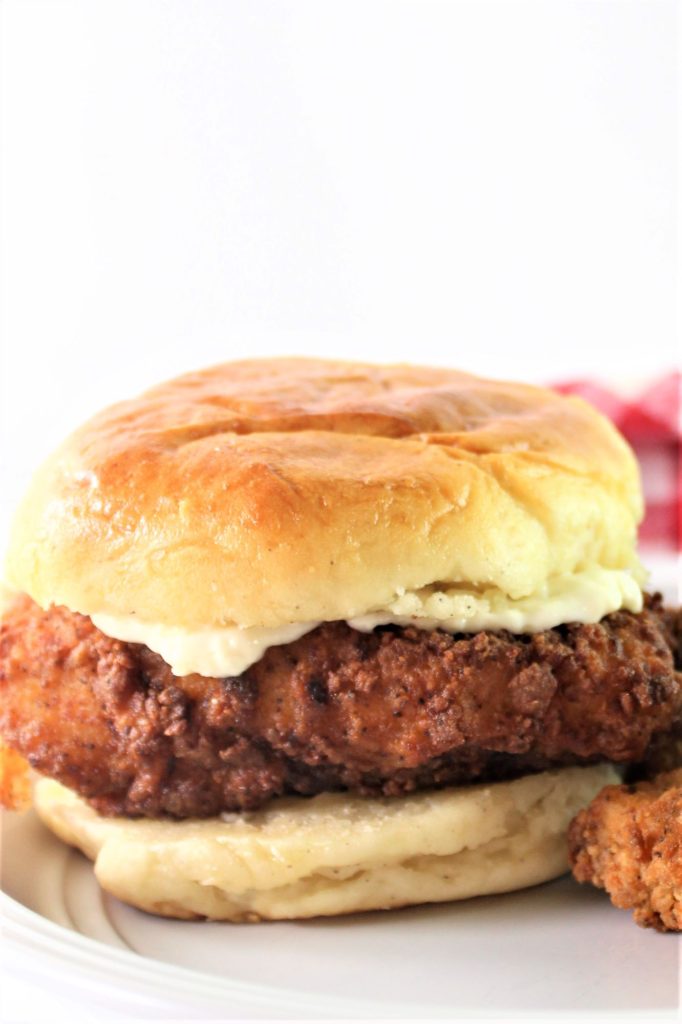 How Do I Make Gluten Free Chick-Fil-A Style Chicken?
As I often do, I'll go back and revisit some of my old recipes and see if they could use some updating. When it comes to gluten free baking and recreating of foods, I am a perfectionist and won't settle for just "okay."
Maybe it's because it's ME who has to miss out if I don't manage to crack the code, so to speak. Not my child or my husband. If I wasn't the one with celiac, making something that tastes AS good, or better, than the original might not matter as much to me. I guess because I could always go and have the original any time I'd want.
So when I saw a recipe on Serious Eats by Kenji Lopez-Alt for Chick-Fil-A style chicken sandwiches, I was very intrigued. He was so thorough in his research so I decided to give it a go, making it gluten free of course. WOW! This was IT!!!!!! I can confidently state that I will never need to try another copycat recipe for Chick-Fil-A again because I finally found it. And I will make this chicken ALWAYS!
In fact, my son's 21st birthday was a few weeks ago and, as we always do with everyone's birthday, I asked him what he wanted and he wanted me to make this recipe. The KING of Chick-Fil-A nuggets said he liked these gluten free nuggets better than Chick-Fil-A's!! Now that's saying somethin'!!!!
The Ingredients
Making this chicken isn't at all difficult. But like any frying situation, there is a breading process. Here's the list of things you'll need:
Chicken–I prefer boneless skinless chicken breasts because I'm a white meat kinda gal. If you're a dark meat lover, you could certainly try boneless skinless chicken thighs.
Kim's gluten free flour blend–you could use another blend of your choice if you prefer.
Eggs–for dredging
Milk–mixed with the eggs for dredging
Nonfat dry milk powder–which you'll already have on hand if you make my all-purpose blend! I've always put it in my Chick-Fil-A copycat recipes because it's listed on their website.
MSG–it gets a bad rap, but apparently it's not at all as bad as we think. Check out Kenji's notes in his Food Lab post here. You can leave it out, but it might not have that same umami flavor.
Kosher salt–for the brine
Granulated sugar–for the brine
Paprika
Black pepper
Cayenne pepper
Baking powder–also listed on Chick-Fil-A's website as an ingredient in their breading
Peanut oil–specifically peanut oil for frying. You can use another type of oil, but peanut is what Chick-Fil-A uses so that's what I'm using.
Can I Make Nuggets AND a Sandwich?
You certainly can and SHOULD!!! When I made this for my son's birthday, he's the only one who wanted nuggets so I made him nuggets and the rest of us sandwiches.
For everyone else's sandwiches, I bought them brioche style buns from Aldi. For my sandwich, I used one of my gluten free hamburger buns from the freezer, cut it open and spread both sides with softened butter, and wrapped it in foil. Scott put it on the grill and it steamed inside the foil! It was PERFECTION!!!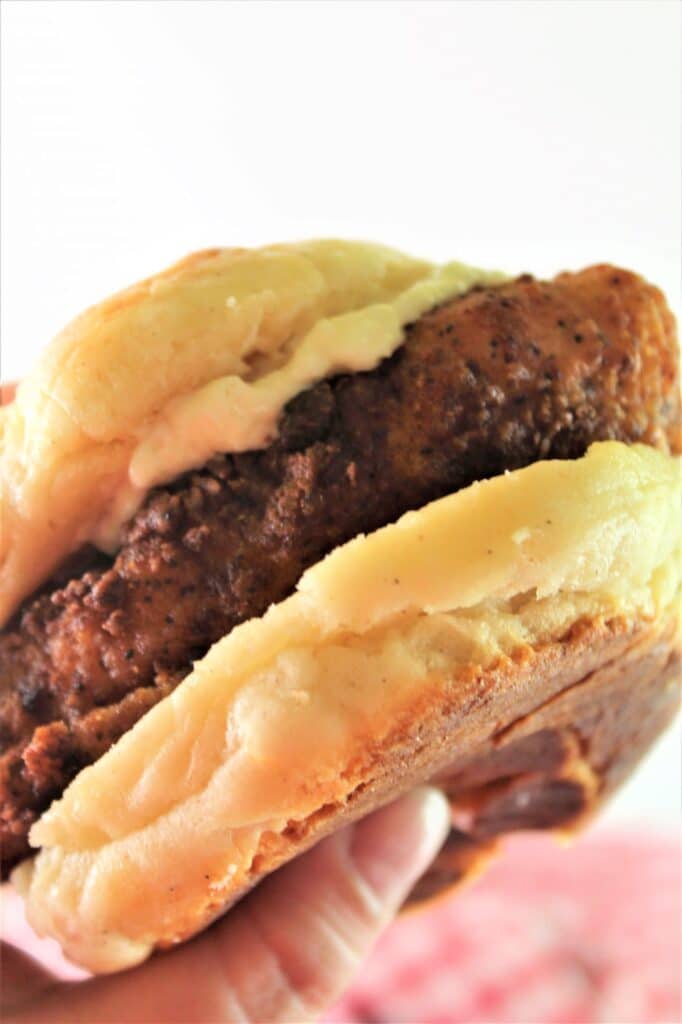 How About Put It on a Biscuit?
Oh my gawsh, y'all. This chicken is SOOOOOO good on a biscuit! Scott suggested I serve it on my biscuits the first time I made it (he LOVES my gluten free buttermilk biscuits). And I almost like this the best!!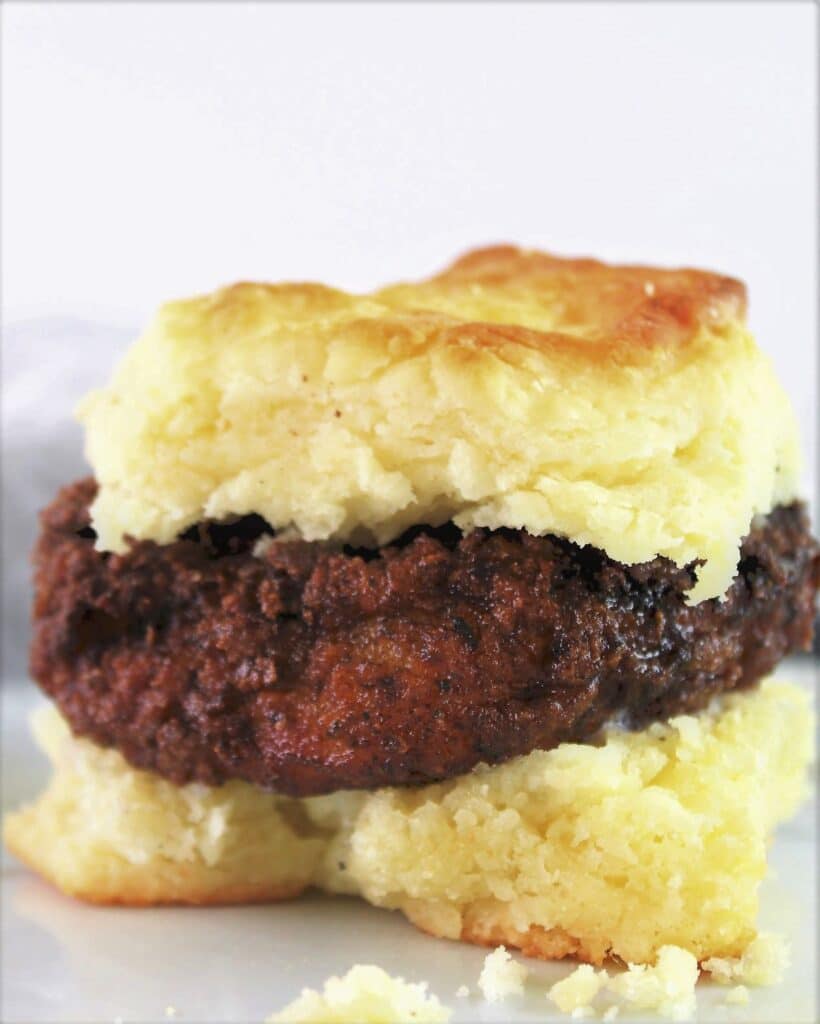 My family loves these gluten free Chick-fil-A style chicken and yours will, too! Now we all can enjoy Chick-fil-A without even leaving home.
Gluten Free Chick-fil-A Style Chicken
Raise your hand if you wish Chick-fil-A was gluten free ✋🏻✋🏾. Until that happens (if it ever does), we'll make our own gluten free Chick-Fil-A style chicken and we'll love it!!  
Print Recipe
Ingredients
The Brine
½

cup

kosher salt*

¼

cup

granulated sugar

1

quart

cold water

2

large

boneless, skinless chicken breasts, cut in half vertically and each piece pounded thin, if making sandwiches (or cut into small 1-inch sized pieces for nuggets)
Dredge
2

cups (280 g)

Kim's gluten free flour blend

2

tbsp

nonfat dry milk powder

½

tsp

kosher salt

2

tsp

granulated sugar

1

tsp

baking powder

2

tsp

paprika

2

tbsp

black pepper

½

tsp

cayenne pepper

1

tsp

MSG (optional)

(see link in blog post for more info on this)

1

cup (240 ml)

milk

2

large

eggs
Fry and Assemble
2

quarts

peanut oil, for frying

1

tbsp

softened butter

dill pickle chips for serving, if desired

mayonnaise for serving, if desired
Instructions
For the Brining
Dissolve the kosher salt and granulated sugar in one quart of cold water. Place chicken in a ziptop bag and pour cold water over. Seal bag and place in refrigerator overnight to brine.
For the Dredging
Combine paprika, black pepper, cayenne pepper, and MSG (if using) in a small bowl and set aside.

Whisk together milk and eggs in a shallow bowl and set aside.

Whisk together flour, nonfat dry milk powder, baking powder, ½ tsp kosher salt, 2 tsp granulated sugar, and 2 tablespoons of the spice mixture in a large shallow bowl to combine. Drizzle 3 tablespoons of the milk/egg mixture into the flour mixture and rub with your fingertips until the flour is like wet sand.
Frying and Assembling
In a large Dutch oven, heat the peanut oil to 350° F.

Remove the chicken breasts from the brine and pat them dry with paper towels. Season on all sides with the remaining spice mixture. Transfer the chicken to the milk mixture and coat fully. Allow excess milk mixture to drip off and then transfer to the flour mixture, Press down firmly to adhere as much of the flour mixture to the chicken as possible. Shake off the excess flour and lower the chicken into the hot oil. Repeat with the rest of the chicken (cutlets or nuggets), frying until golden brown on all sides (about 4 minutes for whole pieces and about 2 minutes for nuggets).

Transfer chicken to wire racks set over baking sheets to drain.

If making sandwiches, cut gluten free hamburger buns in half horizontally and spread each side with butter. Toast in pan until lightly browned, or wrap in foil and place in a 350° F oven for a few minutes, just to soften buns slightly.

Place chicken cutlets on toasted buns and add pickle slices and mayonnaise, if desired. Serve warm.
Notes
*Chick-Fil-A's chicken is pretty salty, but if you'd like a little less salty chicken, reduce the kosher salt in the brine by half.  
Adapted from Serious Eats' Homemade Chick-Fil-A Sandwiches Recipe