Fire up the grill to make this wonderful Copycat Baja Fresh Salsa. Grilling the vegetables until charred produces a smoky salsa like no other. It's so easy to make and so delicious, it'll become your new go-to!!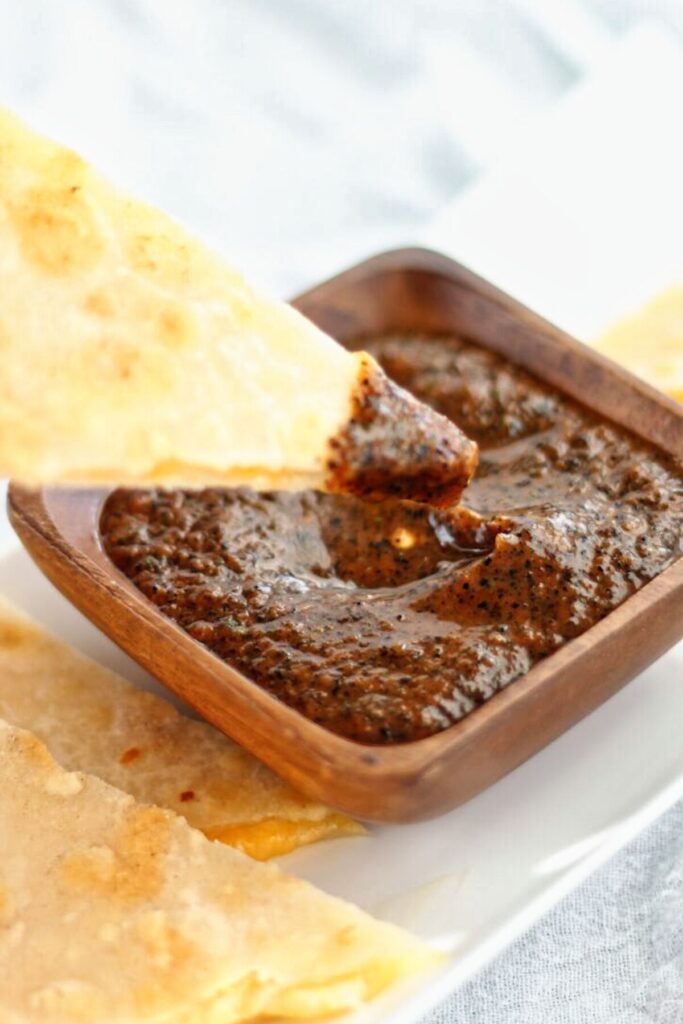 Some of the items linked in this post are affiliate links, meaning, at no additional cost to you, if you click through and make a purchase, I will earn a small commission.
We used to have a Baja Fresh in our city, but sadly it closed down. I'm not sure why because it was so good. It was really fresh (the name doesn't lie) and fast and like most things that seem to be better for you around here, they're gone in a flash. Instead, we get things like Burger King to take the place of El Pollo Loco. Burger King? Really??? Who would rather have Burger King than fresh grilled chicken and all the sides you want?
Both Baja Fresh and El Pollo Loco really made an impression on me for their fresh takes on Mexican food. What I loved the most about Baja Fresh, though, was their "black" salsa. I call it black salsa, but I guess it's real name is something like fire-roasted or charred tomato salsa. Whatever its name, it's my favorite salsa ever!! And whenever I make it, everyone loves it and either wants the recipe or wants me to make them some (my daughter is definitely a lover of this salsa).
HOW DOES IT GET SO dark?
The dark, or black, color of this copycat Baja Fresh salsa is from the charred tomatoes and jalapeños. And when I say charred, I mean charred. Like blackest black charred. Not roasted.
So how do you do this? Put the cut tomatoes on the grill on medium high heat for about a half an hour. Don't touch them. Just leave them there to get blackened. After the tomatoes have been on for half an hour, put the jalapeño(s) on the grill to also get as charred as possible.
WHAT ELSE GOES INTO THIS SALSA?
Freshly squeezed lime juice
Chicken stock (or broth)
Fresh garlic
Olive oil
Fresh cilantro
Salt and pepper to taste
The whole thing gets whirred in a blender until smooth.
I Don't See Onions. Aren't There Onions in This Salsa?
Every salsa ever made seems to have onions in it, but I am NOT an onion person (can't stand them!) so I left them out. If you ARE an onion person and want to add them, place a couple of halved onions on the grill with the jalapeño(s) and continue to char for the same amount of time.
What Can I Serve This Salsa With?
Anything!! You can dip tortilla chips in it, put it on tacos, serve it with quesadillas, mix it with sour cream or Mexican crema for a perfect cold dip for regular chips and/or veggies, or stir it into soups and Instant Pot recipes, like my Mexican Bean Soup. You're only limited by your imagination, so BYOC (be your own chef)!
How Long Will it Last?
This salsa makes a whopping 4 cups! So unless you're planning on sharing with everyone you know, you can definitely store this in the freezer for 3-6 months. I like to separate it into smaller portions in freezer jars. It will also keep in the fridge for a good week.
Fire up that grill to make this amazing Baja Fresh style "black" salsa. It's so different from the usual salsa, I wouldn't be surprised if it becomes a favorite of yours, too!
Copycat Baja Fresh Salsa
Fire up the grill to make this wonderful Copycat Baja Fresh Salsa. Grilling the vegetables until charred produces a smoky salsa like no other. It's so easy to make and so delicious, it'll become your new go-to!!
Print Recipe
Ingredients
10

large

tomatoes

2

small

jalapeños (or one large one)

1

lime, juiced

2

garlic cloves

1 to 1½

cups (240 to 360 ml)

chicken stock (as needed to thin salsa)

¼

cup (60 ml)

olive oil

½

cup (one small bunch)

fresh cilantro

salt and pepper to taste
Instructions
Slice tomatoes in half and place each half skin side down on a grill over medium high heat and grill for a half an hour. Add jalapeños to grill and continue to grill tomatoes and jalapeños for another half an hour, or until very charred and blackened.

Remove from grill and put tomatoes, jalapeños, garlic, lime juice, olive oil, fresh cilantro, and half the chicken stock in a blender and puree. Taste and season with salt and pepper. Add more chicken stock as needed for a thin, pourable salsa.
Notes
*The recipe makes a LOT of salsa, which can be divided into smaller servings and frozen for about 3-6 months.