Have you missed crescent roll dough in a can? This Gluten Free Crescent Roll Dough is JUST LIKE THAT so now we can make all the things!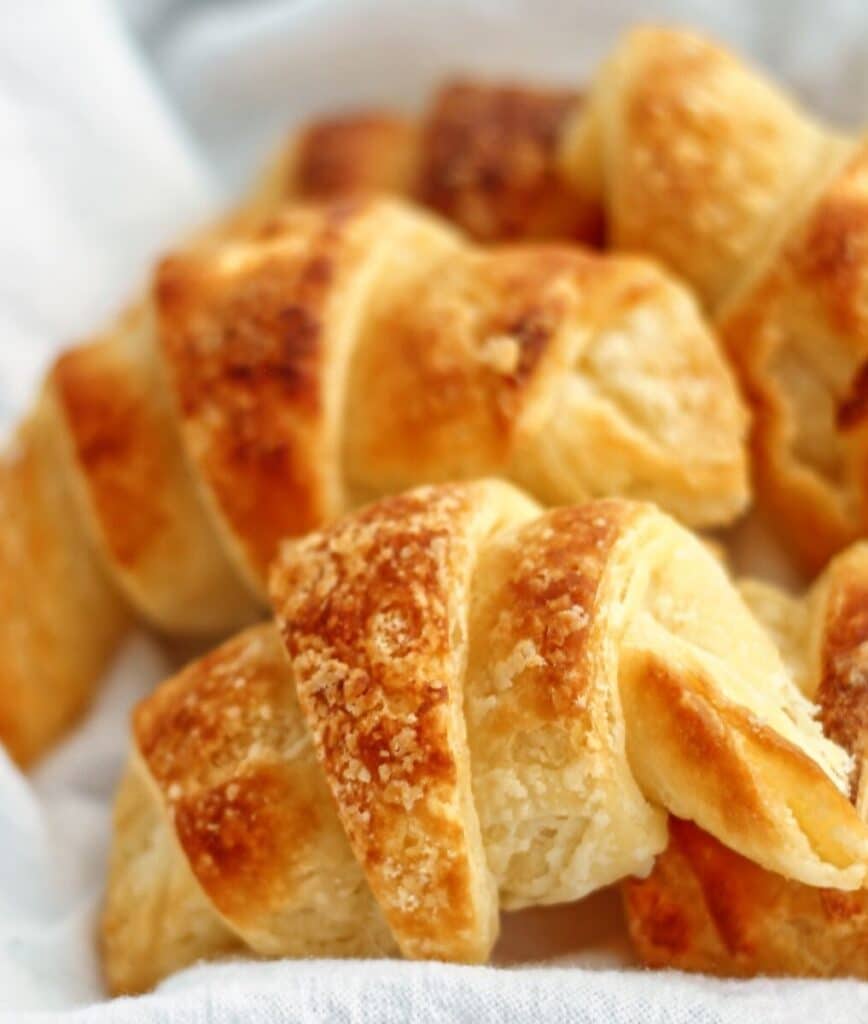 Some of the items linked in this post are affiliate links, meaning, at no additional cost to you, if you click through and make a purchase, I will earn a small commission.
Y'all, I have been on a search to recreate one of my favorite ever childhood staples since I was diagnosed with celiac. That was over 10 years ago. I have come so close to it without getting it quite right. It was always too crispy. Or too flaky. Not anything like what I remember.
Until now. With my all new Gluten Free Crescent Roll Dough, we can FINALLY enjoy all those recipes we used to make before our gluten free days. Or simply just make the dough into crescent rolls like the original Pillsbury rolls were intended. Whatever you decide to make with this dough, you'll be rewarded with a soft and buttery, flaky but tender baked treat!
Why make crescent roll dough?
It's easy to make
They don't have a suitable gluten free substitute on the market
You know what's in it and there are no words you can't pronounce
The dough can be made into crescent rolls
OR you can recreate your favorite crescent roll recipes from the past
what's the difference between this recipe and my gluten-free croissants?
What I remember from canned crescent rolls is that the dough, and resulting baked "rolls" weren't really like regular bread rolls at all. They were more like a pastry, a laminated pastry at that. But not quite a croissant. A croissant, when done right, is shatteringly flaky and crisp on the outside and has those soft layers in the middle that create a honeycomb effect. Crescent roll dough, on the other hand, was flaky but not in a shatteringly crisp way. It was softer. The way I would describe crescent rolls (or crescent roll dough) is if a croissant and a soft roll had a baby.
When experimenting with this recipe, I made it two ways. I made one batch with my gf all purpose blend and another batch with my gf bread flour blend. I found that the one made with the AP flour was softer and more of what I was looking for, a pastry of sorts. The one made with my bread flour was bready and more like a roll. Therefore, I concluded that using all purpose flour was the missing piece to my many failed attempts at recreating this recipe. I was thrilled, to say the least, that I had finally achieved the perfect texture that I was looking for all these years.
here's what you'll need to make the dough
Kim's all purpose gluten free flour blend

— you may be able to use a store bought blend, but this recipe has not been tested with such so I can't say if it will work the same. I honestly think it would.
Butter — make sure the butter is a high-quality butter, such as Kerrygold or Plugra. I find Irish butter at my local Lidl for rather cheap (compared to others). We need that extra fat content.
Instant yeast — yeast is what gives the crescent dough its lift.
Egg — egg is an essential ingredient as its used for binding (in addition to the small amount of xanthan gum in the flour blend).
prefer to watch instead of read?
how to make gf crescent dough
Whisk flour, sugar, yeast, and salt together in a large bowl.
Flatten the butter into the dry mixture with your fingertips. You should still have big pieces throughout.
Whisk the egg, milk, and vanilla together in another small bowl.
Pour the wet into the dry; work quickly and toss gently with a fork until there are no longer bits of dry flour. The mixture will be quite wet.
Shape the dough into a rectangle on a piece of plastic wrap; wrap it tightly and chill it in the fridge for at least 2 hours, preferably overnight.
Roll the dough out into a large rectangle that's roughly 1/4 to 1/3-inch thick.
Fold the dough into thirds like you would a letter.
Repeat this rolling and folding two more times for a total of three.
Wrap the dough tightly in plastic wrap and refrigerate for one hour.
Repeat the rolling and folding process three more times.
Wrap the dough and refrigerate it for at least two hours, but up to three days.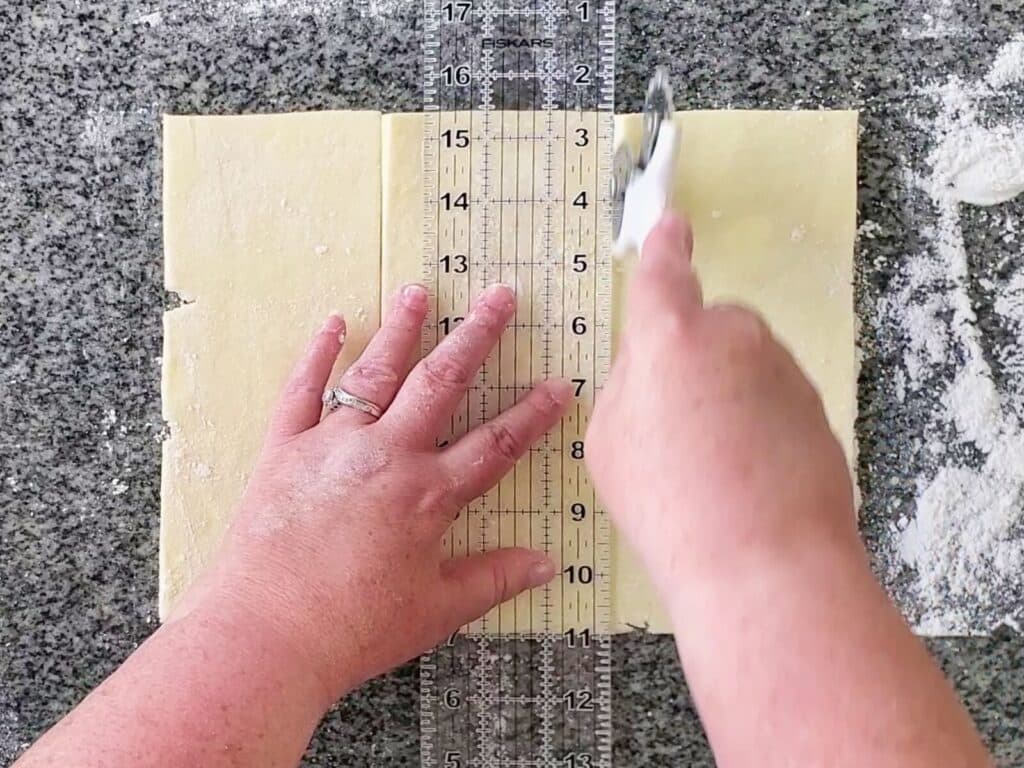 Frequently Asked Questions for Homemade Crescent Rolls
Why do I need to use a high-fat butter?
Most American butters have 80% butter fat content, whereas European style butters have at least 82%. This means that there is more water making up the contents of a stick of American butter. More water equates to a stiffer butter, which won't incorporate as well into the dough.
What's the purpose of rolling and folding the dough so many times?
It creates distinct layers within the dough, which is the main characteristic in crescent dough. The butter melts in the oven, which creates steam, which pushes the dough up and creates all those individual layers. Without rolling and folding, you won't get as many layers and your finished product will be more like "bread" than "pastry."
Isn't this dough just like your croissant dough?
In many ways it is. However, this is more like a "quick" or "rough" gluten free croissant dough because the butter portion is roughly added to the dry ingredients versus making a butter block. This dough can be used for many more applications than just French-style croissants.
more ways to use this dough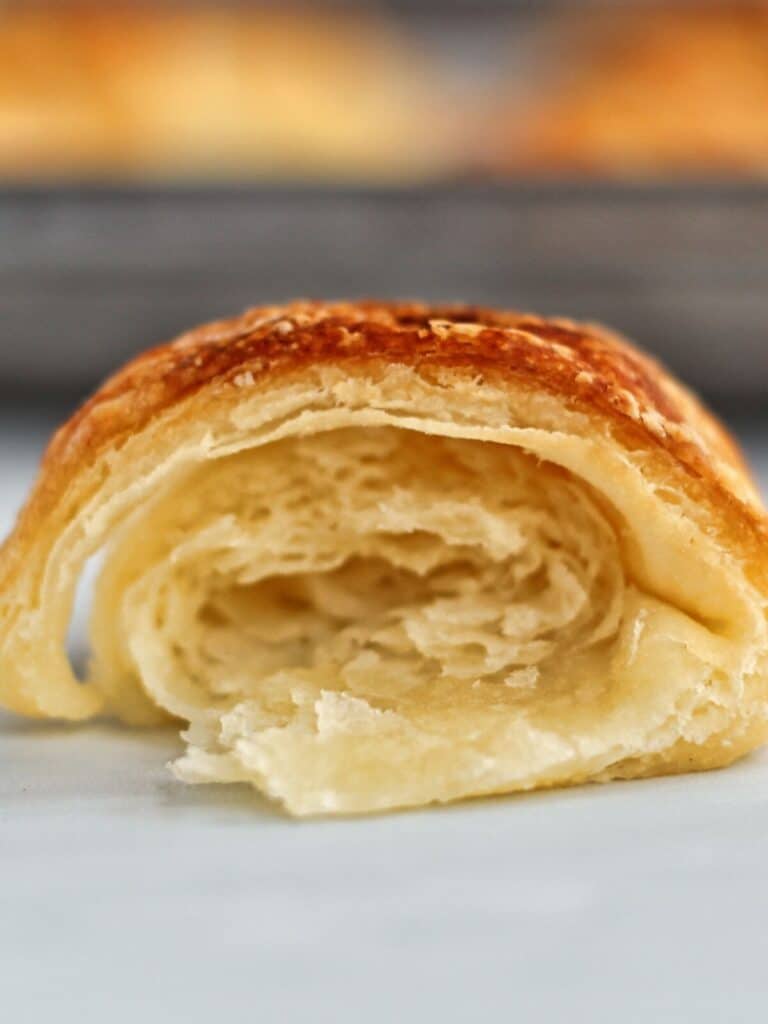 With this Gluten Free Crescent Roll Dough in your back pocket, there are endless ways to use it to make all your gluten free dreams come true!
Gluten Free Crescent Roll Dough (A Pillsbury Copycat Recipe)
Have you missed crescent roll dough in a can? This Gluten Free Crescent Roll Dough is JUST LIKE THAT so you can make all the things!
Instructions
In a large bowl, whisk together the flour, granulated sugar, yeast, and salt.

Add the chunks of butter and flatten them using your fingertips until well dispersed throughout the dry ingredients and there are still pretty large chunks of butter throughout.

In a small bowl, whisk together the egg, milk, and vanilla. Make a well in the bowl and pour the wet ingredients into the butter/flour mixture and use a fork or your hands to toss it gently until there are no discernible areas of dry flour remaining. The dough will be very wet.

Dump dough onto a sheet of plastic wrap and wrap well into a rectangular shape (as best you can). Refrigerate for at least 2 hours, but preferably 4.

Once the dough has properly chilled, roll it out on a heavily floured surface into a large rectangle (about 8 by 15 inches, but focus more on the thickness of the dough at ¼ of an inch) and fold it into thirds, like you would fold a letter. You will need to heavily flour the work surface as the dough is quite sticky at first.

Repeat this rolling and folding two more times (for a total of 3). Wrap the dough in plastic wrap and place it in the fridge for one hour.

After the dough has chilled again, repeat the rolling and folding 3 more times. Then wrap it and chill it for at least 2 hours and up to 2 days. For longer storage, this dough can be frozen, well wrapped in a double thickness of plastic wrap for up to two months. Defrost in the refrigerator overnight before using it.
How to Shape and Bake Crescent Rolls
Using ¼ of the dough at a time, roll into an 8½ by 11-inch rectangle (it's easier to work with ¼-½ the dough at a time). Trim the edges and cut widthwise into 3 sections measuring about 3⅔ inches each (you don't need to be super precise–just get them as close to each other in size as possible). Cut each new rectangle into 2 triangles, starting at the top left corner and cutting down to the bottom right corner. You should have a total of 6 triangles. (See notes below for alternatives on sizes).

Cut a small slit into the middle of the short end of each triangle and roll each up loosely so that the point is resting on top of the roll and not tucked underneath.

Place a couple of inches apart on a parchment-lined baking sheet, cover loosely with plastic wrap, and proof until puffy and a little bit larger in size.

Preheat oven to 375° F. Bake the rolls for 15-20 minutes, or until golden brown. It's not uncommon to have some butter leakage when baking. Serve warm or at room temperature.
Notes
The dough can also be rolled into a larger rectangle and cut to whatever size you'd like.  If you'd like bigger crescent rolls, roll the dough out larger and cut the triangles into a larger size.  The dough may also be rolled into a circle and cut out like pie pieces into triangles.  It's very versatile, so feel free to customize the size of rolls and method you'd like!  
Leftover rolls can be reheated wrapped in foil in a 325 degree oven for 10 minutes.  
Rolls can also be frozen, before or after baking, for 3 months.  If freezing before baking, shape each roll, freeze in one layer on a baking sheet, and then wrap tightly before placing in a freezer bag.  To bake, remove rolls from freezer and place on baking sheet, cover loosely, and thaw overnight in refrigerator.  Allow to rise at room temperature, still covered, and bake as directed.