This gluten free veggie pizza is just as good as what you remember--crescent dough spread with herby cream cheese and loaded with plenty of fresh veggies!
Some of the items linked in this post are affiliate links, meaning, at no additional cost to you, if you click through and make a purchase, I will earn a small commission.
I bet you thought you'd never see this classic party food again, huh? Believe me, I thought the same. Veggie pizza (the cold appetizer kind, not a pizza with lots of veggies on top) was one of my all-time favorite party foods pre celiac. Lucky for me (and you!) because I NEVER give up when it comes to creating gluten free versions of the foods I used to love.
After stocking our fridge or freezer with my gluten free crescent roll dough, we can make so many of the things we once loved and thought we'd never see again in our lifetime. So make a full batch of this miracle dough and be ready to enjoy the flaky crust, creamy herby spread, and crunchy fresh veggies of a bite of veggie pizza.
the ingredients for veggie pizza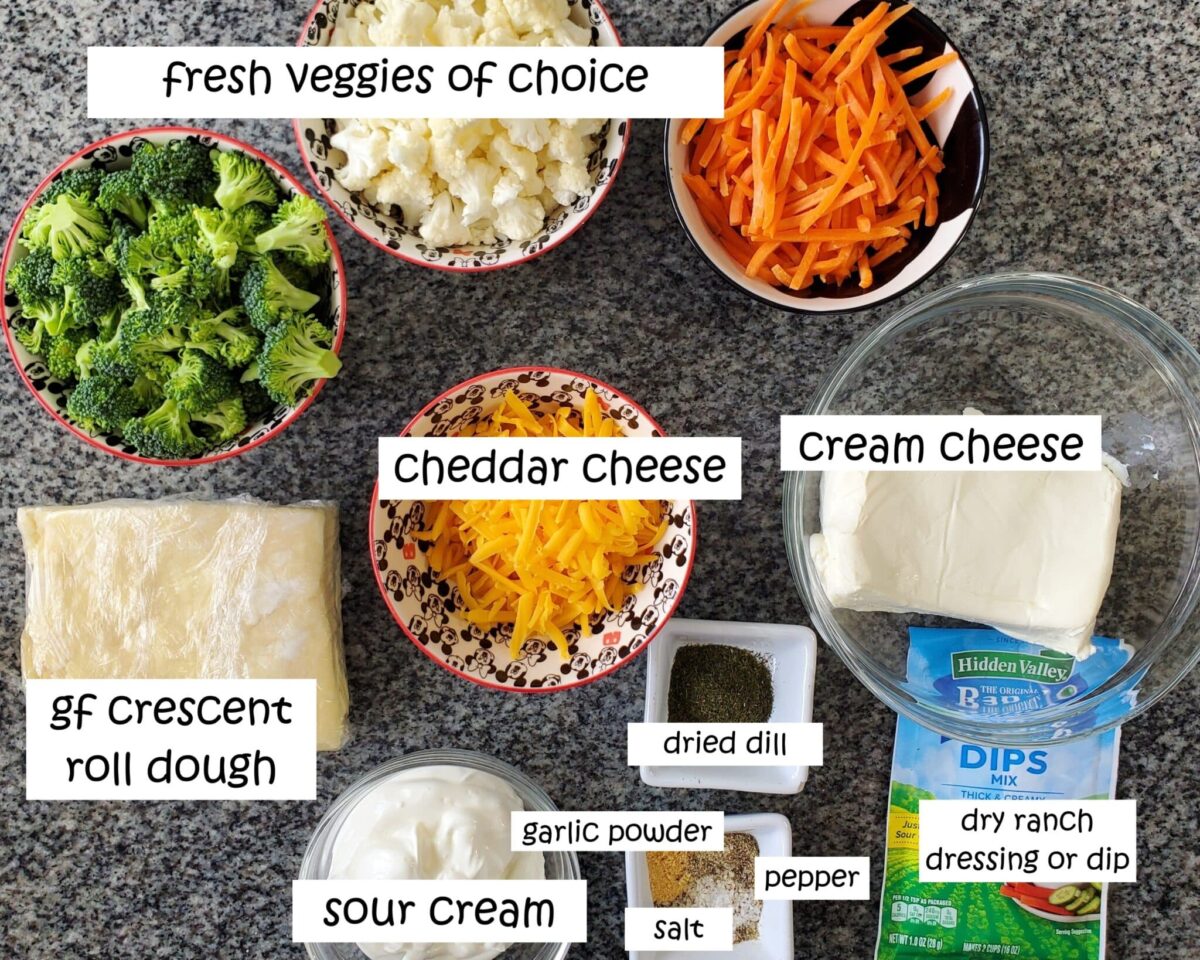 Gluten free crescent roll dough -- this dough is exactly like what I remember when popping open a can of Pillsbury dough. It's flaky, crisp (but soft at the same time), and can be made into an endless amount of recipes, both sweet and savory.
Fresh veggies -- go wild and put as many fresh veggies as you want on top. There's no rules here.
Cream cheese -- this takes the place of a pizza sauce on a traditional pizza.
How to Make Gluten Free Veggie Pizza
It really is so easy to make this gluten free veggie pizza! It only requires a handful of ingredients and can be customized to your tastes.
Roll out a sheet of crescent dough that's big enough to fit your baking sheet. A normal (half sheet) pan measures at 18 by 13 inches. You'll use ½ recipe of dough for this, but if you want to make a smaller amount (say, a quarter sheet pan) use ¼ of the dough.
Transfer the dough onto a sheet tray by rolling it up on your rolling pin and then unrolling it.
Place in the freezer for 20 minutes while you preheat the oven to 375 degrees F.
Bake for 15-20 minutes or until puffed and golden brown. Remove it from the oven and place it on a wire rack to cool completely.
In a small bowl, combine cream cheese with sour cream, dill, garlic powder, and dry ranch dressing mix until smooth. Spread onto cooled crust.
Top with bite-size veggies and shredded cheddar cheese.
Cut into squares and serve.
Fresh Veggie Ideas
Veggies are really the best part of this cold veggie pizza. I particularly love raw fresh vegetables and they really shine in this recipe. They add the crunch factor on top of the creamy cream cheese spread. It's almost like a veggie platter served up on a flaky pastry. Go wild here and add any veggies you'd like. Here are some suggestions:
Bite-sized broccoli florets
Bite-sized cauliflower florets
Shredded or matchstick carrots
Thinly sliced radishes
Diced peppers
Diced onions
Seeded and diced tomatoes
Thinly sliced or diced cucumbers
Finely chopped green onions or chives
Black olives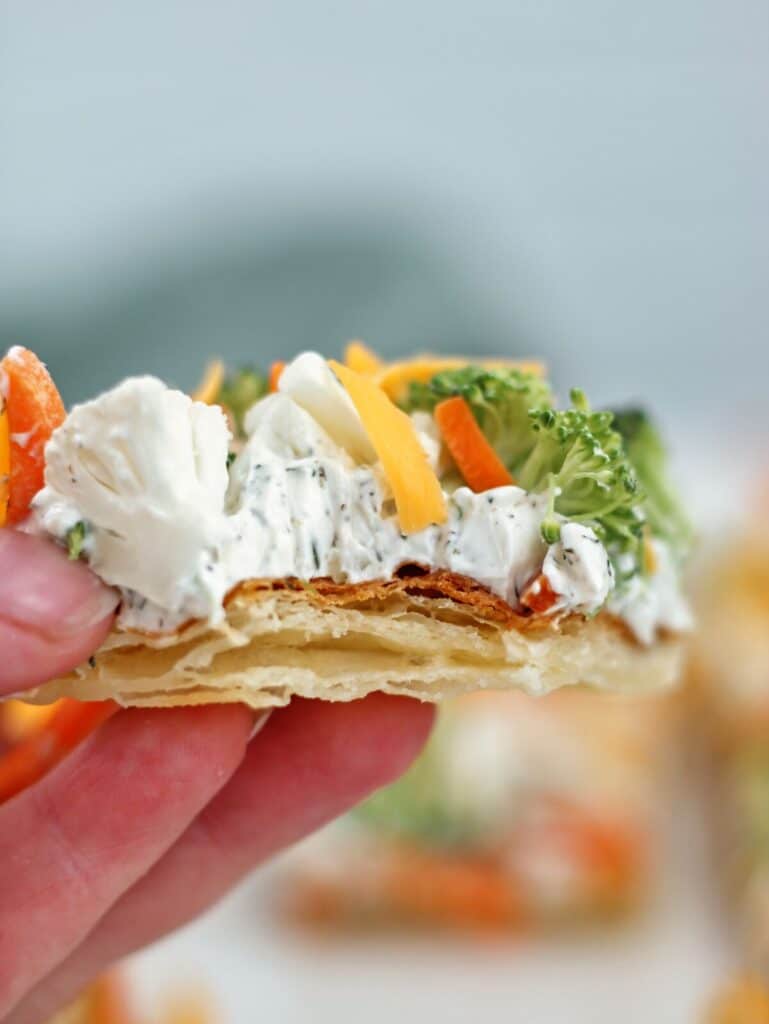 Veggie Pizza FAQs
What veggies are traditional to use on veggie pizza?
The most common ones are broccoli, cauliflower, and carrots, but you don't have to stick with these or you can add more to this trio.
Can other gluten free dough be used as the crust for veggie pizza?
Yes! You can also use gluten free puff pastry (store bought or homemade) or even gluten free pie crust. You will get slightly different results from each one, but they will all be flaky and delicious!
How is veggie pizza stored?
If you have any leftover veggie pizza, which is highly unlikely, you can store it well covered in the fridge for up to 3-4 days.
more gluten free appetizer recipes
Break out a hunk of that Gluten Free Crescent Roll Dough and serve this yummy crowd favorite Gluten Free Veggie Pizza at your next party.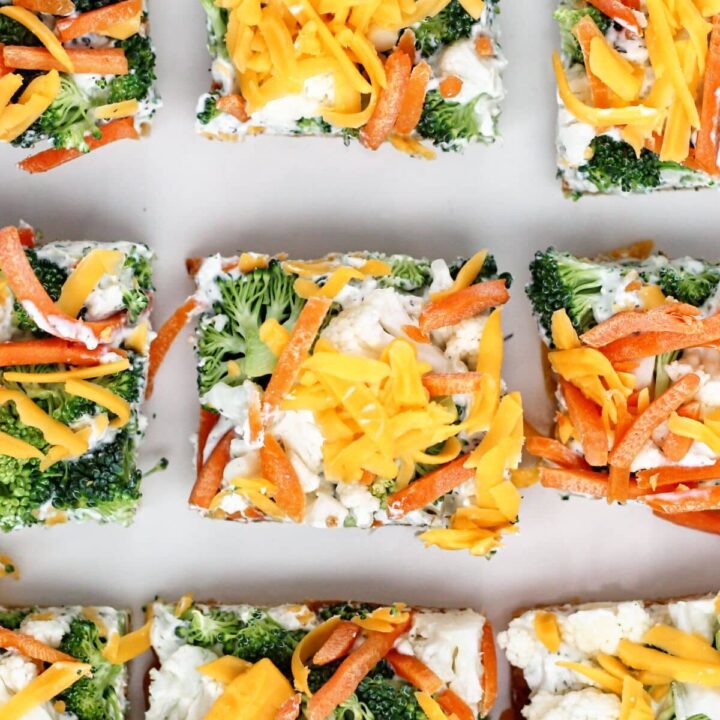 Gluten Free Veggie Pizza
This gluten free veggie pizza is just as good as what you remember--crescent dough spread with herby cream cheese and loaded with plenty of fresh veggies!
Ingredients
½

recipe

Gluten Free Crescent Roll Dough (recipe follows)

2

8-ounce packages (452g)

cream cheese, softened

1

cup (240g)

sour cream

1

1-oz (28g) package

dry ranch dressing or dip mix

1

tablespoon

dried dill weed

1

teaspoon

garlic powder

1

teaspoon

salt

½

teaspoon

pepper

1

cup each

raw vegetables, such as broccoli, cauliflower, shredded carrots, radishes, onions, peppers, etc

1

cup (4 ounces or 113g)

shredded cheddar cheese
Crescent Dough
3

cups (420g)

Kim's all purpose gluten free flour blend

¼

cup (50g)

granulated sugar

1½

tbsp (12g)

instant yeast

2

tsp (12g)

kosher salt

2

cups (453g)

cold butter, cut into ½-inch thick pieces

(preferably European style butter for the fat content)

2

large

eggs, cold

1

cup (240ml)

whole milk, cold

1½

tablespoon

lemon juice
Instructions
Make Crescent Roll Dough
In a large bowl, whisk together the flour, granulated sugar, yeast, and salt.

Add the chunks of butter and flatten them using your fingertips until well dispersed throughout the dry ingredients and there are still pretty large chunks of butter throughout.

In a small bowl, whisk together the egg, milk, and vanilla. Make a well in the bowl and pour the wet ingredients into the butter/flour mixture and use a fork or your hands to toss it gently until there are no discernible areas of dry flour remaining. The dough will be very wet.

Dump dough onto a sheet of plastic wrap and wrap well into a rectangular shape (as best you can). Refrigerate for at least 2 hours, but preferably 4.

Once the dough has properly chilled, roll it out on a heavily floured surface into a large rectangle (about 8 by 15 inches, but focus more on the thickness of the dough at ¼ of an inch) and fold it into thirds, like you would fold a letter. You will need to heavily flour the work surface as the dough is quite sticky at first.

Repeat this rolling and folding two more times (for a total of 3). Wrap the dough in plastic wrap and place it in the fridge for one hour.

After the dough has chilled again, repeat the rolling and folding 3 more times. Then wrap it and chill it for at least 2 hours and up to 2 days. For longer storage, this dough can be frozen, well wrapped in a double thickness of plastic wrap for up to two months. Defrost in the refrigerator overnight before using it.
Bake Crust
Allow the crescent dough to come to cool room temperature. Roll out onto a lightly floured surface to the size of your baking sheet (a half sheet pan is approximately 18 by 13 inches). Trim the edges, if desired.

To transfer the pastry to the baking sheet, carefully roll it up onto your rolling pin, set it over the edge of the baking sheet, and unroll it. Parchment paper can be used to line the pan, if desired. Freeze for 20 minutes.

Preheat oven to 375° F. Bake for 20-25 minutes, or until golden brown and flaky. Cool on a wire rack.
Mix Cream Cheese Spread
In a medium bowl, mix cream cheese and sour cream until smooth. Add dry ranch mix, dill weed, garlic powder, salt, and pepper and mix to combine.
Assemble Veggie Pizza
Spread cream cheese mixture onto cooled crust using an offset spatula.

Top with chopped veggies and press down on them lightly to adhere them to the cream cheese mixture. Sprinkle with shredded cheddar cheese. Chill for at least an hour and cut into squares. Serve cool or at room temperature.
Notes
Gluten free veggie pizza will keep well wrapped in the refrigerator for 3-4 days.