With our easy gluten free sourdough starter, this Gluten Free Sourdough Bread is so perfect, you'll want to make it every single day!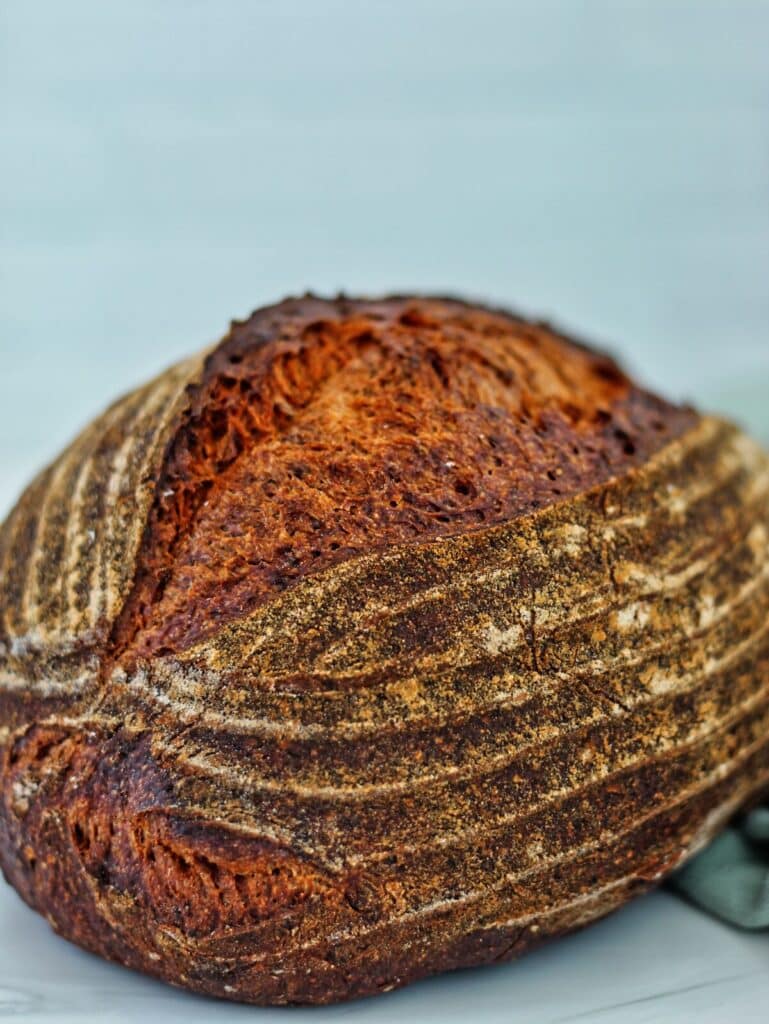 Gluten Free Sourdough Bread was originally posted on June 22, 2020 and has been updated with a modified recipe using a new sourdough starter, new pictures, and a new video.
Some of the items linked in this post are affiliate links, meaning, at no additional cost to you, if you click through and make a purchase, I will earn a small commission.
My husband has to remind me to slow down and take a breath when I find a new method of gluten free baking. Or a new (to me) ingredient that makes things so much better. My brain starts going a thousand miles a minute because I want to make ALL THE BREADS!!!
I have to learn to stop and focus on one thing at a time. But it's so hard because even though I wanted to update this earlier, I put it on a back burner. Not because I didn't have it nailed down, I wanted to try different variants and see how they would affect the final outcome. And I'm so glad I was diligent because there are so many new things I've learned about sourdough that are worth sharing.
Anywho, I know I'm a little late in revising this sourdough recipe to use my new(ish) sourdough starter method, but that's just how I am. I do NOT want to hurry things along just to get them on the blog because it's the right time. It's very important to me to test and retest recipes to make sure they're as perfect as I can get them before sharing them with you. But I promise, this one is well.worth.the.wait!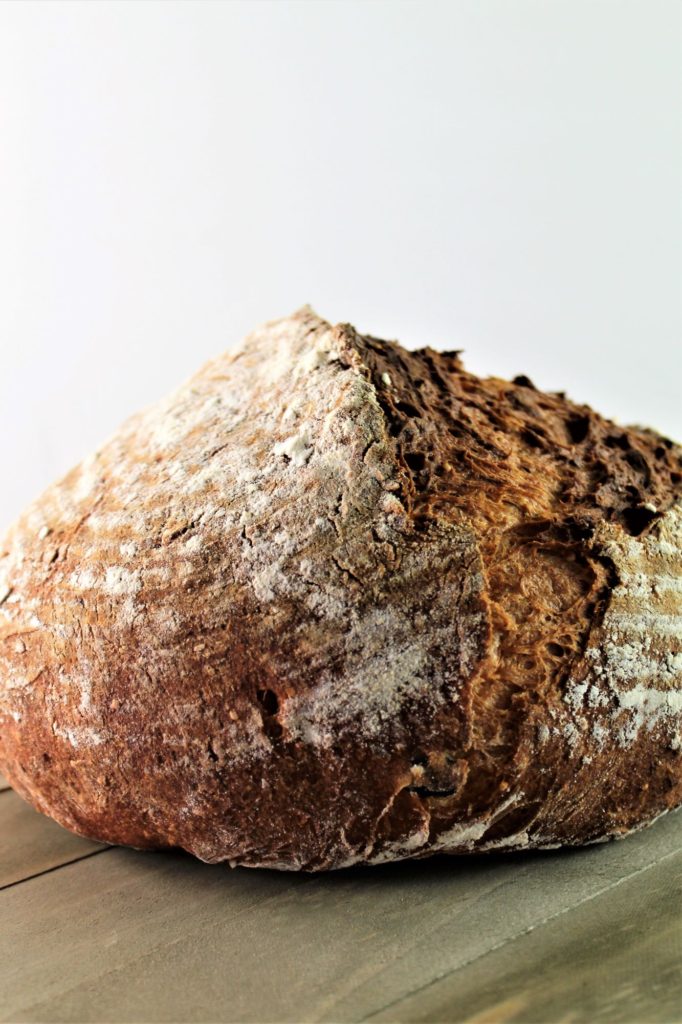 What IS Sourdough Bread?
Sourdough bread is a bread made without any commercial yeast. Instead, the yeast is substituted with a wild yeast and bacteria combined with flour and water, also known as a sourdough starter. You'll find all the details needed to start and maintain a gluten free sourdough starter in this post here.
When I think of sourdough bread, I'm transported to a local restaurant (Baker's Crust) eating a sandwich on their freshly baked sourdough without a care in the world. Slightly tangy, chewy textured, and a nice crisp crust, their sourdough was so good I could have eaten it plain. After taking my first bite of my homemade gf sourdough, I shut my eyes for a minute just to savor the flavor and the chew. It's like I was back in Baker's Crust eating that same bread again. Then I opened my eyes and looked again at the bread I had just made.
I was in an alternate reality because it sure looked just like the bread from that local restaurant, not at ALL like a gluten free version. And the texture was so spot on with what I remember! Isn't it crazy how memories of food we used to eat can stick so vividly in our minds, especially because we can no longer have those things?!?!
I promise you're going to love this bread, and any other breads you decide to make sourdough. Once I made one loaf, I was addicted and couldn't seem to stop baking ALL THE SOURDOUGH!!
ingredients needed to make the best GF sourdough of your life
Gluten free sourdough starter--you obviously will need a starter and my easy gluten free sourdough starter requires no daily feedings and no daily discard once it's established. What's more, it can hang out in the fridge until you're ready to feed and use it.
Baking powder--you can leave it out and the bread will still be delicious. You just might not get quite as much oven spring. You can also use regular baking powder, but my preference is to use heat-activated baking powder (affiliate link) because you get maximum oven spring. More on that below.
Psyllium husks--another optional ingredient, but it lends a better ability to shape the dough. Without it, you may have some trouble with stickiness.
helpful tools for getting started
Digital kitchen scale -- this is the hill I will die on. The kitchen scale hill. Please, just do yourself a favor and buy a cheap kitchen scale and start using it. You will thank me profusely. The accuracy and ease is bar none.
Stand mixer -- a great stand mixer is an investment, but it's one that will last a long, long time (mine is still kickin' after nearly 30 years!). A Danish dough whisk can be substituted with a little more elbow grease, but you'll get the best results with a stand mixer.
Dutch oven -- until I tried it, I didn't know the advantage of using a Dutch oven. But once I tried it, I'll never go back. It holds in the steam for maximum oven spring. There are circumstances where a Dutch oven just won't do, though (think baguettes), in which case the second best option is a pizza steel, pizza stone, or overturned baking sheet set on your middle rack with a shallow heat-proof pan on the rack below this. Hot water is poured into the shallow pan, which creates steam for good oven spring.
Bread lame -- it's not absolutely necessary, but a bread lame is a great tool for scoring your sourdough. I started scoring with a serrated knife, but I found I got better results with a lame.
Banneton basket -- these little baskets are perfect for shaping and getting those beautiful lines on your finished bread (and they're fairly cheap), but another alternative is an high-temperature-oven-safe bowl, such as a Pyrex bowl, lined with a tea towel will also do.
Tips for Making Gluten Free Sourdough Bread
When first starting my venture into the gluten free sourdough world, I knew the best recipe to begin with was my gluten free artisan bread. It's easy enough to make and it already has a good crust and nice texture.
But the first thing I needed to do was research, research, research. I knew nothing about baking sourdough, gluten free or not! And once I understood a little more, I started experimenting. And here's a few things I've learned along the way:
Gluten free sourdough bread isn't as involved as its gluten-filled counterpart. What I mean by this is there is a lot of stretching and folding the dough when making regular (gluten-filled) sourdough bread. That doesn't work for gluten free dough (there's not enough stretch). So the hands-on time is exactly the same as in any of my bread recipes (very minimal).
Sourdough takes longer to rise. I usually let most of my dough bulk ferment for roughly 2 hours. When making sourdough, however, this may increase to 3-4 hours (or more). And still, it won't have as much bulk rise as its commercial yeast counterpart.
Completely optional, but adding baking powder to the dough increases its oven spring. And specifically adding heat-activated baking powder (affiliate link) will allow the baking powder to lay dormant until the dough hits the hot temperature of the oven.
how to make sourdough
If you haven't yet made your gluten free starter, go to my sourdough starter post and get that going. It takes at least 10 days (or longer, depending on the time of year/temperature). Feed your starter with 50 grams of whole grain flour and 50 grams of water. Stir and adjust with more water if necessary. Allow it to almost double in size (depending on the thickness, it may not completely double), which will take 8-10 hours on average.
When your starter is ready, make the dough. Add all ingredients to the bowl of a stand mixer and mix on medium high for 5 minutes. Cover and proof for 3-4 hours, or until puffed. Refrigerate overnight.
When ready to shape, knead dough on well-floured surface. Shape into boule or batard (or whatever shape your banneton basket is--if using). If not using a banneton, shape and place onto a baking sheet lined with parchment paper.
Cover and let rise until almost doubled in size.
Halfway through proofing, place a Dutch oven in your oven and preheat the oven to 500 degrees F.
Carefully flip dough over onto a sheet of parchment and slash with a bread lame (affiliate link).
Carefully lower shaped dough into hot Dutch oven with parchment and replace lid.
Reduce heat to 450 degrees F and bake for 40 minutes with the lid on and 20 minutes with the lid off.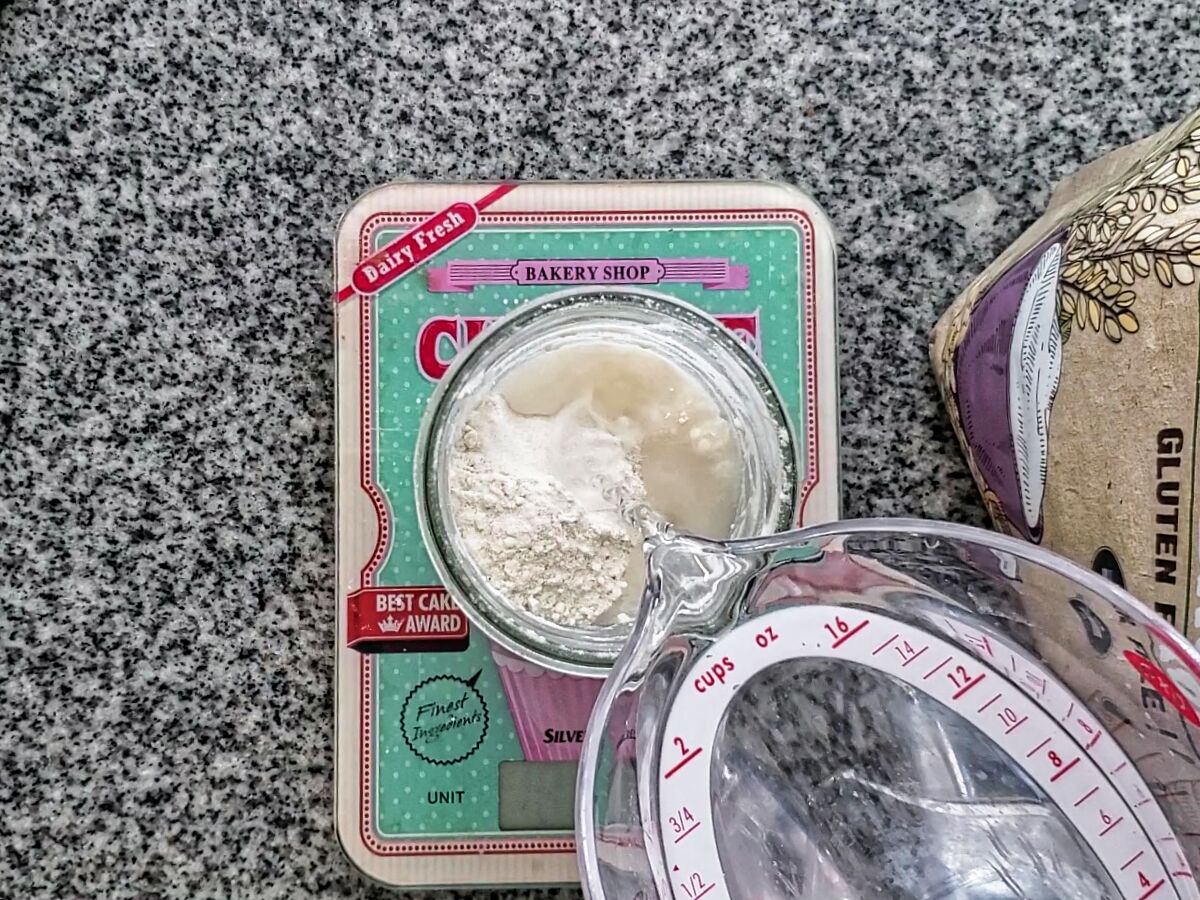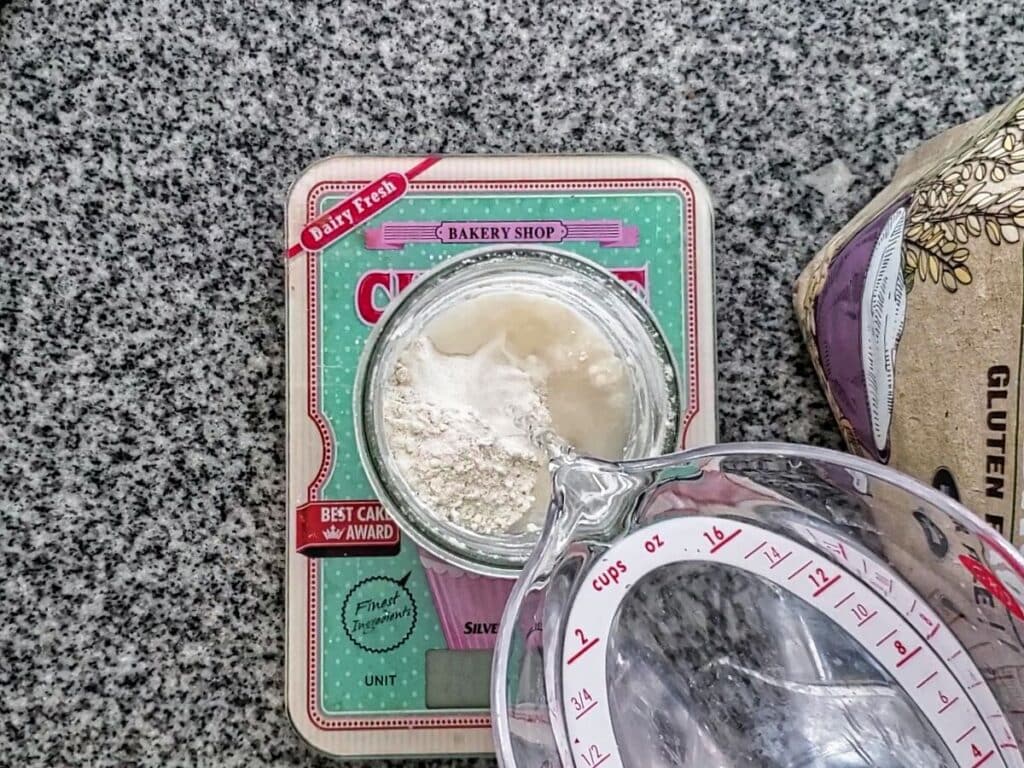 Rather Watch?
Timelines for Feeding Your Starter and Making Sourdough
There are a few different ways to make this bread that will fit into anyone's schedule. Pick the one that works best for you.
The Night Before Feeding
Feed the starter directly from the fridge and replace the lid. Leave it on the counter all night long.
In the morning, make your dough. Return the rest of the starter to the fridge until the next time you bake sourdough.
Bulk ferment your dough for 3-4 hours, then refrigerate overnight.
The next morning, shape dough, proof, and bake.
Morning Feeding
Remove the starter from the fridge and allow it to warm up at room temperature before feeding it (a couple of hours).
Feed your starter and allow it to nearly double in size, which can take up to 6-8 hours or more.
In the evening, make your dough and return the rest of your starter to the fridge.
Bulk ferment your dough for 3-4 hours, then refrigerate overnight.
The next morning, shape dough, proof, and bake.
help! I fed my starter and now I have to leave
No worries. If you fed your starter and find that you unexpectedly have to go out, just put it in the fridge until you return. As long as the starter has been fed within 2 weeks, you can use it directly without needing to feed it again. However, if your starter has become too thin and inactive, this method will not work. That's why it's always best to err on the side of creating a thicker starter.
Why is Your Recipe in Grams and Not Cups?
When it comes to gluten free sourdough baking, or any baking for that matter, it is really essential to have the proper measurements for each ingredient. The only way to assure this is by weight and not volume. One person's cup measurement could be a little different than another person's. By weighing ingredients, every person will always get the same exact ingredient amounts, which makes for better baking overall and easier troubleshooting if something goes wrong.
To Use a Dutch Oven or NOT To Use a Dutch Oven
I had tried baking bread in a Dutch oven previously, but it never really got to the height it did when I used the hot water technique in a shallow pan (see my original gf artisan bread post). But for sourdough, I really wanted to try it.
I bought myself this (affiliate link) 5 quart fairly cheap Dutch oven and set out to bake a great loaf of gf sourdough. And it did NOT disappoint!!!!! I am completely sold on the Dutch oven method. I now use a larger 6-quart Dutch oven because I find it offers less chance to get burned. If you don't have a Dutch oven, don't fret. You can still bake wonderful gluten free sourdough using the shallow pan hot water technique.
To use this technique, simply place a baking steel or stone or even an overturned baking sheet on the middle rack of your oven and a heat-resistant shallow baking pan (I use an old broiler pan) on the rack below it. Preheat your oven with both items in the oven and when ready to bake, slide the shaped dough (on a sheet of parchment) onto the baking steel/stone/pan and pour one cup of hot water into the shallow pan underneath. Close the door, drop the temp to 450 as per recipe instructions, and continue baking for 60 minutes total.
gluten free sourdough frequently asked questions
Is sourdough bread gluten free?
Sourdough bread is NOT gluten free, unless you make it with a gluten free starter and gluten free flours. While traditional sourdough breaks down some of the gluten in the bread, making it easier to digest, it is not gluten free and not safe for celiacs or anyone with a serious gluten intolerance.
Why is my gluten free sourdough gummy inside?
There could be a few reasons, the top two being you didn't allow it to cool completely before cutting into it or you didn't bake it long enough. Most gluten free breads do best with a longer bake time than regular (wheat-based) breads.
Help! I have to run out and my gf sourdough starter has peaked and I can't make the dough right away. What do I do?
Stash it in the fridge, where it will sit comfortably in limbo while awaiting your return. Guess what? As long as your starter is nice and strong, it will actually stay ready for up to TWO WEEKS!!
I put my gluten free starter in the fridge over a month ago and forgot about it. Do I need to start over?
Not at all. Just pull it out, feed it with 30-50 grams of whole grain flour and 40-60 grams of water and it will revive right up. I once left mine in the back of my fridge for over 3 months and it was still alive and well after feeding!
How to Turn Any of My Breads into Sourdough
This gluten free artisan sourdough bread is just the beginning to a whole new gluten free world. There are many other breads that can be made using a sourdough starter instead of yeast with simple steps:
Use 60 grams of gluten free sourdough starter as a replacement for the yeast in the recipe.
Reduce the flour in the recipe by 30 grams and the liquid also by 30 grams. However, if adding anything else to the dough, such as nuts, seeds, etc, do not reduce the water content at all. I like to pre-soak my nuts and seeds overnight so they don't soak up much of the water in the dough. But I still leave the liquid content the same as some water will inevitably be lost.
Add more time to bulk fermentation, as well as proofing. Sourdough always takes longer to rise than instant yeast.
For more of an open crumb, add ¼ to ½ teaspoon of baking soda when kneading the dough before shaping (just make sure to knead it in well or your baked bread will have brown streaks in the interior). It's not conventional, but we can't always do the conventional thing when baking gluten free.
Can I Add Nuts or Seeds or Dried Fruit to My Sourdough?
Yes! Adding things like nuts, seeds, or dried fruit to bread is a great way to get extra nutrients and texture. I love a good seeded bread and sourdough is the ultimate seeded bread. See my Gluten Free Multigrain Seeded Bread recipe for ideas on how to do this (you will need to soak them prior to adding to the dough).
Hopefully your starter is bubbling away and you can now make your Perfect Gluten Free Sourdough Bread and be amazed that it's actually gluten free!
Best Ever Gluten Free Sourdough Bread
With our easy gluten free sourdough starter, this Gluten Free Sourdough Bread is so perfect, you'll want to make it every single day!
Ingredients
Sourdough Starter
30-40

grams

whole grain flour of choice

(see notes*)
Dough
390

grams

Kim's gluten free bread flour blend (another blend will not give the same results)

5

grams

whole psyllium husks or 1½ teaspoon psyllium husk powder (not required, but it will help with the stretch of the dough)

12

grams (2 tsp)

kosher salt

10

grams (2 tsp)

heat-activated baking powder (optional, but improves the crumb structure) (regular baking powder can also be used with less open crumb structure)

390

ml

water

26

grams

olive oil

21

grams

honey

60

grams

active gluten free sourdough starter

(mature and ripe)**

¼-½

teaspoon

baking soda, added during kneading and shaping, if desired

(optional) (do not use this if already using baking powder in the dough) (see notes)***
Instructions
Feed the Starter
When ready to feed your starter, remove it from the fridge and feed it with 30-50g of a whole grain flour of choice (see notes*) and 40-60g of water. Stir and cover tightly. Leave on the counter until nearly doubled in size.
Make the Dough
In the bowl of a stand mixer, add the water, olive oil, honey, gf bread flour blend, psyllium husks, baking powder (if using), salt, and active starter. Knead using the dough hook for 5 minutes on medium high. Alternatively, the dough can be mixed in a large bowl using a Danish dough whisk or similar, but you will need to mix very vigorously to get the proper texture.

Cover the dough and allow it to rise in a warm, draft-free area until puffed, but not doubled in size, about 3-4 hours (sourdough always takes longer to rise). Place the puffed dough in the refrigerator overnight.

The next day, remove the dough from the fridge and turn it out onto a surface well-floured with extra gf bread flour blend. If using baking soda, add ¼-½ teaspoon to top of dough and begin kneading dough until smooth. (Don't be afraid to add enough flour to shape the dough into a smooth shape).

Form into a round and turn over into a floured banneton basket or in a floured tea towel-lined bowl. Cover and allow it to rise until dough reaches the top of the banneton or bowl, anywhere from 2-6 hours (this time varies because of temperature differences, humidity, etc).

Towards the end of the rising time, place a Dutch oven with lid (or baking steel or stone and shallow pan) into the oven and preheat it to 500° F for 30 minutes.

When the dough has finished rising, carefully flip it out onto a sheet of parchment paper and slash (score) it with a lame or sharp serrated knife. Open the oven door, carefully place the loaf in the Dutch oven, parchment and all, and replace the lid. Alternatively, slide the loaf, parchment and all, onto a baking steel or stone and pour one cup of hot water into the shallow pan. Immediately close the oven door and drop the temperature to 450° F. Bake the bread for 40 minutes. If using a Dutch oven, remove the cover and continue to bake for another 20 minutes. If using a baking steel or stone, bake the bread for the full 60 minutes.

Remove the bread from the oven and allow to cool before slicing.
Notes
*Whole grain gluten free flour options include brown rice flour, millet flour, sorghum flour, buckwheat flour, and teff flour to name a few.  
**See the sourdough starter recipe post for more details about how to work with the starter and get it going.  Ripe starter is starter that's been fed within the past 12 hours (and sometimes even up to 2 weeks).   
***Make sure to fully incorporate the baking soda into the dough as if it's not fully mixed in, it will cause brown streaks throughout your bread.  It will still be edible, but doesn't look very appetizing.