It's finally here y'all! We've made the gluten free sourdough starter and this gluten free artisan sourdough bread is just one of many wonderful uses for it!!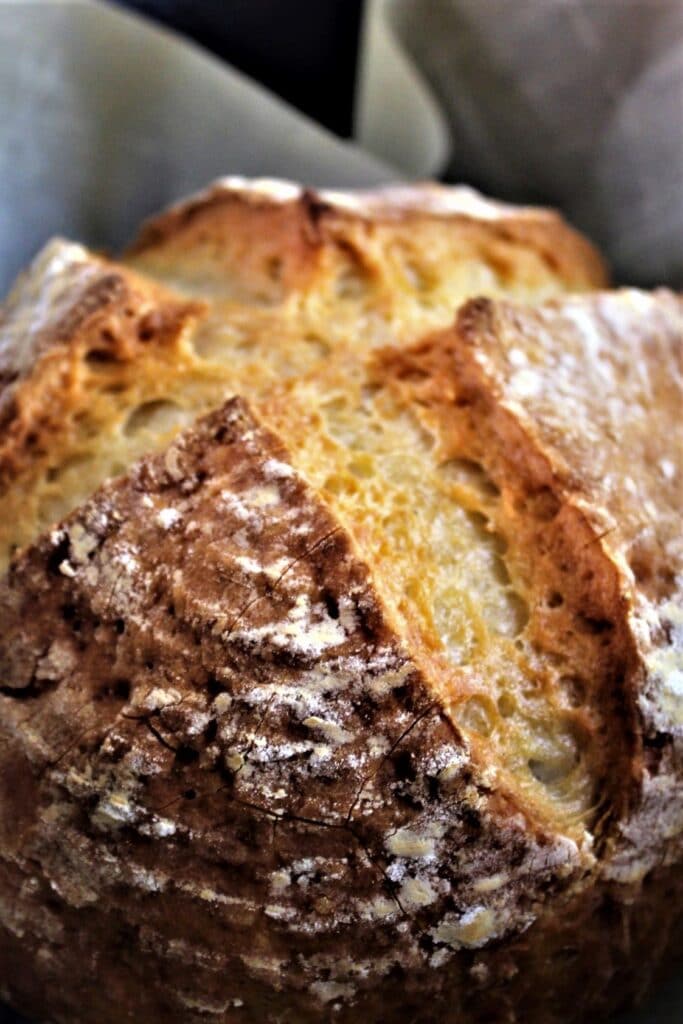 My husband has to remind me to slow down and take a breath when I find a new method of gluten free baking. Or a new (to me) ingredient that makes things more extensible (psyllium husk, for example). My brain starts going a thousand miles a minute because I want to make ALL THE BREADS!!!
I have to learn to stop and focus on one thing at a time. But it's so hard because even though I wanted to post this earlier, I put it on a back burner. Not because I hadn't actually baked it yet (I think I'm up to about 10 or more loaves of sourdough). But (kinda by accident) I found such a wonderful improvement to my croissants recipe that I HAD to share it with y'all!
Anywho, I know I'm super late in posting this sourdough bread, but that's just how I am. I do NOT want to hurry things along just to get them on the blog because it's the right time. It's very important to me to test and retest recipes to make sure they're as perfect as I can get them before sharing them with you. But I promise, this one is well.worth.the.wait!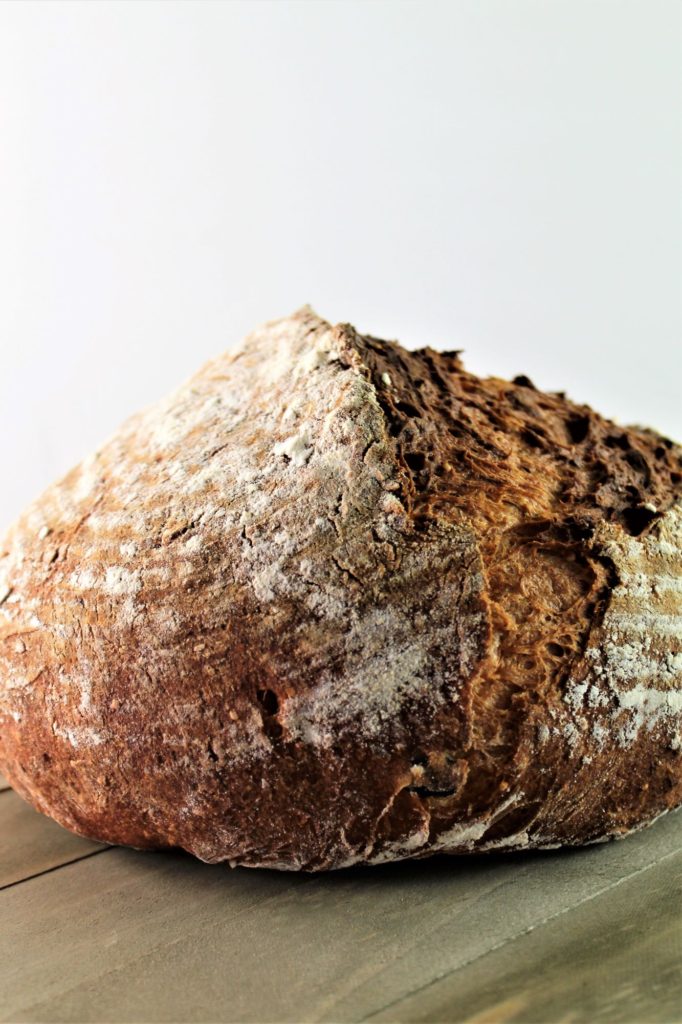 What IS Sourdough Bread?
Sourdough bread is a bread made without any commercial yeast. Instead, the yeast is substituted with a live fermented culture of flour and water, also known as a sourdough starter.
When I think of sourdough bread, I'm transported to a local restaurant (Baker's Crust) eating a sandwich on their freshly baked sourdough without a care in the world. Slightly tangy, chewy textured, and a nice crisp crust, their sourdough was so good I could have eaten it plain.
Could we possibly have that same taste and texture in a gluten free sourdough? All things are possible in the gluten free world now (I'm convinced after perfecting my gluten free croissants!), so why not something as "easy" as sourdough?
After taking my first bite of my first loaf of sourdough, I shut my eyes for a minute just to savor the flavor and the chew. It's like I was back in Baker's Crust eating that same bread again. Then I opened my eyes and looked again at the bread I had just made.
I was in an alternate reality because it sure looked just like the bread from that local restaurant, not at ALL like a gluten free version. And the texture was spot on with what I remember! Isn't it crazy how memories of food we used to eat can stick so vividly in our minds, especially because we can no longer have those things?!?!
I promise you're going to love this bread, and any other breads you decide to make sourdough. Once I made one loaf, I was addicted and couldn't seem to stop baking ALL THE SOURDOUGH!!
Tips for Making Gluten Free Artisan Sourdough Bread
When first starting my venture into the gluten free sourdough world, I knew the best recipe to begin with was my gluten free artisan bread. It's easy enough to make and it already has a good crust and nice texture.
But the first thing I needed to do is research, research, research. I knew nothing about baking sourdough, gluten free or not! And once I understood a little more, I started experimenting. And here's a few things I've learned along the way:
Gluten free sourdough bread isn't as involved as its gluten-filled counterpart. What I mean by this is there is a lot of stretching and folding with the dough when making regular sourdough bread. That doesn't work for gluten free dough (there's not enough stretch). So the hands-on time is exactly the same as in any of my bread recipes (very minimal).
Sourdough takes longer to rise. I usually let most of my dough bulk ferment for roughly 2 hours. When making sourdough, however, this may increase to 3-4 hours (or more).
Adding a tiny amount of baking soda (1/4 to 1/2 tsp per batch) prior to shaping and proofing gives the open crumb you might be looking for. It's not absolutely necessary–the bread is phenomenal without it–but if you're dead set on the open crumb, this works wonders!
Timeline for Making Sourdough
The night before you plan to start–discard all but about 1/3 of your active gluten free sourdough starter and feed it 100 grams of whatever flour you've been feeding it and 100-120 grams of water (tap water is fine). Stir to combine and set on the counter until the next morning.
The next day–mix the dough ingredients together using one cup of the starter. I've tried it in the stand mixer, as well as by hand. I've found the stand mixer to work better, but if you don't have one you definitely can make great bread without it. Cover the dough and put it in a warm, draft-free area to rise until almost doubled in size, which could take 3-4 hours or longer.
That afternoon or evening–place the risen dough in the fridge. This isn't done in normal gluten baking, but for us (gluten free) it's so much easier to shape when chilled properly. I like to let mine hang out in the fridge at least overnight, but sometimes I'll leave it go for days (7-10 days). The longer you leave it, the more sour it will taste, so be aware.
The following day–baking (and eating) day!!
To Use a Dutch Oven or NOT To Use a Dutch Oven
I had tried baking bread in a Dutch oven previously, but it never really got to the height it did when I used the hot water technique in a shallow pan (see my original gf artisan bread post). But for sourdough, I really wanted to try it.
I bought myself this 5 quart fairly cheap Dutch oven and set out to bake a great loaf of gf sourdough. And it did NOT disappoint!!!!! Maybe it was the temperature I used or maybe it was the size of the Dutch oven, but I am totally SOLD on using this method for boules! If you don't have a Dutch oven, you can always use the shallow pan hot water technique.
Shaping Gluten Free Sourdough
We've arrived at the best part of the sourdough making process–shaping and baking!! This is one of my favorite parts of any bread making process. We finally get to see the transformation from flour and water to an extraordinary loaf of tasty and beautiful bread!
Take the dough out of the fridge and drop it onto a well-floured surface to knead briefly. I know this sounds counter intuitive because we just developed all of this fermentation. But remember, we're baking gluten free and things don't always work the way they do in the gluten world.
I tried shaping the dough with and without kneading it first. The best results happened when I kneaded it briefly to get it into a smoother, more uniform loaf. But if you don't feel like kneading and want more of a rustic finished loaf, skip this step.
You can shape this bread directly on a piece of parchment or use a banetton (like this one here). You can also place your bread in a bowl that's been lined with a flour-dusted tea towel. Cover the bread with plastic wrap and place in a warm, draft-free area to rise until noticeably larger, but not doubled in size. It should be nice and puffy looking.
While your dough is at the end of its rise, get your Dutch oven with lid (if using) into the oven. Or use a baking steel and place a shallow pan on the bottom shelf. Preheat the oven to 500 degrees F.
Baking Gluten Free Artisan Sourdough Bread
Once you've scored, or slashed, your bread, you need to get it into the oven quickly. If using a Dutch oven, open the oven door and carefully lower the bread, parchment and all, into the Dutch oven. Be careful not to burn yourself. Immediate cover it with the lid and close the oven door.
If using a baking steel and shallow pan, quickly place the loaf, parchment and all, onto the baking steel and pour hot tap water into the shallow pan. Shut the oven door.
Bake the sourdough in the Dutch oven with the lid on for 40 minutes. Remove the lid and continue baking for another 20 minutes. If using the baking steel, bake the bread for one hour.
Remove your beautiful loaf of sourdough from the oven and allow it to cool completely before cutting.
How to Turn Any of My Breads into Sourdough
This gluten free artisan sourdough bread is just the beginning to a whole new gluten free world. There are many other breads that can be made using a sourdough starter instead of yeast with simple steps:
Use 140 grams of gluten free sourdough starter as a replacement for the yeast in the recipe.
Reduce the flour in the recipe by 70 grams and the liquid in the recipe also by 70 grams. However, if adding anything else to the dough, such as nuts, seeds, dried fruit, etc, don't reduce the water content at all. I like to pre-soak my nuts and seeds overnight so they don't soak up much of the water in the dough, but I still leave the liquid content the same as some water will inevitably be lost.
Add more time to bulk fermentation, as well as proofing. Sourdough always takes longer to rise than instant yeast.
For more of an open crumb, add 1/4 to 1/2 teaspoon of baking soda when kneading the dough before shaping. It's not conventional, but we can't always do the conventional thing when baking gluten free.
Hopefully your starter is bubbling away and you can begin to make your wonderful gluten free sourdough loaf soon!
Gluten Free Artisan Sourdough Bread
It's finally here y'all! We've made the gluten free sourdough starter and this gluten free artisan sourdough bread is just one of many wonderful uses for it!!
Print Recipe
Instructions
The night before you're ready to make the dough for your bread, discard all but about ⅓ of your starter and feed it with 100 grams of whatever flour you've been using and 100 grams of water (or a splash or two more to make a thick pancake-like batter). This will vary depending on the size of your starter, but your goal is to have enough active (mature and ripe) starter to equal 140 grams when making the dough the next day.

The next morning, in the bowl of a stand mixer or a large bowl, whisk together the dry ingredients and then add the wet ingredients (including 140 grams of the ripe starter), beating on low until well combined. Increase the speed to medium high and mix for 5 minutes. If mixing by hand, mix vigorously for 5-7 minutes.

Cover the dough and allow it to rise in a warm, draft-free area until doubled in size, about 3-4 hours (sourdough always takes longer to rise). Place the risen dough in the refrigerator overnight.

The next day, remove the dough from the fridge and turn it out onto a well-floured surface. If using baking soda, add ¼-½ tsp to top of dough and begin kneading dough until smooth.

Form into a round and turn over into a floured banetton basket or in a floured tea towel-lined bowl, or shape into a round on a square of parchment paper. Cover and allow it to rise until puffed and noticeably larger, but not doubled in size, about 2-3 hours.

Towards the end of the rising time, place Dutch oven with lid (or baking steel or stone and shallow pan) into the oven and preheat it to 500° F for 30 minutes.

When the dough has finished rising, carefully flip it out onto a sheet of parchment paper and slash (score) it with a lame or sharp serrated knife. Open the oven door, carefully place the loaf in the Dutch oven, parchment and all, and replace the lid. Alternatively, slide the loaf, parchment and all, onto a baking steel or stone and pour one cup of hot water into shallow pan. Immediately close the oven door and drop the temperature to 450° F. Bake the bread for 40 minutes. If using a Dutch oven, remove the cover and continue to bake for another 20 minutes. If using baking steel or stone, bake the bread for a full 60 minutes.

Remove the bread from the oven and allow to cool before slicing.
Notes
**Starter is mature when it predictably rises and falls.  Ripe starter is starter that's been fed within the past 12 hours.  
***Using a very small amount of baking soda gives the bread a more open crumb.  If using, make sure to fully blend it into the dough before baking.  
DISCLAIMER:  The reason I created my own flour blends is because I could not obtain the results I wanted with flour blends that were available in stores, online, or from other gluten free bloggers.  My recipes have been developed to be used with my own bread flour blend that I created after painstakingly testing for, in some cases, YEARS to develop what I believe to be a superior gluten free bread like no other.  If you do not use my gluten free bread flour blend for this recipe, I cannot speak for the results you will obtain.    While store bought blends may give you a satisfactory result, they may NOT give you the results intended in my recipe.