If you don't think you like artichokes, you MUST make these Fire Roasted Artichokes With Garlic Aioli. They'll convert you for sure. The smoky flavor from the grill with that vinegary marinade, finished off with the garlicky aioli makes for one AMAZING bite!!!
Y'all. You know how sometimes there are no words to describe something because it's just that good???? Well, this is one of those things right here. These artichokes=no words.
Years ago we went to the Cheesecake Factory when they first opened one in our area. This was during my BC days (before Celiac) so I could order what I wanted. We split an order of Fire Roasted Artichokes and they were unbelievably good!
Fast forward a couple of years and I really wanted those artichokes, but I couldn't trust eating at the Cheesecake Factory so I tried to make them myself. My family thought they tasted JUST LIKE the ones from the CF!! We were all addicted. Recently I made them again for my dad's birthday, and he ate probably 15 quarters by himself! He loves them, and so do all of us.
If you've ever had artichokes before and you like them, these will become your new favorite. If you've never had artichokes before, this recipe right here is the one to start with. You'll love them so much, you won't know what hit you!
PREPARING and cooking ARTICHOKES
I've tried a couple different methods for preparing artichokes in the past, but found this one to be the best and easiest:
Bring a large saucepan to a boil over high heat.
Remove any small leaves from the stem and cut about 1/2-inch off the stem.
Using a sharp knife, cut about one inch off the top of the artichoke.
When water is boiling, squeeze lemons before dropping them into the water, followed by the salt and the artichokes. Cover and reduce to a simmer. Simmer for about 15-20 minutes.
Using tongs, remove artichokes from water stem side up to let any water accumulated inside the leaves drain back into the pan.
Place on paper-towel lined plate and allow to cool enough to cut.
Cut each artichoke into quarters. Using a spoon (or a grapefruit spoon, which is PERFECT for this), remove the hairy choke and purplish leaves in the center and discard.
WHAT'S IN THE MARINADE
The marinade for these artichokes is so simple. It's basically a balsamic vinaigrette. The bold flavors include:
Balsamic vinegar
Extra virgin olive oil
Fresh garlic
Fresh rosemary
Salt and pepper
HOW TO MAKE THE GARLIC AIOLI
This dip is so easy, it takes minutes to prepare and you most likely have all the ingredients at your fingertips. Finely chop some fresh garlic (or roasted garlic!) and fresh parsley, add them to prepared mayonnaise with salt and pepper and a splash of lemon juice and voila!! Your aioli is all ready for dipping.
HOW TO EAT ARTICHOKES
Peeling the leaves off the artichokes one at a time, dip the inner portion of each leaf into the aioli and scrape your teeth along that inner portion. You'll discard most of the leaf, until you get to the innermost part of the artichoke (the heart), which can be eaten whole.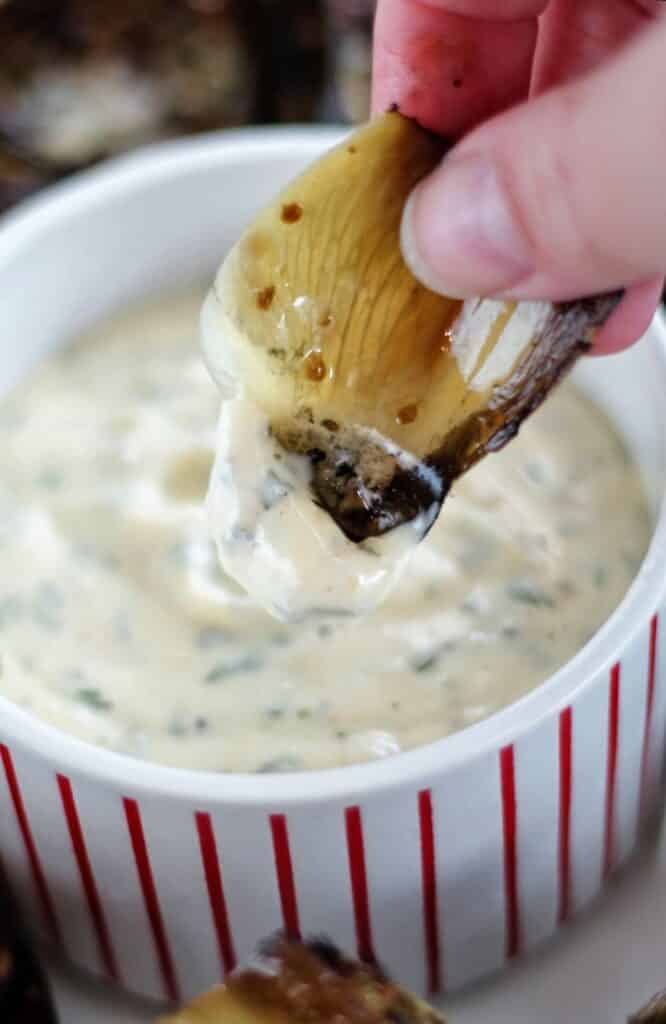 fire roasted artichokes frequently asked questions
Can I Roast These in the Oven Instead of on a Grill?
The grill gives the best smoky fire-grilled flavor, but if you can't get to a grill or don't want to, you can roast the artichokes at 400 degrees on a baking sheet for about 20 minutes, or until charred.
I'd Rather Make a Sauce than an Aioli. What Are Some Options?
In the video, I mention that you can make a butter sauce using all the same ingredients as the aioli minus the mayonnaise. Just sub the mayo with melted butter. Yum! Yum!
Do I Have to Precook the Artichokes Before Grilling or Baking?
Yes, they really should be boiled prior to grilling (or baking) because otherwise they will turn an ugly shade of brown from oxidation. Plus, precooking them makes the artichokes a perfect plan ahead option.
If you're scared of working with artichokes, this method is so much simpler than you would think. And the payoff is INCREDIBLE!!! I think my family could dump these artichokes out onto a table as if they were blue crab and pick and eat them all day long, haha!!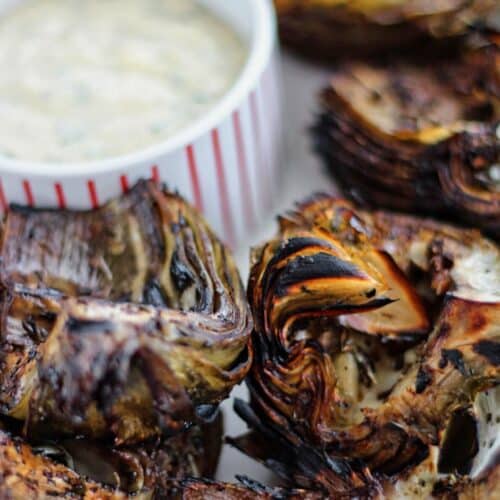 Fire Roasted Artichokes with Garlic Aioli
Oh my gosh are these artichokes addictive!! The smoky flavor from the grill with that vinegary marinade, finished off with the garlicky aioli makes for one AMAZING bite!!!
Ingredients
3-4

globe

artichokes

2

lemons, sliced in half

salt for water, about 1 tbsp

½

cup (120 ml)

balsamic vinegar

4

cloves

garlic, chopped

2

tsp

chopped fresh rosemary

1

cup (240 ml)

extra virgin olive oil

2

tsp

black pepper

salt to taste
GARLIC AIOLI:
½

cup (120 g)

mayonnaise

1

tbsp

fresh parsley, finely chopped

1

head

roasted garlic (see instructions below)

or substitute chopped fresh garlic

2

tsp

lemon juice (from half of a lemon)

milk to thin, if desired

salt & pepper to taste
Instructions
Trim the stems (to about 1 inch) and about 1 inch from the tops.

Bring a gallon of salted water to a boil in a large pot. Squeeze lemon halves into water and add to water, along with trimmed artichokes. Simmer artichokes and cook until tender, about 15-20 minutes (a knife should slide through fairly easily). Remove artichokes with tongs and let any excess water drip from tops. Drain on paper towels and set aside until cool enough to handle.

Cut each artichoke in half and then in half again into quarters. Remove the hairy choke using a spoon or grapefruit spoon and discard. Set aside in a large bowl or a large gallon ziptop bag.

In a medium bowl, whisk together the balsamic vinegar, 4 cloves of garlic, rosemary, olive oil, pepper, and salt to taste. Pour over the artichokes and toss together to coat. Marinate for at least 30 minutes, but up to two days.

Prepare garlic aioli. Cut off top of head of garlic and drizzle with a little olive oil. Sprinkle with salt and pepper and wrap in foil. Bake at 400° F for 30-40 minutes, or until soft. Squeeze garlic into small bowl and use a fork to mash. Add mayonnaise, parsley, lemon juice, salt & pepper. To thin out, if needed, add a few dashes of milk and stir.

Prepare gas or charcoal grill for high heat.

Using tongs, place the artichokes on the grill and cook for about 30 seconds per side until well charred.

Remove from the grill and serve warm with garlic aioli.
Adapted from Caprial's Cafe Favorites.