These gluten free puff pastry cheese straws take us back to a time when we could eat whatever we want. They're crunchy, flaky, cheesy, and spicy and they are so addictive!!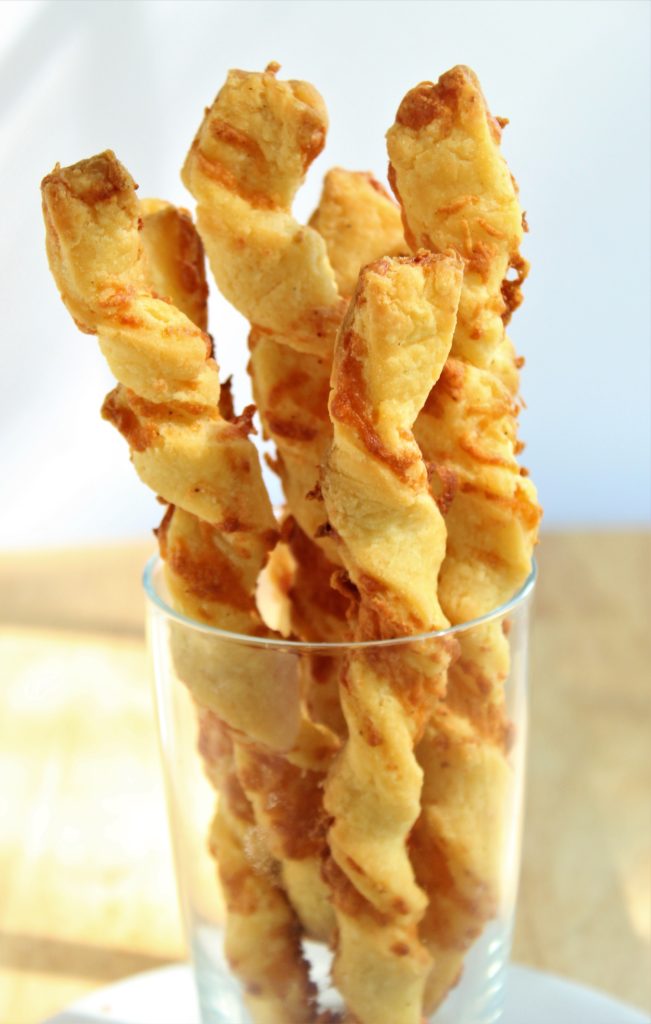 As much as I love my sweets (and you know I do!), cheesy and spicy snacks are my fave. I'll often grab some gf crackers and slices of cheese or some grapes and cubes of extra sharp cheddar as a light lunch. Try it–pop a grape and a cube of extra sharp cheddar in your mouth at the same time. The burst of sweetness mixed with that sharpness from the cheddar is heaven. That's also the way I feel about crunchy baked cheddar cheese mixed with a slight amount of cayenne in a crisp puff pastry. Heaven.
I just recently improved my gluten free puff pastry recipe and now there's no reason why you can't easily make yourself some cheese straws. Or for that matter, ANY recipe you've been packing away because you thought you couldn't have it anymore. I know there are store bought gluten free puff pastries and, while they're "okay," haven't we already established that none of us want "okay" or mediocre. We want GREAT!! Lemme tell ya, my new and improved puff pastry is just that — GREAT!
Only 4 Ingredients Needed!
Cheese
Cayenne pepper
Egg (for egg wash)
How To Make Cheese Straws
One word–easy!! Once you have the puff pastry, whether you use my recipe or a store bought version, these cheese straws are easy peasy lemon squeezy. Haha!! Seriously, though, they truly can be put together in minutes.
Mix together shredded cheese with cayenne pepper. Set aside.
Roll puff pastry into a rough rectangle that's about 1/4-inch thick. Size isn't as important as thickness.
Brush the entire top with egg wash. Cut in half vertically to make two longer rectangles.
Sprinkle cheese mixture onto one half and press down lightly.
Flip other half onto the cheesy half and press gently.
Using a rolling pin, gently roll lightly just to make sure each piece will stick together.
Using a knife or pizza/pastry wheel, cut into one-inch thick strips (you should get 12 strips total).
Twist each strip and place on a parchment or silpat-lined baking sheet and refrigerate for 30 minutes or freeze for 15.
Brush with remaining egg wash.
Preheat oven and bake cheese straws until golden brown, about 15-20 minutes.
Serve warm or at room temperature. They will crisp further upon cooling.
Cheese Straw FAQs
Can I Use a Different Cheese?
Any hard cheese is acceptable, such as Gruyere, Parmesan, Cheddar, Asiago, or Pecorino Romano.
Do I Have to Add Cayenne?
No, you can leave it out, but it does give a little kick to the straws. You can also substitute paprika for a little spice without the kick.
Is There a Do-Ahead Option?
You can make the cheese straws to the point of twisting them and putting them on the baking sheet. Freeze them solid and then store them in the freezer for up to 3 months. When ready to bake, place on a baking sheet and bake from frozen. You may need to add a few minutes to the baking time.
These gluten free puff pastry cheese straws will be devoured as soon as you serve them. Just be sure to keep a few extra aside for the chef 😋
Gluten Free Puff Pastry Cheese Straws
These gluten free puff pastry cheese straws take us back to a time when we could eat whatever we want. They're crunchy, flaky, cheesy, and spicy and they are so addictive!!
Ingredients
½

recipe (about 18 ounces or 510 g)

gluten free puff pastry

1

cup (8 ounces or 227 g)

shredded cheese

(I prefer sharp cheddar, but use whatever hard cheese you'd like)

¼-½

tsp

cayenne pepper or paprika

(use higher amount for more spice)

1

large

egg, at room temperature
Instructions
Using sharp knife, cut gluten free puff pastry in half. Re-wrap other half and store in fridge or freezer. Allow to come to cool room temperature, wrapped in plastic wrap.

In small bowl, mix cheese and cayenne pepper. Set aside.

Roll pastry into a rectangle that's about ¼-inch thick. Brush top with egg wash (1 egg beaten with 1 tbsp water). Cut pastry in half lengthwise and sprinkle the cheese mixture over one half. Flip the other half onto the cheese and press lightly to adhere. Turn 90 degrees and use a rolling pin to gently roll the pastry thinner and to make sure all layers are well adhered to each other. Cut into 1-inch thick strips using a pizza cutter or very sharp knife.

Twist pastry strips onto parchment-lined baking sheet. Place baking sheet in refrigerator to chill for at least 10 minutes.

Preheat oven to 375°. Bake cheese straws for about 17-25 minutes, or until puffed and golden brown.

Serve warm or at room temperature. Straws will crisp further upon cooling.