If you always loved Olive Garden alfredo sauce, you must try this recipe! It's the perfect copycat without a lick of gluten, and dare I say it's better than theirs!!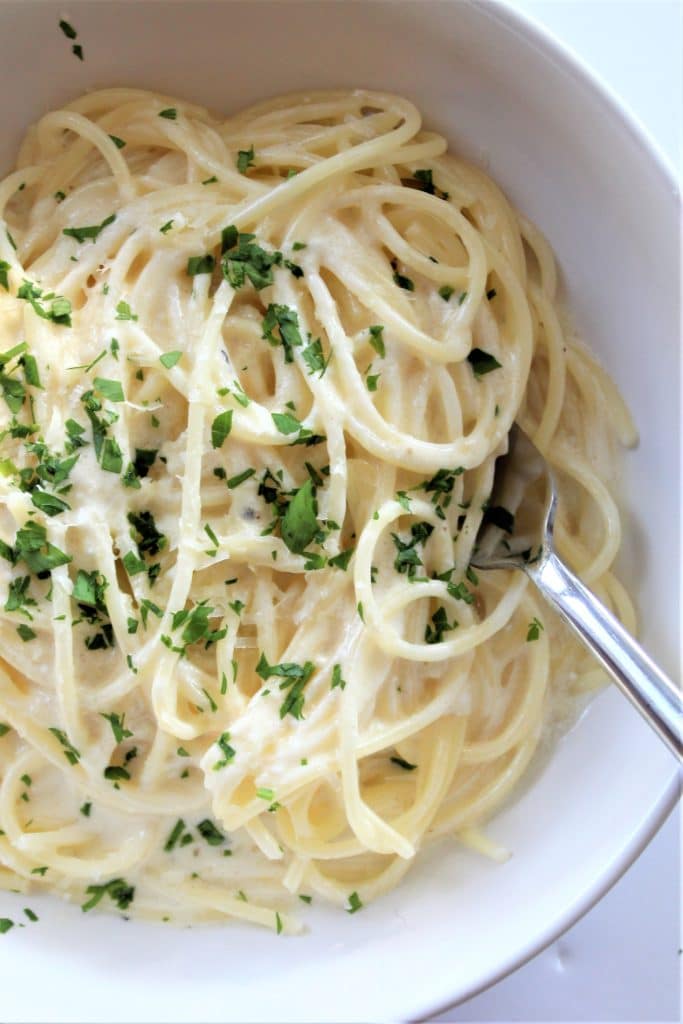 I don't know about you, but even if Olive Garden offers gluten free options I'm not biting (no pun intended). Some of us don't have a bad reaction from just a little cross contamination, but I'm not one of those. If I eat one crumb of gluten, I'm down for the count for several days.
I've been making this alfredo sauce for years now and it never gets old. My family loves it and it's often made when we get together for family functions.
WHY ISN'T OLIVE GARDEN'S ALFREDO SAUCE GLUTEN FREE?
I'm not positive, but I think Olive Garden uses a roux in their sauce to make it a little thicker than normal. A roux is just a mixture of equal parts flour and fat and it's used to thicken sauces. Sadly, a lot of places use roux and, therefore, we can't enjoy those sauces. If they only knew that there are other ways!
WHAT'S IN THIS GLUTEN FREE ALFREDO THEN?
There are only 4 ingredients in this gluten free alfredo, as well as a few spices.
Butter — a perfect beginning to anything.
Cream cheese — the secret ingredient that brings this sauce to a whole 'nother level. It takes the place of the roux to thicken the sauce.
Heavy cream — all good alfredo sauces use either heavy cream or half and half.
Parmigianno Regianno — make sure you use the good stuff for this sauce because it's all about the cheese!
Nutmeg — just a dash of nutmeg really enhances the sauce. I put it in almost all my cream sauces.
Garlic Powder, Salt, & Pepper — garlic powder provides a quick and easy garlic punch of flavor. However, I've also made this sauce with roasted garlic and it's TO.DIE.FOR. So if you're all about garlic in your alfredo, you can finely chop a few cloves and drop them in with the butter, or drop several cloves of roasted garlic in at the end for a flavor explosion!!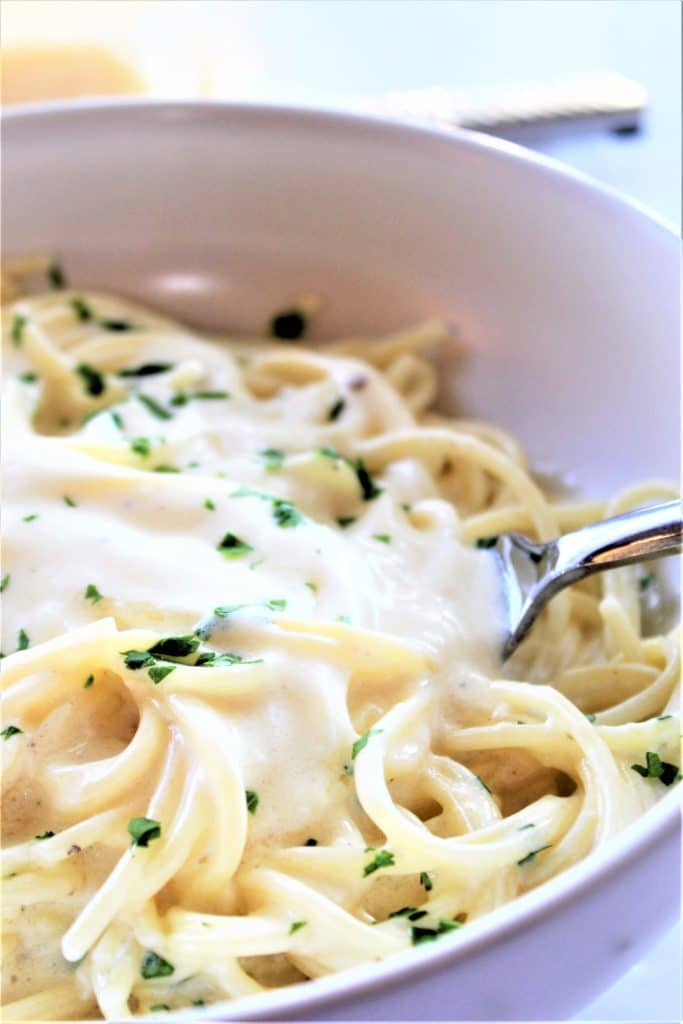 HOW DO I MAKE THE ALFREDO SAUCE?
Melt the butter in a small saucepan over low heat.
Add the cream cheese and stir occasionally until the cream cheese begins to melt.
Stir in the heavy cream and spices and simmer over low heat until sauce is reduced and thickened, about 15-20 minutes, stirring frequently.
Add Parmigianno Regianno and stir until melted (I use my favorite cheese grater here).
WHAT DO I SERVE THE ALFREDO WITH?
While alfredo is typically served with fettuccine noodles, they're not my fave anyway so I use any other noodle. Spaghetti, penne, rotini, or any other shaped pasta that you can find gluten free will work just fine.
A couple years ago I started making Blackened Chicken Alfredo and it's become a real family favorite. Using store-bought blackening seasoning, coat boneless, skinless chicken breasts and saute them for about 15-20 minutes in a little butter and/or olive oil. Slice them into thin strips and add them to a plate of alfredo pasta. You can also add sauteed broccoli and/or spinach.
If you've ever been to the Rainforest Cafe, they have this wonderful dish called Rasta Pasta. It's loaded with chicken strips, broccoli, red peppers, and spinach. The sauce is a mixture of basil pesto and alfredo sauce. If you've never tried this combo, you're in for a treat because it's incredible!! Just add equal parts basil pesto (homemade or store-bought) and this alfredo sauce to hot pasta, toss, and serve with veggies and meat (or by itself).
But pasta isn't the only thing you can serve this alfredo with! Remember those Olive Garden Style Breadsticks I made a few months back??? My absolute favorite thing to do with alfredo sauce is dip breadsticks in it!! It is SO GOOD!!!
CAN I FREEZE ANY LEFTOVER SAUCE?
Unfortunately, alfredo doesn't do well in the freezer. It tends to separate.
HOW LONG WILL IT KEEP IN THE REFRIGERATOR?
It will keep no more than 5-6 days in the fridge.
If you're dying to have Olive Garden style alfredo sauce again, gather a few simple ingredients and get in the kitchen. In less than half an hour you can be reveling in the glory of this sauce!!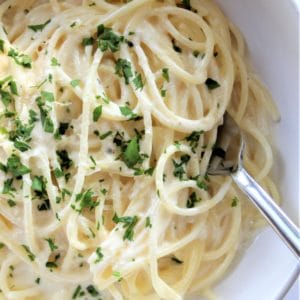 Gluten Free Copycat Olive Garden Alfredo Sauce
If you always loved Olive Garden alfredo sauce, you must try this recipe! It's the perfect copycat without a lick of gluten, and dare I say it's better than theirs!!
Ingredients
½

cup (1 stick or 113 g)

butter

4

oz (½ of an 8-oz brick)

cream cheese

2

cups (480 ml)

heavy cream

2

cups

freshly grated Parmigianno Reggiano

1

pinch

ground nutmeg

1

tsp

garlic powder (or 2 cloves fresh garlic, chopped) (or several cloves roasted garlic)

salt and pepper to taste
Instructions
Melt butter in 3-qt saucepan over low heat. If using fresh garlic, add this with the butter (don't let the garlic burn).

Add cream cheese and continue to cook slowly over low heat, stirring constantly, until cheese is mostly melted (it may look like the sauce is broken or separated, but this is normal).

Add heavy cream and spices and increase temperature to medium. Allow mixture to reach a low boil, stirring constantly, and then reduce heat and allow the sauce to simmer for about 15-20 minutes.

Add Parmigianno Regianno and stir. Serve warm over pasta or use as a dip for breadsticks.

Store leftover sauce in the refrigerator for 5-6 days.