With just four ingredients, these Soft and Fluffy Gluten Free Cream Biscuits are the answer to getting biscuits on your table in record time!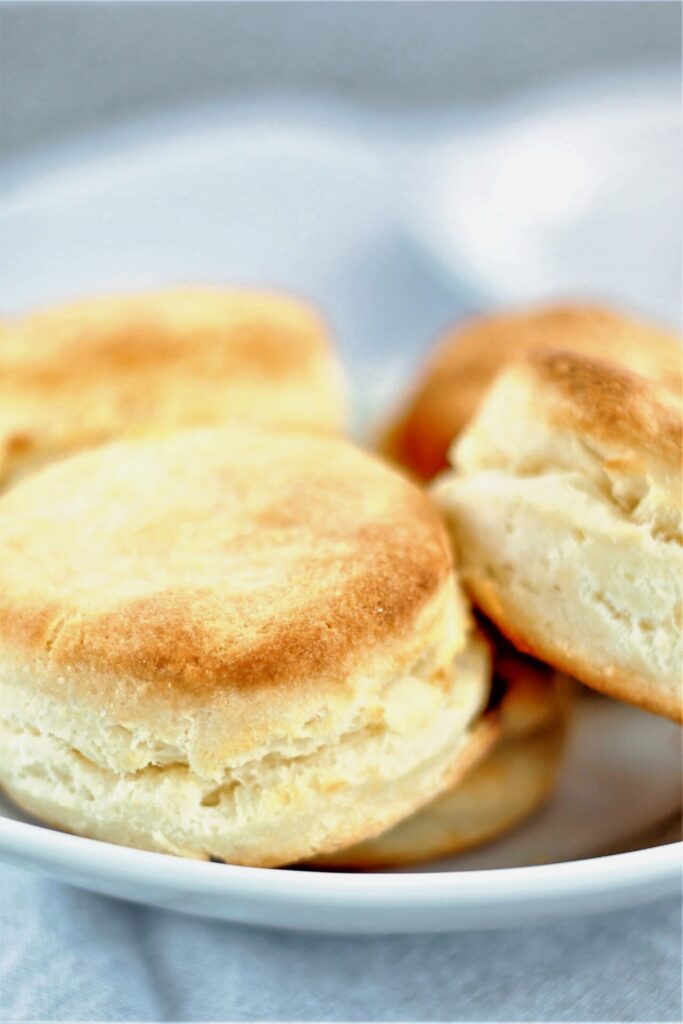 I love a great buttermilk biscuit. In fact, I already have the best gluten free buttermilk biscuit recipe on the site and it's a family and reader favorite. But sometimes I don't have the time nor the ingredients handy to make those biscuits and I can't seem to shake the biscuit cravings. So I make these quick gluten free cream biscuits that require only four ingredients and are amazingly soft and tender.
What are Cream Biscuits?
As we all know, butter comes from cream. If you were to put a cup of cream in a glass jar, secure the lid tightly, and shake it up (and keep shaking it), eventually you'd make butter. This is a trick I remember from my 5th grade science class!! A long, LONG time ago, haha! Most biscuits are made by cutting butter into flour or a mixture of flour, baking powder, and salt. By replacing the butter with cream, you're essentially using the same ingredients in a different way.
The Four Ingredients You'll Need to Make These Biscuits
Kim's gluten free all purpose flour blend -- a store bought blend may be substituted, but hasn't been tested.
Heavy cream
Baking powder
Salt
Butter -- this is technically optional, so I won't count it as another ingredient. It's simply for brushing the biscuits before baking and can be left out. The biscuits will still be amazing without it.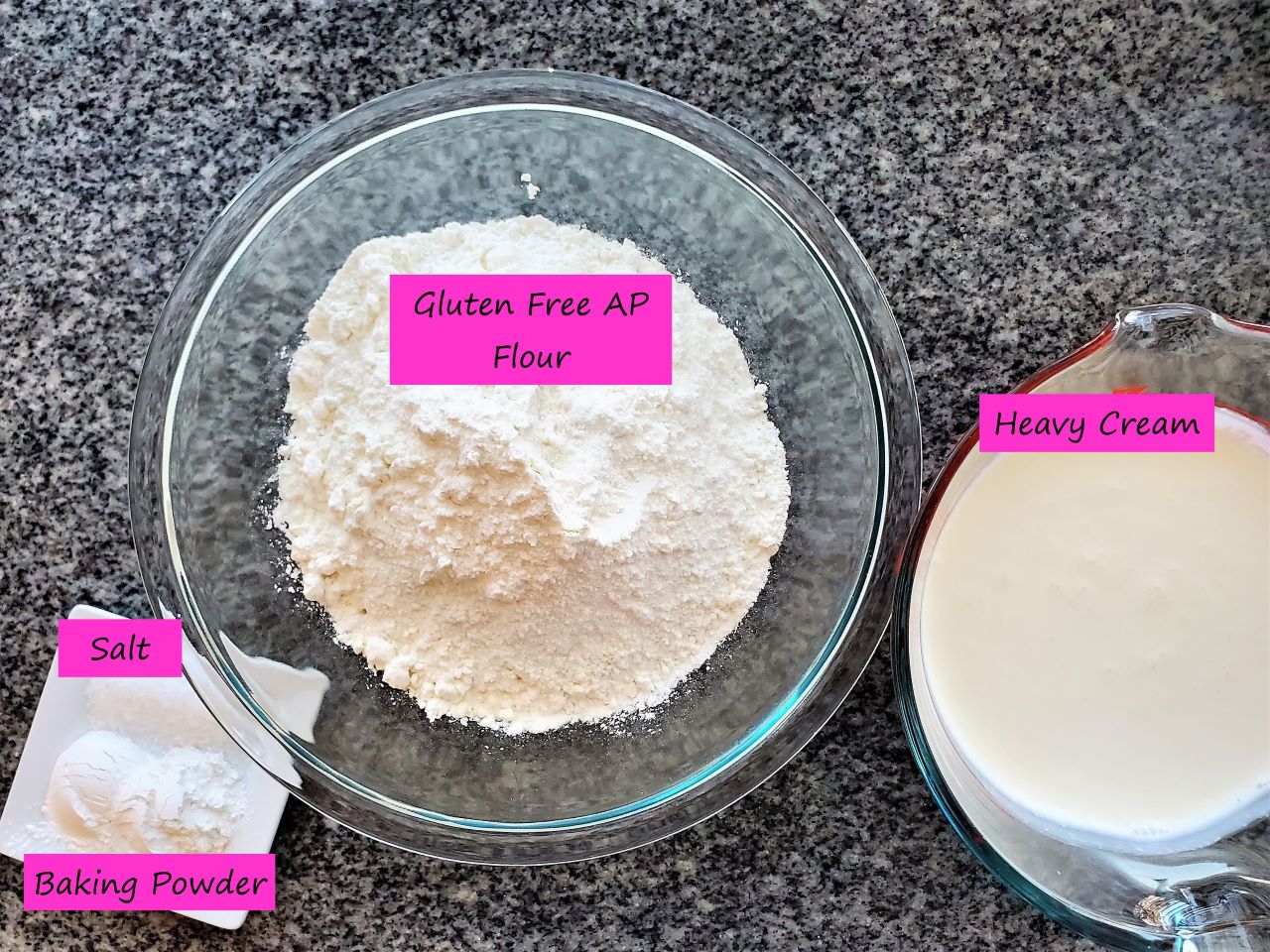 How to Make Cream Biscuits
These biscuits could not be any easier to make. I think even one of my kids could make them and they're not bakers at all!
Whisk flour, baking powder, and salt in a large bowl until combined.
Add heavy cream and stir until a soft, wet dough forms. You may or may not need the entire amount of cream.
Dump out onto a floured surface and knead briefly just until the dough comes together.
Roll out to about ¾-inch thick and cut with a biscuit cutter (or round cookie cutter).
Place on a parchment-lined baking sheet and bake at 425 degrees F for 12-16 minutes.
Cream Biscuits Frequently Asked Questions
Can I Make the Biscuits Dairy Free?
You can try! There are several options for dairy-free alternatives, but the one I think of the most is canned coconut milk. You need all the fat, so make sure whatever option you try is full of fat.
The Dough is Very Wet. Is This Normal?
Yes, it's totally normal to have overly wet dough. Because the dough is made with gluten free flour, there will always be more liquid absorbed by the flour. Starting out with a wetter dough than you're used to will result in softer, more tender biscuits!
Can the Biscuits be Frozen? Before or After Baking?
Yes, yes, and yes!! You can freeze the biscuits, and you can do so before AND after baking! Before baking, place them on a baking sheet and flash freeze them until solid (about one hour). Place in a ziptop bag (or sealed container) and freeze for 2-3 months. Bake from frozen, adding 5-10 minutes to the baking time. After baking, wrap individually in plastic wrap and place in a ziptop bag or sealed container and freeze. Reheat in the microwave, toaster oven, or oven (in the oven wrapped in foil for 15 minutes at 350 is my favorite way).
What if I Want Soft-Sided Biscuits?
Just put them on the baking sheet touching sides and when they rise up, they'll be soft-sided!
Can I Add Herbs or Cheese to the Biscuits?
I'm so glad you asked!!! I have a recipe right on my site for basil cream biscuits that uses the very same ingredients, but adds minced fresh basil and black pepper. They are so yummy, especially when served with ham!
How to Serve Gluten Free Cream Biscuits
These Gluten Free Cream Biscuits are so soft, tender, and fluffy and you won't believe how easy they are to make!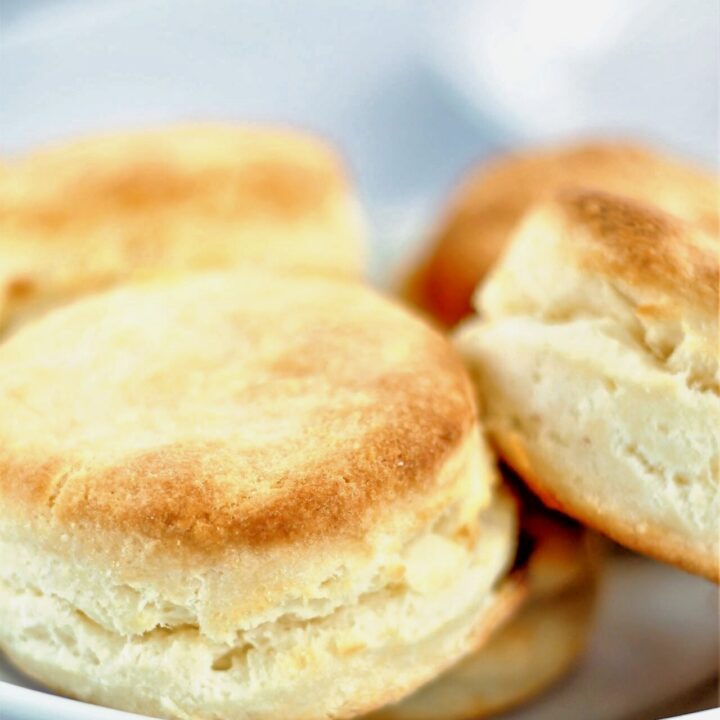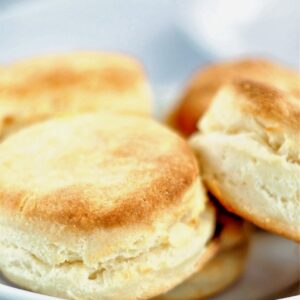 Soft and Fluffy Gluten Free Cream Biscuits
With just four ingredients, these Soft and Fluffy Gluten Free Cream Biscuits are the answer to getting biscuits on your table in record time!
Ingredients
4

cups (560 g)

Kim's gluten free flour blend (a store bought may be used, but hasn't been tested)

2

tablespoon

baking powder

2

teaspoon

salt

3-3¼

cups (720-780 ml)

heavy cream

2

tablespoon

butter, melted (optional)
Instructions
Preheat the oven to 425°. Line a baking sheet with parchment paper and set aside.

In a large bowl, whisk together the flour, baking powder, and salt. Slowly pour most of the cream into the dry ingredients and stir, then add a little more, holding back about ½ cup unless the dough is dry. You may or may not need all of the cream, depending on the humidity in your area. It's better, however, to err on the side of more cream than less (wetter dough than drier).

On a lightly floured surface, gently knead the dough together into a cohesive mass. Pat or roll the dough into a ¾-1 inch thick round. Cut out biscuits with a 2-3 inch round cutter. Transfer them to the parchment-lined baking sheet, about 1 inch apart.

Brush each biscuit with melted butter, if desired. Bake until lightly browned, about 12-16 minutes. Remove from the oven and brush again with any leftover butter. Serve warm or at room temperature.