Dip those gluten free pretzel bites into a bowl of this gluten free beer cheese dip for the ultimate in game day snacking!
Who woulda thought we'd be able to have a BEER cheese dip? Certainly not me! That's one of the things I have missed the most about being gluten free, believe it or not. Not that I drank all the time, but when I wanted something alcoholic to drink, I wanted a beer. As much of a sweet tooth I am with food, I'm not into sweet drinks and cocktails. Just give me a beer and I'm good.
But giving me a beer these days is a little easier said than done. I found a gluten free beer that I like (Budweiser's Redbridge), but I only see it very randomly in my area. Some other gluten free beers are out there, but again, I've never seen those in my area so I can't be picky choosey.
For the sake of making a dip like this, though, as long as we get the flavor of beer into the cheese dip, it doesn't matter which kind of gluten free beer you choose.
Ingredients in Gluten Free Beer Cheese Dip
This dip comes together with staples that you probably already have on hand, aside from the gluten free beer (unless you're lucky and have it on hand all the time):
Kim's gluten free xanthan gum free flour blend–you won't see me use this often, but when I do, it's usually for a roux-based recipe like this one. I don't want xanthan gum to make the finished dip gummy. This is a simple blend of superfine rice flour, potato starch, and tapioca starch.
Butter–for making the roux
Gluten free beer–like I said above, my choice is Redbridge and I get it at my local Total Wine, but any gluten free beer you find will work. I don't think those that remove the gluten during the brewing process are safe for Celiacs like myself, so consume at your own risk.
Grainy mustard, or regular dijon mustard
Garlic powder
Salt and pepper
Cayenne pepper–just a pinch
Worcestershire sauce–for that umami flavor
Shredded cheddar cheese–I chose to use pre-shredded cheese because I wanted this to be quick and easy. You could also shred your own.
Whole milk
What to Serve with This Dip
Did you ever make cheese fondue? Back in the day? Or when you weren't gluten free? We have this wonderful restaurant in our area called The Melting Pot that only makes fondue and it is TO DIE FOR!! My favorite of the 3 fondues you get is the appetizer, or cheese fondue. It's very similar to this beer cheese dip. So everything that's normally served with cheese fondue can be served with this dip: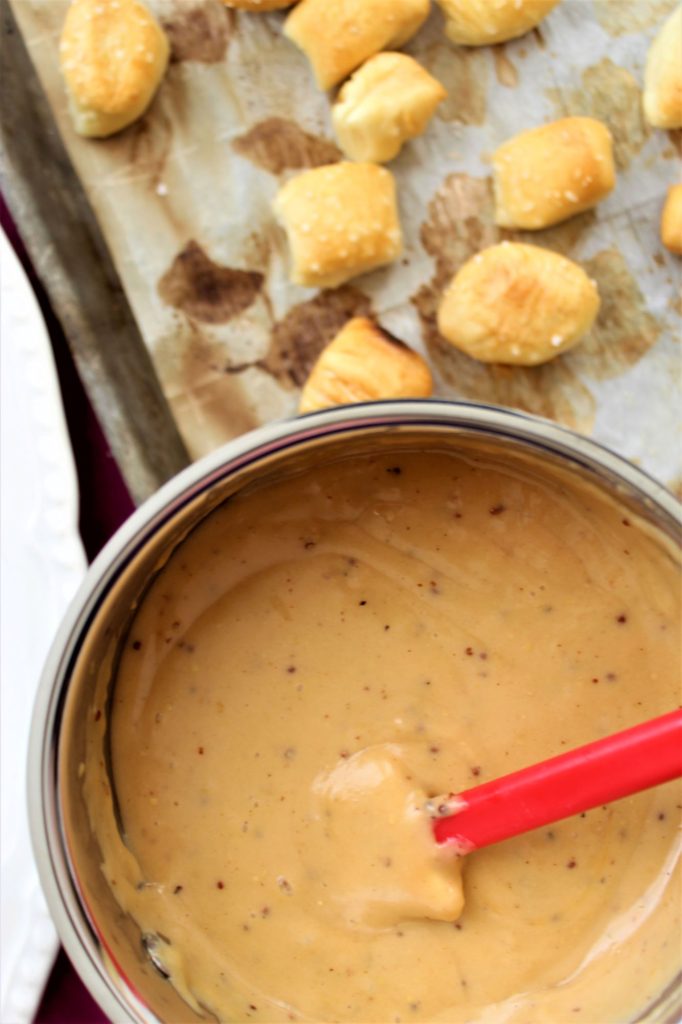 Can Beer Cheese Dip be Made in Advance?
Yes! It will firm up when it cools or is refrigerated, but with some gentle heating and stirring on the stovetop it'll come back to its drippy dippy delightfulness! Haha!!
I'm gonna let you in on a little secret for keeping the sauce in a liquid state when it has cooled down or even is cold. It's something called sodium citrate and it's one of those molecular gastronomy ingredients that seem foreign to us lay people, but it's really very ordinary when you look into it.
Sodium citrate is just the salt portion of citric acid. It's derived from fruit and it can taste both sour and salty, and hence is often called sour salt. Sodium citrate is used in many things (club soda for one) and in a cheese sauce it helps to emulsify the cheese and keep it smooth and non greasy. Adding just 1/4 teaspoon to the beer before whisking it into the sauce will make your beer cheese dip remain smooth and melty!
Don't let another Superbowl go by without partaking in this gluten free beer cheese dip!
Gluten Free Beer Cheese Dip
Dip those gluten free pretzel bites into a bowl of this gluten free beer cheese dip for the ultimate in game day snacking!
Ingredients
3

tbsp (42 g)

butter

3

tbsp (26 g)

Kim's gluten free xanthan gum free flour blend (see below)

½

cup plus 2 tbsp (150 ml)

gluten free beer, such as Redbridge

¼

tsp

sodium citrate

, optional

1

cup (240 ml)

whole milk

1

tsp

grainy Creole style mustard (or regular dijon mustard)

1

tsp

Worcestershire sauce

½

tsp

garlic powder

½

tsp

kosher salt

¼

tsp

pepper

¼

tsp

cayenne pepper

3

cups (249 g)

shredded cheddar cheese (preshredded or shredded from a block)
To Make Just 3 Tablespoons of Gluten Free Xanthan Gum Free Flour Blend
16

grams

superfine white rice flour

6

grams

potato starch

4

grams

tapioca starch
Instructions
In a small saucepan over medium heat, melt the butter. Add the flour mixture and whisk until smooth. Continue whisking for about one minute and add in the spices and Worcestershire. If using the sodium citrate, add this to the beer and stir gently to dissolve. Pour the beer into the roux while whisking constantly.

Continue whisking and slowly add the milk in increments, whisking after each addition, until smooth. Add the cheese and continue to whisk until cheese is melted.

Pour into a serving bowl and serve warm with dippers, or add to a fondue pot and keep warm over a low heat. This can also be made ahead and stored in the refrigerator for a few days. Reheat over low heat, whisking until smooth.