Red Wine Braised Pot Roast was originally posted on 11/10/18 and has been updated with new pics, a video, and plenty of helpful tips.
With a whole bottle of red wine and some time, turn a tough cut of beef into spectacular fall-apart fork tender Red Wine Braised Pot Roast.
Some of the items linked in this post are affiliate links, meaning, at no additional cost to you, if you click through and make a purchase, I will earn a small commission.
I remember when I was young and I'd get home from school and ask my mom what's for dinner. When she said pot roast, I was totally bummed (can you tell I grew up in the 80's? Like, totally, haha!). I never really appreciated pot roast in my younger years, like so many other things. And my mom made great pot roast! Then I grew up and decided to try my hand at making my own. Fall apart, fork tender. I was so in love with it. Why hadn't I made it sooner??? So much wasted time not eating this true comfort food!
why you should make red wine pot roast
It's so easy, you can "set it and forget it." Flip the roast over once during the cooking time and walk away!
No oven is required so it's perfect for when you don't want to turn on your oven.
You don't even need to like wine to enjoy this red wine braised pot roast. I can't stand red wine myself, but this is one of my favorite meals.
The leftovers are just as good, if not better, and can be made into sandwiches. Mmmm, mmmm!
Pot roast can feed a crowd, a large family, or a small hungry family!
everything you'll need to make pot roast and two variations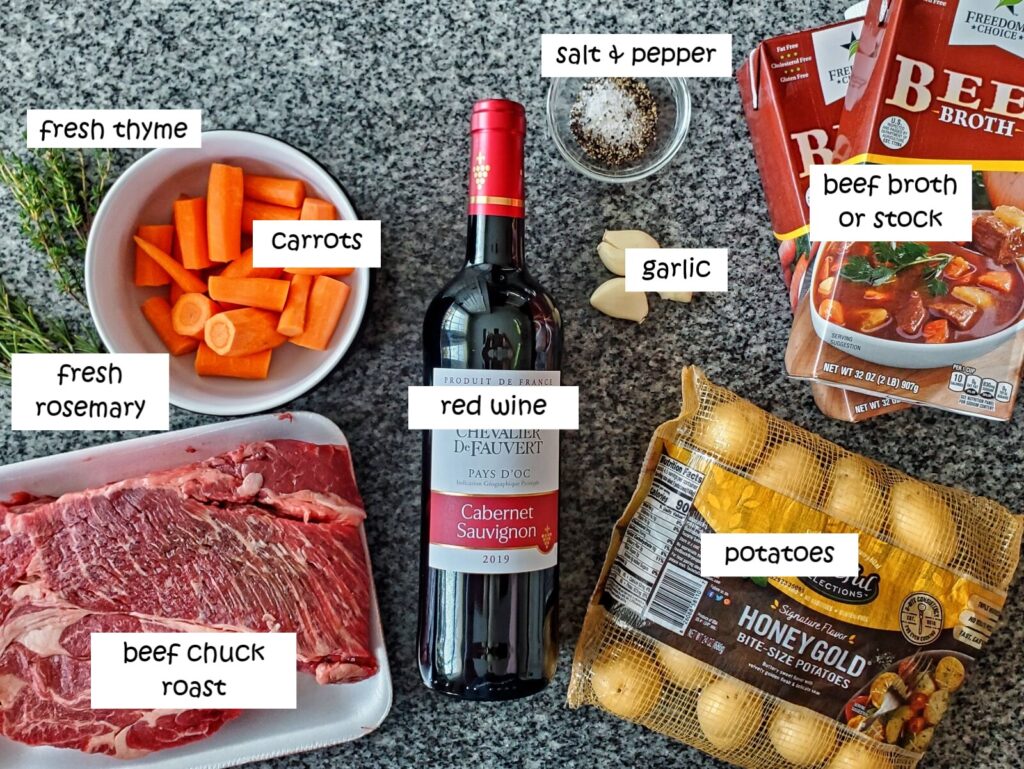 Chuck roast — this is the classic roast used to make pot roast. It used to be rather cheap, but of late it's been getting pricier and pricier. Look for a well-marbled approximately 2-inch thick hunk of meat.
Red wine — I always use cabernet sauvignon, but feel free to try your favorite red wine, such as merlot. Of note, I am not a red wine fan. And I LOVE this pot roast and it's gravy.
Cornstarch — you can sub this with arrowroot if you'd like.
Potatoes and carrots — if you don't want to make cheese grits, add some carrots and potatoes (and onions if you like them) to the pot at the 3-hour mark.
Corn grits — if you'd like to make the cheesy grits, you'll need corn grits, yellow or white. Make sure they're not instant.
Cheddar cheese — cheddar cheese is my favorite cheese to use, but you could try another cheese, such as jalapeno jack cheese.
Half and half — substitute with whole milk or heavy cream, depending on how rich you want your grits to be.
what is braising?
Braising is a cooking method that's been used for years to make tougher cuts of meat delectable and fall-off-the-bone tender. The method is simple: brown meat, add liquid, cover and cook on low heat until the desired tenderness is reached.
Special equipment needed?
There are also a few different cooking vessels to perform the braising task: Dutch oven, Instant Pot, slow cooker, and electric skillet. This might be a little old fashioned, but my mom has used an electric skillet (affiliate link) to braise for years, and that's what I use to this day. Yep, one of those old appliances you probably haven't seen in years, or maybe ever. This is the best tool for the job, if you ask me. Not to say that you can't make this recipe without one, but it's my most favorite appliance for braising things as it really locks in the moisture and the temperature can be controlled precisely.
If you don't have an electric skillet or don't want to buy one, no worries. This recipe can be made in any of the above cooking vessels I mentioned with alterations to the time and temperatures:
Dutch oven — Brown on the stovetop, reduce to a low simmer, and continue cooking on the stovetop for 3-4 hours. Or brown and place in a 300-degree F oven for 2-3 hours.
Instant pot — Sear meat in instant pot and set to pressure cook for 60 minutes, releasing pressure naturally before finishing.
Slow cooker — You'll need to brown the roast in a skillet or another pot before transferring it to the slow cooker. Once in the slow cooker, set it to cook on low for 8-9 hours.
Any of these methods will work perfectly for this amazing red wine braised pot roast. But I will say that nothing quite brings out that mahogany color and deep depth of flavor like the electric skillet does.
how to braise red wine pot roast
I'm a little unconventional in my pot roast method, but I prefer to NOT add veggies. If adding veggies floats your boat, though, go for it! I like to serve my veggies on the side, such as roasted brussels sprouts, green beans, or asparagus. And I always serve the pot roast with a starch, such as mashed potatoes, roasted oven potatoes, risotto, or in this case, creamy cheese grits. Grits are my husband's favorite starch to serve with pot roast.
Sear roast over high heat until browned on both sides.
Pour the entire bottle of red wine into the skillet, along with a box of beef broth or stock.
Add whole peeled garlic cloves and fresh rosemary and thyme sprigs.
Bring to a boil and reduce to a low simmer.
Cover and braise for 2 hours. Remove the lid, gently flip the roast over, and replace the lid.
Check the roast at the 3-hour mark, adding additional beef broth if needed. At this point, add any veggies you're using.
When ready, the roast will be fall-apart tender and the veggies will be tender, but not mushy.
Remove roast and veggies and keep warm while making the gravy.
Add cornstarch to a small jar with cold water until well combined. Add this to what liquid is left in the pan and whisk until thickened. Thin with broth as needed.
more beef recipes
Fall and winter aren't the only times you can eat Red Wine Braised Pot Roast. With my method, no oven will be needed to produce a fall-apart tender roast served atop a pile of cheesy, creamy grits.
Red Wine Braised Pot Roast with Cheese Grits
With a whole bottle of red wine and some time, you can turn a tough cut of beef into the most spectacular fall-apart tender meat ever!
Ingredients
Pot Roast
1

tbsp

olive oil

1

3-5 lb

beef chuck roast

1

tsp

salt

½

tsp

pepper

3

whole

garlic cloves, peeled and left whole

2

sprigs

fresh rosemary

2

sprigs

fresh thyme

1

750ml bottle

cabernet sauvignon wine

(Merlot or any favorite red wine can be substituted)

1-2

32-oz

boxes beef stock

3

tbsp (23g)

cornstarch

(arrowroot or potato starch may be substituted)

baby yellow potatoes, carrots, onions, optional

(in addition to, or instead of the cheese grits)
Cheese Grits
6

cups (1.4l)

chicken stock or broth

2

tsp

salt

1

tsp

pepper

2

cups (292g

yellow or white grits

2

cups (480ml)

half and half

(half whole milk and half heavy cream may be substituted)

8

oz (226g)

shredded cheddar cheese
Instructions
Braise Beef
Salt and pepper the chuck roast on all sides.

Heat olive oil in electric skillet or Dutch oven over medium high heat (375° F in electric skillet).  

Add chuck roast and brown on both sides.  Add garlic cloves and herbs to skillet. Pour bottle of wine and box of beef stock over roast. Bring to a boil and reduce to a very low simmer and (200° F in electric skillet) cover (if using a Dutch oven, place in a 275° F oven).

Allow to slowly braise for 4 hours, turning once at the halfway mark. If adding any vegetables, do so at the 3-hour mark. If you notice liquid has evaporated too quickly, a second box of beef stock or equal amounts of water may be added.

When roast is fork tender and liquids are reduced to about one cup, carefully remove roast and any vegetables from pan.  Turn heat up on electric skillet to about 375° F (about medium on stove if using a Dutch oven).  

Add cornstarch to a small jar.  Top off with roughly 1 cup of cold water.  Replace the lid and shake the jar well until the cornstarch is combined with the water.  Add to remaining liquid while whisking constantly, until gravy has thickening and is smooth, 1-2 minutes.  If gravy is too thick, add more water and whisk again. If gravy is too thin, add a little more cornstarch back to the jar with cold water and add this to the gravy while whisking constantly.

Serve pot roast over cheese grits or with vegetables that have been braised with roast. You can also serve pot roast with risotto or mashed potatoes. Leftovers will keep in the fridge for 3-4 days and make great hot subs or French dips!
Make Cheese Grits
Bring chicken stock (or water) to a boil in a large saucepan. While whisking constantly, slowly pour in the corn grits and continue whisking for 1-2 minutes after all grits have been added to the pot.

Cover the pot and reduce to a simmer and cook for 30 minutes, stirring every 5-7 minutes.

Whisk in half and half, cover again, and continue to cook for another 20-30 minutes, stirring every 5-7 minutes.

Remove from heat and stir in cheddar cheese.
Notes
*To make this in an instant pot, place all pot roast ingredients in instant pot, except for cornstarch and water.  Pressure cook on high for 60 minutes.  Remove meat and any vegetables and switch to saute function.  Proceed as above with cornstarch slurry to make gravy.  
*To make this in a slow cooker, place all pot roast ingredients in slow cooker, except for cornstarch slurry.  Slow cook on low for 8-9 hours.  Remove meat and vegetables and pour remaining liquid in a saucepan or skillet.  If more than one cup, reduce down to one cup over medium-high heat.  Proceed as above with cornstarch slurry to make gravy.