These gluten free meatballs are absolutely out of this world and full of fantastic flavor. You will toss out any other recipe once you make them!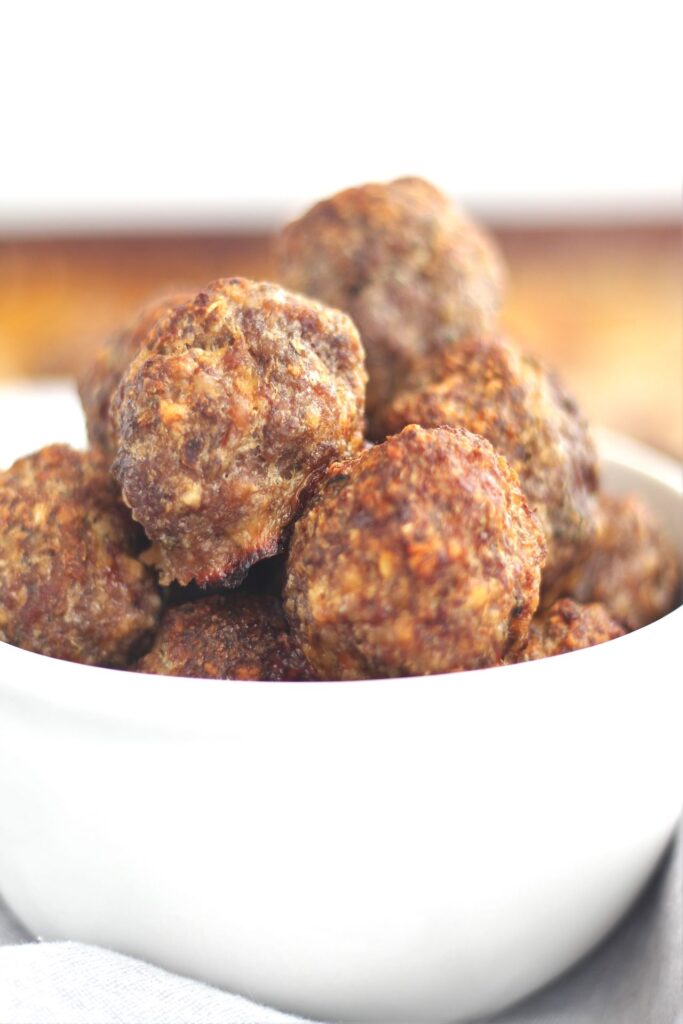 I've said it and now I have to live up to it. I think I can, I think I can, I think I can, haha! When I tell you that you WILL throw out any other meatball recipe, I'm not exaggerating. My gluten free meatballs are basically the meal that made my husband fall in love with me. And the funny thing is, I had never made meatballs until I met him!
What are the Ingredients?
Most meatballs are made with a combination of beef, pork, and veal, or at least beef and pork. I don't eat veal so I won't ever use that. It's not that I don't like it, but I just don't feel it's necessary in life. But I don't shun anyone who eats it. Just a personal preference of mine. So here's what I use to make these meatballs:
Ground beef
Italian sausage — GAME CHANGER! When I first made these meatballs, I decided to sub the ground pork with Italian sausage and never looked back. We use Hot Italian Sausage, but use what you like.
Parmigiano Reggiano — the real stuff, none of that fake stuff out of a green shaker jar.
Fresh garlic
Worcestershire sauce — make sure it's gluten free (Lea & Perrins is gf)
Eggs
Breadcrumbs — I make my own gluten free bread crumbs here, but you can also use store bought.
Dried oregano
Dried Italian seasoning
Salt and pepper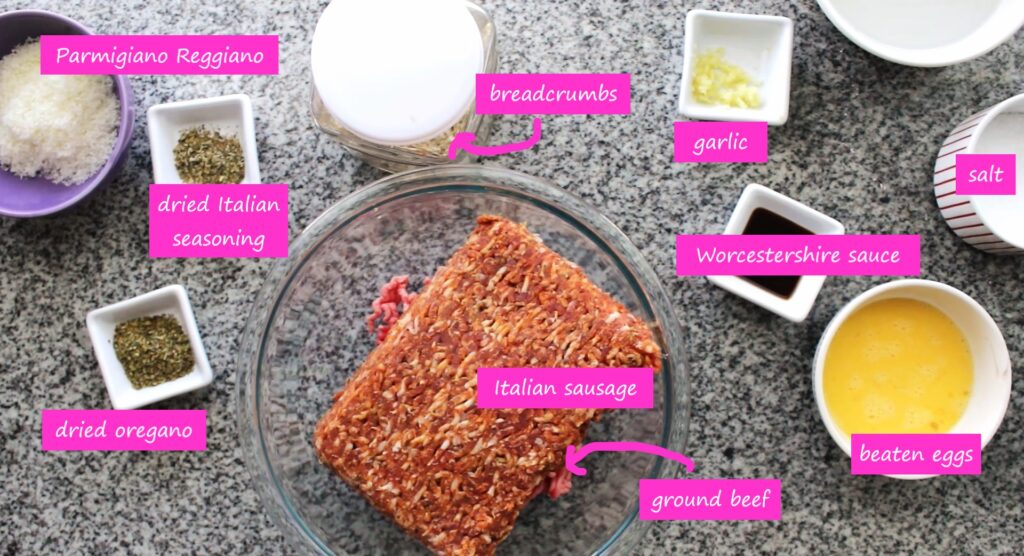 Making the Meatballs
If you've been missing meatballs since going gluten free, don't fret. These are so easy to make and will change your life so there's no need to worry about ever going without again. Here's how you do it:
Mix together all the ingredients in a large bowl. The best tools for doing this are your hands. You can get a feel for if everything is well mixed without overmixing. You want to be gentle, but thorough.
Scoop individual portions out, by eyeballing it or using a cookie scoop.
Roll the balls around between your two palms. You can use wet hands for this, but it's not absolutely necessary.
Place meatballs on a large baking sheet with sides.
Bake at 425 degrees F for 20-30 minutes, depending upon the size you've made.
Meatballs are So Versatile
There are so many things you can do with meatballs, besides just eating them right from the pan (which I can never resist once they cool down).
Spaghetti and meatballs — My husband's FAVORITE meal and definitely the way to a man's heart, my spaghetti and meatballs are so good, you'll wanna slap your momma, haha! The sauce is based on my mom's spaghetti sauce, which she uses not just for spaghetti, but also lasagna (coming soon!). This sauce always gets a "wow" response from anyone who tries it.
Meatball subs — There a few brands of gluten free sub rolls out there, but you can always use my gf Italian bread and make subs, add the sauce and cheese, and load it up with meatballs!
Cocktail meatballs — Remember those old grape jelly and chili sauce meatballs you'd see at every party way back in the day? If you have yet to try them, you're missing out. Although they sound weird, something about the combination of the jelly and chili sauce makes for a wonderful party appetizer.
Swedish meatballs — Although not necessarily traditional to use Italian flavored meatballs to make Swedish meatballs, if you already have these in your freezer, why not? Once you make the sauce for the Swedish meatballs, you won't even taste the Italian spices.
Meatball sliders — make my gf Hawaiian rolls and serve the meatballs on the sliders for a fun party food.
Gluten Free Meatballs FAQs
Can These Meatballs be Made in Advance?
Yes! You can make them a few days in advance of serving and keep them in the fridge, or you can make them up to two months in advance and keep them in the freezer. You can also add frozen meatballs to any sauce you're making and they'll thaw directly in the sauce.
I Like Larger Meatballs. Can I Make Large Ones?
You certainly can! Just scoop as much as you want to roll into balls and place them on the baking sheet. Bake for 25-30 minutes.
Can I Use Turkey or Chicken Instead of the Beef and Pork?
Yes, you can. Sub the beef with ground turkey or chicken and the Italian sausage with turkey Italian sausage links that have been removed from their casings. You may need to bake them a little longer and they may not brown quite as well, but they'll still be delicious.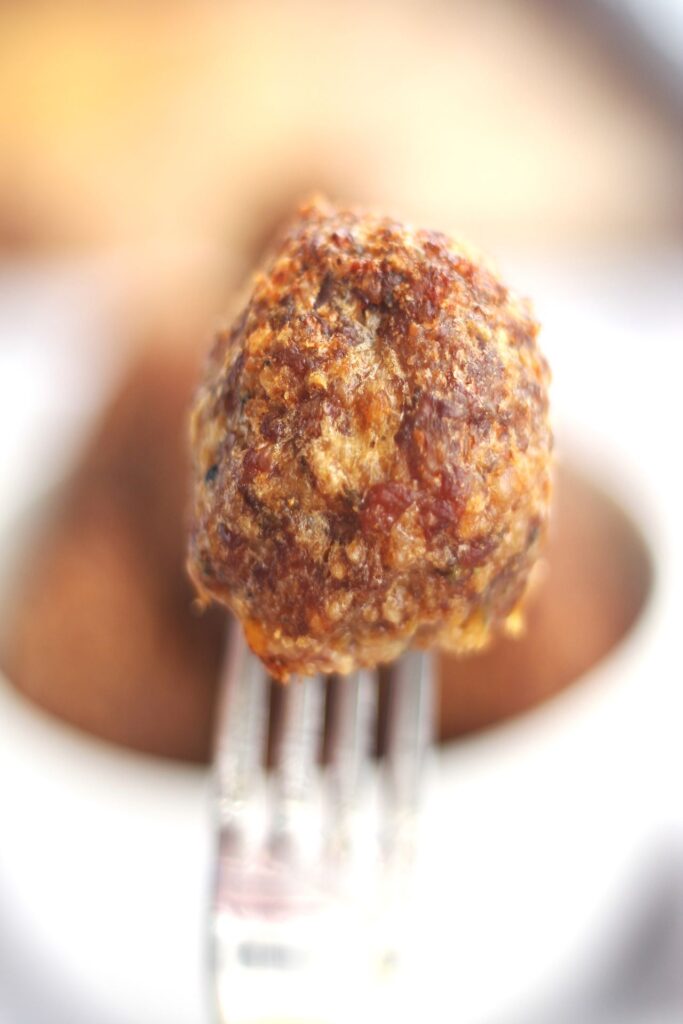 For the best meatballs you've ever had (gluten free or not) try my OUT OF THIS WORLD Gluten Free Meatballs and see how they'll change your life!
Out of This World Gluten Free Meatballs
These gluten free meatballs are absolutely out of this world and full of fantastic flavor. You will toss out any other recipe once you make them!
Ingredients
1

lb (454g)

ground beef

(I use 85-90& lean)

1

lb (454g)

bulk Italian sausage, hot or mild

(if you can't find bulk, just remove sausage from links)

2

large

eggs, beaten

¾

cup (90g)

gluten free breadcrumbs (homemade or store bought)

½

cup (45g)

Parmigiano Reggiano, freshly grated

1

clove

garlic, miched or crushed

2

teaspoon

Worcestershire sauce

2

teaspoon

dried oregano

1

teaspoon

Italian seasoning

2

teaspoon

salt

1

teaspoon

pepper
Instructions
Preheat oven to 425 degrees. Set aside a large rimmed baking sheet.

In a large bowl, mix together all meatball ingredients.  Your hands are the best tools for this, but don't overmix.  Just mix until all ingredients are well combined.

Scoop portions the size of a golf ball or larger. Roll into balls between your palms.  Place meatballs on rimmed baking sheet, spaced apart for even browning.

Bake for about 20-30 minutes, depending on the size, or until lightly golden brown and sizzling.  For smaller meatballs, they should only take about 20 minutes, whereas larger ones will take 25-30.

Remove from the oven and use in any recipe you'd like.

Meatballs can be baked and frozen for up to two months.