Marinated, grilled, and smothered with a smoky spicy butter, this Chili Flank Steak is sure to become a favorite in your house!
There are hundreds, if not thousands, of flank steak recipes out there on the world wide web. And I'm sure a lot of them are every bit as good as this one. But I just can't bring myself to try any of them because I love this one so much, I can't possibly think about eating flank steak any other way.
What is Chili Flank Steak?
My family has been making chili flank steak for probably over two decades. My sister found the recipe a long time ago and we've loved it ever since. The steak is first marinated in southwest spices and grilled to perfection. But it doesn't stop there. A flavorful chili garlic butter is dolloped all over the slices of steak, which melts and creates somewhat of a sauce. I always like to serve mine with extra butter on the side for dipping because I can never get enough of it.
here's what you'll need
Steak and Marinade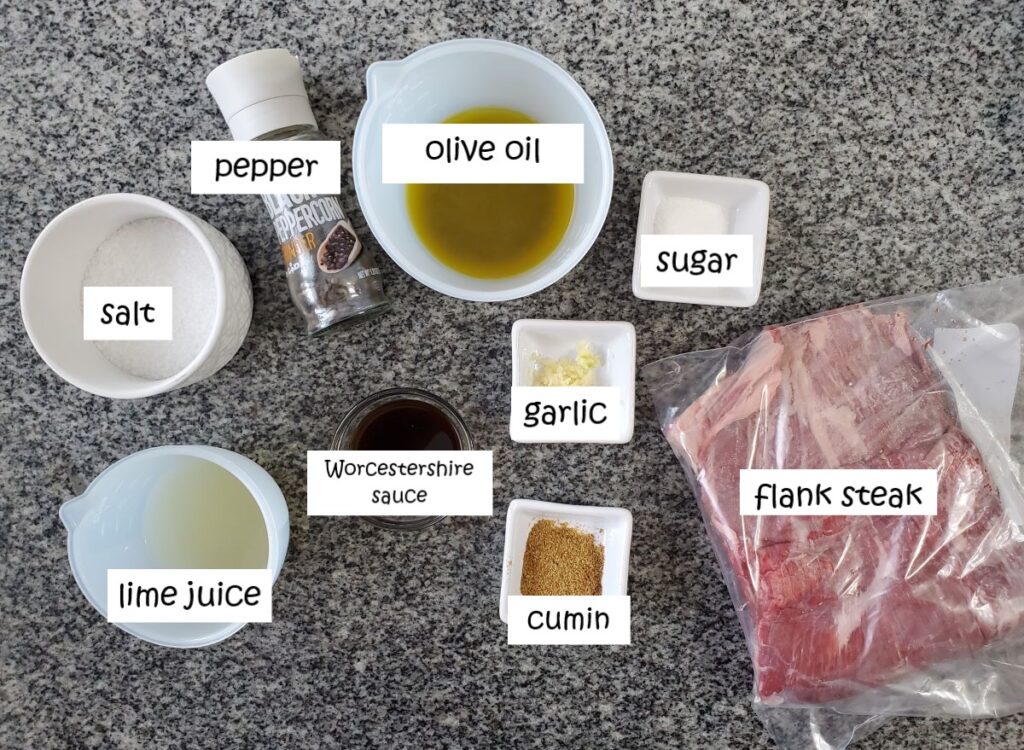 Lime juice–use freshly squeezed lime juice
Sugar–just two teaspoons of sugar helps to caramelize the outside of the steak as it's grilling
Ground cumin–I LOVE cumin and it really makes this steak extra special
Chili Butter
Chili powder–there's a good amount of chili powder in this butter and it's so flavorful
Ground cumin–adding cumin in the butter as well as the marinade really gives that extra punch of cumin that makes this flank steak so yummy
preparing and grilling chili flank steak
Before grilling the steak, we need to whip up that delectable butter so it'll be ready to go as soon as the steak comes off the grill. Make sure the butter is soft and whisk or stir the hot sauce, cumin, garlic, and chili powder into the butter until smooth. Set this aside while we grill the steak.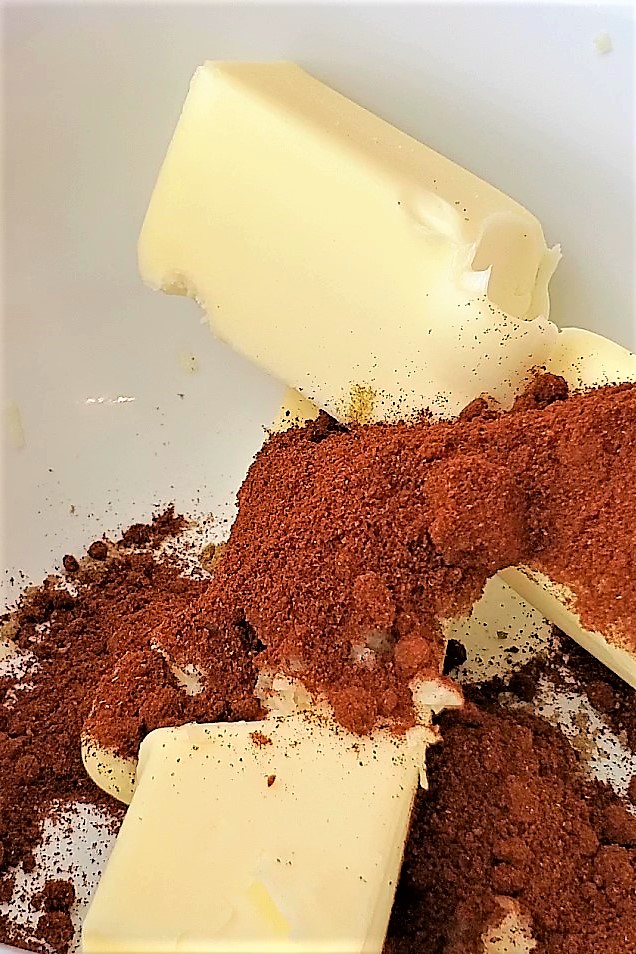 Getting a good sear on the flank steak is one of the keys to it being so tasty. I remember watching Anne Burrell on the Food Network years ago and she always said brown food tastes so much better. Although this isn't brown, I think what she meant is getting color or caramelization on the outside of foods means more flavor.
Flank steak benefits from a short time on the grill over a very hot flame, especially because it's so thin. Prepare your grill for direct heat, whether it's a charcoal, gas grill, or high heat pellet grill like mine. We've gone through many a grill in our days and found our favorite is our pellet smoker, which also acts as a grill, getting up to over 650 degrees F with a special searing mode. Grill the steak hot and fast, especially for medium rare (which is our favorite).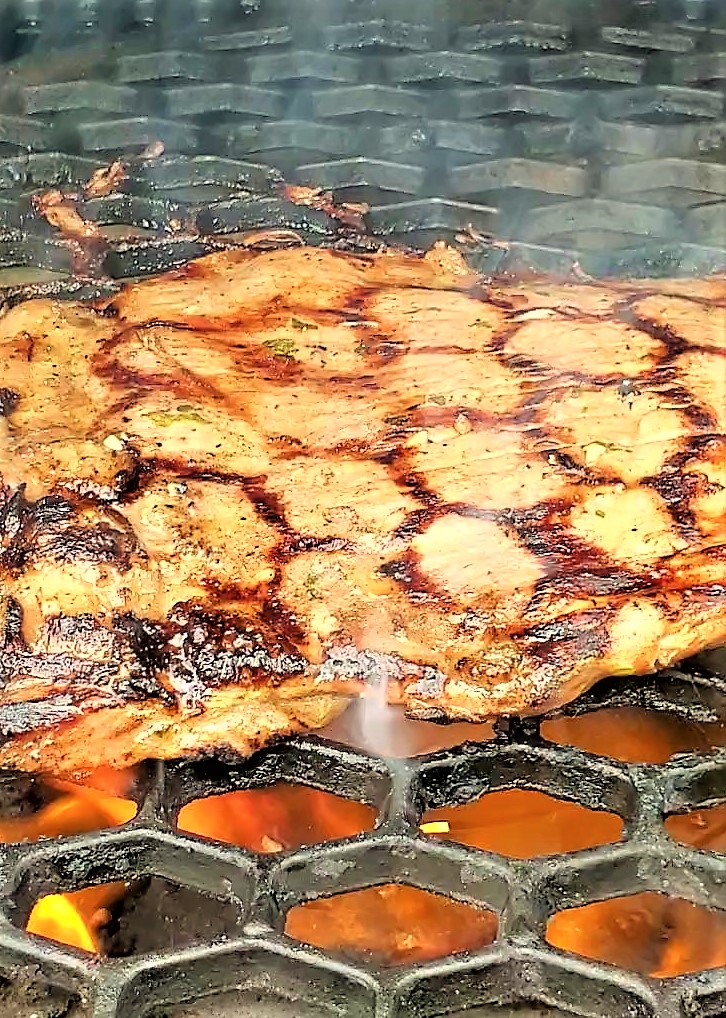 Serving Chili Butter Flank Steak
Flank steak needs to be cut against the grain for the most tender bites of steak. The grain runs horizontally along the length of the cut of meat, so cut along the width. After letting the steak rest for about 10 minutes, slice it into thin slices and place the slices on a serving platter. Immediately dollop spoonfuls of the chili butter all over the slices randomly so the flavorful butter melts all over each piece and almost creates a spicy sauce. So yummy! Serve immediately.
Other Uses for Chili Butter
This recipe makes a LOT of chili butter! But that doesn't mean you need to halve the recipe (although you could). Slather it on other foods, too, such as:
Grilled corn on the cob
Chicken
Fish
Potatoes (like roasted potato wedges)
more gluten free grilling recipes
Chili butter flank steak is such a tender, flavorful, quick dinner to serve on a warm summer's day.
Chili Butter Flank Steak
Marinated, grilled, and smothered with smoky chili butter, this chili butter flank steak is sure to become a favorite in your house!
Ingredients
Marinade
1

1½-2 lb

flank steak

3

garlic cloves, minced

¼

cup (60ml)

freshly squeezed lime juice

2

tbsp

Worcestershire sauce

2

tsp

sugar

1

tsp

ground cumin

`

½

cup (120ml)

olive oil

salt and pepper to taste
Chili Butter
1

cup (226g)

butter, softened

1

garlic clove, minced

2

tbsp

chili powder

½

tsp

ground cumin

½-1

tsp

hot sauce, or to taste
Instructions
In a small bowl, add all marinade ingredients and whisk until combined. Pour over flank steak in a large (gallon size) ziptop bag. Refrigerate at least 4 hours, but preferably overnight (I actually prefer to marinate mine for 24 hours).

When ready to grill, beat or stir all butter ingredients in a small bowl until smooth. Set aside at room temperature until ready to serve.

Prepare grill for direct heat on high. Sear flank steak about 2-4 minutes on each side, depending on the thickness and the desired doneness. Two minutes for rare to medium rare, 4 minutes for medium well..

Remove from grill and allow to rest, tented with tin foil, for 10 minutes. Slice along the width, against the grain, into thin slices. Place pats or spoonfuls of the chili butter over the warm slices. Serve immediately with extra chili butter on the side.
Notes
Flank steak can be marinated up to 24 hours.  
Butter also goes well with grilled corn on the cob or oven browned potatoes.