Gluten Free Honey Coriander Wings are the best version of the beloved 'Ohana appetizer from Disney, complete with the sweet and sticky sauce.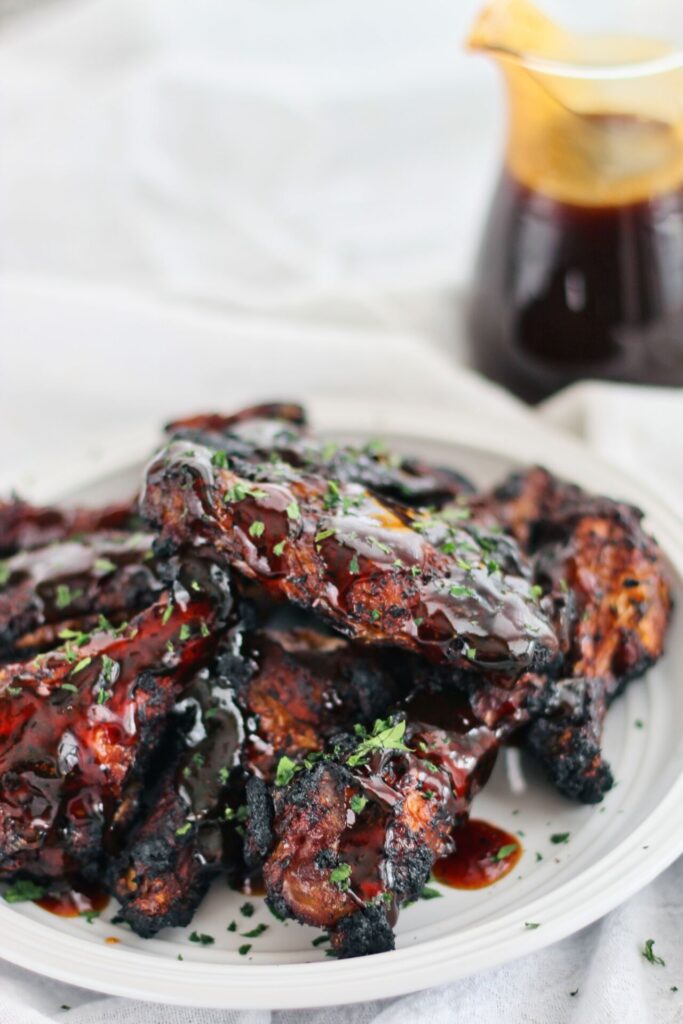 If you know me, you know that my favorite place to be on the whole planet is Disney World. It's such a beloved place for my whole family, so much so that my daughter is getting married there this fall. The wedding will take place when our entire family will already be there for our usual extravagant vacation. My mom and dad spare no expense and take the entire family for a reunion of sorts about every 3 years. That way they can have their kids and grandkids together all at once.
It's already on the agenda to have at least one breakfast and dinner at 'Ohana while we're there as it's one of our favorite restaurants in Disney. Although they offer these wings gluten free, they're always sauceless because the sauce has gluten in it. We can make the sauce gluten free by changing one simple ingredient and won't have to go sauceless anymore. Dare I say these wings might be better than 'Ohana's? Make them and find out for yourself!
what you'll need to make 'Ohana's chicken wings
When I served these wings for the first time, my husband proclaimed them to be the best wings he'd ever had. That's saying a lot because he loves his buffalo wings. I found this recipe on the Disney Parks Blog, which is straight from the chefs at 'Ohana, and I changed a few things to suit my needs. Here's what you'll need to make them:
the marinade
Chicken wings
Salt
Paprika
Sugar
Black pepper
Turmeric
Garlic powder
Ground cinnamon
Cayenne pepper
Canola or vegetable oil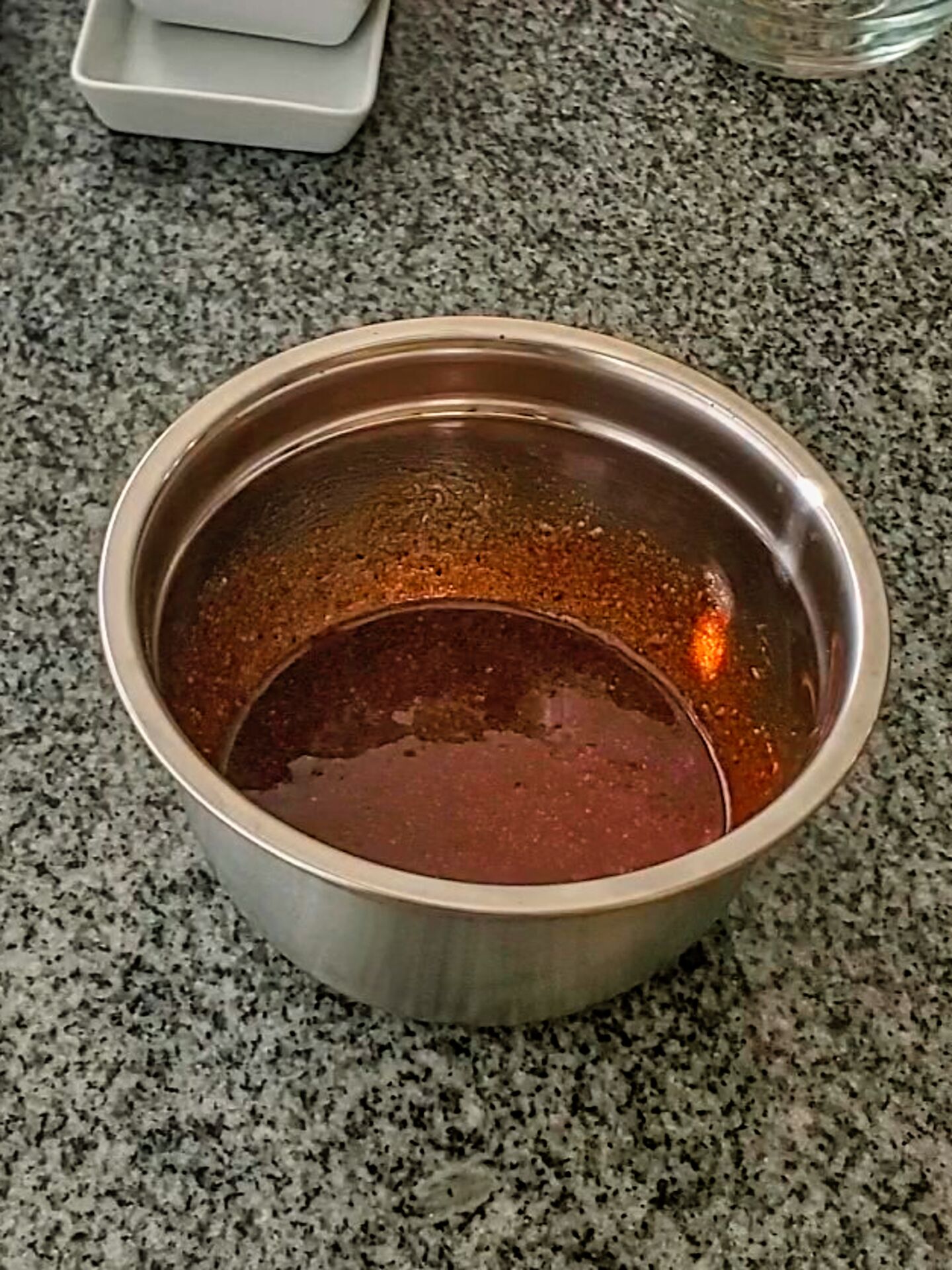 the sauce
Chili powder
Ginger Cilantro spice blend -- my friends over at Primal Palate make an amazing array of spices and spice blends and this one in particular I could smell all day, every day. In a pinch, you can use powdered ginger and dried cilantro.
Lime juice
Tamari -- soy sauce is what makes this recipe not gluten free, so simply switching to tamari makes it safe for us to eat.
Honey
Cornstarch
grill the chicken wings
The original Disney recipe says to bake these wings, but I don't always like to turn the oven on to 500 degrees in the summertime so I decided to grill them instead. I'm so glad I did because, man, these chicken wings were like no other I'd ever had! If grilled correctly, the skin gets nice and crisp, as if they were deep fried, but with a smoky char that's only created from the grill.
Marinate them for at least an hour (four hours or overnight is even better), and then place them over indirect heat. Grill for about 25-30 minutes, flipping once, until they're nearly cooked through. Depending on the temperature of your grill, this process will take anywhere from 20-30 minutes.
Once the wings are almost cooked through (a thermometer will register 155-160 F), place them over the hot side of the grill and char them slightly on all sides, moving them constantly so they don't get too done. This will give them a nice flavor and also crisp up the skins.
make the sauce
Combine all ingredients for the sauce in a small saucepan. Bring to a boil until the liquid thickens and reduces, stirring occasionally, about 5 minutes. Remove from the heat and cool for at least 10 minutes. The sauce can be made 3 days in advance and reheated before tossing or drizzling on the wings.
gluten free honey coriander wings frequently asked questions
Can These Wings be Baked or Fried?
The original recipe calls for baking them on greased foil-lined baking sheets at 500 degrees F for 35 minutes, turning chicken halfway through cooking. They could also be deep fried or air fried at 350 degrees F, 10 minutes for deep fried and 20 minutes for air fried.
How Do I Know When the Wings are Cooked Through?
If you insert an instant read thermometer, it should reach 165 degrees F.
Can Fresh Cilantro and Ginger Replace the Spice Blend?
Yes, you can use 3 tablespoons of fresh cilantro and 1 ½ teaspoons of fresh finely chopped ginger.
more Disney inspired recipes
When we're not able to go to Disney World to have these fan favorite honey coriander wings, we can now make them at home, with the sauce. It's almost as good as being there!
Gluten Free Honey Coriander Wings
Gluten Free Honey Coriander Wings are the best version of the beloved 'Ohana appetizer from Disney, complete with the sweet and sticky sauce.
Ingredients
Chicken Wings
1

tablespoon

kosher salt

2

tablespoon

paprika

2

tablespoon

granulated sugar

½

teaspoon

black pepper

½

tsp

turmeric

½

teaspoon

garlic powder

½

teaspoon

ground cinnamon

¼

teaspoon

cayenne pepper

4

tbsp (60ml)

canola or vegetable oil

4

lbs (1.8kg)

chicken wing sections, patted dry
Honey Coriander Sauce
1

tablespoon

chili powder

1½

tablespoon

Primal Palate Ginger Cilantro Spice Blend

(or ½ teaspoon ground ginger and 1 tablespoon ground coriander)

2

tablespoon

lime juice

½

cup (120ml)

tamari

(or gluten free soy sauce or coconut aminos)

1

cup (340g)

honey

¾

cup (160ml)

water

2

tablespoon

cornstarch
Instructions
Marinate and Cook Chicken Wings
Combine all wing ingredients, except chicken, in a large bowl. Place chicken wings in a large ziptop bag and pour in marinade. Seal and toss to coat. Marinate chicken wings for at least one hour or up to overnight.

Set up grill for indirect and direct heat. Place chicken wings over indirect heat and grill, turning once, until nearly cooked through, about 25-30 minutes. If checking with a thermometer, they should read 155-160° F.

Finish grilling wings over direct heat to crisp and slightly char the skin. Remove from the grill and serve with the sauce.
Wing Sauce
Combine all ingredients for sauce, except water and cornstarch, in small saucepan and bring to a boil over medium-high heat, stirring occasionally. Mix cornstarch and cold water together and whisk into sauce while boiling. Continue boiling for one minute, whisking constantly. Sauce will thicken. Toss chicken wings in sauce or serve on the side.
Adapted from Disney Park Blog's Honey Coriander Chicken Wings