These gluten free crab cakes are the best you'll ever have, gluten free or not! They're thick, full of lump crab meat and hardly any filler, and are so easy to make.
I've been wanting to make crab cakes for YEARS!! My family has a recipe that they've used for a long time now, but I could never find a suitable substitute for the Saltine crackers called for in the recipe. Until now. And I've actually found a FEW suitable gluten free subs so if you can't find one, you can try the other one!
Secrets to the Best Ever Gluten Free Crab Cakes
If you live in Virginia Beach or have ever been here, there's a restaurant that has several locations that makes the BEST crab cakes I've ever had! Surf Rider is a locally owned and local favorite restaurant that's been making fresh seafood taste fabulous for years and years, since I can remember.
Every time we went for lunch, when I used to work down the street from one, I would always order the crab cake sandwich. Their crab cakes were, and still are, legendary in the VB/Norfolk area. But, unfortunately they're not gluten free. So once I was diagnosed it was just another thing I had to put on my mental list of things I could no longer have. That list was growing and growing 😢
My son actually used to work at Surf Rider a few years back as a dishwasher (his second job ever). I begged him to ask them if they'd give me their recipe so I could try to make them gluten free, but that never happened. I can tell you, the two things that stood out in a Surf Rider crab cake that most others didn't have is the use of jumbo lump crab meat and hardly any fillers.
The Ingredients
If there are more than a handful of ingredients in a crab cake recipe, there are too many. Crab cakes should let the crab sing and not be filled with all kinds of other flavors that mask this amazingly perfect gift that we've been given from the sea.
Jumbo lump crab meat–I can't stress it enough. Don't buy the cheap stuff here. The larger the lumps, the better your crab cake will be.
Gluten free Saltine-style crackers–I used Milton's Crispy Sea Salt gluten free crackers (affiliate link), but another great one is Schar Table Crackers (affiliate link).
Mayonnaise
Egg
Dijon mustard
Worcestershire sauce
Hot sauce–just a dash
Butter–for drizzling on the unbaked crab cakes
Gentle, Gentle!
Using jumbo lump crab meat is a no brainer to me. The crab has to be the star of the show in a crab cake because it's not hiding behind anything else. And why would you want it to anyway?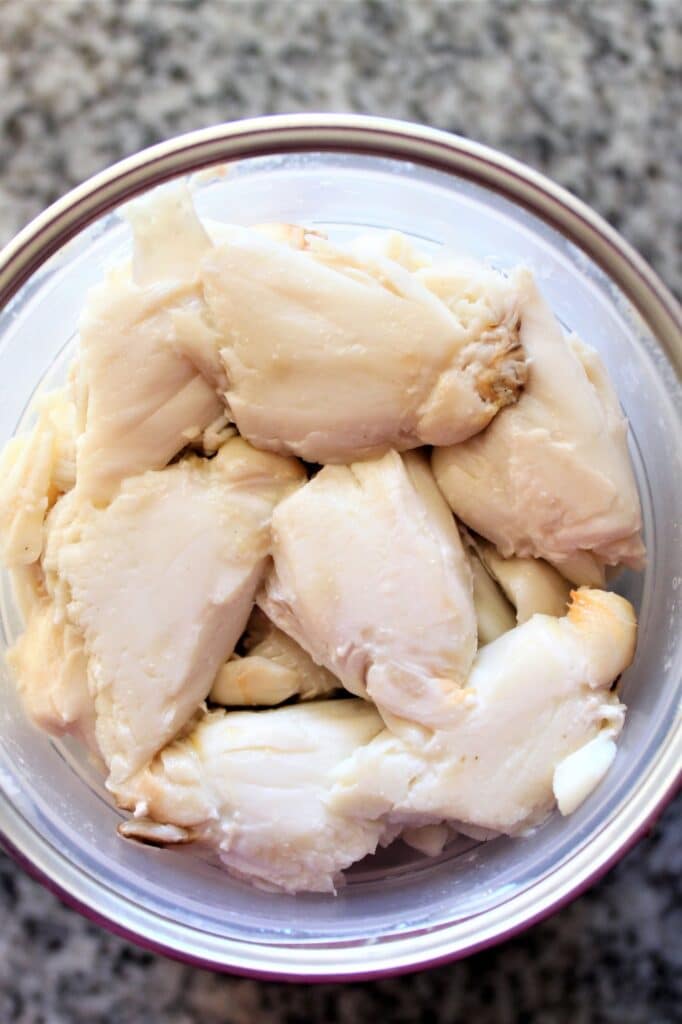 But if you buy the good stuff and then proceed to break up those lumps, you're doing the crab (and yourself) a disservice. Make sure to keep those huge lumps of wonderfully sweet blue crab as large as possible when mixing the ingredients. Be very gentle so as not to break up those lumps. Fold those lumps in, just until well combined with the other ingredients.
Surf Rider's crab cakes were always nice and thick, and that's the way I like them. Carefully shape your crab cakes, pressing between your hands gently, but enough to help them hold together.
Place the crab cakes on a foil-lined baking sheet that's been lightly coated with softened butter. Then set the baking sheet in the fridge for at least an hour. This will allow the crab cakes and the minimal amount of filler to firm up and be able to hold their shape when ready to bake.
Baked, Not Fried
You may like a fried crab cake and really, crab cakes any way you make them are the bomb. But I urge you to try these crab cakes baked instead of fried.
I feel that when crab cakes are fried, they get too crispy on the outside. Not that there's anything wrong with that, but if you bake them the crab will still retain the texture it's supposed to be, tender and meaty. As if you just picked it from the crab yourself.
Of course, you can fry them if you'd like. To fry, place them in a skillet that's been heating over medium heat with a tablespoon or two of butter. Fry on one side for a few minutes, flip to the other side and fry until crisp. When frying, you may need to make the crab cakes a little thinner.
Blue crab is the star in these best ever gluten free crab cakes. They're meaty and tender with just the right amount of filling, and they're ready in a snap!
Best Ever Gluten Free Crab Cakes
These gluten free crab cakes are the best you'll ever have, gluten free or not! They're thick, full of lump crab meat and hardly any filler, and are so easy to make.
Print Recipe
Ingredients
1

pound

jumbo lump crab meat, picked over for shells

1

cup

crushed Saltine-style gluten free crackers

(Milton's, Scharr, or any other brand will do)

½

cup

mayonnaise

1

tbsp

Dijon mustard

1

tbsp

worcestershire sauce

1

large

egg, beaten

dash of hot sauce

1-2

tbsp

butter
Instructions
In a large bowl, whisk mayonnaise, Dijon mustard, Worcestershire sauce, and egg until smooth. Shake in a couple of drops of hot sauce, or more to taste. Stir in cracker crumbs.

Add crab meat and fold in very gently so as not to break up large lumps.

Line a baking sheet with foil and spread with some of the softened butter. Set aside.

Using your hands, carefully mold each cake, using about ½ cup mixture per each crab cake. Place them on the buttered baking sheet a few inches apart.

Chill crab cakes for at least one hour, or up to 4.

Preheat oven to 450° F. Remove crab cakes from the fridge. If desired, brush or drizzle each crab cake with the rest of the butter that's been melted and bake for about 12 minutes, or until lightly golden brown and sizzling.
Notes
Wrap leftover crab cakes and place in the refrigerator for up to 4 days or freeze for 3 months.  Reheat leftover crab cakes in a 350 degree F oven for about 15-20 minutes.  
Crab cakes can also be frozen before baking.  Place pre-portioned cakes on lined baking sheet and freeze until solid.  Place cakes in a freezer ziptop baggie and remove as much air as possible.  Thaw overnight in refrigerator before baking as directed.