This Gluten Free Potato Cheddar Bread is so soft on the inside and has a beautiful crunchy cheddar crust and it's perfect for breakfast, lunch, or dinner!
Some of the items linked in this post are affiliate links, meaning, at no additional cost to you, if you click through and make a purchase, I will earn a small commission.
OH.MY.GOSH you guys! I cannot get enough of this bread. I think I have found my one true favorite bread of all time. Seriously. The inside of this bread is so soft (because of the potatoes) and has not only the best texture, but the taste is so incredible with all the little bits of melted cheddar cheese running throughout it.
But then you get to the crust. That CRUST!!!! Have you ever melted something with cheddar cheese where it gets crispy and crunchy, almost like those cheese crisps that you can buy in the store? THAT is the entire crust on this bread, you guys. Like one big cheese crisp!! I've used this bread for turkey sandwiches and grilled cheeses so far, but my favorite is griddled with a little bit of butter in the pan and a fried egg on top. It's simply heavenly!
the ingredients needed to make potato bread
Kim's gluten free bread flour blend–this is the only blend I recommend for any of my breads as it has everything that's needed to achieve the texture you'll see me obtain in all of my videos.
Mashed potatoes–use potatoes that don't have anything else added to them, like butter, cream cheese, etc. I prefer russet potatoes or something similar.
Potato water–it's not absolutely necessary, but if you save the water from boiling the potatoes, it has loads of starch in it that will only aid in the tenderness of the bread. You can use regular old tap water if you don't have the potato water.
Cheddar cheese (not pictured above)–I didn't add the cheese to the pic above because if you want to, you can always make this potato bread without cheese.
how to make potato cheddar bread
Add dry ingredients, butter, and potatoes to mixing bowl, followed by potato water.
Begin mixing using dough hook and add egg. Mix on medium high for 5 minutes.
Scrape into cohesive dough, cover, and allow to rise until doubled in size, 2-3 hours.
Refrigerate, preferably overnight.
Dump cold dough onto floured surface and add shredded cheddar cheese.
Knead into dough, adding more flour as necessary to avoid sticking.
Shape into a round. Place in a banneton (affiliate link) or onto a sheet of parchment paper.
Cover and let rise until nearly doubled in size, 1-2 hours.
Brush with milk and sprinkle more cheddar cheese on top.
Bake for 30-35 minutes, or until golden brown, crusty, and if you tap the bottom, it will sound hollow.
potato cheddar bread frequently asked questions
Is gluten free potato cheddar bread actually made from potatoes?
Yes, there are actual mashed potatoes in gluten free potato cheddar bread.
What does gluten free potato cheddar bread taste like?
You can't tell potatoes are in gluten free potato cheddar bread and it tastes like any regular white bread. The potatoes make a more tender crumb. However, the cheddar cheese adds a nice sharpness to the inside while the outside gets a crispy crunchy crust.
Why does gluten free potato cheddar bread last longer than most?
The starch from the potatoes in gluten free potato cheddar bread allows the bread to stay soft much longer than most gluten free breads.
more gluten free cheesy bread recipes
My Gluten Free Potato Cheddar Bread is easy to make, has a nice tender crumb from the potatoes, and a cheesy crunchy crust. It's perfect for so many things or for just plain eatin'!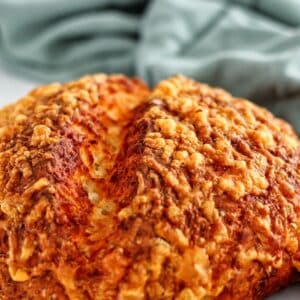 Gluten Free Potato Cheddar Bread
Kim
Ingredients
1¾

cups (245g)

Kim's gluten free bread flour blend

3

tbsp (38g)

granulated sugar

1¼

tsp

instant yeast

1

tbsp (5g)

psyllium husks

(1½ tsp psyllium husk powder may be substituted)

1

tsp

kosher salt

½

cup (107g)

mashed potatoes, saving cooking water if possible

(make sure they are pure mashed potatoes with nothing else added to them)

3

tbsp (42g)

butter, softened

1

large

egg, at room temperature

¾

cup plus 2 tbsp (210g)

reserved starchy potato water

(tap water may be substituted)

4.5

oz (128g)

shredded sharp cheddar cheese

1

tbsp

milk, for brushing onto dough
Instructions
In the bowl of a stand mixer, whisk together the flour blend, sugar, instant yeast, psyllium husks, and kosher salt. Add the mashed potatoes, butter, and preserved potato water (or tap water).

Using the dough hook, begin kneading the dough and then add the egg and continue kneading for 5 minutes until smooth. Scrape down the sides of the bowl and mound the dough into the middle.

Cover and allow to proof in a warm, draft-free area until doubled in size, which could range anywhere from 1-3 hours, depending on the warmth of your room. *(I FIND THE BEST WAY TO PROOF GF DOUGH IS TO TURN ON THE OVEN OR CLOTHES DRYER FOR A FEW MINUTES, TURN IT OFF, AND PLACE THE DOUGH IN THE WARM ENCLOSED AREA).

Once dough has fully proofed, refrigerate it at least 6 hours, preferably overnight. Refrigeration is ESSENTIAL to getting the proper texture for kneading and shaping the dough. If your dough is very sticky, you may need to refrigerate it longer.

The next day, or up to 3 days later, remove the dough from the refrigerator and place it on a well-floured surface (using extra Kim's gf bread flour blend for bench flour). Flatten it slightly and add 3 oz (85g) of the shredded cheddar cheese to the top. Knead the cheese into the dough (I find the cheese flavor remains noticeable in the final bread when it's kneaded in later versus adding it when first making the dough).

Shape dough into a round "boule" and either place it on a parchment-lined baking sheet or set it in a bread banneton. Cover loosely and let rise in a warm, draft-free area until doubled in size (again, this could take shorter or longer depending on the warmth of your proofing area), but should take around 1-2 hours if your proofing area is warm enough.

Place Dutch oven in oven and preheat to 425° F. (See notes for alternative if you don't have a Dutch oven).

When dough has fully risen, place it on a piece of parchment and brush it with milk. Carefully coat the dough with the remaining shredded cheddar cheese (1.5oz or 43g) and carefully lower it into the hot Dutch oven. Slash the top with a bread lame or sharp knife and replace the cover.

Bake bread for 30-35 minutes, or until the bread is deep golden brown with a crunchy crust. If you tap the bottom, it will sound hollow. (Xanax) Allow to cool completely before cutting.
Notes
If you don't have a Dutch oven, set up your oven for steam injection by placing a baking stone or steel (or even an overturned baking sheet) on the middle rack and a shallow pan on the rack below it.  Preheat the oven to the correct temperature and slide the shaped bread onto the baking steel or stone (on a piece of parchment).  Pour about a cup (240g) of very hot tap water into shallow pan and quickly shut the oven door.  Bake as instructed.  
Bread will stay soft for 3-4 days, but can also be reheated in a low oven (300 F) and it will soften further.  
Did you make this recipe? Snap a pic and tag @letthemeatglutenfreecake on Instagram so I can see your creation!