Using lean or enriched dough, I'll show you how to make Pumpkin Shaped Bread to use as a centerpiece for your holiday table.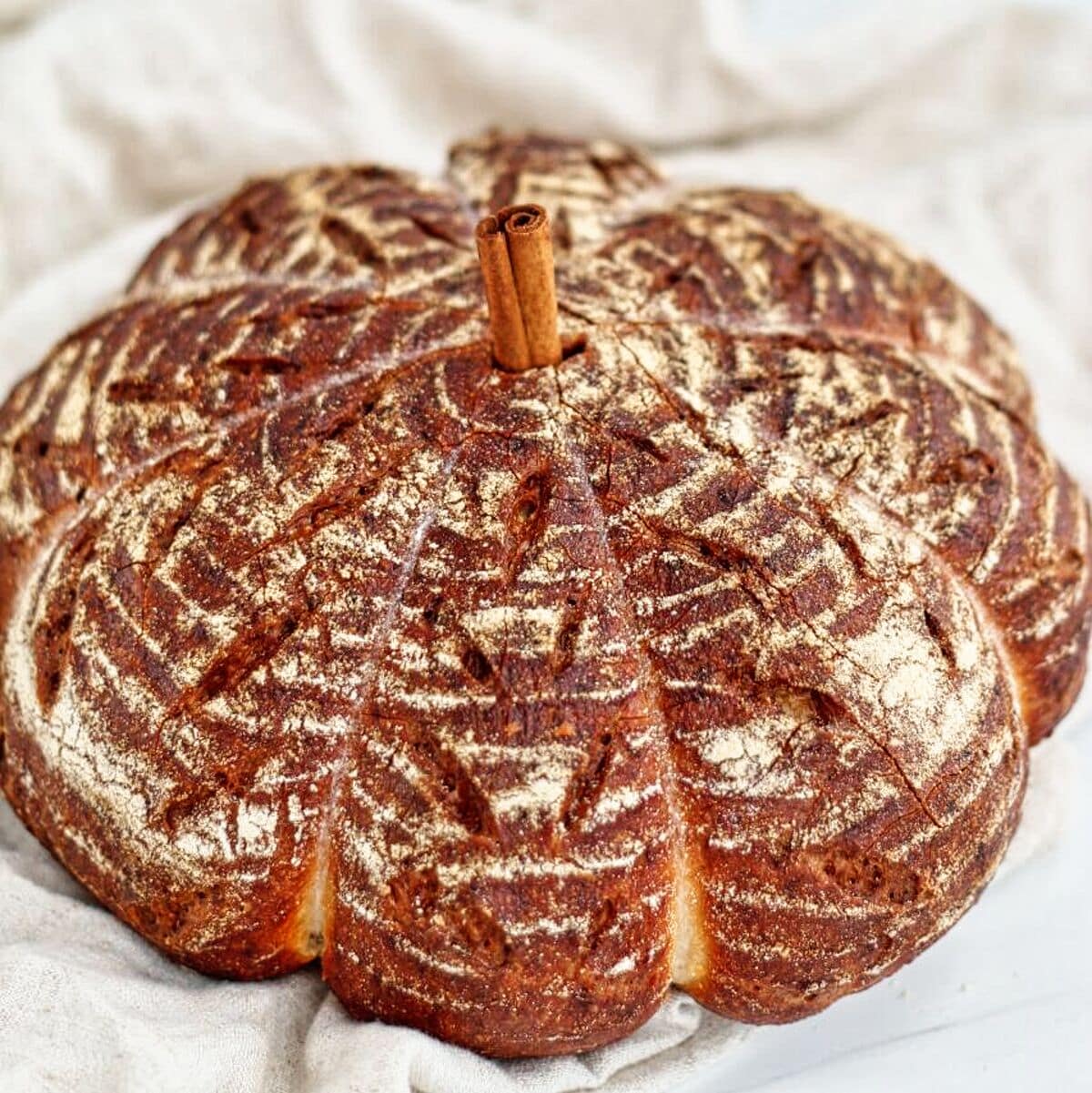 Y'all, how CUUUUTTTTE is this bread?!?!?! I just adore it! And I bet you will, too. Not only is it beautiful and decorative, it's of course not just edible, but delicious as well.
If you've been following me for a while, you might have seen this technique done before on my pumpkin rolls. Those rolls were based on a sweet dough similar to my cinnamon rolls. This method can also be done with a full loaf of bread. All it takes is a bit of kitchen twine and some strategic tying and you've got the most adorable and tasty loaf of bread!
The Ingredients You'll Need
This is where I would normally have a picture of all the ingredients needed to make a recipe. However, this is more of a method than a recipe, with some kitchen twine added in. That way YOU get to decide which dough you want to shape into a pumpkin. Here are just a few dough recipes that you can use for this method:
Here's How To Make Pumpkin Shaped Bread
Make your bread dough as per the recipe you choose (go through the bulk fermentation and refrigeration process).
Remove it from the fridge, knead it, and shape it into a large round and place it in a round banneton (or bowl lined with a tea towel). Cover and proof until nearly doubled in size.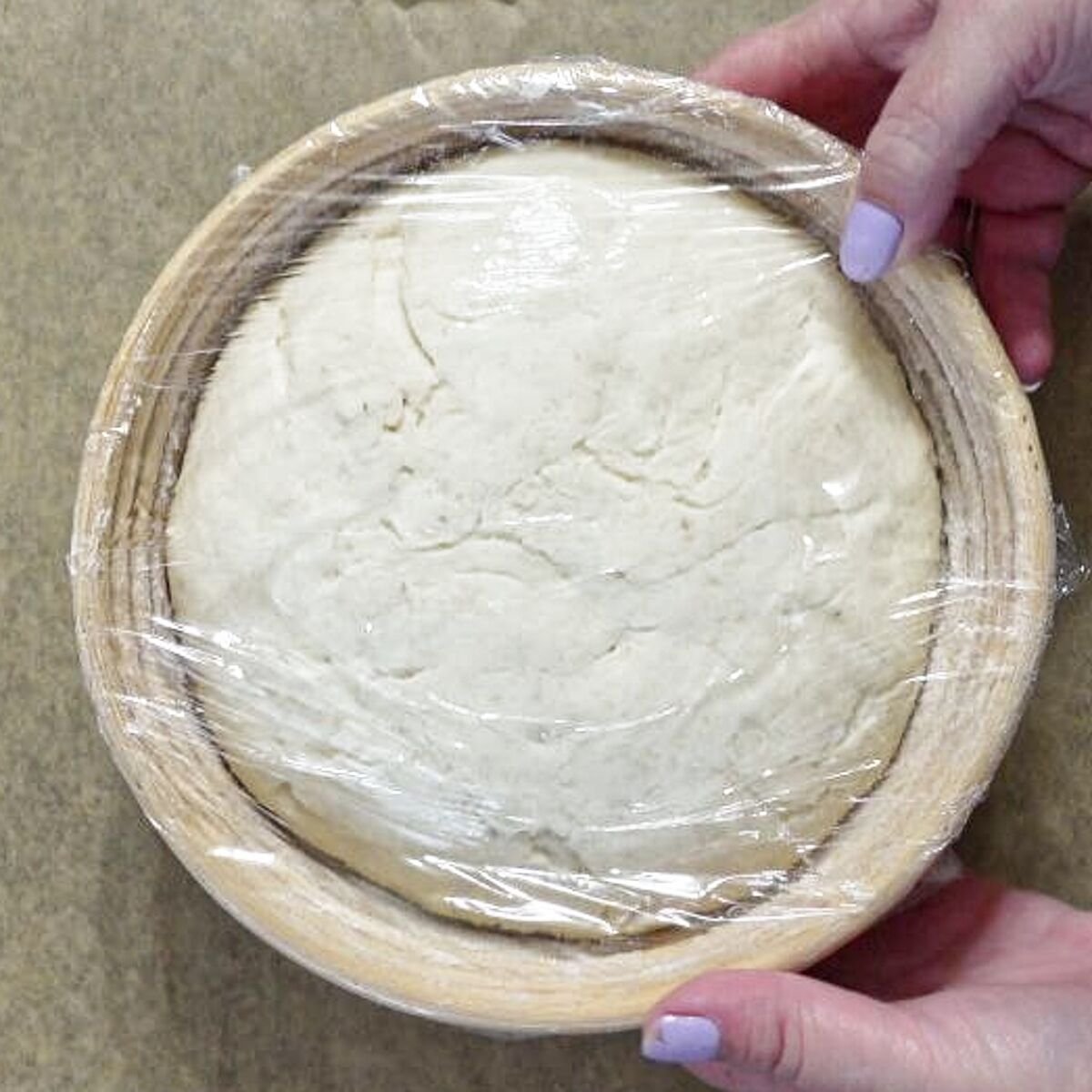 Cut 4 long strings of kitchen twine (approximately 36 inches long) and lay then on top of the bread, the first two in a crisscross and the second two in between those.
Place a sheet of parchment paper on top and, with one hand gently positioned on top of the parchment, flip the banneton over with your other hand and carefully remove your hand from the parchment and lay the bread on the parchment.
Remove the banneton from the top and tie the opposite strings together. Cut off any excess. If desired, use a lame to cut shallow slits in between each of the strings (this is totally optional and for decoration only).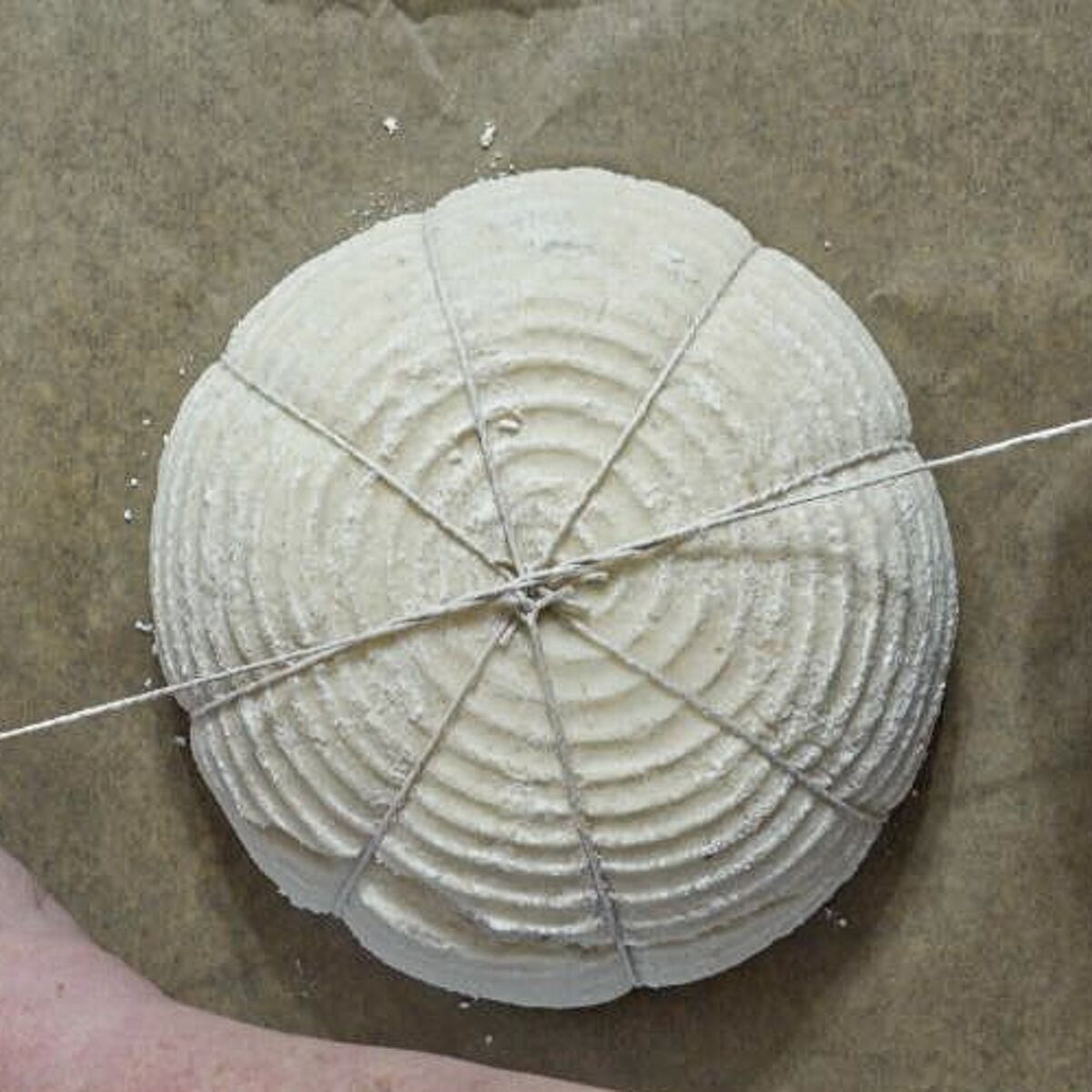 Bake as directed per recipe instructions.
Allow to cool enough to handle before removing the strings.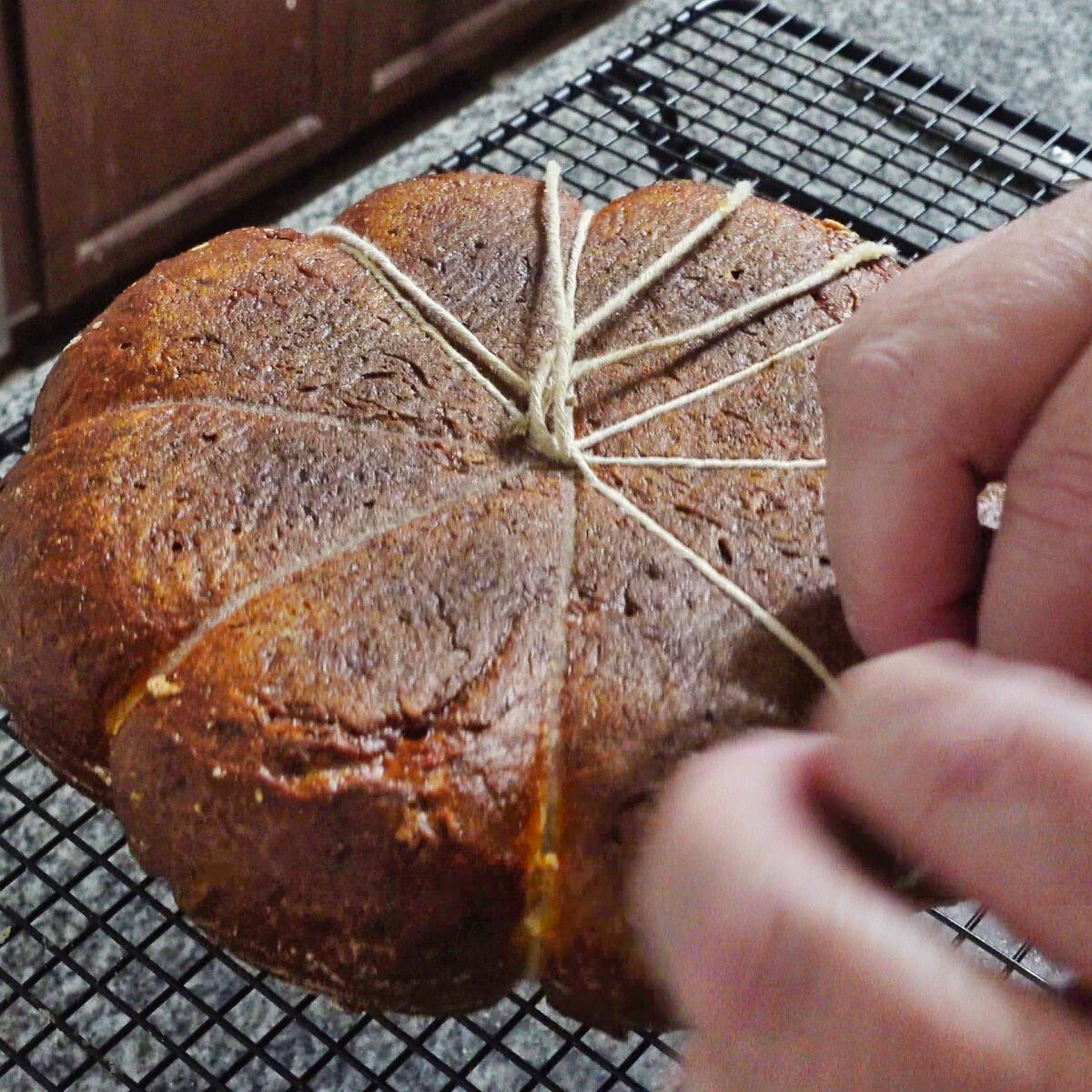 Place cinnamon stick in the middle of the bread after it's completely cooled. Remove stick before slicing.
Gluten Free Pumpkin Shaped Bread FAQs
Can I use this method for shaping with any bread dough recipe?
Yes, as long as you can shape the dough with your hands. It must be able to hold up on its own to make the pumpkin shape. You cannot use a "batter-like" dough.
Would this pumpkin shaping method work for rolls, too?
Yes! I've already made gf pumpkin rolls using this method and it works great!
How do I keep the strings from getting stuck?
Don't tie the strings too tight around the loaf, but you can also grease them with a little vegetable or canola oil just so they'll slide off a little easier after the bread is baked.
For a more festive approach to Thanksgiving (or any fall table), make your own centerpiece with this stunner of a bread.
How to Make Pumpkin Shaped Bread
Using lean or enriched dough, I'll show you how to make Pumpkin Shaped Bread to use as a centerpiece for your holiday table.
Ingredients
1

recipe

gluten free bread dough* prepared through bulk fermentation (first proof) and refrigeration

1

cinnamon stick

to use for the stem
Instructions
Prepare bread dough as instructed above. Remove from refrigerator and knead until smooth.

Place in a banneton basket or medium bowl lined with a tea towel. Cover and proof until quite puffy, but not quite doubled in size. Meanwhile, prepare oven for baking according to the bread's recipe (whichever bread dough you choose).

Carefully place 4 36-inch long pieces of twine along the top of the proofed bread evenly spaced out (start with two crisscrossed and end with the other two crisscrossed).

Place a piece of parchment paper on top and hold your hand gently over the parchment while you flip the banneton basket over.

Remove the basket from the top, straighten the strings, and tie opposite strings together, not too tight, but not too loose. Cut off any excess string. If desired, make shallow decorative cuts in between each section with a bread lame.

Bake bread as per recipe instructions. Allow to cool enough to handle before removing string (if they're hard to remove, simply cut them and you can slide them right out). Let bread cool completely before pushing a cinnamon stick into the center.

Bread will last as long as the individual recipe states (it will depend on the type of bread dough you choose to use).
Notes
*You can follow the link to my gluten free bread category and find your own to make, or read through the post above and you'll find a long list of many different types of doughs this will work with.  The choice is yours!