Gluten Free Yeast Donuts were originally posted in May 2020 and have been updated with new pictures, a new updated video, and new tips and information.
Are you missing Krispy Kreme style donuts in your gluten free life? Have I got a treat for you! You're gonna FLIP over these incredible gluten free yeast donuts that are so much like the original, you'll think you're cheating on your gluten free self!!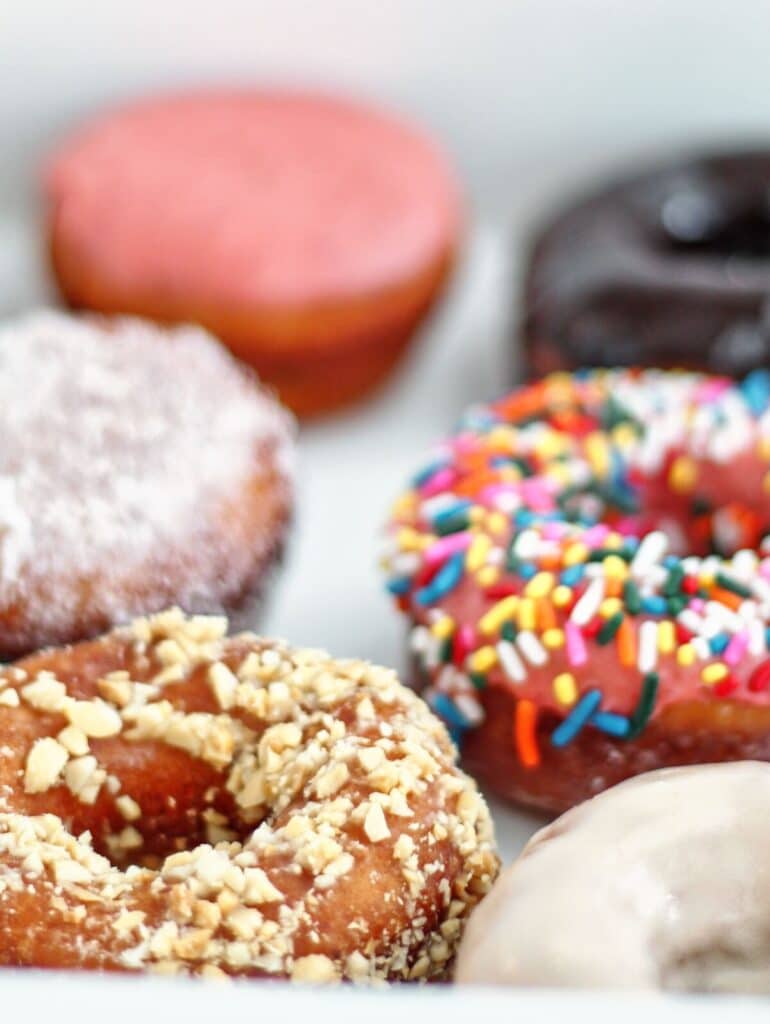 We no longer have to sit and salivate when gluten-eating people around us bite into a soft, fluffy Krispy Kreme donut because we can have our very own!!
I don't know about you, but back in my before celiac days, I rarely ate donuts. But like I've said before (especially with my cinnamon rolls), when we're told we can't have something, we want it even more (or at least I do). And since developing this recipe, I haven't made donuts every single weekend. Not even every six months. But I definitely like having the option to make them whenever I want.
why you should make this donut recipe
It is the BEST gluten free yeast donut recipe you'll find on the internet (see the comments if you don't believe me).
It will fool even the toughest gluten-eating critics into thinking they're eating a real gluten-filled donut.
The donuts are actually quite easy to make.
You can not only deep fry these, but there's also an air fry option for those who don't like deep frying (and they're very tasty, too!).
Make as many flavors as you'd like. Pretend you're in line at Krispy Kreme ordering a dozen mixed donuts. Or just make a dozen glazed if that's what you're feeling. It's up to you!
Ingredients needed to make GF yeast donuts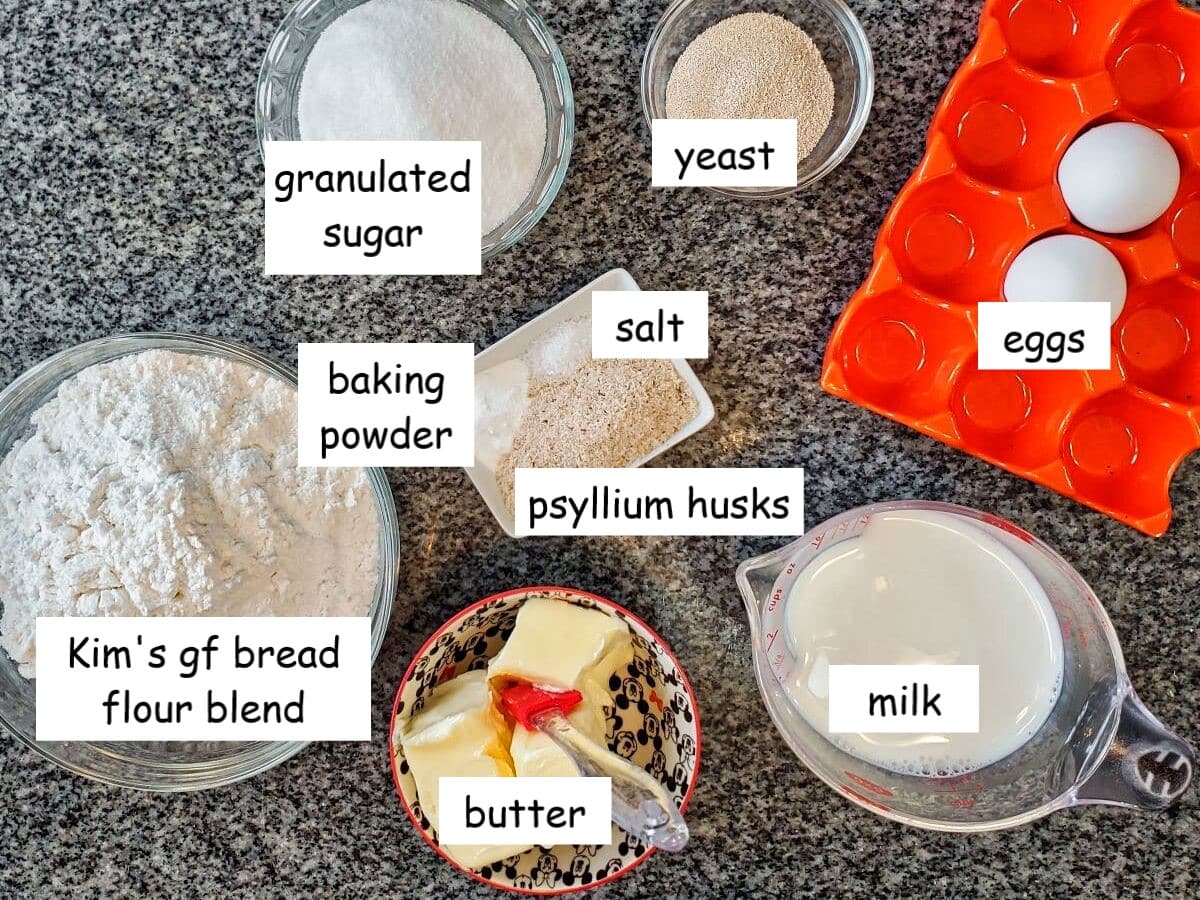 Kim's gluten free bread flour blend — I know it's a pain to make your own flour (believe me, I do it more times than I'd like), but if you want the best outcome, you gotta put in the effort. I'm still working on selling my flours, but until then, I offer the recipe to make them in your own home.
Baking powder — this might seem unusual for a yeast recipe, but gluten-free recipes need all the help they can get. Baking powder offers a little extra lift.
Sugar — all donuts need some sugar and you might balk at the amount in this recipe. But sugar is hygroscopic and plays an important role in not only the sweetness of dough, but more importantly the texture. Texture is EVERYTHING when it comes to gluten free baking.
Butter — With enriched dough, you need a form of fat and butter takes that role in this recipe. Dairy-free butter can be substituted with great results.
Time to Make the Donuts
Make the dough. Add wet ingredients to the bowl of a stand mixer, followed by dry ingredients, and knead for 5 minutes. Scrape dough into the center of the bowl and cover. Place in the fridge to cold proof overnight.
Prepare toppings and fillings. While dough is proofing (or at the end of proofing), prepare any toppings and/or fillings you may want for your donuts. Easy and quick recipes can be found in the recipe card below, but BYOC (be your own chef) and make any of your favorites.
Knead dough on a well-floured surface until smooth.
Roll out to 1/2-inch thick.
Cut with donut cutter (affiliate link) or round cutters in different sizes to create the inner hole. For filled donuts, either cut out with cookie cutter or shape into round, smooth balls and flatten with your hand.
Fry at 320 F until golden brown and cooked through.
Drain on cooling rack and top with choice of toppings.
Making the Glaze
What makes this glaze unique is that it includes melted butter. This makes it a little richer. It helps keep the glaze slightly soft instead of drying to a hard covering on a soft donut. It cracks only slightly, exactly what I remember from a Krispy Kreme donut!
Combine all the glaze ingredients in a small bowl and whisk to incorporate. Drop warm donuts into the glaze and let dry on a cooling rack set over a baking sheet to catch drips. I will sometimes double dip the donuts if I want an extra dose of glazy goodness 🙂
Topping and Filling Ideas
You can leave these donuts as big, beautiful glazed donuts and call it a day. And they'll still be so good, you won't care about a thing in the world. But if you have the time and want to delve a little further into the donut making world, go crazy with some different fillings and toppings like these:
Jelly or jam–to thicken up store bought jelly or jam, put it in a saucepan and bring it to a boil. Reduce the heat and allow it to simmer for 15-20 minutes, or until reduced by about 1/3. Let it cool completely.
Creme–I don't mean whipped cream (that would just melt into a puddle when added to the center of a warm donut). I mean stable vanilla creme filling, like the one I use in my Hostess style cupcakes. This is basically the same filling used in donut shops.
Pie filling–crack open a can of gluten free pie filling and spoon it into a decorating bag (or plastic baggie with the corner cut off).
Maple glaze–make a maple glaze by adding maple extract or maple syrup to the vanilla glaze recipe.
Candied bacon–dredge bacon slices in brown sugar and bake at 375 F for 20-25 minutes, or until caramelized. Cut or break into small pieces and top maple glazed donuts with candied bacon.
Chocolate donuts–add a little bit of unsweetened cocoa powder and corn syrup to my glaze recipe to produce a perfect chocolate glaze for topping the donuts.
Granulated sugar–simple granulated sugar surrounding a jelly donut is SO GOOD!!
Cinnamon sugar–fill a donut with apple pie filling and roll it in cinnamon sugar. YUM!!
Gluten Free Yeast Donuts Frequently Asked Questions
What oil is best for frying donuts?
I find that solid vegetable shortening works best for producing the best Krispy Kreme copycat donuts (that is what they use) to produce a softer crust. You can also use vegetable oil, canola oil, sunflower oil, or any neutral-flavored oil.
What's the best temperature to fry donuts in?
Most recipes call for an oil temperature of 350-360, but I feel like this is way too high as it will produce a dark, crispy donut. I prefer frying donuts at a temperature of between 320-330 degrees F. Cooking the donuts at a lower temp will assure even browning and super soft donuts.
Can donuts be air fried?
The answer you want to hear is…YES!!!! These donuts "fry" beautifully in an air fryer! "Fry" in a preheated 350 degree F air fryer for 4 minutes. Once cool enough to handle, dunk them in donut glaze or melted butter for dry toppings (they will need something to help the dry toppings stick to the donuts).
How long will donuts last?
Gluten-free donuts, just like regular donuts, are best when fresh. However, kept well wrapped, they will last a few days beyond that.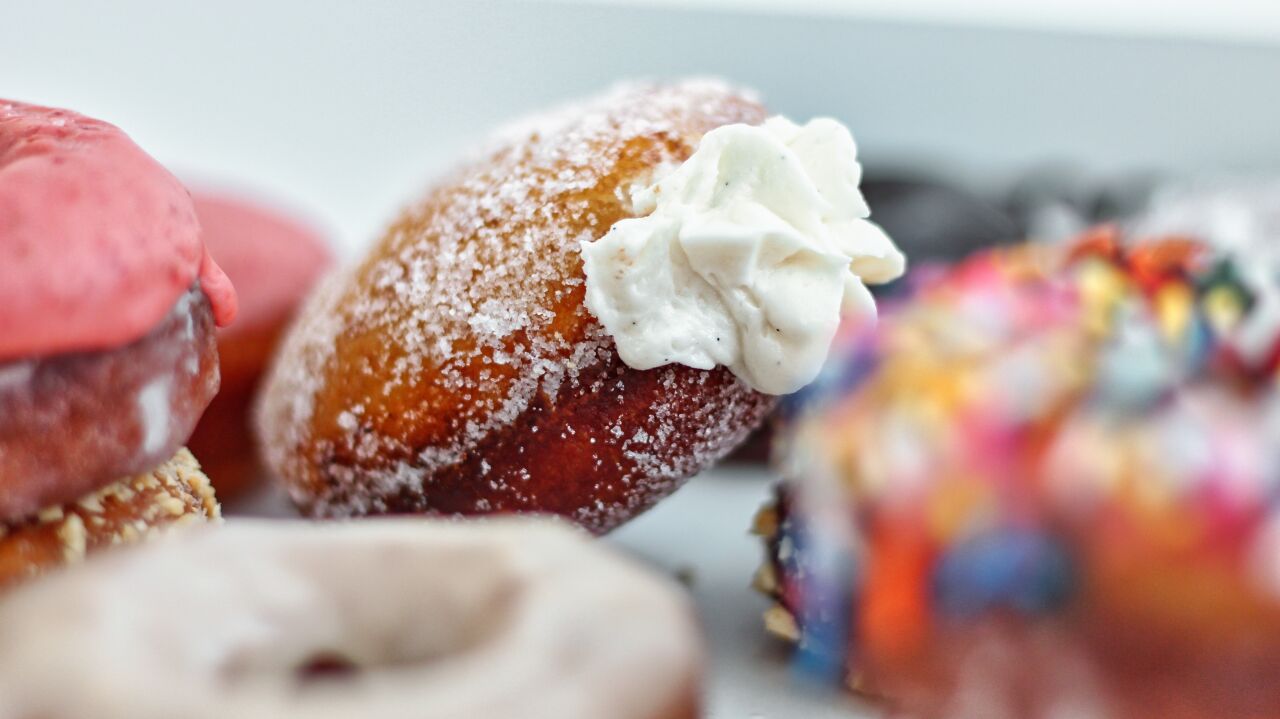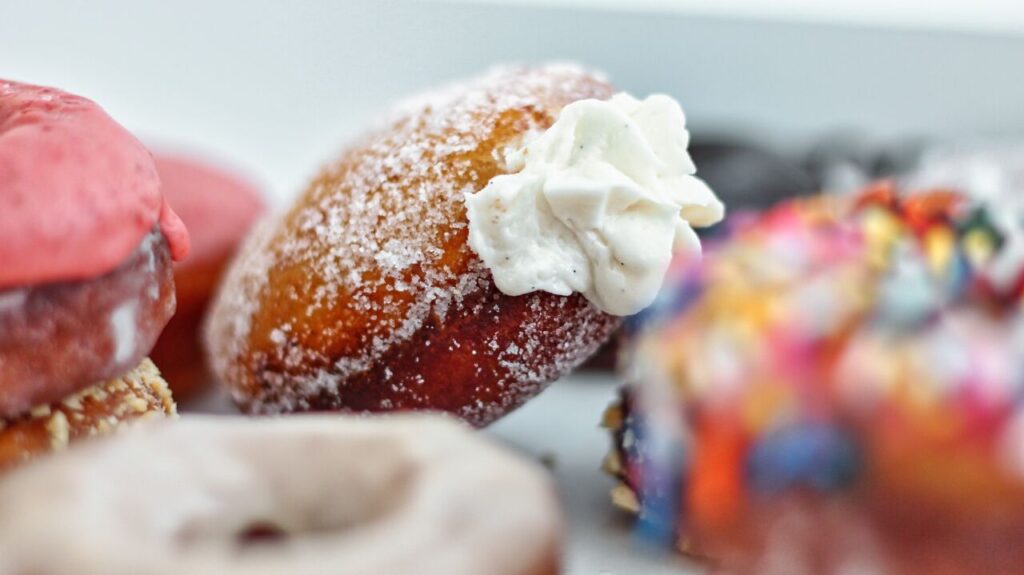 more recipes using gluten free sweet dough
What are you waiting for? Get a batch of my special dough going and make up these donuts pronto. You won't believe how easy they are to make, but you REALLY won't believe they're gluten free 🙂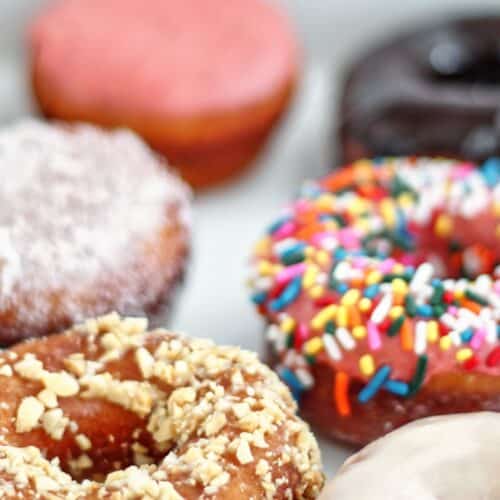 Incredible Gluten Free Yeast Donuts
Are you missing Krispy Kreme style donuts in your gluten free life? Have I got a treat for you then. You're gonna FLIP over these incredible gluten free yeast donuts that are so much like Krispy Kreme, you'll think you're cheating on your gluten free self!!  
Ingredients
Sweet Dough
3½

cups (490g)

Kim's gluten free bread flour blend

1

cup (200g)

granulated sugar

2

tbsp plus 1½ tsp (24g)

instant yeast

2

tbsp (10g)

whole psyllium husks (or 1½ tbsp psyllium husk powder), optional 

(see notes)

1

tsp

salt

1½

cups (360ml)

whole milk

(or dairy-free alternative)

¾

cup (169g)

butter, very soft or melted

(or dairy-free butter)

2

large

eggs, at room temperature
Vanilla Glaze
2

cups (250 g)

powdered sugar

4

tbsp (½ stick or 56 g)

butter

4

tbsp (60 ml)

whole milk

1

tsp

pure vanilla extract
Chocolate Glaze
¼

recipe

vanilla glaze (above)

(you can just eyeball it)

¼

cup (25g)

unsweetened cocoa powder

1

tbsp

corn syrup

hot tap water by the tbsp or more powdered sugar as needed to achieve the right thickness
Maple Glaze
¼

recipe

vanilla glaze (above)

(eyeball it)

2

tbsp

real maple syrup

¼ to ½

tsp

maple extract

(more or less to taste)
Strawberry Glaze
¼

recipe

vanilla glaze (above)

(eyeball it)

3-4

small

strawberries, quartered

3-4

tbsp

freeze dried strawberries

(just eyeball it–no need to get absolutely precise)

hot water or powdered sugar as necessary for achieving desired thickness
Instructions
For the Dough
In the bowl of a stand mixer, add the milk first, followed by all the other ingredients. Using the dough hook, knead dough for 5 minutes on medium speed. Dough will be very sticky. Scrape dough into center of bowl and cover bowl. Refrigerate overnight for a cold proof (bulk fermentation).

Remove dough from the refrigerator and knead it on a well floured surface until smooth. Roll out to about ½-inch thick.  Cut the dough with donut cutter dipped in flour, or biscuit/cookie cutter to make fillable donuts. Reroll scraps. Place donuts and holes on parchment squares on a baking sheet.  Cover with plastic wrap and let rise in a warm, draft-free area until a little less than doubled in size.  
Frying in Oil
When donuts are almost completely risen, heat the oil in a deep fryer or large heavy duty Dutch oven to 320-330° F.  Carefully lower donuts, only a few at a time, into the oil, parchment and all (especially if they're sticking to the parchment). Use tongs to remove the parchment from the oil. Fry for 1-2 minutes on each side (longer for donuts without a hole in the center).

Remove donuts from the oil and place onto a wire rack set over a baking sheet.   Glaze or garnish and fill as desired. Donuts are best eaten fresh, but will keep for a day, well covered, and can be heated very briefly in the microwave (15 seconds or so).
Air Frying
Preheat air fryer to 350°F. Carefully place as many donuts as can fit in your air fryer in one layer, still on their parchment squares. "Fry" for 4 minutes (time may need adjusting depending on your specific air fryer.

Remove donuts from air fryer.   Glaze or garnish and fill as desired. To add dry toppings, such as sugar, powdered sugar, or cinnamon sugar, first dunk donuts in melted butter so toppings will adhere.
For Vanilla Glaze:
In the microwave, melt butter with milk in a one-quart measuring cup or bowl.  Add powdered sugar and vanilla, whisking constantly until a pourable consistency.  Dunk donuts in the glaze as desired.
For Chocolate Glaze:
Add unsweetened cocoa powder and corn syrup to the vanilla glaze and whisk to combine fully. If too thick, add 1 tbsp of hot top water at a time until smooth. If too thin, add more powdered sugar to thicken.
For Maple Glaze:
Add maple syrup and maple extract to vanilla glaze and stir or whisk to combine.
For Strawberry Glaze:
Add strawberries and freeze dried strawberries to vanilla glaze and use an immersion blender or regular blender to blend everything together. Adjust thickness by adding a tbsp at a time of hot water for thinner glaze, or powdered sugar, a little bit at a time, for thicker glaze.
To Fill
Take a chopstick or something similar (the end of a wooden spoon or a long, skinny decorating tip) and puncture a hole on the side of the donut. Wiggle and move it around to create more space to fill the entire donut. Fill with jelly, fluffy filling, or anything else you'd like (see other suggestions within the post itself).
Notes
It is not absolutely necessary to use psyllium husks (whole or powder).  You will still be able to roll out the dough and cut the donuts, but it will be a little bit stickier.  To omit the psyllium husks, reduce the milk to 1 1/4 cups (300ml).  
A Word on Sugar:  The total amount of sugar for this entire recipe is one cup, which seems like a lot.  However, the amount of yeast in this dough requires a lot of sugar to feed the yeast and to obtain the correct soft texture.  If you reduce the sugar, you will NOT get the same texture to the final donuts.  If you're okay with this, then proceed.  The amount of sugar is for the whole recipe, which I don't suggest using all at once.  The dough is so versatile, I strongly suggest using half for donuts (1 dozen) and keeping the other half in the fridge for another use (see within the post for several options).  You may also halve the recipe, although then you won't have another half of the dough in the fridge when you're ready to make something else 🙂
For the above donut holes, I rolled them in a mixture of granulated sugar (about 1/4 cup), 1/2 tsp cinnamon, and 1/4 tsp cardamom (because I love cardamom).  They're almost like a chai-spiced donut hole!  
***Per reader Lauren, these donuts can be made without refrigerating the dough and instead placing it in a piping bag and piping into a donut pan.  Bake at 350 degrees F for about 15 minutes.  Alternatively, they can be piped onto a sheet of parchment paper and placed in the freezer for about 10 minutes before frying as directed above.