These Bakery Style Gluten Free Apple Fritters are just like the ones we used to get at bakeries. Cinnamon apple chunks are intertwined with cobblestones of dough and drenched in a vanilla glaze!
Some of the items linked in this post are affiliate links, meaning, at no additional cost to you, if you click through and make a purchase, I will earn a small commission.
I know there are a lot of recipes out there for those easy, quick-batter type apple fritters. And I'll be honest–I'm sure I'd love those as well. But when I think of the apple fritters that I miss so much, I always think of those giant fritters from a bakery, the ones made with yeast dough. You can taste and smell the yeast in them. But the texture also gives them away. They have that doughy yeast donut-type texture that's unmistakable. And I've managed to recreate that same taste and texture so we don't have to long for them anymore!
Everything You'll Need to Make These Fritters
Fritters
Gluten free sweet dough–you'll find everything you need to make this dough in the link in the recipe card below. Many of you have already made it several times and it's the dough that keeps on giving.
Apples–the variety I used this time was Golden Delicious, but you can use pretty much any apples. I don't particularly care for using Granny Smith for anything baked or fried because they're so crunchy, but that's my own personal preference so use what you like.
Cinnamon
Butter
Brown sugar
Oil for frying
Glaze
Powdered sugar
Milk
Butter
Vanilla
How to Make Apple Fritters
Cooking the Apples
Your first step in making these apple fritters is to cook the apples. I like to precook them just a little bit so they're not totally raw when they go into the fryer. The reason for this is because the dough takes very little time to cook through in the fryer and that's not enough time for the apples to cook through. When it comes to anything apple in a pastry, I think the apples should be at a nice, soft texture and not crunchy like you're eating a raw apple. Not that there's anything wrong with raw apples. I love to eat raw apples, but not in my pastries and baked goods!
In a small saucepan, add the chopped apples to the butter, brown sugar, and cinnamon. Heat over low heat until all the sugar has melted and the apples are slightly soft, 10-15 minutes. Remove from the heat and allow to cool completely before introducing into the dough.
Rolling out the Dough and Adding the Apples
The next step is to roll the dough out to about 1/4-inch thick. It doesn't need to be perfect because you'll see why soon. Add the cooled apples on top of one side of the dough and then fold the dough over onto the apples to completely seal them in.
Here's where it gets fun. Take your bench scraper or a knife and cut the dough diagonally into strips. Then turn the bench scraper the other way and cut those strips into pieces that are roughly one inch in diameter. Again, perfection is not necessary.
Now, take all of those little pieces and, using extra flour, push all those pieces back together into a large rectangle. It will be messy. Just accept the messiness and move on (the mess is so worth it!). Take a small apple-sized chunk of dough and tear it off, flattening it slightly, and place it on a baking sheet lined with parchment. Cover loosely with plastic wrap and allow to proof for an additional 30 minutes while you heat the oil.
Fry in hot oil, only a few at a time to avoid temperature fluctuation. Drain on a wire rack before dunking warm fritters in glaze.
Apple Fritter FAQs
What's the Best Temperature for Frying Apple Fritters?

The best temperature for these fritters is 320-330 degrees F. Any higher than that and the outside will be quite dark before they're completely done on the inside.
What Type of Oil is Used for Frying Fritters?

I've found the best oil for donut and fritter frying is melted vegetable shortening. Several commercial donut shops use vegetable shortening as it makes donuts and fritters less oily and produces a consistent color and flavor. Any neutral flavored oil can be used.
Which Apples are Best in Gluten Free Apple Fritters?

I like to use a softer apple, such as Rome or Golden Delicious, as the apples aren't cooked long enough to soften during the cooking process.
Glazing
Dunk the still warm fritters completely in the powdered sugar glaze and remove to a wire rack so extra glaze will drip off instead of pooling underneath each fritter.
You'll never have to look longingly at an apple fritter again because you've got a recipe for the best Bakery Style Gluten Free Apple Fritters in your back pocket. And dare I say they're better than the ones we remember?!?!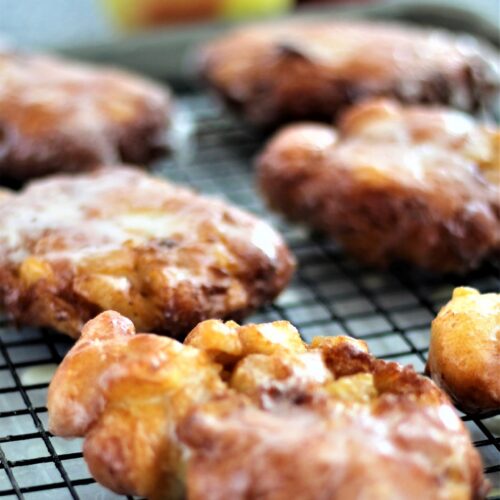 Bakery Style Gluten Free Apple Fritters
Remember those apple fritters we used to get at bakeries? The ones with cinnamon apple chunks intertwined with cobblestones of dough and drenched in a vanilla glaze? These delicious gluten free apple fritters are JUST LIKE THOSE!! You seriously won't know the difference.
Ingredients
FRITTERS:
½

recipe

cinnamon roll dough

2

medium

apples, peeled and chopped

1

tsp

cinnamon

4

tbsp (57 g)

butter

4

tbsp (50 g)

brown sugar

oil for frying
GLAZE:
2

cups (250 g)

powdered sugar

4

tbsp (60 ml)

milk

4

tbsp (57 g)

butter, melted

1

tbsp

vanilla extract
Instructions
FOR THE FRITTERS:
Melt butter in large saute pan over medium heat. Add brown sugar, apples, and cinnamon. Lower heat and saute apples until softened, about 10 minutes. Remove from heat and allow to cool to room temperature.

Remove dough from refrigerator and divide in half. Put other half back in the refrigerator for another use (or make double the amount of apple fritters).

Knead dough on heavily floured surface until smooth. Roll out into rectangle that is about 1/2-inch thick (it doesn't need to be perfect), adding flour on bottom as necessary to prevent sticking. Scatter cooled apples over dough and fold dough over onto itself to enclose apples.

Cut dough diagonally into "slices" using sharp knife or bench scraper. Go back the other way and cut "slices" again in the opposite direction. You should end up with several odd-shaped pieces with chunks of apples sticking out,

Piece the dough and apples back together roughly into a loaf shape (it will be sticky, so add more flour as necessary).  Apples will fall out or just barely hang on.  It's okay.  They don't need to be perfect.  Using your bench scraper or a knife, cut slices of the dough off the "loaf" and press them together slightly, just so they'll stay together in the oil. This again doesn't need to be perfect. The rougher the look, the better!

Place slices on parchment-lined baking sheet and cover with plastic wrap.  Allow to sit for 20-30 minutes until slightly puffed and a little larger.  Meanwhile, heat oil in deep fryer or Dutch oven to 320-330 degrees F.  

Carefully slide apple fritters into hot oil, a couple at a time, and fry for about 2-3 minutes, flipping halfway through.  Drain on cooling rack set over a baking sheet.  
FOR THE GLAZE:
Mix all glaze ingredients together and whisk until well combined. If lumps still remain, microwave for a few seconds and whisk again.

Dip fritters in glaze and place back on cooling rack to allow excess glaze to drip off.  Fritters are best eaten fresh, but can be reheated.
Notes
***DISCLAIMER:  The reason I created my own flour blends is because I could not obtain the results I wanted with flour blends that were available in stores, online, or from other gluten free bloggers.  My recipes have been developed to be used with my own bread flour blend that I created after painstakingly testing for, in some cases, YEARS to develop what I believe to be a superior gluten free bread like no other.  If you do not use my gluten free bread flour blend for this recipe, I cannot speak for the results you will obtain.    While store bought blends may give you a satisfactory result, they may NOT give you the results intended in my recipe.