Want all the tastes of s'mores without the fuss? Make these Gluten Free S'Mores Cookies and you may never go back to the campfire ones again!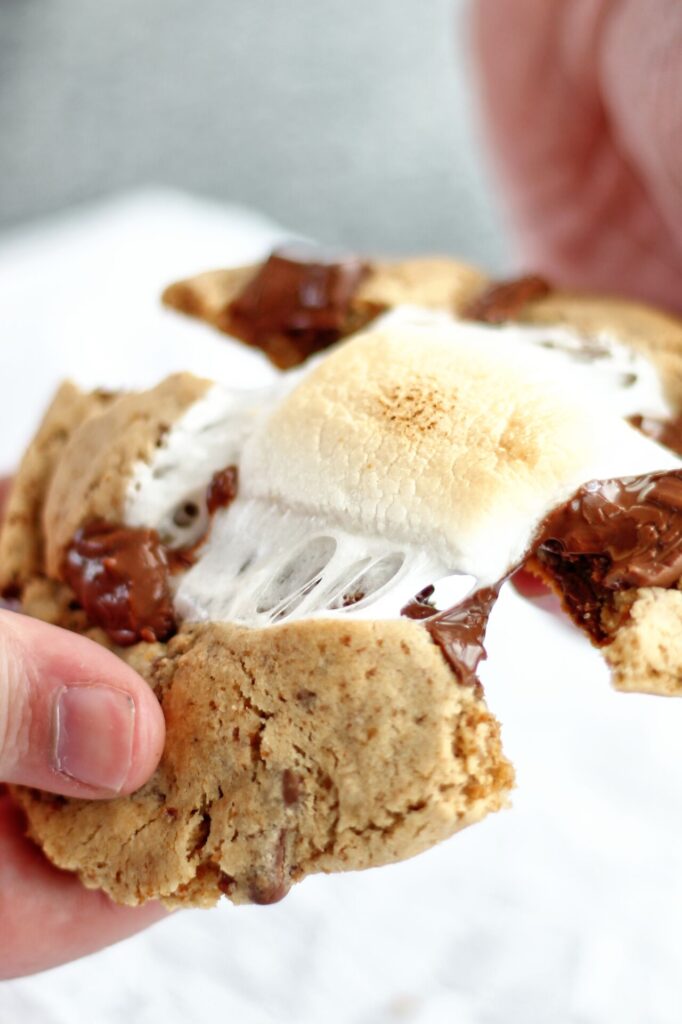 I'm a HUGE fan of s'mores, the original or anything that has the components of s'mores. I mean, what is there not to love? Toasted marshmallows? Count me in. Milk chocolate? Yep, I'm always on board for milk chocolate, too. Graham crackers? Nothing can compare to the crunch and taste of a graham cracker.
So when I wanted to create a cookie that represented all the aspects of the beloved summertime treat, I knew I had to include all three of them. You'll find toasty marshmallow, creamy milk chocolate, and crunchy graham cracker all rolled up in one giant cookie!
what you'll need to make s'mores cookies
Hershey's milk chocolate bars — this is the classic chocolate used to make s'mores, so naturally I wanted to include it in my cookies. You can use any chocolate you'd like, but these really make it taste like the real thing.
Gluten free graham cracker crumbs — I make my own graham crackers in less than an hour, but if you want to use store bought, they would work as well. Whirl them up in a food processor to make fine crumbs.
Marshmallows — just one large marshmallow for each cookie is all you need. It melts in the middle and gets nice and toasty on top.
Brown sugar — using only brown sugar helps with that caramelized, toasty flavor we're after. That combined with the graham cracker crumbs make the perfectly textured s'mores cookies.
Eggs
Baking soda
Salt
Vanilla extract
let's make these gooey cookies
Dough — Cream butter and sugar. Add eggs, then dry ingredients and crumbs. Add 3/4 of the chocolate bars.
Chill — Let the dough chill out in the fridge for half an hour.
Shape — Scoop dough and flatten slightly in palm of one hand. Place a marshmallow in the center and wrap the dough around it, but leave the top half exposed.
Freeze — Place dough balls in the freezer for 10-15 minutes.
Bake — Bake for 15-20 minutes, or until marshmallows are gooey and golden brown and cookies are set.
s'mores cookies frequently asked questions
Can I Use Dark Chocolate Instead of Milk?
A true s'mores is always made with milk chocolate, but if you're not a fan, chop up equal amounts of dark chocolate bars to use in the cookies.
My Marshmallow Didn't Stay Toasted. What Gives?
After they've been sitting for a few hours to a few days, the marshmallows will lose their toasty crunch and go soft. To get that crunch back, place them in a 350-degree oven for 5 minutes. OR, use a kitchen torch to carefully toast the marshmallows.
I Don't Want to Use the Graham Cracker Crumbs.
You can certainly make these cookies without the graham cracker crumbs, but they won't have that backdrop of crunchiness inside the cookies. To remove them from the recipe, up the gluten free all purpose flour to 4 cups (560 g).
If you want all the tastes and textures of a s'mores without the campfire, you'll need to make these Gluten Free S'Mores Cookies.
Gluten Free S'Mores Cookies
Want all the tastes of s'mores without the fuss? Make these Gluten Free S'Mores Cookies and you may never go back to the campfire ones again!
Print Recipe
Ingredients
1

cup (2 sticks or 226 g)

butter, softened

2

cups (454 g)

tightly packed brown sugar

2

large

eggs, at room temperature

1

tsp

vanilla extract

3

cups (420 g)

Kim's all purpose gluten free flour blend a store bought blend may be used, but hasn't been tested

1½

tsp

baking soda

½

tsp

salt

1

cup (140 g)

gluten free graham cracker crumbs homemade or store bought

5

bars ( g each)

Hershey's milk chocolate bars, chopped into ½-inch pieces

16

large

marshmallows
Instructions
Cream butter and brown sugar in a large mixing bowl until light and fluffy, 2-3 minutes. Add eggs, one at a time, beating well after each. Scrape down bowl and continue to beat for another 1-2 minutes. Add vanilla and beat well.

Combine flour with baking soda and salt in a medium bowl. On low speed, add flour mixture and graham cracker crumbs to butter/egg mixture until fully incorporated. Stir in chopped chocolate bars.

Refrigerate dough for at least ½ an hour, but up to 3 days.

Weigh out 85-90 gram portions of dough and flatten each in the palm of one hand. Add a large marshmallow to middle of flattened dough and pinch dough up around marshmallow, but not covering completely (you want the top of the marshmallow exposed).

Place shaped cookies on parchment-lined baking sheet and freeze for 15 minutes.

Preheat oven to 325° F. Bake cookies from frozen until marshmallows and cookies are golden brown, 20-25 minutes. Cookies will keep for 3-4 days at room temperature, but the marshmallows will lose their crunchiness. Place them in a 350° F oven for 5 minutes to regain the crunchiness, OR use a kitchen torch and toast the marshmallows.