These homemade gluten-free graham crackers are easy to make and far superior to store bought. And the crumb crust is as easy as, well…pie!!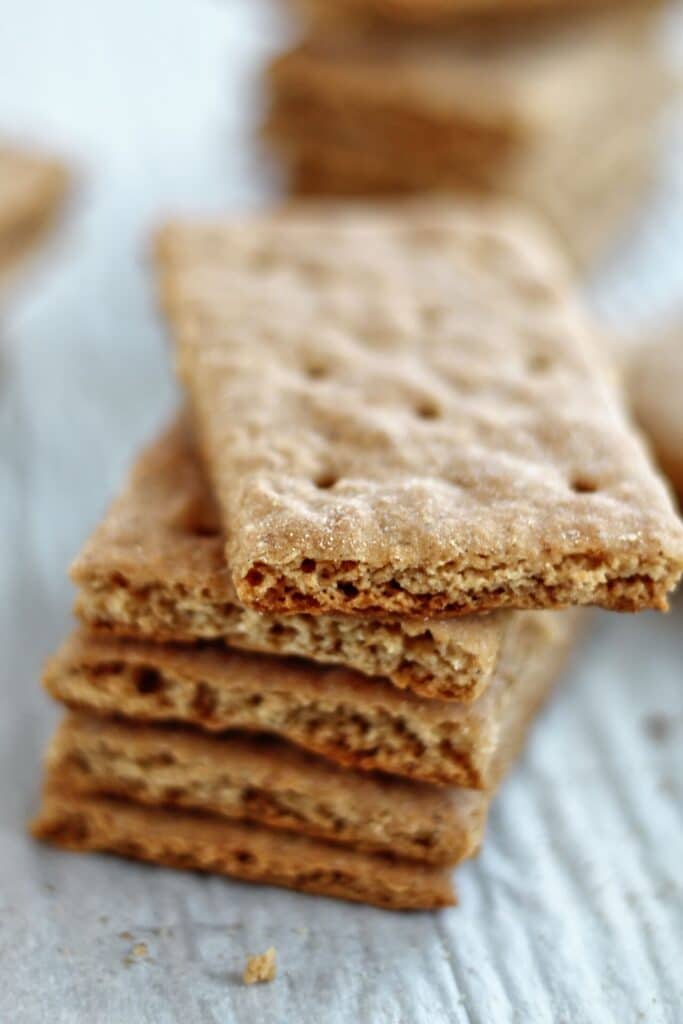 Some of the items linked in this post are affiliate links, meaning, at no additional cost to you, if you click through and make a purchase, I will earn a small commission.
These gluten free graham crackers are so easy to make that it'd almost be silly to run to the store just to buy gf graham crackers. YOU know, as well as I do, how expensive all things gluten free are, and graham crackers are no exception to that rule, are they?
I don't know about you, but most of the time when I need graham crackers they're simply for crushing to make other things (think gluten free s'mores brownies, gluten free lemon cream pie, or the best gluten free key lime pie). So why bother making perfectly straight and cutesy graham crackers when all we're going to do is obliterate them. Am I right?
Of course the option IS always there to make the actual crackers. Especially if we want s'mores. So I'll show you how if that's your desire😊.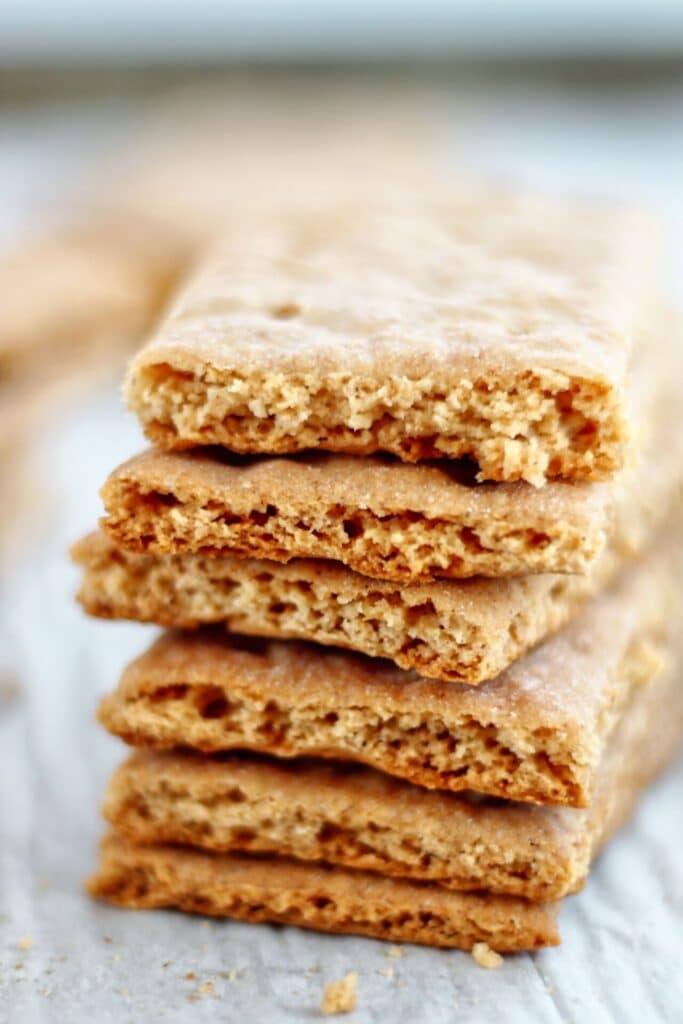 Here's what you'll need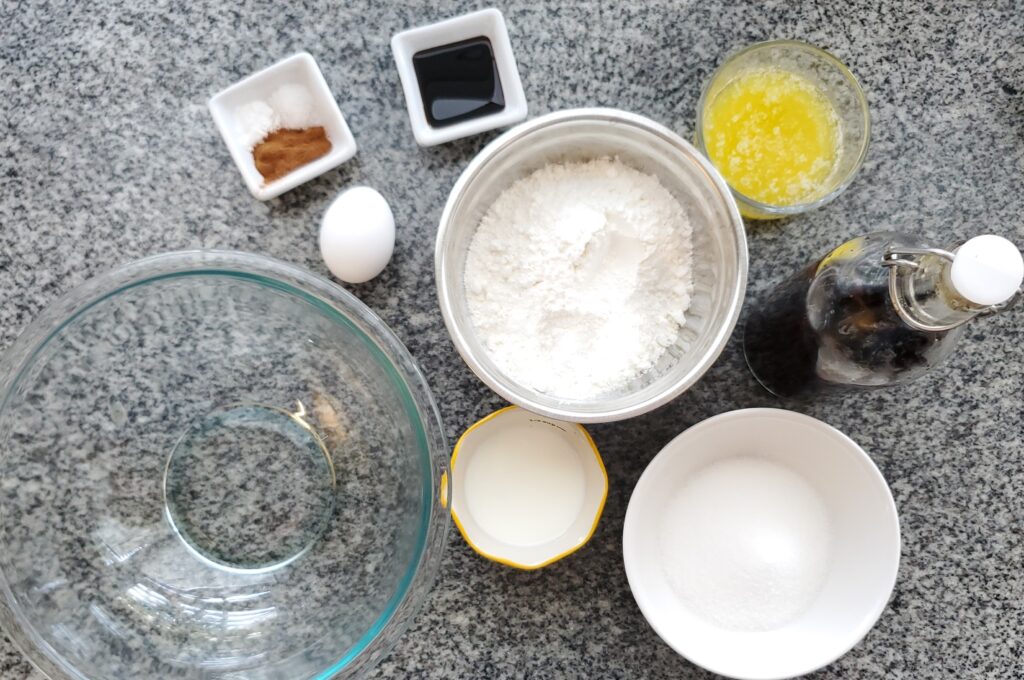 my easy method for making homemade graham crackers
What you'll love right off the bat with this recipe is that it's all made in one bowl! No stand mixer or even handheld mixer required. Just a bowl and a spoon or spatula. Of course you CAN always make it in a stand mixer or with a handheld, but it's definitely not required as you can see in the video.
But the best part of making these graham crackers is you don't have to cut them with a cookie cutter individually! A straight edge and cutter are all you need to make them.
Make the dough. Combine the dry ingredients in a large bowl. Add the beaten egg, milk, molasses, vanilla extract, and butter. Stir until a firm dough forms. If your dough is soft, chill it for 30 minutes.
Roll out the dough. On a sheet of parchment that will fit a standard half sheet pan (18″ by 13″), roll the dough out into an even thickness, sprinkling with AP gf flour as necessary to avoid the top from sticking to the rolling pin.
Cut the dough. Using a straight edge such as this one (affiliate link) and a pastry wheel (affiliate link) or a sharp knife, cut dough one way end to end at about 3 inch intervals. Then turn the dough and cut the other way, end to end, at about 2 inch intervals. You can be precise here and measure everything to get the exact same size crackers, but I prefer a more rustic quality to my graham crackers.
Refrigerate. If the dough is too warm or sticky, refrigerate it for 30 minutes.
Poke. Poke holes in each cracker with the dull end of a wooden skewer or something similar.
Slide. Slide the parchment with the crackers onto your baking sheet.
Bake. Bake the graham crackers at 300 degrees F for 30-33 minutes. They will be puffed slightly and be lightly browned, and will crisp up once completely cool.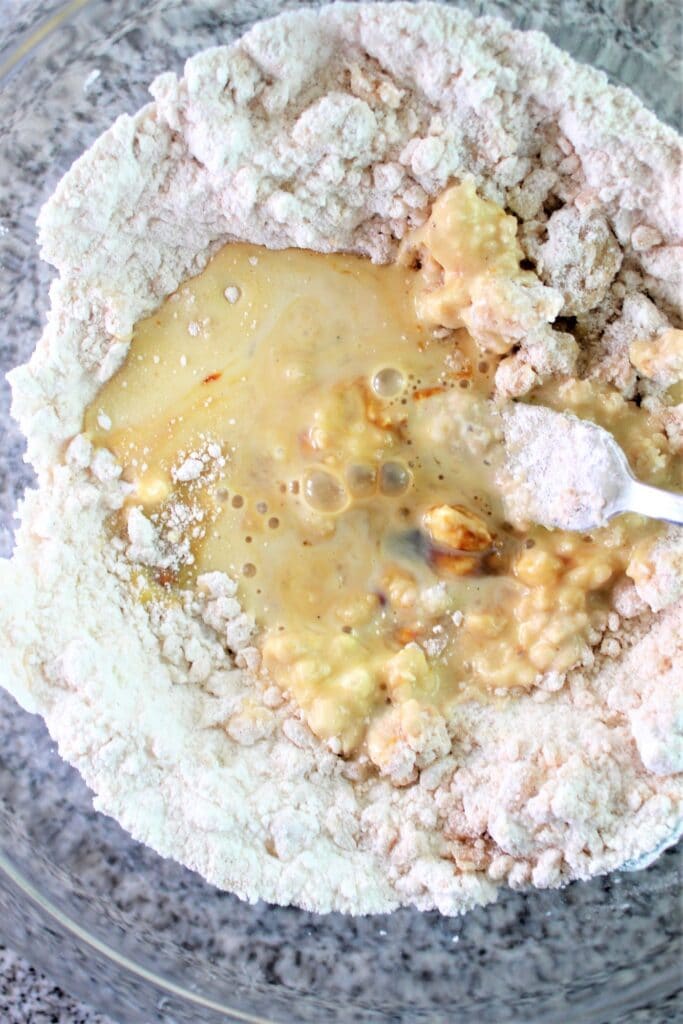 Making a Crumb Crust
If you haven't already noticed how easy it is to make these gf graham crackers, you could always go the store bought route to make a crumb crust. Schar makes a pretty decent graham cracker here (affiliate link). But I urge you to just try these gf graham crackers before hopping in the car.
To make a gf crumb crust, break up the graham crackers into smaller pieces and place them in a food processor (or a large ziptop baggie). Process into fine crumbs (or use a rolling pin to crush them in the baggie). Add the sugar and melted butter and pulse until well combined (or dump crumbs into a bowl and stir everything together with a fork or spoon).
Press the crumbs along the bottom and up the sides of a pie plate or springform pan. Bake the pie crust for 10 minutes and allow to cool before filling.
gf graham cracker FAQs
Isn't Graham Flour Required to Make Graham Crackers?
Normally it is, but we can't use graham flour as it isn't gluten free. You won't miss the graham flour in these graham crackers with the combination of ingredients used.
Why Not Use Brown Sugar?
Brown sugar tends to make a softer cracker. Although there is a little bit of molasses in these gf graham crackers, using granulated sugar helps make a crisper cracker.
Can Graham Crackers be Used for a Cheesecake Crust?
Absolutely! Process the crumbs the same way you would for a pie, but line the crust mixture onto the bottom and partially up the sides of a springform pan. For tall sides of a cheesecake, double the crust recipe.
recipes using graham crackers
When gluten free graham crackers are as easy to make as this, why would you even THINK about going to the store to buy them? These are perfectly crunchy with that familiar cinnamon molasses taste!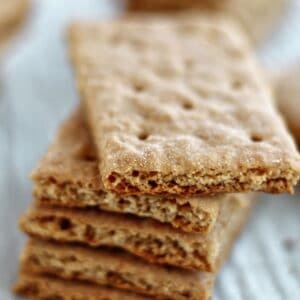 Homemade Gluten Free Graham Crackers (& How to Make a GF Graham Cracker Crust)
These homemade gluten free graham crackers are easy to make and far superior to store bought. And the crumb crust is as easy as, well…pie!!
Ingredients
GRAHAM CRACKERS
2

cups (280 g)

Kim's all purpose gluten free flour blend (a store bought blend may be used, but hasn't been tested)

½

tsp

baking powder

½

tsp

kosher salt

1

tsp

ground cinnamon

½

cup (100g)

granulated sugar

6

tbsp (85g)

butter, melted

1

tbsp

molasses

1

tsp

vanilla extract

1

large

egg, at room temperature

3

tbsp (45g)

milk
Instructions
Making the Graham Crackers
Preheat the oven to 300° F.

In a large bowl, combine dry ingredients and whisk well. Add melted butter, molasses, vanilla extract, egg, and milk and stir until a soft dough forms.

Dump dough out onto a piece of parchment that's been cut to fit your baking sheet (mine is 12 by 18 inches). Roll out to about ⅛ to ¼-inch thick, covering the entire surface of the parchment. It doesn't have to be exact if you're using it to make graham cracker crumbs.

Score the sheet of dough into rectangles using a pizza or pastry wheel (or a knife) and a straight edge or ruler. Use the non pointy end of a wooden skewer (or a fork) to poke holes throughout the dough.

Bake the graham crackers for 30-33 minutes, or until lightly browned and slightly puffy. They will crisp up upon cooling completely.
Making the Crust
Preheat the oven to 350° F.

In the bowl of a food processor, process broken up graham crackers into coarse crumbs. Add sugar and 3 tbsp butter and pulse until the texture of wet sand (if it doesn't stick together when pressed between your fingers, add 1 more tablespoon of melted butter and process again). Press mixture onto the bottom and up the sides of a pie plate. Use something with a flat bottom, such as a measuring cup or a glass, to press the crumbs together.

Bake for 10 minutes. Allow to cool before filling as per your favorite recipe instructions.
This recipe was originally posted on July 9, 2020 and has been updated with new pics, updated copy, and a how-to video.