If you love peanut butter and marshmallow as much as I do, you'll love these chewy and peanut buttery flourless fluffernutter cookies! With only four ingredients total (and no flour to be found) these cookies are perfect for gluten free AND gluten eating people alike😋
I love peanut butter. Always have. Always will. And I also love the combination that is fluffernutter–peanut butter and marshmallow. I'm not sure who invented the fluffernutter sandwich, but it's not something I would normally eat as a meal. That, to me, is dessert!
Whenever I would get an ice cream sundae, at Dairy Queen for instance, I would always ask for both peanut butter and marshmallow sauce on vanilla ice cream. Those two together on ice cream is a match made in heaven I tell ya! One of these days I'm gonna make my own sauces. I've tried before and failed and need to get at it again.
These cookies not only taste amazing, the texture is like no other. The marshmallows in the middle offer an unusual, but appealing chewiness on top of an already soft and perfect peanut butter cookie. Scott, Brandon, and I can't seem to get enough of them!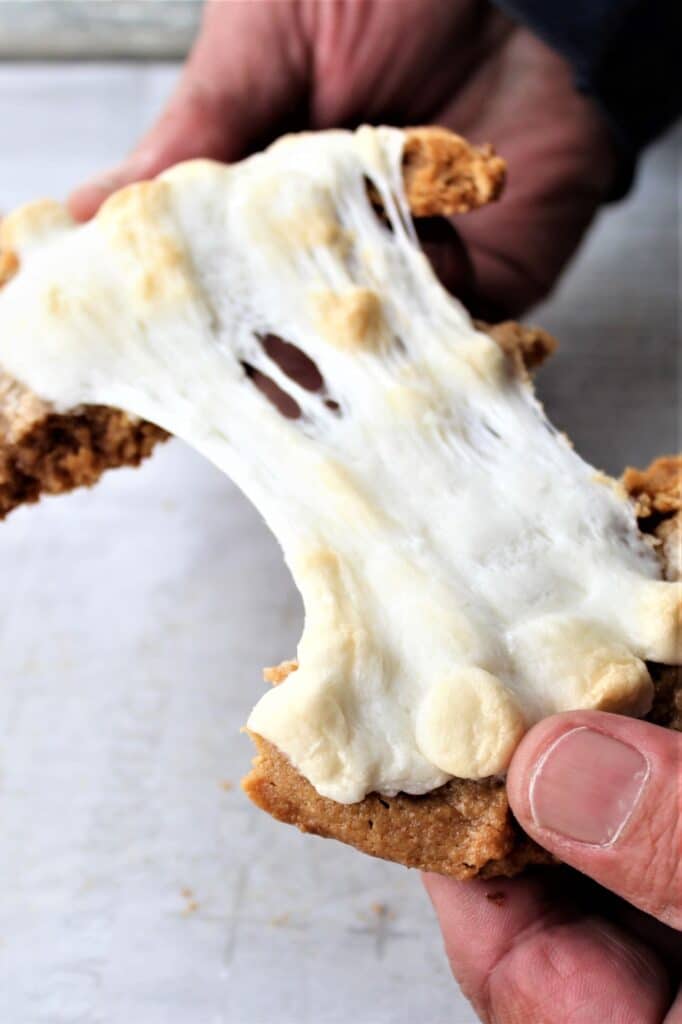 Easy Dough for Flourless Fluffernutter Cookies
I wish I could take credit for these unbelievable peanut butter cookies, but I have to give credit where credit is due. The cookie base is a famous flourless peanut butter cookie from Ovenly. Ovenly is a bakery in New York who happens to make one of the best peanut butter cookies ever!
The Kitchn (thekitchn.com) recently posted this article about trying 4 famous peanut butter cookie recipes. After I read it, I knew I had to try Ovenly's peanut butter cookie recipe. The fact that it's naturally gluten free because it's flourless was one of the top reasons. But also I was intrigued by the sprinkling of flake salt on top, which is right up my alley (sweet + salty). I use Maldon sea salt flakes (affiliate link).
To make the dough, whisk brown sugar and two eggs together in a large bowl until smooth. Add peanut butter and vanilla (freebie ingredient) and stir until all the peanut butter is well incorporated into the sugar/egg mixture and it resembles a thick dough.
My Own Twist
When I saw on Foodimentary's calendar that October 8th is Fluffernutter Day, I knew I was going to make these cookies for today. So I got to work on trying to turn Ovenly's peanut butter cookies into a fluffernutter variety.
After several tries and all of us eating a LOT of fluffernutter "failed" cookies, I finally figured out the perfect method. Scoop the dough out onto a parchment-lined baking sheet with a large cookie scoop. Take a large rounded spoon (I used a 2 tbsp measure), dip it in flour and then press the center of the cookies down to create a little well.
Put the cookies in the freezer for at least 15 minutes so they won't spread completely flat. This is what Ovenly suggests and I've tried it without freezing and they work so much better partially frozen.
Baking the Cookies and Adding the Marshmallows
After their stint in the freezer, sprinkle flake salt on the cookies and bake them at 350 degrees F for 10 minutes. Remove them from the oven and place a large (about 2 tbsp) pile of mini marshmallows in the middle of each cookie (in the well).
Press down slightly to adhere so they don't slide right off the cookies as they bake. Bake the cookies for an addition 10 minutes, or until the marshmallows have slightly browned and the cookies are still soft, but set.
For National Fluffernutter Day, or any day of your life, you should really make these cookies. Especially if you're a peanut butter and marshmallow fan. They're beyond easy to make, but I guarantee they'll become one of your new favorite cookies!!
Flourless Fluffernutter Cookies
If you love peanut butter and marshmallow as much as I do, you'll love these chewy and peanut buttery flourless fluffernutter cookies!
Ingredients
1¾

cups (350 g)

packed light brown sugar

2

large

eggs, at room temperature

1

tsp

vanilla extract

1¾

cups (420 g)

smooth peanut butter

(such as Skippy or Jif)

flake sea salt

(such as Maldon)

1½

cups (approx)

mini marshmallows
Instructions
In a large mixing bowl, vigorously whisk together the brown sugar and eggs until well combined and very syrupy.

Add the peanut butter and vanilla extract and switch to a spatula or wooden spoon. Mix well until no streaks of peanut butter remain.

Scoop the mixture onto a parchment-lined baking sheet using a large cookie scoop. Take a rounded spoon, such as a tablespoon or 2 tablespoon measure, and dip the bottom in flour. Press a "well" into the middle of each cookie, flouring the spoon after each.

Place the baking sheet in the freezer for 15 minutes. Meanwhile, preheat the oven to 350° F.

Remove cookies from the freezer and sprinkle with flake salt. Bake for 10 minutes. Remove from the oven and add about 2 tbsp of mini marshmallows in the "well" of each cookie, pressing lightly to adhere.

Bake for another 10 minutes, or until marshmallows are lightly browned and cookies are soft but set.

Allow to cool on baking sheet for 5 minutes before cooling on wire rack. Cool completely before serving. Cookies will firm up slightly upon cooling.
Recipe adapted from Ovenly's Salted Peanut Butter Cookies