For those busy nights, make your life easier with this Gluten Free 1 Hour Pizza Dough. Your yeasted pizza will be on the table within one hour! And no one will know it only took one hour to make (or that it's gluten free).
Some of the items linked in this post are affiliate links, meaning, at no additional cost to you, if you click through and make a purchase, I will earn a small commission.
I was going to try to create one of those no yeast pizza doughs, which I know are very good and actually remind me of my childhood (think Chef Boyardee pizzas in a box). But I really wanted a yeasted pizza dough, so I went to work researching and researching, like I always do. I found a recipe from Brian Lagerstrom's YouTube channel, as well as one on America's Test Kitchen. By combining their techniques and using some of my own, I made a pizza in literally one hour, from start to finish, and we all agreed it was a winner!
why you'll love this recipe
It's QUICK!
There are very few ingredients
You'll never have better takeout than this, especially in under an hour
Both kids and adults will love it!
the ingredients you'll need for the dough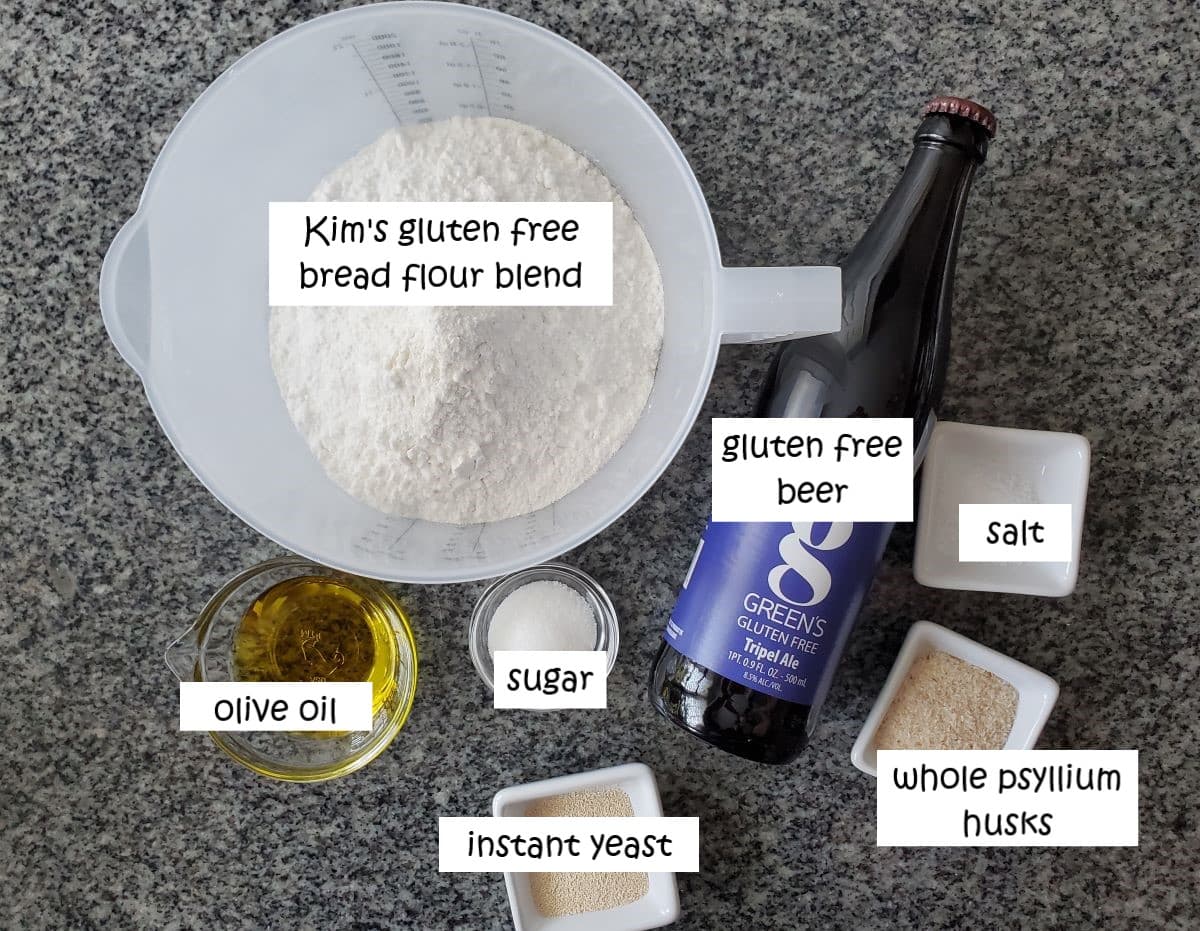 Kim's gluten free bread flour blend–this is the only flour blend that will give you the same results. If you try a different blend, I cannot help you when you have problems with your pizza.
Gluten free beer–this is what gives the pizza its fermented flavor in under an hour.
Psyllium husks–I strongly recommend using psyllium in this recipe in particular because the dough doesn't have the added benefit of hanging out in the refrigerator overnight to make it easier to work with.
Instant yeast–there's a substantial amount of yeast in this dough because this is such a fast dough so it needs that extra bit of oomph.
how to make 1 hour pizza dough, step by step
Preheat oven with a pizza steel or stone on a rack about 6-9 inches from the top broiler element to 550 degrees F.
Heat beer to 98-105 degrees F.
In the bowl of a stand mixer using the dough hook, mix all dough ingredients until smooth and all flour is well hydrated, 5 minutes.
Divide into two roughly equal pieces. Place one half in the middle of a lightly-floured 14-inch parchment circle (or a parchment sheet). Sprinkle the dough lightly with more flour and flatten it slightly with your fingers and shape it into a round. Use a rolling pin to roll the dough into a large circle about the size of the parchment (14 inches in diameter).
Cover with plastic wrap, repeat with the other half of the dough, and allow each to proof for 30 minutes.
Meanwhile, make the sauce by combining all sauce ingredients directly in the can of the crushed or whole tomatoes using an immersion blender (or blend everything in a food processor or blender). Alternatively, you can use store-bought pizza sauce.
Shred cheese and prepare any of your favorite pizza toppings; set aside.
After 30 minutes, remove the plastic wrap from the pizza dough and spoon sauce over, leaving about ¾ of an inch border all around. Sprinkle cheese on top and add any other toppings.
Launch pizza into the oven using a pizza peel or an overturned baking sheet, parchment and all. Bake for 4 minutes (tack a few minutes on if your oven only goes to 500 F).
Switch the oven to broil and broil the pizza for 1-2 minutes, checking it at the 1-minute mark to make sure it's not burning.
Remove the pizza carefully using a pizza peel; slice and serve.
making a quick and flavorful no-cook sauce
Without dirtying another bowl or pan, we can easily make a wonderfully flavorful pizza sauce that's thick and rich and perfect to go along with our one-hour pizza. Or you can even go the route of using a premade jarred sauce (I'm not fond of premade pizza sauces).
The only equipment needed to make this sauce is an immersion blender. If you don't have one, you can still make the sauce, but you will need to do it in a blender or food processor. Just open a large can of crushed or drained whole peeled tomatoes and add oregano, thyme, garlic powder, salt, pepper, as well as tomato paste and olive oil. Blend right in the can until smooth. So easy!
1 hour pizza FAQs
Can I use active dry yeast instead of instant?
While you certainly can, you may not be able to finish the pizza in one hour as you will need to proof the yeast first in the beer.
Do I have to use beer?  Can't I just use water?
Gf beer gives not only the flavor of fermentation, which you won't get in less than an hour normally, it also adds to the other characteristics of fermentation (the bubbles).  The alcohol will cook off and you won't even notice the flavor of beer, just fermentation.  However, if you're still not on board, you could try club soda, hard cider, or sparkling water (although you won't get that same fermented flavor).
What if I don't want to make both pizzas in one night?
You can cover the rest of the dough and refrigerate it for up to 7 days, or it can be wrapped well and frozen for up to 3 months.
the equipment i use for the best results
Pizza steel–steel is known to retain lots of heat and, therefore, is a great choice for cooking pizzas. This (affiliate link) is the one I use and I love it. You can also use a pizza stone, although they don't retain as much heat as a steel does.
Parchment circles. Quicker than cutting out circles from rectangular sheets, these 14-inch parchment circles (affiliate link) are the ones I use. You can also go up or down in size to suit your needs.
Pizza peel or paddle. A pizza peel is great to have on hand. They're not just for pizzas, but also for launching bread into the oven. I have two, a wooden one like this (affiliate link) for launching and an aluminum one for retrieving. I prefer to use the aluminum one (affiliate link) for taking the pizza out of the oven. I'm not as skilled to be able to do that as easily with a wooden paddle.
how to grill gluten free 1 hour pizza
Everyone's grill is different so you'll need to experiment, but if your grill runs pretty hot in certain areas, go for a higher rack from the flame or indirect heat to the side. For instance, I have an Oklahoma Joe's Rider DLX Pellet Grill, which is the best grill I've ever had for a couple of reasons (it smokes and it grills very hot at the flip of a switch). On my grill, I place my baking steel on the top rack in the center and let it heat up to as high as the grill will go (mine is about 650-700).
Grill the pizza just as you would in your oven, but you'll need to adjust your time. Mine takes about 6 minutes total to grill (there is no broil option of course on a grill), but sometimes it will take longer. Just play around with it on your own grill.
more gluten free pizza Recipes and pizza like things
In less than an hour, you can have two large delicious gluten free pizzas on the table for dinner. No one will know they're gluten free or that they were so quick to make!
Gluten Free 1 Hour Pizza Dough Recipe
For those busy nights, make your life easier with this Gluten Free 1 Hour Pizza Dough. Your yeasted pizza will be on the table within one hour!
Ingredients
Dough
1¼

cups (300g)

gluten free beer

there are several different options out there, such as Glutenberg and Green's. I find them at my local Total Wine & More.

2½

cups (350g)

Kim's gluten free bread flour blend

1

tsp (6g)

salt

1

tbsp (5g)

whole psyllium husks (or 1½ tsp psyllium husk powder)

1

tbsp (12g)

sugar

1

tbsp (8g)

instant yeast

2

tbsp (26g)

extra virgin olive oil
Pizza Sauce
1

28oz can (794g)

crushed tomatoes

(or drained whole peeled tomatoes)

2

tbsp

tomato paste

1

tsp

garlic powder

1

tsp

dried oregano

1

tsp

dried thyme

1

tsp

salt

½

tsp

ground black pepper

1

tbsp

olive oil
Toppings
4

oz (113g)

whole milk mozzarella, shredded

not fresh mozzarella

any other toppings of choice
Instructions
Place pizza steel, pizza stone, or overturned baking sheet on a rack about 7 inches from the top of the oven and preheat oven to 550° F. If your oven doesn't go this high, preheat it to as high as it will go and you will need to adjust your cooking time.

Heat gluten free beer to 98-105° F.

Add all dough ingredients to the bowl of a stand mixer or food processor, including the warm beer. If using a stand mixer, mix for 5 minutes on medium to medium high. If using a food processor, it will take less time (1-2 minutes).

Sprinkle flour on top of two round sheets of parchment paper (or just large rectangular sheets) and divide the dough between the two sheets. Sprinkle more flour over the dough and flatten it slightly with your hands. Using a rolling pin, roll out to about a 14-inch circle. Cover both pizza crusts with plastic wrap and allow to proof for 30 minutes.

Meanwhile, make sauce, if desired. Open can of crushed tomatoes (or drained whole peeled tomatoes) and add all other sauce ingredients and blend with an immersion blender right inside the can. Alternatively, place all ingredients in a blender or food processor and blend until smooth.

Spread sauce onto each pizza crust to within ¾ of an inch of the edge and sprinkle cheese and any other toppings on top.

Carefully slide pizza (on parchment) onto pizza steel or stone and set a timer for 4 minutes (longer if your oven doesn't go up to 550°). Switch to broil and broil for 1-2 minutes (check at 1 minute to make sure it's not burning).

Carefully remove from oven using a pizza peel, cut into slices, and serve.
Notes
Pizza reheats well in a preheated 400 degree F oven directly on the pizza steel for 5-7 minutes.
To grill, set your baking steel directly on your grill grates (if your grill is super hot like mine, put it on the rack above the grill grates), and preheat your grill as high as it will go (mine is 650-700).  Grill just as you would in the oven, sliding the pizza and parchment onto the baking steel) and adjust your grilling time per your own grill (it may take shorter or longer depending on the temperature of your grill).    
Inspired by and adapted from Brian Lagerstrom's 1 hour pizza and America's Test Kitchen One Hour Pizza.