Gluten Free Pan Pizza was originally posted on Feb 7, 2020 and has been updated with new pictures, a new updated video, and plenty of new tips and tricks.
This is hands down the BEST gluten free pan pizza you will ever have! Just like the thick crust almost-fried-on-the-bottom pan pizza we used to get back in our days of delivery!!
Some of the items linked in this post are affiliate links, meaning, at no additional cost to you, if you click through and make a purchase, I will earn a small commission.
Ya'll are not gonna be-LIEVE how good this pizza is!!!! It seriously took me back to a time when I was able to order delivery pizzas from Pizza Hut. Back when everything was so much simpler, especially when I just.didn't.feel.like.cooking.dinner! Am I right?
I heard a while ago that certain Pizza Hut locations were coming out with their own gluten free pizza, but of course my area wasn't part of those. We do have some delivery gluten-free options here, but they all use Udi's gluten-free crust. If you're anything like me, you'd rather eat cardboard than Udi's.
As much as I love to cook and bake, there will always be times when I wish someone would make ME dinner! I hope someday the city I live in will have more gf options, but for now I have to cook all my own meals. At least if they taste like this pizza, I can handle it on my menu on the regular! Plus, there's no worry about cross contamination in my own kitchen.
what you'll need to make this pizza
Gluten Free Focaccia Bread Dough — this dough is the perfect base for a Pizza Hut gluten free pan style pizza, just like what we remember.
Sauce — you can use store bought, but it's so easy to make your own

pizza sauce

and it's worlds better than anything you'll find in a can or jar.
Olive oil — you can use vegetable oil or canola oil instead, but I really like the flavor that the olive oil imparts.
Gluten-free toppings — you can go crazy with whatever you normally like on your pizzas. Some ideas include cheese, pepperoni, mushrooms, Italian sausage (or regular pork sausage), grilled chicken, peppers, red onions, roma tomatoes, Jalapeno peppers, bacon, spinach, mediterranean black olives, banana peppers, etc, etc. You can even make this dairy-free and, therefore, vegan by using water and olive oil in the dough and vegan cheese on top.
How To Make Pan Pizza?
When I first made my gluten free focaccia bread and it came out beautifully, I had an immediate hunch that it would also work perfectly as the crust for a pan pizza. And that hunch was spot on!
It all begins with the dough. It's so easy to mix up in the morning and be ready to go for dinnertime, or even within 4 hours! Half of the dough will fill a 12-inch cast iron skillet. You can also use the whole recipe and fill two skillets. Or you can use a large baking sheet (17 by 11 inch) and make one large rectangular pizza. Another option is to make mini (personal) pan pizzas! These are great for when you want just enough to feed yourself. For that, you'll need a small 8-inch cast iron skillet (affiliate link) or an 8-inch round cake pan (affiliate link).
Pour olive oil into a cast iron skillet (affiliate link) (or pan as above) and dump the dough right on top. Add a little more oil on top of the dough and, using your fingers, spread the dough to the edges of the pan. It's fine if there are holes in the dough as they'll fill in when the dough rises and bakes.
Cover the skillet with a tight-fitting lid or plastic wrap and allow the dough to rise for about 30 minutes. You won't be looking for the dough to double in size, just be slightly puffed.
While the dough is rising, preheat your oven to 400 degrees F.
Carefully add the sauce so you don't deflate the dough (try my Pizza Hut copycat sauce recipe!). If you're using a baking sheet, just add the sauce without heating on the stove.
Then add the cheese and any other toppings of your choice.
Bake for about 25-30 minutes, or until the cheese is melted and bubbly.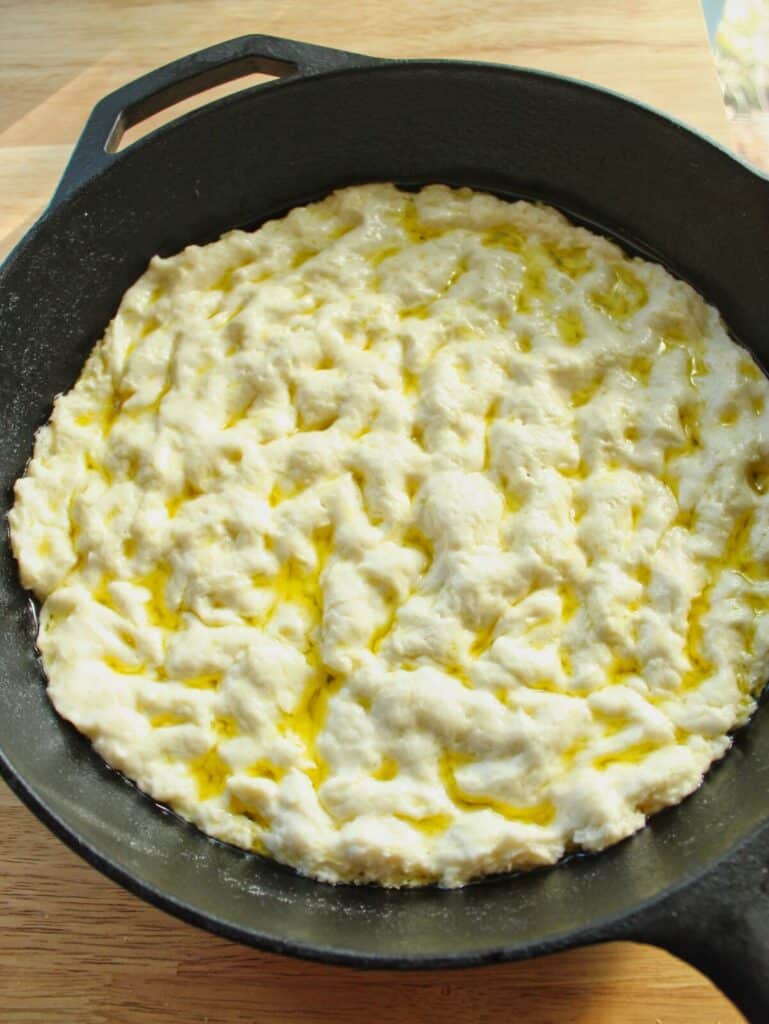 pan pizza FAQs
Does Pizza Hut have gluten free pizza?
Certain participating Pizza Hut restaurants do have a gluten free pizza option made with Udi's gluten free crust. However, as of this date, they do not offer a gluten free pan style pizza.
What's the difference between regular pizza and pan pizza?
As the name suggests, pan pizza is made in a pan, but that's not the only difference. Usually pan style pizza is thicker than a regular (New York or hand tossed) pizza and has an almost "fried" bottom, making it crunchy on the bottom and soft and bouncy in the middle.
Do I need to purchase a special pan for making pan pizza?
No, there are several common household pans that will work great for making pan style pizza. A cast iron skillet, 1/4 sheet pan, round cake pan, or any oven-safe skillet are plenty of options.
more gluten free pizza ideas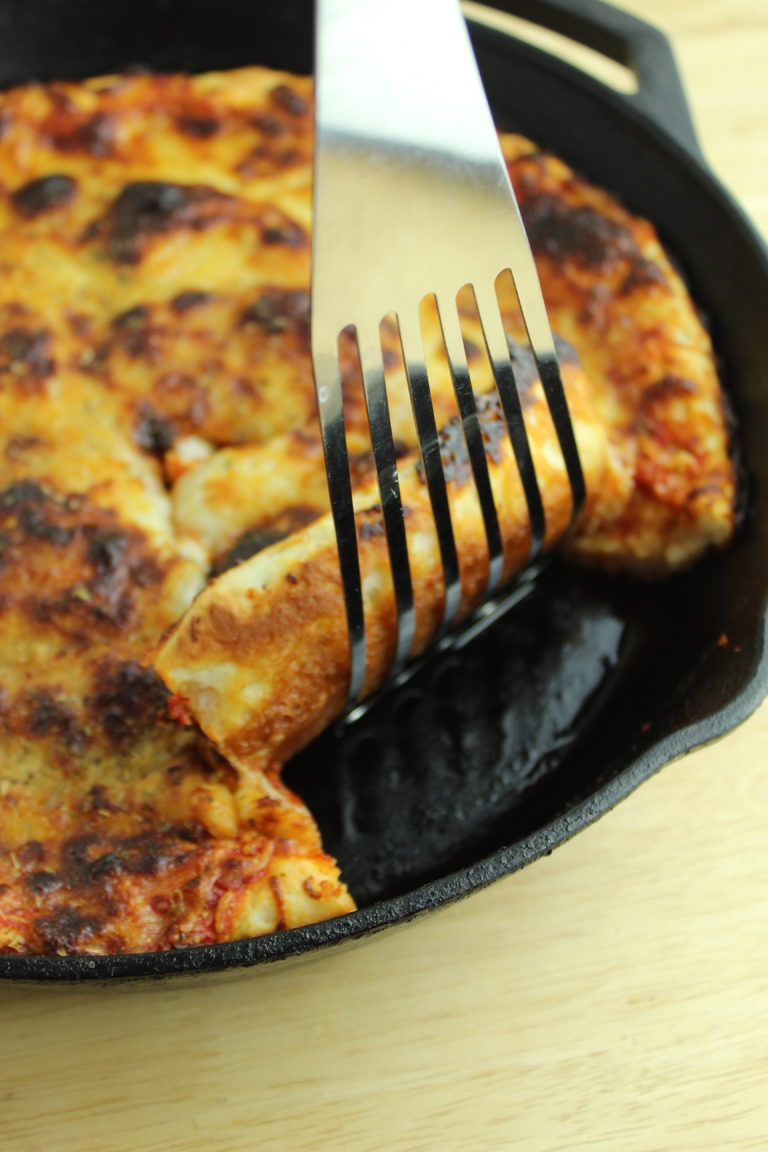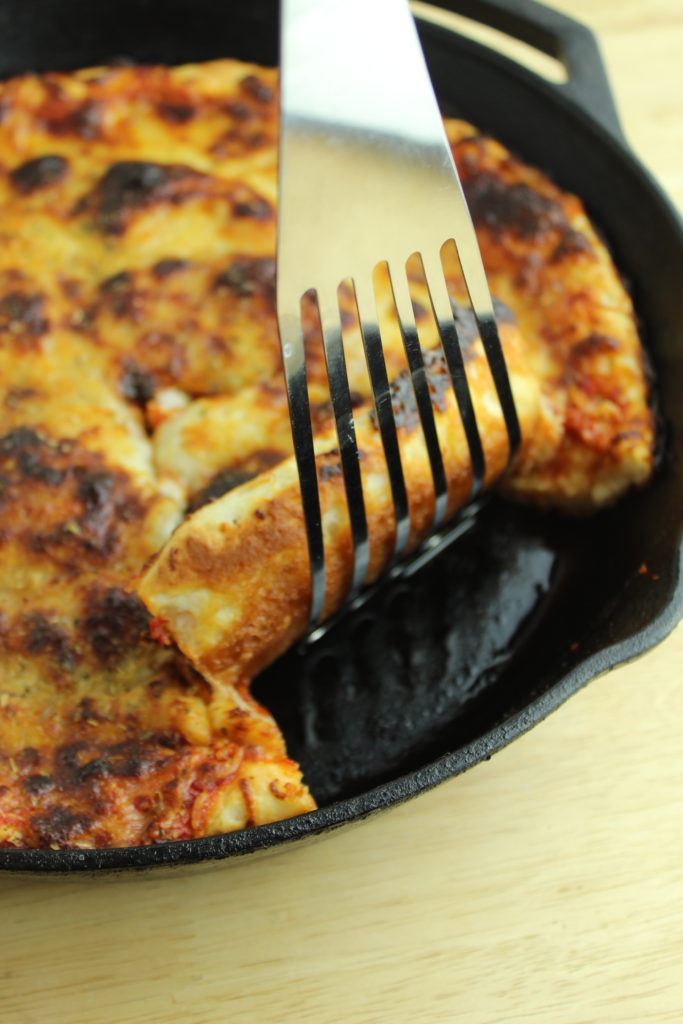 Make this pizza tonight for dinner! Your whole family will love it, even the gluten eaters 🙂
The BEST Gluten Free Pan Pizza
Remember the thick crust almost-fried-on-the-bottom pan pizza we used to get back in our gluten eating days? This is the absolute BEST gluten free pan pizza you will ever have and tastes just like that!!!  
Instructions
NOTE: This entire dough recipe makes 2 12-inch pizzas, but if you only want one pizza, you can either halve the dough recipe or store the other half of the dough in the fridge until the next time.

In a large bowl, weigh bread flour, sugar, salt, and yeast.  Whisk to combine.  Using a stand mixer with the beater blade or a handheld mixer, turn on low and slowly pour in the milk and butter.  Increase speed to medium and beat for 5 minutes. 

Cover the bowl and place in a warm, draft-free area until doubled in volume, about 2 hours. You can use it immediately after rising, or refrigerate the dough for up to 7 days.

Divide most of the olive oil between the two 12-inch cast iron skillets, 2 ¼ sheet pans (9 by 13 inch), or any oven-safe skillets (or use half the amount for only one pizza). Divide the dough between each skillet and add the rest of the olive oil on top.  Using your fingers, gently spread the dough out to the edges of the pans.  It's okay if the dough is dimpled from your fingers.  

Cover with a tight-fitting lid or plastic wrap and allow to rise for about 30 minutes while preheating the oven to 400° F.  The dough won't look much different, but will be slightly puffy when fully risen.

Carefully add the sauce and cheese and any other optional toppings. Bake for 25-30 minutes, or until cheese is melted and bubbly.  The baking time will depend on your skillet size and your oven, so begin checking at 20 minutes, but it may take as long as 35.

Allow to cool slightly before cutting and serving.  
Notes
To make just one personal pan pizza, drizzle a little bit (roughly one tbsp) of olive oil into 8-inch cast iron skillet or round cake pan.  Use about a fist full of the dough for one pizza.  Follow instructions for making a large pizza, but only use about 1/4 of the sauce and cheese.  Bake for less time, checking at about 15 minutes.  
To reheat leftover pizza (if you're lucky enough to have leftovers), preheat a skillet over medium-low heat and place slices in skillet.  Cover with a lid and allow to heat through, about 5-10 minutes.  You can also reheat slices in the oven on a baking steel or stone at a temp of about 350 for 10 minutes.