Do you love snickerdoodle cookies as much as I do? How about trying gluten free chocolate snickerdoodles?? Chocolate cookie dough is rolled in a cinnamon sugar mixture and baked to soft perfection!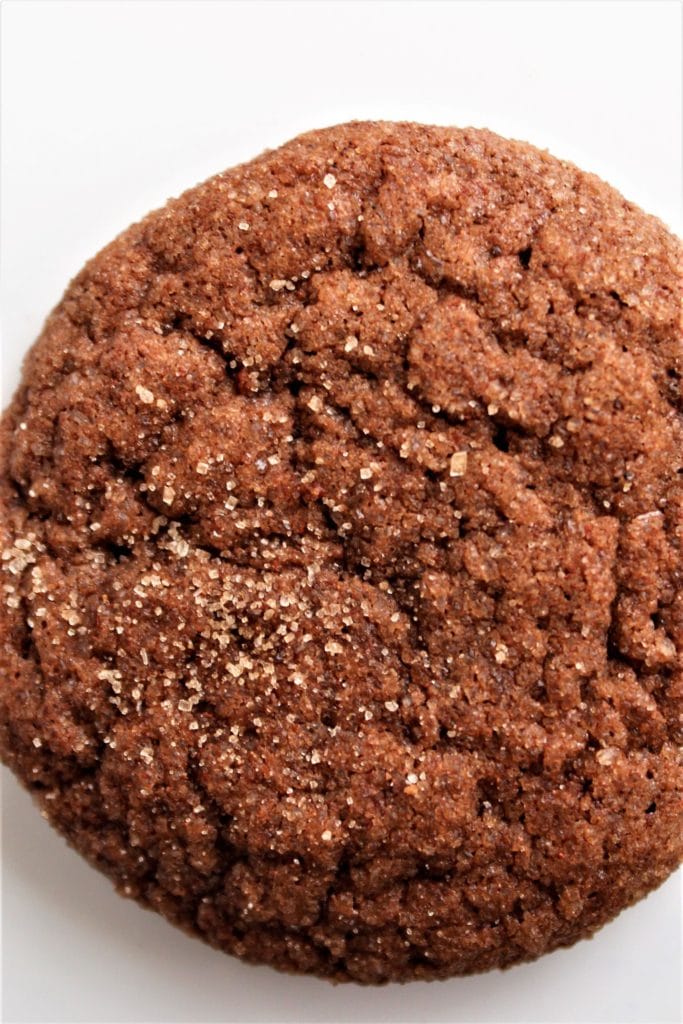 Have you ever had a piece of Mexican chocolate? It's one of my favorite things. It's grainy and sugary with a hint of cinnamon and I'm pretty sure there are other spices in there, too (some that bring the heat).
Scott absolutely LOVES anything chocolate and cinnamon (as do I)!! His favorite cupcake is my Mexican chocolate cupcake, which combines chocolate with cinnamon and just a pinch of cayenne pepper. You can't taste the cayenne pepper. It just kinda warms the back of your throat as you're eating the cupcake!
When I saw this recipe in a cookbook, it SCREAMS us so I knew I had to add it to my Christmas baking list. They're so easy, but have such a complex flavor. I just love recipes like that!
The Ingredients in Gluten Free Chocolate Snickerdoodles
Chocolate snickerdoodles come together in a snap and have just a minimal amount of ingredients:
Kim's AP Gluten Free Flour Blend — or any gf flour blend with xanthan gum.
Butter
Sugar
Unsweetened cocoa powder
Baking powder
Eggs
Vanilla extract
Ground cinnamon
Salt
Dash of cayenne pepper
How To Make These Cookies
When I was probably 8-10 years old, I used to make regular snickerdoodles all the time with my friend at her house. The hardest part of making the cookies was waiting a couple hours for the dough to chill so that we could roll and bake them!
These cookies are just as easy to make. Start with softened butter and sugar creaming in a mixer bowl for a few minutes, add eggs and vanilla followed by the dry ingredients.
Chilling the dough is really the hardest part of this recipe. It takes about 2-3 hours to chill, just long enough to be able to shape them into rounds and roll them in a mixture of cinnamon and sugar.
Bake the cookies for about 10-12 minutes or until puffed and set. For an extra touch, sprinkle with additional cinnamon sugar immediately after removing from the oven. You don't have to do this step, but I like the extra dose of cinnamon flavor.
Can I Make These Cookies Ahead of Time?
One of the things I love to do every Christmas is make most of my cookie dough ahead of time. After mixing the dough, prepare each cookie according to the recipe instructions. If the cookies are drop cookies, drop them on a parchment-lined baking sheet. If they're shaped into balls, roll each into balls and place them on parchment-lined baking sheets.
Place the baking sheets in the freezer and allow the cookies to freeze until solid (a couple of hours) before dropping the cookie dough into freezer ziptop bags for storage.
I fill my freezer with these bags of prepped cookies, just waiting to be baked. When it's time to bake, simple pull them out, place them on lined baking sheets and bake, allowing a few minutes extra in the oven for baking from frozen.
I prefer this method over freezing after baking because the cookies are always fresh and it takes little to no time to throw them in the oven. The exception for this is when I make cutout cookies, like my gluten free cutout sugar cookies (the BEST cookies ever!). I often cut out and bake these cookies and then freeze them, undecorated, pulling them out about a week before Christmas to decorate and serve.
If you love chocolate and you love snickerdoodles, you MUST try these cookies! They're two favorite things rolled into one 🙂
Gluten Free Chocolate Snickerdoodles
Do you love snickerdoodle cookies as much as I do? How about trying gluten free chocolate snickerdoodles?? Chocolate cookie dough is rolled in a cinnamon sugar mixture and baked to soft perfection!
Ingredients
2

tbsp plus 1½ cups (300 g)

granulated sugar, divided

2

tsp

ground cinnamon

2

cups (280 g)

Kim's gluten free flour blend

½

cup (50 g)

unsweetened cocoa powder

2

tsp

baking powder

¼

tsp

fine sea salt

1

cup (226 g)

butter, at room temperature

2

large

eggs, at room temperature

1

tsp

vanilla extract

⅛

tsp

cayenne pepper, optional
Instructions
In a small bowl, mix together the 2 tbsp sugar and the cinnamon. Set aside.

In a medium bowl, sift together the flour, cocoa powder, baking powder, salt, and cayenne pepper, if using. Set this aside.

In a large bowl with a handheld mixer, or in the bowl of a stand mixer, beat the butter and sugar on medium speed for 3 to 5 minutes, until pale and fluffy. Scrape down the sides of the bowl.

On low speed, beat in the eggs and vanilla until well incorporated. Carefully add the flour mixture, pulsing on and off to avoid a cloud of chocolate flour, until just combined.

Cover the bowl with plastic wrap and refrigerate for 2 hours.

Shape the dough into one-inch rounds and roll them in the cinnamon sugar mixture. Place on baking sheets lined with parchment paper, spacing about 2 inches apart.

Bake the cookies until the edges are set and the cookies are puffed, about 10-12 minutes. If desired, sprinkle with a little additional cinnamon sugar immediately upon removing from the oven.

Cool the cookies on the baking sheets for about 5 minutes before transferring to a wire rack to cool completely.

The cookies will keep in an airtight container at room temperature for up to 3 days.
Notes
*To freeze unbaked cookie dough, roll into balls and place on lined baking sheet.  Freeze until solid and then place cookie dough balls in ziptop bag.  To bake from frozen, remove from freezer, roll in cinnamon sugar mixture, and place on baking sheet.  Bake for an additional 3-5 minutes.  
Adapted from Hand Made Baking: Recipes To Warm the Heart