These gluten free Mexican chocolate cupcakes are a delicious blend of chocolate and cinnamon with a subtle kick of cayenne that'll make you say olé!!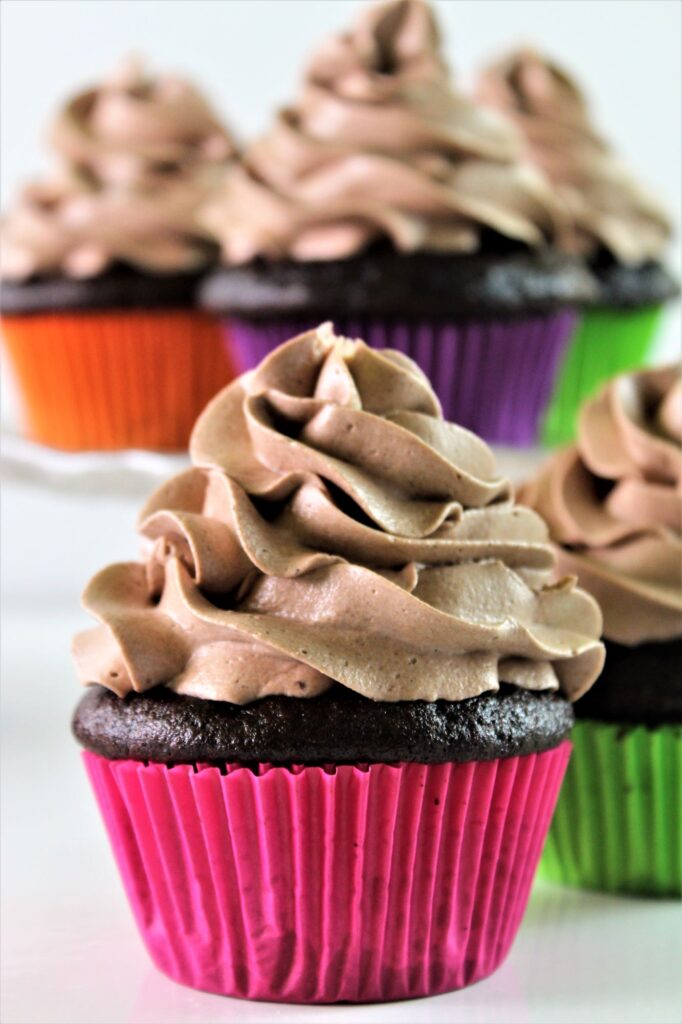 These cupcakes are hands down my husband's favorite cupcakes ever! And I've made a lot of cupcakes over the years, so that's saying something. He loves the flavors of chocolate and cinnamon together, and the cayenne adds a little kick that's so subtle, you'd never really know it's there, but you might miss it if it wasn't.
I got the idea for these a long time ago, before I was gluten free, while making cake pops. I used to make cake pops and sell them at my parents' restaurant way before they were ever mainstream. They would sell like hotcakes.
As you might have guessed, I made Mexican chocolate cake pops at the time, and I eventually transitioned those to cupcakes. Not that I don't LOVE cake pops (check out my cinnamon roll cake pops). I just wanted to actually taste and feel the silky smooth texture of the frosting separately for a change.
What Makes These Chocolate Cupcakes So Moist?
I'll admit, I am a butter lover! I'm a card-carrying member of the butter-is-better and the butter-makes-everything-better clubs. These are similar to the bacon-makes-everything-better club, of which I am also a member, haha! Most of my cake recipes call for butter or a blend of butter and oil. However, these cupcakes are made solely with canola or another flavorless oil simply because I want them to be as moist as can be, and stay moist for days.
There are enough other flavors going on that the flavor of butter won't be missed. Not to mention there's PLENTY of butter in the frosting. That's a no brainer. I would NEVER make buttercream with anything but butter. It's called buttercream, after all, not shortening cream!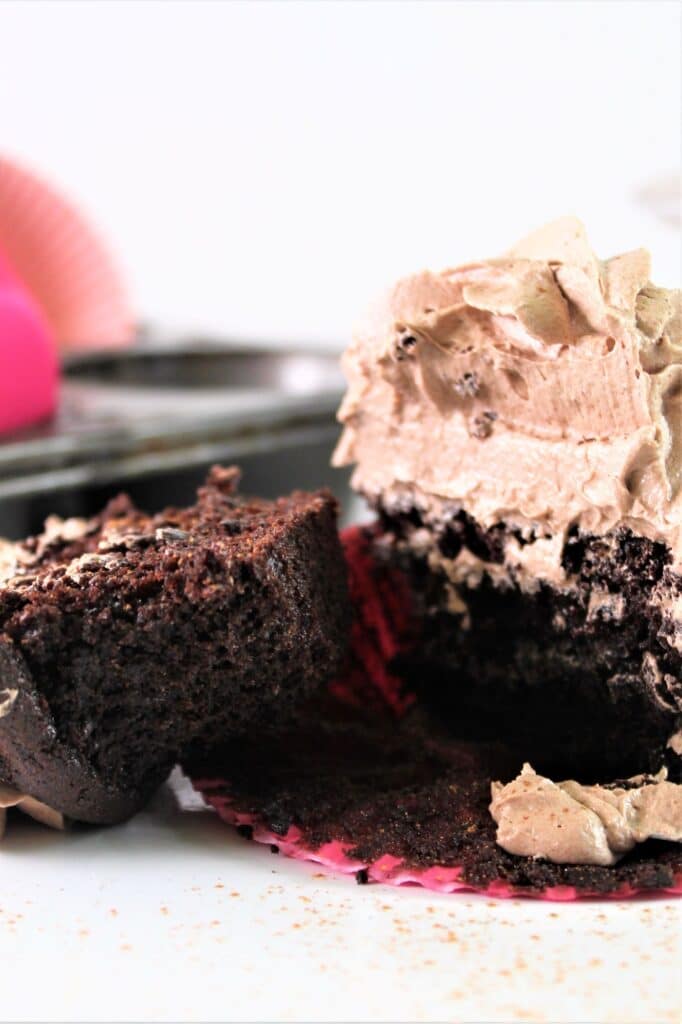 Make the frosting
This buttercream base begins just like my buttercream from my first blogiversary cake, which is a funfetti cake! With just three ingredients, it's one of the best American buttercreams I've ever made and tasted!!
Then we add a cocoa AND melted semi-sweet or bittersweet chocolate and it becomes a light chocolate buttercream. For these cupcakes, though, we gotta have that Mexican spice so throw in some cinnamon and cayenne and we're there!
American buttercreams usually tend to be a little grainy and way too sweet. But there is a solution for this–beat it for a long time, like 5 minutes. It makes such a difference in the texture because the powdered sugar blends so well into the butter. The buttercream becomes this light and silky frosting that you'll love! Just set your mixture on medium to medium-high (about 4-6 on a Kitchen Aid) and walk away. The extended beating time transforms the buttercream into such a light and smooth frosting. I always get sooooooo many compliments on it.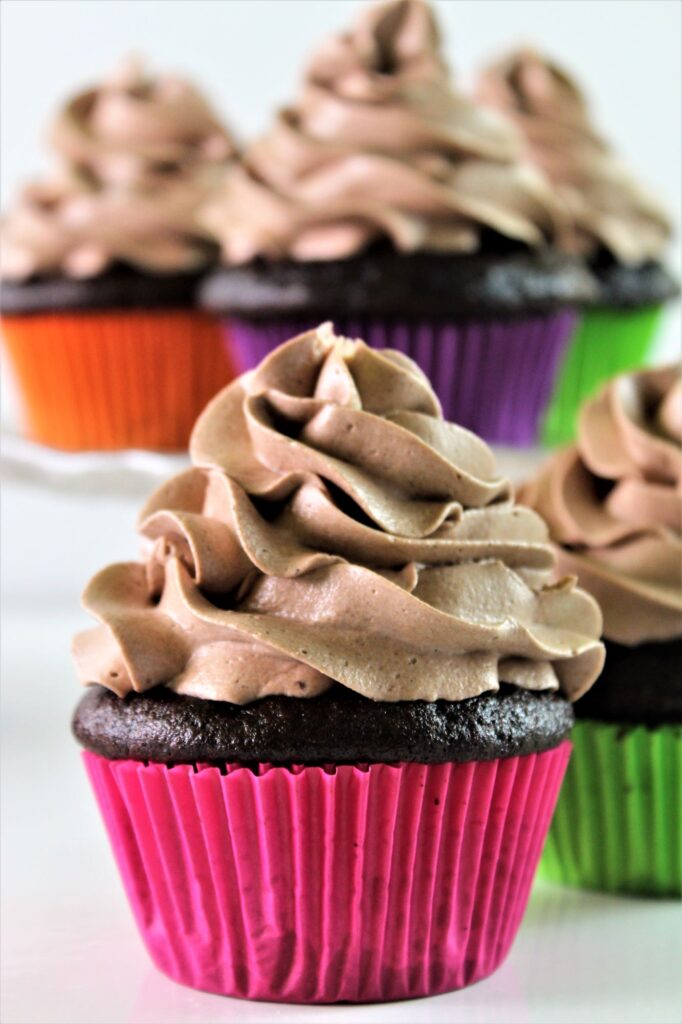 gluten free mexican chocolate cupcake faq's
Can I Make These Just Chocolate Without the Spices?
Yes, you can leave out the spices and make the best chocolate cupcakes ever! But if you're feeling adventurous, try the spices and you may never go back.
Do the Cupcakes Freeze Well?
Yes, and you can even freeze them already frosted! Place frosted cupcakes on a baking sheet and into the freezer to solidify, which should take around an hour. Wrap individually in plastic wrap and place in a container or large ziptop bag. Defrost, still wrapped, on counter, carefully removing the plastic wrap.
Can I Substitute Chili Powder for the Cayenne Pepper?
Chili powder can be substituted for the cayenne, but I would increase the amount to 1/4 to 1/2 tsp.
Get in the kitchen today and bake up a batch of these cupcakes. You'll love the chocolate and cinnamon flavors with the kick of cayenne!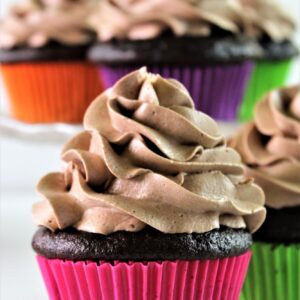 Gluten Free Mexican Chocolate Cupcakes
These gluten free Mexican chocolate cupcakes are a delicious blend of chocolate and cinnamon with a subtle kick of cayenne that'll make you shout olé!! 
Ingredients
CUPCAKES:
2½

cups (375 g)

Kim's gluten free flour blend a store bought blend may be substituted, but hasn't been tested

1¼

cups (132 g)

unsweetened cocoa powder

2¼

tsp

baking powder

1½

tsp

baking soda

¾

tsp

kosher salt

3

large

eggs

1¾

cups (415 ml)

whole milk

(or dairy-free milk if desired)

¾

cup (180 ml)

canola oil (or other flavorless oil)

1

tbsp

vanilla extract

2¾

cup (550 g)

granulated sugar

1¼

cups (300 ml)

very hot coffee (or boiling water)

1

tsp

ground cinnamon

⅛

tsp

cayenne pepper
MEXICAN CHOCOLATE BUTTERCREAM
3

cups (6 sticks or 678 g)

butter, at cool room temperature

5

cups (625 g)

sifted powdered sugar

2

tsp

vanilla extract

1

tsp

ground cinnamon

⅛

tsp

cayenne pepper

½

cup (50 g)

unsweetened cocoa powder

2

ounces (56 g)

chopped bittersweet or semi-sweet chocolate, melted and slightly cooled
Instructions
FOR THE CUPCAKES:
Preheat the oven to 350° F.  Line two 12-cup muffin pans with cupcake liners.  

In a large bowl, add flour, cocoa, baking powder, baking soda, salt, cinnamon, and cayenne pepper. Whisk to sift together.

In the bowl of a stand mixer, add eggs, milk, oil, and vanilla.  Pour the sugar in and then add the dry ingredients.  Blend the mixture at low speed using the paddle attachment until smooth.  Slowly add the very hot coffee or boiling water and pulse to blend on low speed until completely smooth, being careful that it doesn't splash back.  

Fill the muffin cups three-quarters full.  Bake for about 24-26 minutes, or until the tops spring back and a toothpick inserted into the center comes out with just a few crumbs.  

Let the cupcakes cool for about 5 minutes in pan.  Remove to cooling rack to cool completely before frosting.
FOR THE BUTTERCREAM:
In a medium bowl, sift together the powdered sugar, cocoa, ground cinnamon, and cayenne pepper. In a small microwavable bowl, melt the chocolate on half power and stir until smooth. Set aside.

In the bowl of a stand mixer using the paddle attachment, beat the butter on medium low speed until slightly fluffy. Slowly add the powdered sugar mixture and pulse to combine (so a large cloud of chocolate powdered sugar doesn't puff up). Once all the powdered sugar mixture is added, increase the speed to medium or medium high (about 4-6 on a Kitchenaid Mixer). Mix for about 5 minutes or until lighter in color and texture. Add the vanilla extract and melted chocolate and mix just to combine.

Frost cupcakes as desired. If there are any leftovers, place in a sealed container and refrigerate for up to 4 days or freeze for up to 4 months.
Cake recipe adapted from Trophy Cupcakes & Parties.
These cupcakes were originally posted on October 5, 2018 and have been updated with new pictures and an updated recipe for Mexican chocolate buttercream.