Hi, everyone! Happy Saturday morning😎. I can't believe we're more than halfway through July. It's the dog days of summer, in more ways than one!! 🌞🐶🐶
THE WEEK IN REVIEW:
Are you a part of this heat wave going on in a good portion of the US right now? I feel bad for all of those who don't have AC because they're not used to temps like this.
With a heat index in the 110's to 115's today and tomorrow for us here in VB, I plan on staying inside most of the weekend. OR, I'll head over to my mom and dad's and go swimming in their pool. Temps like this make the pool water like bath water, but it's still refreshing and relaxing.
My favorite season is summer, but I do also like fall and spring. The thing about fall that I'm not fond of is that winter is right around the corner, and I am NOT a fan of winter!
I talked to Brandon last weekend and he FINALLY started physical therapy!! That means he's just one step closer to being cleared fit for duty and can get the heck out of there!!
Who took advantage of Amazon's Prime Days??? What deals did you find? I'm always looking for something unique that I can't get elsewhere and I found this cool rolled ice cream maker! It was almost half off. I already have it in the freezer and I'm making ice cream tonight, so I'll let you know how it goes🍦
Previous
---
The BEST Gluten Free Cornbread -- OMG, ya'll! This seriously is one GREAT cornbread that's soft and fluffy and perfectly sweet!!
Gluten Free Lemon Cream Pie -- My key lime pie has some serious competition now with this lemon version! So good, so good, so good! (my mom and I have this Sweet Caroline thing going and every time someone says "so good" we add two more--we're silly I know!).
WHAT I'M LOVING THIS WEEK:
This Baked Spaghetti is like a mashup between spaghetti and lasagna and looks DIVINE!! Scott loves spaghetti and I love lasagna, so I think we'd both love this.
Chili Lime Watermelon??? I must try this!!
Scott would LOVE this Georgia Peanut Pie with Coca-Cola Glaze!!! When we go on long car trips, he always gets a bottle of Coke and a bag of peanuts and dumps the peanuts in his Coke.
On my list of things to try to make gluten free is this Multigrain Bread.
TOP FIVE POSTS THIS WEEK:
Deals This Week:
There are some incredible deals going on with some of my affiliates this week! I'm hoping to continue this every Saturday as new deals come about.
Bluprint is having an awesome deal right now in celebration of their birthday--six own forever Craftsy classes plus unlimited access for only $39.99! That is a HUGE savings!! I think I have at least about 30 own forever classes and I watch them ALL.THE.TIME!! It's not just for baking. They also have photography classes, healthy eating, dance, yoga, quilting, home and garden, jewelry, paper crafts, etc, etc, etc. The list goes on and on.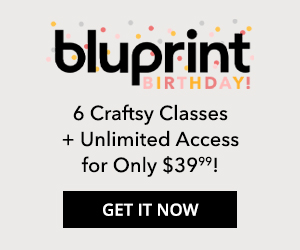 Getting married soon or having any event that you want to perhaps make a candy buffet (bar)? Check out the Candy Store!! They have every color of M&M's imaginable and every other candy you could think of. Take a nostalgic trip back in time to your childhood (hello Zotz!).
I hope everyone stays cool this weekend, whether it's in the AC, a pool, or even a sprinkler (those were the good ol' days!). Or go see a movie! The new Lion King live action movie is out and I'm dying to see it. It was one of my favorites when my kids were little 🦁