So easy to make, my Gluten Free Lettuce Wraps can be made with either chicken OR tofu. I promise no one will know they're not the real thing.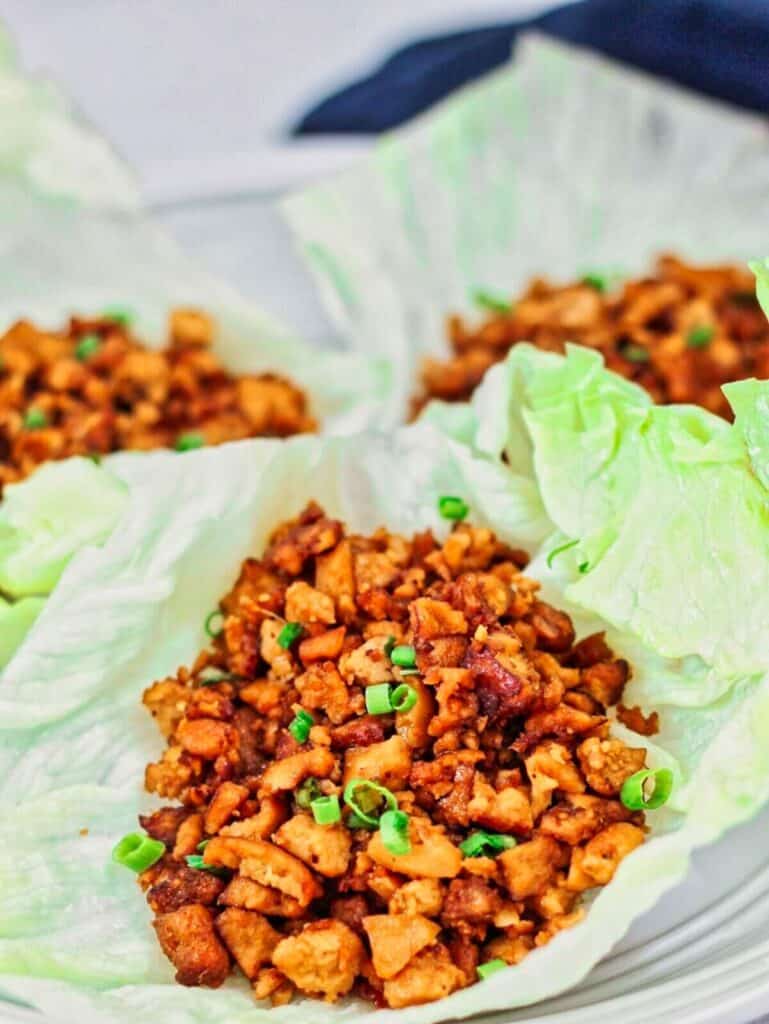 Some of the items linked in this post are affiliate links, meaning, at no additional cost to you, if you click through and make a purchase, I will earn a small commission.
Have you ever been to PF Chang's? The first time I ever ate there was I think up in Manassas, Virginia, where my sister lived for a while. We went to visit and she said we just had to go to PF Chang's because it was so good. I wasn't gluten free back then and I seem to remember ordering a fried chicken dish (honey chicken maybe?) and we all shared the chicken lettuce wraps. Since then, we always order chicken lettuce wraps with every meal. You could (and I have) made a meal with them.
When my daughter's bridesmaids threw her a shower last year, I brought lettuce wraps and a fruit tart. I already had a tried-and-true recipe for chicken lettuce wraps, but my daughter is vegan so I made them with tofu instead. Every single person at the shower was raving about the lettuce wraps and when I mentioned they were tofu, they couldn't believe it. They thought they were eating chicken all along! And I'll tell ya, having had both, I actually think I like the tofu lettuce wraps better! And I'm not a vegan and will never in a million years become one. I'm such a meat lover, Bill Gates will have to pry the beef tenderloin from my cold dead hands before I give it up, haha!
We'll do both versions here so you can decide if you want the chicken variety or want to go out on a limb and try the vegan one. As a serious meat lover, I promise you the meatless variety is amazing!
what you'll need to make chicken lettuce wraps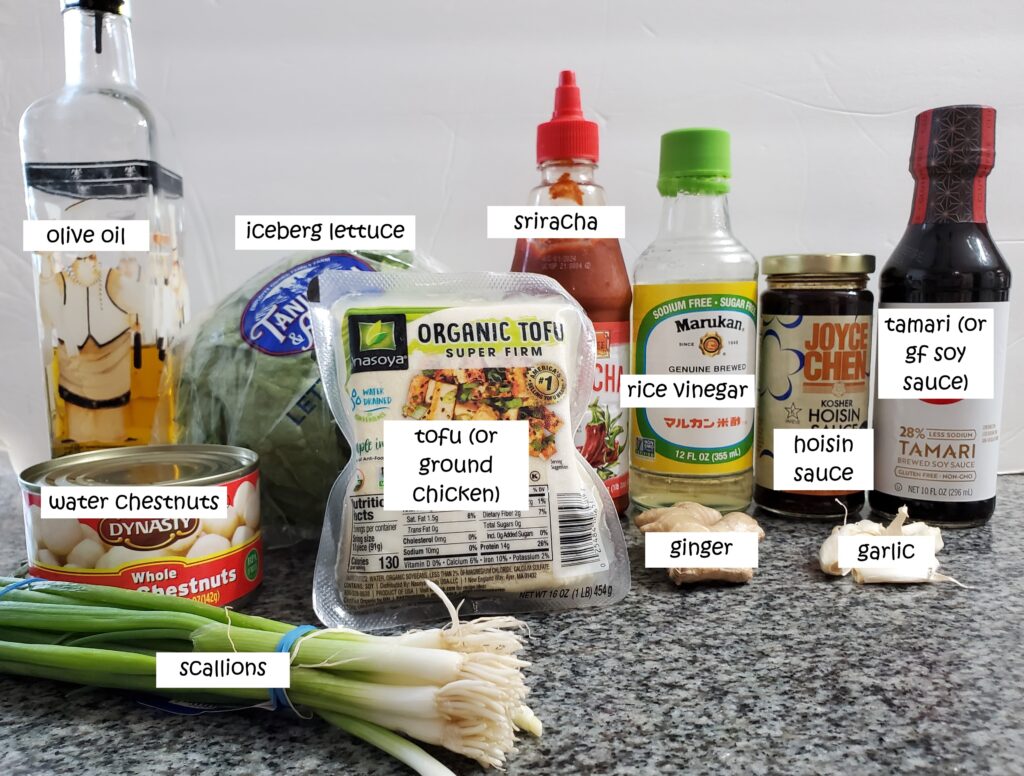 Extra firm tofu (or ground chicken)–for the chicken, you can use any kind of ground chicken (white meat or dark meat) OR you can grind the chicken yourself in a food processor. I'm not always able to find ground chicken at the store, so I'll often buy chicken breasts and grind them myself. Extra firm tofu can be found just about anywhere.
Gluten free soy sauce or tamari
Water chestnuts–this is what gives the familiar crunch in lettuce wraps.
Iceberg lettuce — I've seen copycat recipes using some other types of lettuce, but if you want the true original, iceberg is the way to go. Plus, it's crunchy but still foldable.
how to make gluten free tofu lettuce wraps
Add tofu to olive oil in a skillet set over medium high. Cook for 3-5 minutes, crumbling tofu as it cooks.
Add garlic, ginger, hoisin sauce, tamari (or gf soy sauce), and rice wine vinegar. Stir well and add water. Cover the pan and cook for 3-4 minutes.
Uncover and add sriracha sauce and chopped water chestnuts. Replace the cover and allow to cook for 2-3 more minutes.
Uncover; stir; serve in lettuce with sauce.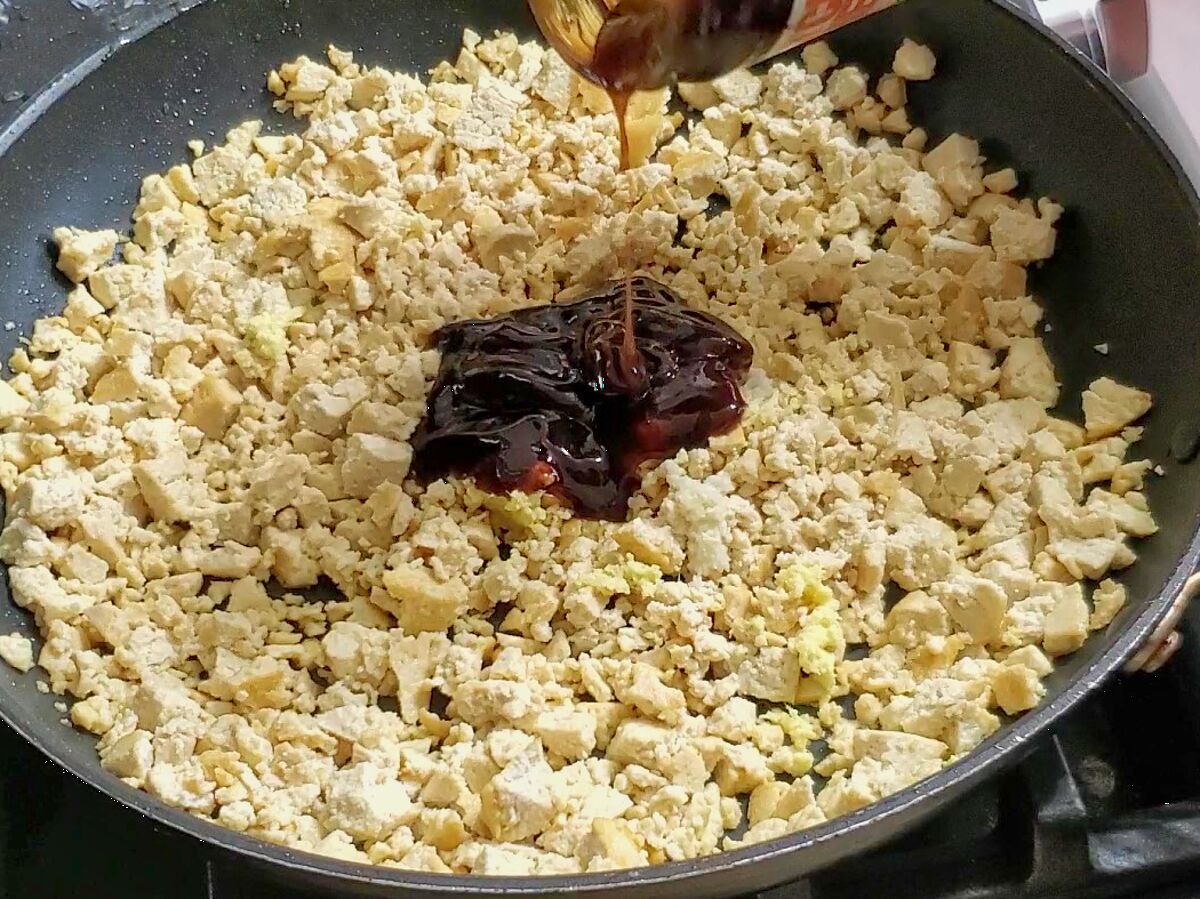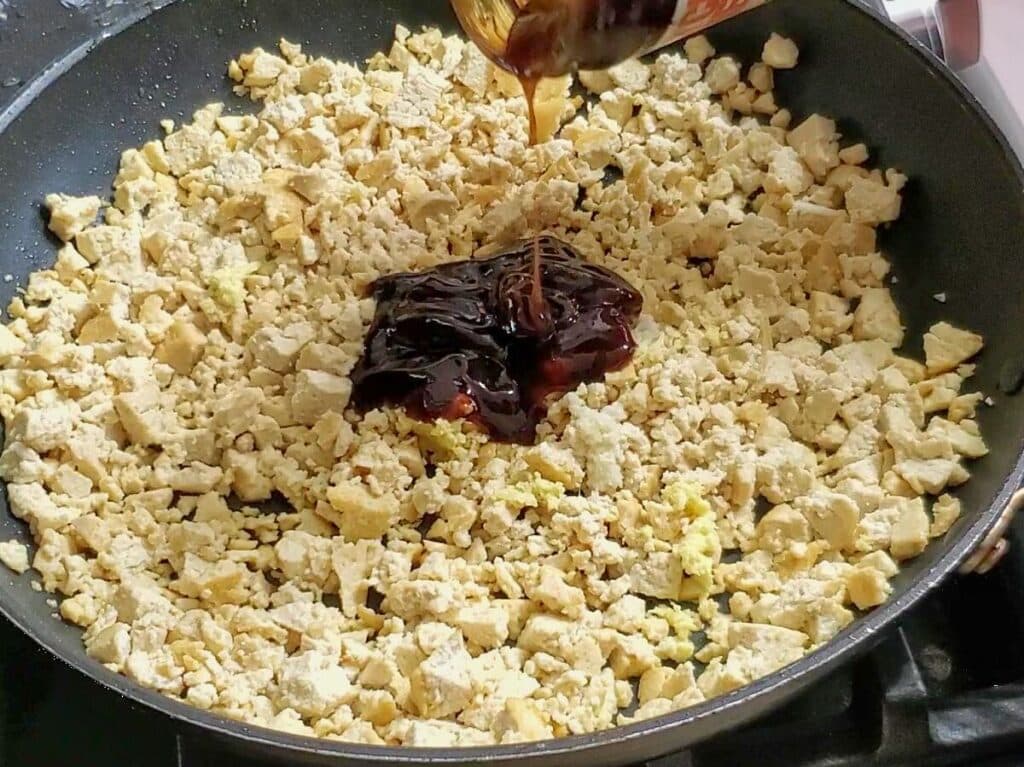 lettuce wraps faqs
Can I use a different kind of lettuce in lettuce wraps?
The original lettuce used by PF Chang's for their chicken lettuce wraps was iceberg. You can certainly use butter lettuce or another type of lettuce that can be made into a wrap. However, the original iceberg is hearty to stand up to the hot filling and gives the crunch and contrast to the filling.
I can't find gluten free soy sauce or tamari. What can I use in my gluten free lettuce wraps instead?
Another good option for gluten free lettuce wraps is coconut aminos.
How long will the filling last?
The tofu filling in gluten free lettuce wraps will keep for 5-6 days in the refrigerator and the chicken filling will keep for 3-4. All components can be made ahead and reheated before serving.
what to serve with gluten free lettuce wraps
Rice
Steamed or roasted broccoli
Small side salad
Gluten free Asian noodles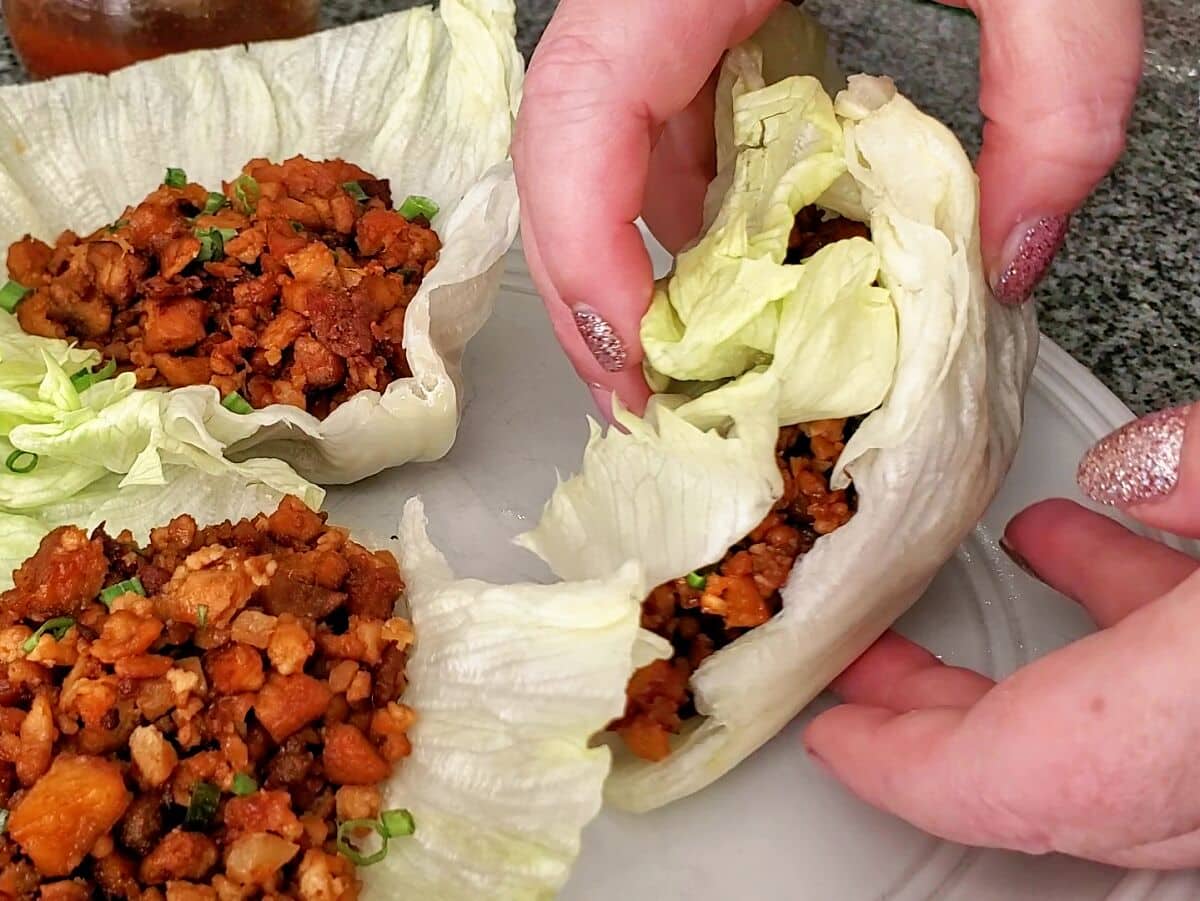 If you think you don't like tofu, I urge you to give these tofu lettuce wraps a try. You won't know you're not eating chicken! But if you still would rather have chicken, make them with ground chicken instead. Either way, they're delicious and healthy and a perfect appetizer, light lunch or dinner.
Gluten Free Lettuce Wraps (PF Chang's Copycat)
So easy to make, my Gluten Free Lettuce Wraps can be made with either chicken OR tofu. I promise no one will know they're not the real thing.
Ingredients
Sauce
2

tbsp

granulated sugar

½

cup (120ml)

water

3

tbsp

gf soy sauce or tamari

1

tbsp

rice vinegar

1

tsp

yellow mustard

1

tsp

Sriracha, or to taste

1

tsp

toasted sesame oil

1

tbsp

chopped green onions
Tofu or Chicken Filling
1

lb (454g)

extra firm tofu, extra water drained

(substitute with ground chicken if desired)

1

tbsp

olive oil

2

cloves

garlic, minced

1

tbsp

grated fresh ginger

¼

cup (60g)

gluten free hoisin sauce

2

tbsp

soy sauce

1

tbsp

rice wine vinegar

1

tbsp

Sriracha, optional

½

8 oz can (113g)

water chestnuts, finely chopped

2

green onions, thinly sliced

salt and pepper to taste

¼

cup (60ml)

water

1

head

iceberg lettuce

(Bibb, butter, or romaine lettuce may be substituted)
Instructions
Make Sauce
Whisk all sauce ingredients together in small bowl until well combined. Set aside.
Make Filling
Heat olive oil in a skillet over medium high heat. Add tofu block (or ground chicken) and break up into crumbles. Cook for 3-5 minutes, breaking up tofu (or chicken) until all of it has been finely crumbled.

Add garlic, ginger, hoisin sauce, soy sauce or tamari, and rice wine vinegar. Add water, turn heat down to medium low, cover, and cook for 3-4 minutes.

Stir in chestnuts and Sriracha and replace cover. Continue to cook for an additional 1-2 minutes, or until chestnuts are slightly tender. Season with salt and pepper to taste.

To serve, spoon several tablespoons of the filling into the center of a lettuce leaf. Spoon sauce over filling. Wrap up like a taco or burrito.
Notes
To reheat, microwave filling for 2-3 minutes or until heated throughout.  Serve with cold crisp lettuce leaves.  
Filling will keep in the refrigerator for up to 4 days in an airtight container and can also be frozen for up to 3 months.