If you can't make it to Disney World for their gluten free churros, you can make them at home. Crunchy on the outside, soft on the inside, they're the perfect sweet snack 😋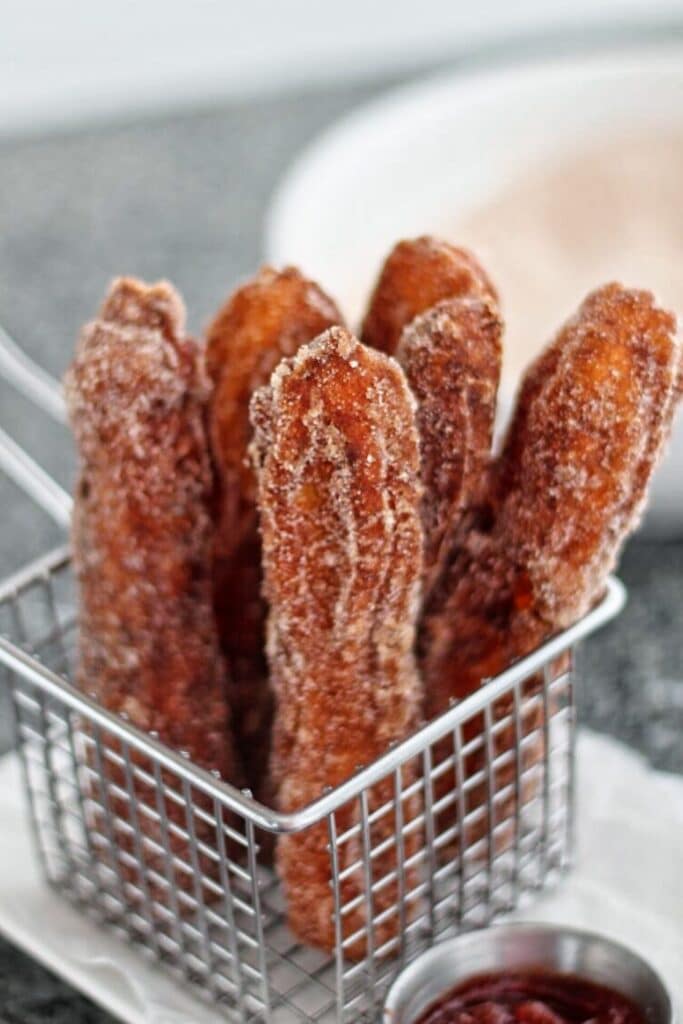 Some of the items linked in this post are affiliate links, meaning, at no additional cost to you, if you click through and make a purchase, I will earn a small commission.
I have a confession to make. I've never had the gluten free churros at Nomad's Lounge in Animal Kingdom! I know, I know. It's super sad, isn't it? The last time I was there (in January) I vowed to have them, but with the new Genie + system, we didn't have time to stop. Have y'all been to Disney since they've implemented Genie+? IMO, it's horrible! I really can't stand it. If they want us to pay for fast passes, fine. But I don't see why they couldn't just keep the same old system and make people pay for it if that's what they must do.
Anyway, how can I possibly make a copycat recipe for something I've never had before?? Well, I HAVE had real (gluten-filled) churros and I bought these really cute little baskets so I just HAD to try and imitate the ones from Disney. I got my baskets at Lidl, but you can also find them on Amazon here (affiliate link).
THE ORIGIN OF CHURROS
First off, let me start by saying that these churros are NOTHING like the ones in Spain, at least according to my mom and dad. We used to live there when I was a very young kid (so I don't remember much) and they said Spanish churros aren't sweet at all. What makes them sweet in Spain is the chocolate dipping sauce. Churros and chocolate are a famous pair. I even remember my high school Spanish textbook being named Churros y Chocolaté, haha!
Cinnamon and sugar are also nowhere in the Spanish version of these fried little gems. Somewhere along the line they were added to the American version and they stuck, literally and figuratively 🤣 I'm not sure if this is a Mexican version, Mexican-American version, or just an American thing. Regardless, they're delicious!!
What You'll Need to Make Churros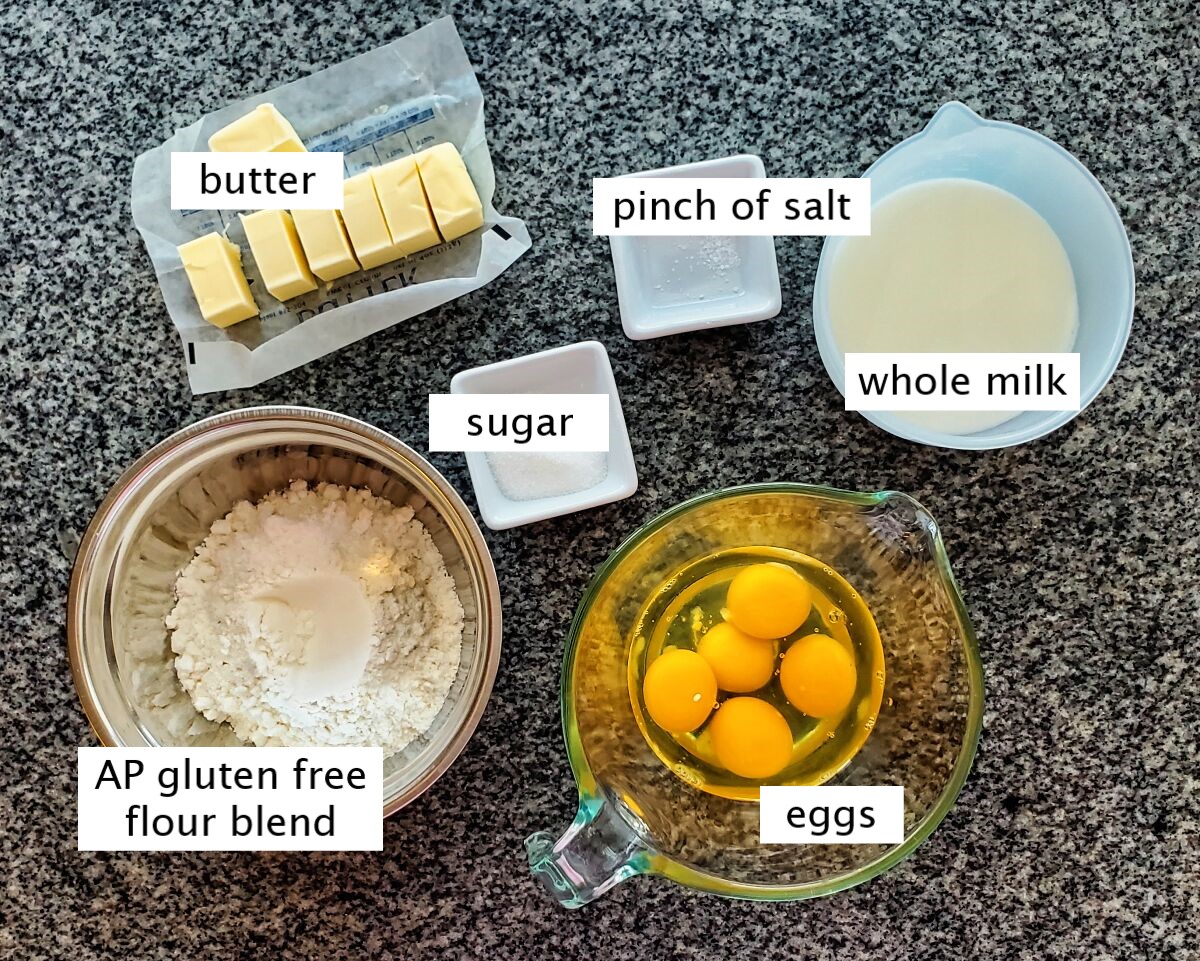 I went a step further by making the sauces that go with those churros from Nomad's Lounge. These are totally optional, but once you try them you may think otherwise! You can also make a simple chocolate sauce, which I'm sure no one will complain about having.
Creme Anglaise
Half and half -- if you can't find half and half in your area (or country), mix cream with milk in equal parts.
Egg yolks
Granulated sugar
Vanilla bean -- vanilla extract may be substituted
Salt
Chili Strawberry sauce
Strawberry jam or preserves -- seedless preferred
Cayenne pepper -- chili powder may be substituted, but I would increase the amount by double
step by step instructions for making churros
making the choux paste (pate a choux)
Place milk, water, butter, granulated sugar, and pinch of salt in a medium saucepan and heat over medium low heat until butter melts.
Increase heat to medium high until mixture begins boiling. Remove from heat.
Dump flour in, all at once, and stir with a wooden spoon vigorously until a ball forms.
Place back over medium-high heat and stir gently, but constantly, until a film collects on the bottom of the saucepan. This will remove any excess moisture from the mixture.
Remove from the heat and dump the thickened mixture into a mixing bowl. Let cool for a few minutes.
Begin beating the mixture on low speed to dissipate any leftover heat, and slowly add eggs, a little at a time, until a thinned paste forms. You may or may not need all of the eggs.
frying the churros
When the choux paste is ready, add an open star tip (affiliate link) to a pastry bag (affiliate link) and fill the bag with the paste. Heat oil to 375 degrees F in a deep or shallow vessel (I prefer shallow frying). With one hand, gently and carefully squeeze churro mixture into hot oil and cut with scissors using other hand. Churros can be as short or long as you'd like.
Fry the churros, about 4-5 at a time, until completely cooked through, about 3-4 minutes per side. They will be dark brown and crispy. Remove them from the oil and place them briefly on paper towels to drain before. Roll them in cinnamon sugar while still warm and serve warm with dipping sauces.
gluten free churros faq's
Can the Churros be Baked?
Yes! Line a baking sheet with parchment paper and pipe churros directly onto parchment in roughly 6 inch sticks, spaced a couple of inches apart. Place in a preheated 400-degree F oven and immediately turn the heat down to 375 degrees F. Bake for 20-25 minutes, or until golden brown and crisp.
How About Air Fried?
I haven't tried it yet, but I'm sure they would work fantastically in an air fryer! Instead of piping into hot oil, pipe onto a baking sheet (as above) and place the sheet tray in the freezer until the churros are solid (30 minutes to an hour minimum). Preheat the air fryer to 400 degrees F and place a few frozen churros into your air fryer basket/tray. Reduce the heat to 375 degrees F and bake for 20 minutes, checking halfway through as all air fryers are different.
Can They be Made Ahead of Time?
If you're frying your churros, you can always pipe them onto a parchment-lined baking sheet (as above) and freeze them a few days ahead of time. They can be fried from frozen (add a few more minutes to fry time). They'll lose a little definition in their shape, but who cares? They'll still taste FABULOUS!! Once fried, they should be served immediately.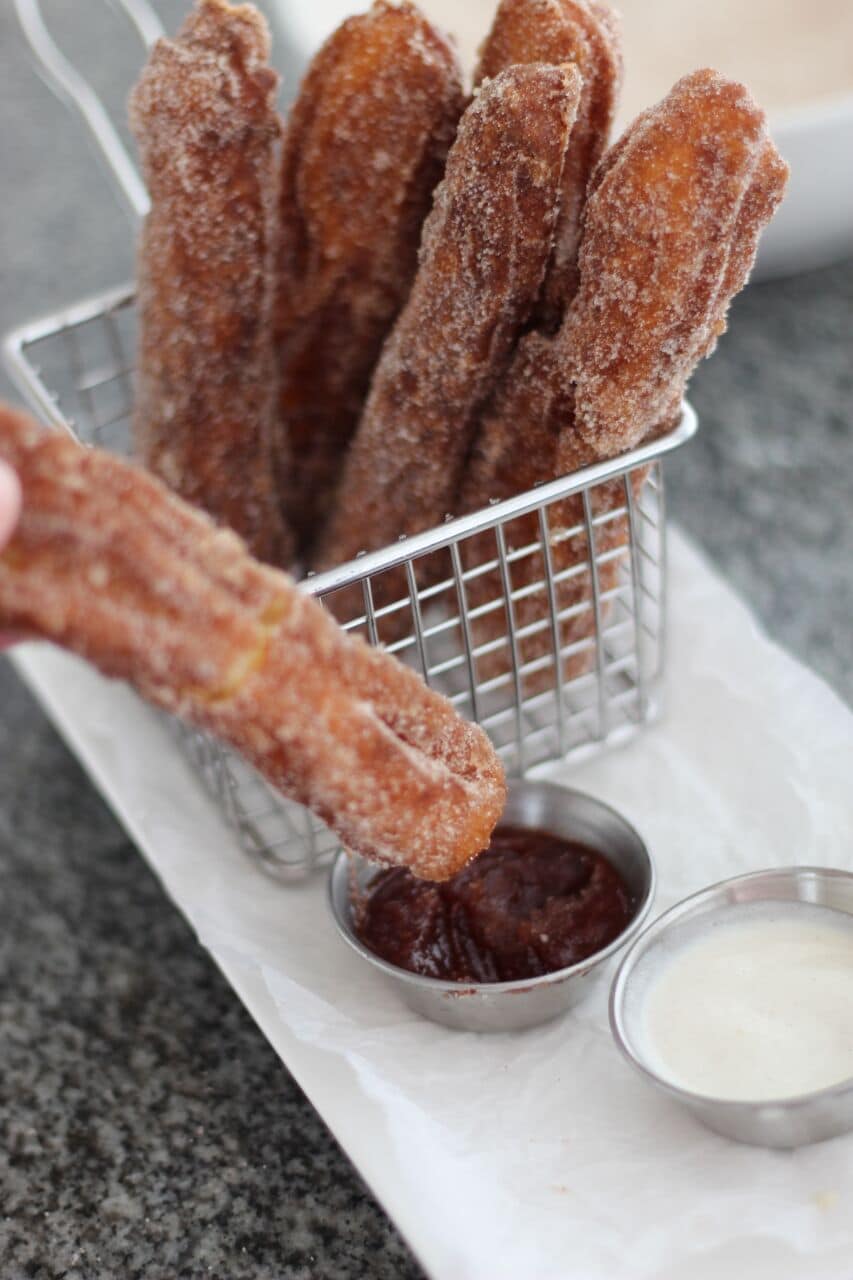 I'm still waiting for the day when I can finally try the gluten free churros at Nomad's Lounge in Disney World. But until then, I'll go ahead and make my own version and I think they'll be just as good (maybe even better 😉).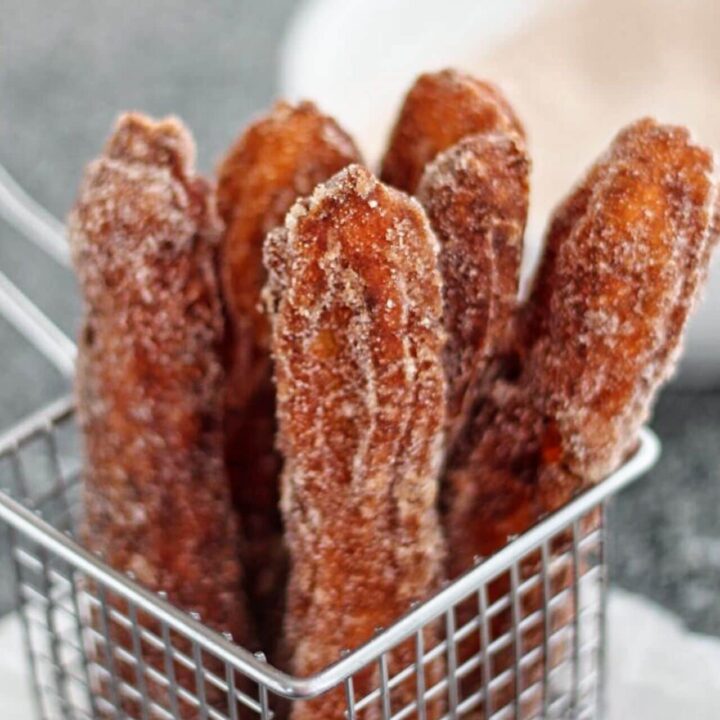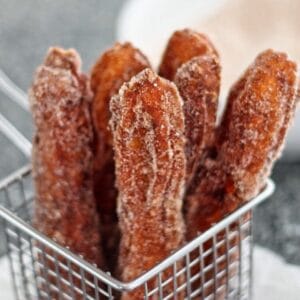 Gluten Free Churros (A Disney Copycat Recipe)
If you can't make it to Disney World for gluten free churros, you can make them at home and they'll be delicious!!! Crunchy on the outside, soft on the inside, they're the perfect sweet snack 😋
Ingredients
¾

cup (180 ml)

whole milk

¾

cup (180 ml)

water

1

stick (½ cup or 113 ml)

butter, cut into pieces

1

tablespoon

granulated sugar

pinch of salt

1

cup (140 g)

Kim's all purpose gluten free flour blend a store bought blend may be used, but hasn't been tested

5

large

eggs, beaten and at room temperature

you may or may not need all of the eggs

oil for frying
CINNAMON SUGAR MIXTURE:
1

cup (200 g)

granulated sugar

1

tablespoon

ground cinnamon
CREME ANGLAISE:
1

cup (240 ml)

half and half

or ½ cup each of heavy whipping cream and whole milk

4

large

egg yolks

¼

cup (50 g)

granulated sugar

1

vanilla bean pod

or 1 tablespoon vanilla extract

pinch of salt
CHILI STRAWBERRY SAUCE:
1

cup (320 g)

strawberry jam (seedless)

1

tsp (more or less to taste)

cayenne pepper

chili powder may be substituted to taste

1½

teaspoon

water
Instructions
In a small saucepan, add milk, water, butter, sugar, and the pinch of salt. Stir over medium-low heat with a wooden spoon until sugar melts completely (don't rush this step). Turn mixture to medium-high until it begins to boil rapidly.

Remove pan from heat and dump flour in, all at once, and stir vigorously with wooden spoon.

Place pan back on stovetop over medium heat and stir continuously until mixture balls up and a film is left on the bottom of the pan, about 1-2 minutes.

Remove pan from heat and dump mixture into a large mixing bowl. Begin mixing on low speed just to allow some of the heat to dissipate for a few minutes. (This can also be done by hand with a wooden spoon and a lot of elbow grease).

Add eggs, a little at a time, beating after each addition. It will look curdled at first, like it's not going to come together, but keep mixing. It should be shiny and smooth at the end, but should slowly fall off the beater when lifted.

At this point, you can fill a pastry bag fitted with an open star tip, or you can cover the paste with plastic wrap directly touching the surface and place either in the refrigerator for 1-2 hours. This will allow the paste to settle, remove any air bubbles, and be easier to pipe.

Begin heating oil in deep fryer, large Dutch oven, or cast iron skillet (for shallow frying) to 375° F. In shallow bowl, mix together cinnamon and sugar and set aside.

Holding the pastry bag in one hand and a pair of kitchen scissors or a knife in another, pipe a strip about 6 inches long in the oil and cut it off with the scissors. Fry 5-6 at a time. When you do this, the temperature should drop to 350° F (which is ideal). If it does not, reduce the heat to bring the temp down. Fry for about 3-4 minutes per side.

Remove churros from oil and drain briefly on paper towels before dredging in cinnamon sugar. Serve immediately.
FOR THE CREME ANGLAISE:
Split open a vanilla bean pod and remove the seeds by scraping the dull side of a small knife along the inside. In a medium saucepan over medium heat, bring the half and half and vanilla bean seeds (along with the scraped out pod) to a simmer. Meanwhile, in a large bowl whisk the egg yolks, sugar, and salt until lighter in color and thick.

While continuing to whisk, slowly pour about ¼ cup of the hot half and half into the egg mixture to temper the eggs. Don't worry about the vanilla bean pod. It can be left in the mixture until the very end. Continue adding about ¼ cup of the hot half and half at a time, whisking continuously, until all the half and half has been combined with the egg mixture.

Pour the mixture back into the saucepan, taking care to scrape the bottom of the bowl to get all the vanilla seeds. Over medium-low heat, whisk the mixture constantly until the mixture thickens. This will take anywhere from 3-5 minutes.

Remove from the heat and pour through a sieve into a clean small bowl to catch any overcooked egg bits and the vanilla bean pod (don't throw away the used pod--rinse it and allow it to dry and store in a container with some sugar to make vanilla sugar). Cover with plastic wrap directly on the surface of the sauce. Chill the sauce for at least one hour or up to overnight. Serve chilled with the churros.
FOR THE CHILI STRAWBERRY SAUCE:
Combine the strawberry jam with the cayenne pepper and water in a small microwave-safe bowl. Microwave for one minute. Stir. Allow to cool before serving with the churros.