I made a gluten free caramel cake to celebrate Let Them Eat Gluten Free Cake's second year! If you love caramel, you'll love this cake!!
I cannot believe another year has passed being able to do what I absolutely adore doing--sharing my successes in gluten free baking and cooking with all of you!
It seems like just yesterday that I had the idea to start this little blog. But time truly does fly when you're having fun and I certainly am having a BLAST!!!! After spending the first half of my life in thankless jobs, I am forever grateful to be given this second chance at something I believe I was born to do--bake!
By the time I was born, or at least able to remember, my grandma was wheelchair bound with terrible arthritis. But my mom constantly talks about all the things my grandma used to bake back in her day and says that I get my love for baking from her. So I dedicate my blog to my grandma, who, without, I may not have had a baking bone in my body!
What I've Learned in the Second Year of Blogging
My brain has been exploding with all sorts of new things in the past year!! Who woulda thought I'd be creating videos and actually putting myself in them (something I wasn't comfortable with at first)? Or that I'd be uploading those videos to YouTube of all places??? I mean, I'm 50 years old, not the usual 30 something that most bloggers are.
But apparently you CAN teach an old dog new tricks, haha! This old dog has been learning how to edit videos using Adobe Premiere Pro. Just the basics of course, but I seem to learn something new every day. So if this gig doesn't work out, maybe I could work in the film industry. Haha!
What I Love the Most About Blogging
Aside from being in the kitchen baking, the thing I love the most about blogging is you all!!!! Your comments on the blog and throughout social media have, at some times, brought me to tears!
But they are happy tears! Hearing that your son and his cousin have had donuts for the first time in years, or that your daughter enjoyed her first cinnamon roll ever, or that you just had the "best pizza of my life" (in your own words) is absolutely priceless!!!!! Thank you from the bottom of my heart for your continued support! I wouldn't be here without all of you💗
I say it all the time. Being diagnosed with Celiac was a blessing in disguise for me. If I attempted to create a blog that was just a regular baking blog, I don't know if I would have stood a chance (there are SO many food blogs!). But the gluten free niche gives me an edge that I may not otherwise have. And for that I am truly grateful!
Gluten Free Caramel Cake
Even though I technically live in the south (Virginia), I have never tried a traditional southern caramel cake. So for my second blogiversary, why not give it a go?
This is a simple vanilla butter cake that's been filled and frosted with buttery, smooth, and rich caramel. If you're a caramel lover like I am, this cake will fit the bill for a different cake than just the usual vanilla or chocolate. Not that those aren't wonderful in their own rite.
Tips for Making Caramel
Use a heavy bottomed saucepan.
Don't start the caramel over high heat. The sugar crystals need to completely melt before bumping up the heat.
As soon as the mixture begins to boil, take a pastry brush dipped in water and brush the sides of the pot down. This will remove any sugar crystals that may be present, which will cause the caramel to be grainy.
Clip on a candy thermometer. If you don't have one, here's a helpful article on how to figure out the proper temperature without one.
Stir, stir, and when you think your arm will fall off, stir some more. The caramel will scorch on the bottom if you don't continuously stir.
The whole caramel making process will take approximately 25 minutes or so. It's a lot of standing and stirring. Be patient. It's worth it in the end 🙂
The Vanilla Butter Cake
This recipe is such an adaptable recipe in that it can be made into a cake or cupcakes with excellent results. It's the same cake recipe that I used for my first blog birthday, minus the sprinkles.
After mixing the batter, make sure not to ignore the step to let the batter sit for roughly 15 minutes. It makes all the difference in the world in this particular cake batter as it allows the flour and starch in the blend to hydrate really well.
You can bake this in three 8-inch cake pans or two 9-inch pans. For the cakes, bake for about 45-50 minutes, or until a toothpick inserted into the center of the cakes comes out clean.
Putting Together the Gluten Free Caramel Cake
My suggestion when building the cake layers is to have them all ready before beginning the caramel. The caramel sets up pretty quickly and waits for no one.
As soon as the caramel is cooled enough to spread on the cake (about 5-10 minutes after taking it off the heat), pour about ½ a cup of it onto one layer and spread to the edges. Stack the next layer, pressing lightly to adhere to the bottom one. Repeat this through the third and final layer.
Take what's left of the caramel and pour it over the top of the cake, letting it slowly cascade down the sides. You can fill in the sides using an offset spatula, or you can leave it rustic and just let the drips lie where they fall.
If desired, sprinkle a little bit of flake salt on top of the cake. The salt helps cut the sweetness from the caramel, allowing for a really balanced bite of yummy gluten free caramel cake!!
Thank you all for your support and wonderful comments throughout these past two years! I feel so connected to all of you as we're all in this gluten free life together. I hope you can enjoy the fruits of my labor with this buttery gluten free caramel cake 🎂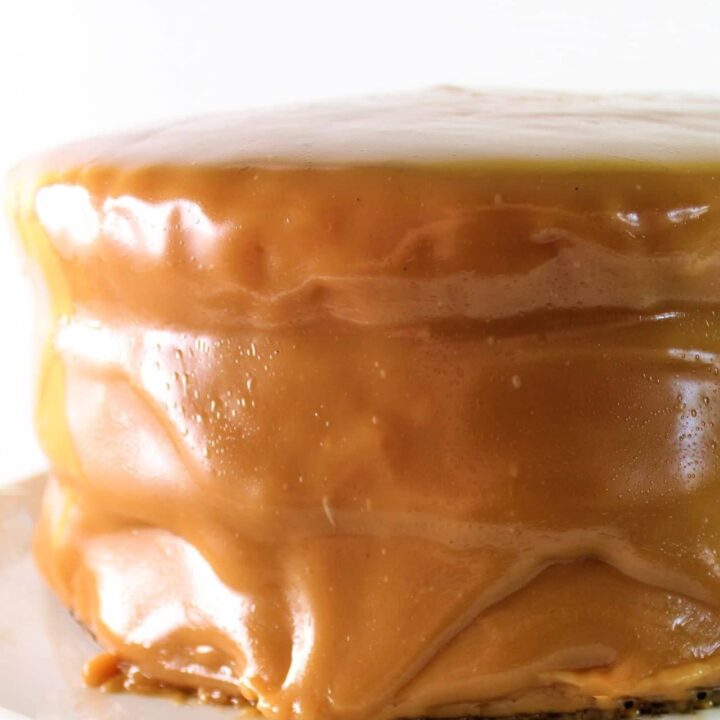 Gluten Free Caramel Cake
I made a gluten free caramel cake to celebrate Let Them Eat Gluten Free Cake's second year! If you love caramel, you'll love this cake!!
Ingredients
Cake
2¾

cups (400 g)

Kim's gluten free flour blend

2

tbsp (16 g)

cornstarch

2

teaspoon

baking powder

1¼

teaspoon

kosher salt

1¼

cup (300 ml)

milk

¼

cup plus 3 tablespoon (105 ml)

heavy cream

1

tablespoon

vanilla extract

1

cup (226 g)

butter, softened

2¾

cups (550 g)

granulated sugar

3

large

eggs, at room temperature
Caramel Frosting
3

cups (720 ml)

heavy cream

1½

cups (300 g)

lightly packed light brown sugar

3

tablespoon

light corn syrup

¼

teaspoon

salt

2

teaspoon

vanilla extract

flake salt for decorating, if desired
Instructions
Bake the Cake Layers:
Preheat the oven to 350° F. Line the bottom of three 8-inch round cake pans and spray with nonstick spray. Set aside.

In a large bowl, whisk together all dry ingredients and set aside. In a large measuring cup, whisk together milk, cream, and vanilla extract and set aside.

In the bowl of a stand mixer, cream butter and sugar together until light and fluffy, about 3-5 minutes, scraping the bowl down a few times in between. Add the eggs, one at a time, beating until well incorporated and light.

Begin adding flour mixture and milk mixture in alternating additions, beginning and ending with flour mixture.

Let the batter sit for 15-20 minutes. Before pouring into pans, give it a brief stir and scrape of the sides. Pour into prepared pans and bake until a toothpick inserted into the center comes out clean, about 50-55 minutes.

Cool the cakes in the pans for about 10 minutes before removing and placing on wire rack to cool completely.
Make the Caramel:
In a large heavy-bottomed saucepan (you'll need at least a 4-quart) add the heavy cream, brown sugar, corn syrup, and salt. Stir over medium low heat with a heatproof spatula or wooden spoon until the sugar has dissolved and the mixture begins to boil.

Clip on a candy thermometer (see inside post for how to make without a thermometer) and allow the caramel to boil, stirring constantly, until it reaches 234° F. Immediately remove it from the heat and add the vanilla carefully (it will sputter and bubble significantly when you do this).

Allow the caramel to cool until it thickens slightly, enough to be able to spread it, about 5-10 minutes.

Spread about ½ cup between each layer and then pour the rest of it on top of the assembled cake and allow it to drip down the sides. You can smooth the sides or leave it rustic.

Cake will keep at room temperature, well covered, for 2-3 days.
Adapted from Cleobuttera's The Perfect Caramel Cake