Move over, Swiss and Italian meringue buttercream. French buttercream is the most luxuriously silky smooth frosting you will ever put in your mouth!!
I LOVE, LOVE, LOVE a good buttercream frosting, don't you? I mean, the frosting really IS the icing on the cake, so to speak. Without the frosting, the cake is just…cake. There is nothing wrong with just…cake, but when you add frosting to cake, it becomes a whole different animal.
I've been making frostings from scratch for as long as I can remember. I was always into baking and cake decorating. When my grandma was in town for my high school graduation, I made her a teddy bear-shaped cake for her birthday. What the heck was I thinking? A teddy bear? I guess that's the one pan I had and back then, decorating cakes was all about putting a million stars on the cake to fill in each area, haha!
For the longest time, if you wanted a shaped cake, you had to shape it yourself like my mom would do (see this post). My mom always made homemade frosting to go on her cakes, just like I do now. I'm not one for buying pre-made things, especially frostings! No offense to anyone who is. I just like to make most everything from scratch because I feel scratch baking is far more superior than pre-packaged.
Since my kids' first birthdays, I've been making their cakes from scratch, complete with homemade buttercream and sometimes fondant, too. I remember those cakes usually being some character they were into at the time (Blue's Clues, anyone?). All of them were iced and decorated with French buttercream.
What is French Buttercream?
French buttercream is buttercream frosting made with egg yolks, a syrup of sugar and water, and butter. Have you ever made Italian meringue buttercream? French buttercream basically uses the same technique as Italian meringue buttercream, but instead of using the egg whites it uses egg yolks!
As you can imagine, using the yolks will make a richer frosting. It's also not overly sweet, like a lot of American buttercreams tend to be (not mine, though).
French buttercream is, in my opinion, the BEST buttercream ever! I think anyone who's ever had any of my cakes or cupcakes would agree. Scott told me a long time ago that I should put this in jars and sell it by itself. Haha! I don't know about that, but he's basically expressing how much he loves this frosting 🙂
Before You Begin
It's surprisingly easier to make French buttercream than you'd think. There is one tool that you'll need, though, and that's a candy thermometer. You need to cook the sugar syrup to the correct temperature before slowly drizzling it into the egg yolks.
Butter–this is the #1 ingredient and it cannot be substituted. You cannot make this buttercream with vegetable shortening, vegan butter substitute, or anything other than butter. Cube your butter (into approximately 2 tbsp chunks) and set aside until ready to use.
Egg yolks–another ingredient that cannot be substituted. Place all of the egg yolks into the bowl of a stand mixer.
Sugar–surprisingly, this entire recipe only requires one cup of sugar. American buttercream recipes often use 4+ cups of powdered sugar.
Water–essential for making the sugar syrup.
Flavoring–this is where you get to experiment, so keep reading and you'll see just a smidgen of the options. Prepare your flavoring and set it aside until ready to use.
Making the Sugar Syrup
Begin by placing the sugar into a small saucepan. A trick I learned from a class I took on Bluprint is to always start any sugar syrup by adding the sugar to the pan first, and then slowly pouring the water around the outer edge of the pan. What this does is lessens the chance of having sugar crystals cling to the side of the pan.
Another trick I learned from that very same class on Bluprint is that you should NOT stir sugar syrups! Doing so will only cause sugar crystals to adhere to the sides of the pan, which means you'll need to wash those sugar crystals down.
Clip on your candy thermometer and boil the syrup until it reaches 239 degrees F, or soft ball stage. If you're old school and know how to do this without a thermometer, go for it! If you're not, like me, get yourself a candy thermometer.
Adding the Sugar Syrup to the Yolks
Start whipping the egg yolks a few minutes before your syrup reaches the proper temperature. Then slowly pour a stream of the sugar syrup in between the whisk attachment and the side of the bowl. If you hit the whisk, the whisk will just fling the sugar syrup onto the sides of the bowl (or worse, on you). If you drizzle it down the sides of the bowl, most of it may actually harden along the sides of the bowl and you'll be left with a clump of sugar that's been hardened.
Once all the syrup is in the bowl, turn the mixer up to high and whisk until the eggs have lightened in color and texture. The bottom and sides of the bowl will feel lukewarm to the touch. This can take anywhere from 5-10 minutes, depending on the temperature of your room and egg yolks.
The Best Part–the Butter
Now you're ready to add the butter. Add one chunk of butter at a time, allowing it to fully mix in before adding another chunk. At some point during this process, your mixture may begin to look curdled. That's perfectly normal. Just keeping adding the butter and it will smooth out.
At this point, you can add any flavoring of your choice. In the video, I added lemon zest and freshly squeezed lemon juice. But the sky is the limit when it comes to flavoring French buttercream. Just remember, because of the yolks (and the butter, too) your frosting will always have a yellowish tint to it. I once read something about adding a swipe of violet gel color to offset that tint, but I've never tried it myself.
Flavoring Suggestions
I've been making this frosting for so many years and wish I knew where I got it from. I wish I could give credit where credit is due because this is one of my most treasured recipes! Over such a long time period, I've flavored this buttercream so many different ways. It takes well to so many amazing flavors. Here are some suggestions (feel free to adjust amounts to taste):
Fruit purees and/or fruit liquors, such as strawberry or raspberry (about 1/2 to one cup of fruit puree or 1/4 of fruit liquors)
Citrus fruits, such as lemon, lime, or orange (finely grated rind of about 2 lemons or 3 limes and the juice of each)
Chocolate, dark, milk, or white, melted and cooled (about 8 oz)
Coffee or even tea, coffee extract or instant espresso dissolved in boiling water (1 1/2-2 tbsp)
Spices, such as cinnamon, cardamom, a chai blend, pumpkin pie spice, etc. (about 1-2 tsp or to taste)
Liquors, such as amaretto, Irish cream, Kahlua, , etc, etc. (about 2 tbsp)
Nuts, finely ground and toasted (about 1/4 cup)
Praline, finely ground (1/2 cup)
Vanilla extract, seeds, or paste (1 pod or 1 tbsp extract or paste)
Almond extract (about 1/2 to 1 tsp)
If you'd like to taste the most luxurious, smooth, and silky buttercream you've ever had, give French buttercream a try. I think you will find it to be your new favorite!!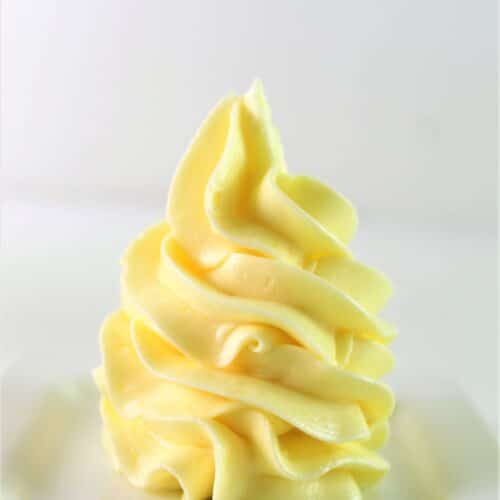 French Buttercream
Move over, Swiss and Italian meringue buttercreams.  French buttercream is the most luxuriously silky smooth frosting you will ever put in your mouth!!
Ingredients
6

large

egg yolks

1

cup (200 g)

granulated sugar

½

cup (120 ml)

water

1½

cups (3 sticks or 339 g)

butter, cut into cubes and at cool room temperature
Instructions
Place the yolks in the bowl of a stand mixer and fit the mixer with the whisk attachment. Set aside.

Add the sugar to a small 2-quart saucepan and carefully pour the water around the edges.  Don't stir it! Turn the heat on to medium and allow the mixture to come to a boil WITHOUT stirring!

As soon as the sugar syrup begins to boil, clip on a candy thermometer. When the mixture reaches around 220° F, begin whisking the egg yolks on medium.

When the sugar syrup reaches 239° F, immediately remove from the heat.  With the mixer running at high speed, slowly and carefully pour hot sugar syrup into egg yolks, trying to reach the spot between the whip and the sides of the bowl, or right about the edge of where the yolks meet the sides.  

Continue to whip until the mixture is light, fluffy, and cool to the touch.

Gradually beat butter into the yolk mixture, a few tablespoons at a time, until all the butter is incorporated.  Mixture may look curdled during this stage.  Just keep mixing and it will smooth out.

Flavor as desired.  Use immediately or refrigerate until ready to use.  Store in air tight container up to two weeks in the refrigerator or freeze for up to three months. Recipe can be doubled or even tripled.
This recipe was originally posted on November 7, 2018 and has been updated with new pictures and a new video.