These are your absolute favorite recipes of 2019 from Let Them Eat Gluten Free Cake!! And guess what? They're ALL breads!
Can you believe that today is the very last day of the year, let alone the decade???? It just blows my mind! Once I hit 40, the years have really been FLYING by!
When I decided to do this post, I pretty much already knew your favorite recipes of 2019 were all going to be breads! Breads have always topped the charts on this blog of mine and for good reason. That's what we ALL miss the most, right? And they happen to be the hardest things to make gluten free because gluten is what's needed to make bread the traditional way.
So let's get to it and countdown the top recipes on the blog that YOU picked!!
Who says we can't have the softest gluten free rolls ever? Not me…anymore!! These rolls will blow your mind and make you question whether you're actually eating the real deal. Soft, fluffy, buttery–what more could we ask for in a gluten free roll?
Remember those apple fritters we used to get at bakeries? The ones with cinnamon apple chunks intertwined with cobblestones of dough and drenched in a vanilla glaze? These delicious gluten free apple fritters are JUST LIKE THOSE!! You seriously won't know the difference.
Move over, Thomas' English Muffins! We got tired of waiting for you to come up with a gluten free muffin, so we made one ourselves! These gluten free English muffins rival yours with all the nooks and crannies we've been missing 🙂
Once you make this AMAZING gluten free pizza crust, you'll never buy another prepackaged one again! If you're missing a great New York style pizza in your gluten free life (that folds!) look no further. You've found it!
Are you missing Krispy Kreme style donuts in your gluten free life? Have I got a treat for you then. You're gonna FLIP over these incredible gluten free yeast donuts that are so much like Krispy Kreme, you'll think you're cheating on your gluten free self!!
It's so easy to make this wonderful gluten free focaccia bread! It's light and airy with a crunchy top and bottom crust. Focaccia is flavored with olive oil, rosemary, sea salt, and a light sprinkling of parmesan cheese.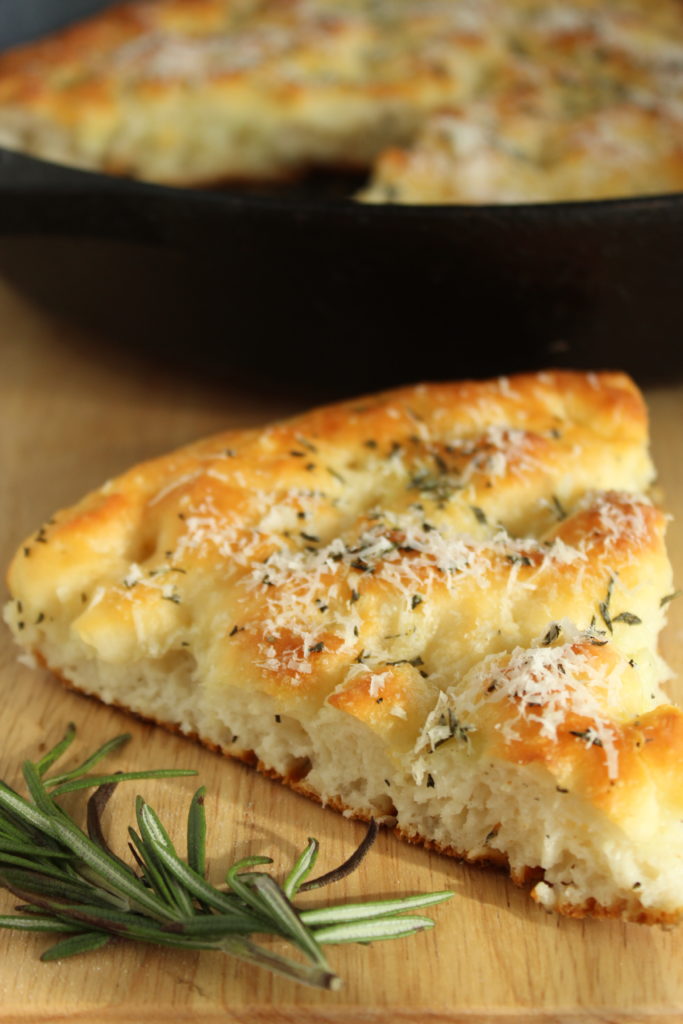 Let me start by saying this FABULOUS gluten free Italian bread was a total accident. I am so, so glad it didn't turn out the way I wanted it to, though! This bread is so freaking good! It's soft and fluffy with a thin soft crust that's just absolute perfection.
What's a Thanksgiving dinner without a basket of soft, fluffy dinner rolls? These gluten free Hawaiian rolls will satisfy your cravings for those buttery rolls we've all been missing. I dare anyone to believe they're gluten free!
This gluten free artisan bread is the crusty bread you thought you'd never have again. One bite and you'll be in absolute HEAVEN! Better still, NO ONE will know it's gluten free!
And the #1 recipe of 2019 was…
These ultimate gluten free cinnamon rolls will be the best you will ever have! Warm, gooey, and SOFT, I bet you can't stop at just one!
What was YOUR favorite recipe of 2019?
From the bottom of my heart, THANK YOU so much for making 2019 one of my best years ever!! I hope to continue to be a part of your 2020 and I wish you only the best in the new year! xoxo