This one bowl, super easy Gluten Free Cornbread is perfectly sweet, crunchy on the outside and soft and tender on the inside.
Are you team sweet cornbread or team not sweet cornbread? I'm definitely in the sweet cornbread camp (did you guess any different?). I actually didn't even realize cornbread was anything but sweet for the longest time. And when we first went to the Hoop Dee Doo Musical Revue at Disney World ages ago, I'm sure I was served this sweet cornbread and I never looked back.
So when we went back to Disney at the beginning of 2020, I was so disappointed with the gluten free cornbread they served me (see my review here), I vowed I would make their original version gluten free when I got home. I'm so glad I did because I will never make another cornbread recipe again!
HOW I MADE THIS CORNBREAD GLUTEN FREE
You would think that cornbread would be naturally gluten free, but you'd be wrong! Unfortunately, most cornbread recipes have flour in them. Substituting with my AP GF flour blend was the biggest change to Disney's original recipe.
The cast of characters also includes:
Cornmeal — Make sure the cornmeal is gluten free!
Sugar — some people think sugar doesn't belong in cornbread, but I say they don't know what they're talking about.
Baking Powder — this will help the bread rise.
Vegetable Oil — the oil in this bread makes it the most incredibly moist cornbread you'll ever have.
Buttermilk — I substituted the milk in the original recipe with buttermilk because it makes the cake richer and even more tender.
how to make the best cornbread
Cornbread is one of those things that can be thrown together at the last minute. It takes no time at all to make, only uses one bowl, and bakes in less than 30 minutes!
Add gf flour blend and cornmeal to a large bowl, along with baking powder and salt. Whisk to combine.
Make a well and add in the buttermilk, eggs, and oil. Switch to a spoon or spatula to stir until mixed thoroughly.
Pour into greased baking pan and bake for 20-25 minutes, or until a toothpick comes out clean.
THAT IS IT, PEOPLE!! It's just that simple to be in cornbread heaven in no time. And of course, no one will ever know it's gluten free.
common questions
Can I Use Corn Grits Instead of Cornmeal?
YES, you can most definitely use corn grits instead of cornmeal! I actually prefer grits to cornmeal because they give a nice little crunch in the bread, but either can be used with great results!!
I Don't Have Mini Loaf Pans. What Can I Use Instead?
You have several options. A 9 by 13-inch baking pan, muffin pans, two 8 by 8-inch square baking pans, a cast iron skillet, or even a pie plate. Times will need to be adjusted up or down relevant to the particular pan you use, but you don't need to run out and get mini loaf pans (unless you like the idea of mini loafs like I do)!
What Can I Serve Cornbread With?
My favorite thing to make cornbread with is ribs (grilled or oven baked). Any barbeque, such as barbequed chicken, pork barbeque, or brisket are all great as well. Another common thing to serve cornbread with (and maybe most common) is chili.
Can Cornbread be Frozen?
Absolutely!! Wrap any leftover cornbread in plastic wrap and place in a large ziptop plastic bag, removing as much air as possible. Freeze for about 2-3 months. To thaw, leave individually wrapped slices fully wrapped until thawed on countertop to retain moisture.
Can This Cornbread be Made Dairy Free? Egg Free?
I haven't tried it, but swapping the buttermilk with dairy-free milk mixed with one tablespoon of vinegar or lemon juice should be a suitable alternative for dairy free. For egg free, an egg substitute, such as JUST Egg, can be attempted.
more disney copycat recipes
If you're team sweet cornbread, try my gluten free version of Disney's cornbread and see for yourself how perfect it is.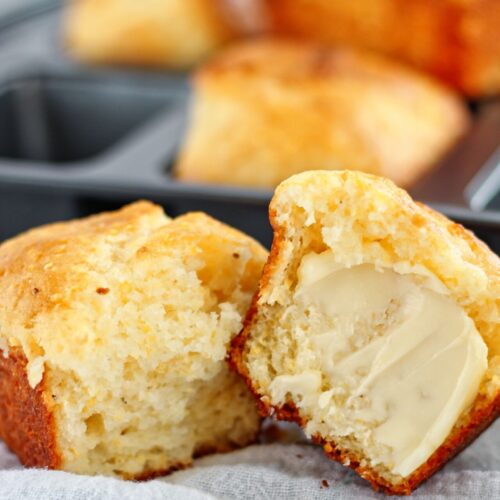 Sweet Gluten Free Cornbread
This one bowl, super easy Gluten Free Cornbread is perfectly sweet, crunchy on the outside and soft and tender on the inside.
Ingredients
¾

cup (90 g)

gluten free cornmeal or corn grits

1¼

cups (250 g)

granulated sugar

1½

tsp

salt

1

tbsp

baking powder

1¾

cup (245 g)

Kim's all purpose gluten free flour blend a store bought blend may be substituted, but hasn't been tested

½

cup (120 ml)

vegetable or canola oil

1

cup (240 g)

buttermilk (full fat preferred)

2

large

eggs, at room temperature
Instructions
Add all dry ingredients to a large bowl and whisk to combine.

Make a well in the center of the dry ingredients and pour wet ingredients into well. Stir to combine.

Pour batter into greased 9 x 13 pan, cast iron skillet (10-12 inch), pie plate, muffin pans, or mini loaf pans.

Bake for about 15-20 minutes for smaller (muffin or mini loaf) pans, or 20-25 minutes for larger pans, or until a toothpick inserted into center comes out fairly clean (just a few crumbs is okay).

Cool briefly before cutting or serving. Cornbread will last 4-5 days at room temperature, or can be frozen for 2-3 months.
Notes
To freeze leftover cornbread or corn cakes, wrap individual pieces or cakes in plastic wrap and then place in large ziptop bag, removing as much air as possible.  Freeze for about 2-3 months.
To thaw, remove as many as desired and place on countertop, but don't unwrap until completely thawed.  
Adapted from Disney's recipe for Hoop Dee Doo Musical Revue's cornbread.