Here we are again for sweet Saturdays: 06/22/19. I can't believe it's Saturday yet again. Where does the time go? I hope ya'll had a great week!
My Week In Review:
I got to talk to Brandon for over an hour last Sunday! He called while I was at my mom and dad's getting ready for Father's Day dinner. So I put him on speaker and we all got to hear his voice. He sounded so good and said he really liked the whole thing and is going to love being in the military. He gets along with everyone and he's just generally happy about his career choice. I couldn't be more proud of him nor happier for him! Now I'm waiting for a call this weekend about what his diagnosis is after he saw the doctor last Monday, and how long they think it will be for rehab.
I started a new walking routine, hoping to build up to eventual jogging but I'm not holding my breath for that. Haha! I thought I would try the walking since coming back from Disney, because as you might imagine, a person walks about 20,000 steps a day while there. So why not keep it up, right? I used to walk all the time, back before I broke my leg last year while walking.
On my walk I noticed this veggie "garden" planted right outside someone's fence by the sidewalk. I've never seen such a thing, but I guess they did it because they probably don't get enough sunlight? I would think, though, that people (or animals) walking by might be inclined to take tomatoes or whatever. Or maybe that's there intent?
WHAT I POSTED THIS WEEK
Gluten Free Waffle Cones — I LOVE these waffle cones!! I think I've eaten more of them just by themselves than actually with ice cream, haha!! They have that waffle cone smell and taste, like when you walk into Cold Stone 🙂
Gluten Free Bakery Style Blueberry Muffins — Omg, ya'll! These muffins are so good! They're absolutely enormous, just like a good bakery muffin should be. In my husband's hardworking hands, they still look huge!!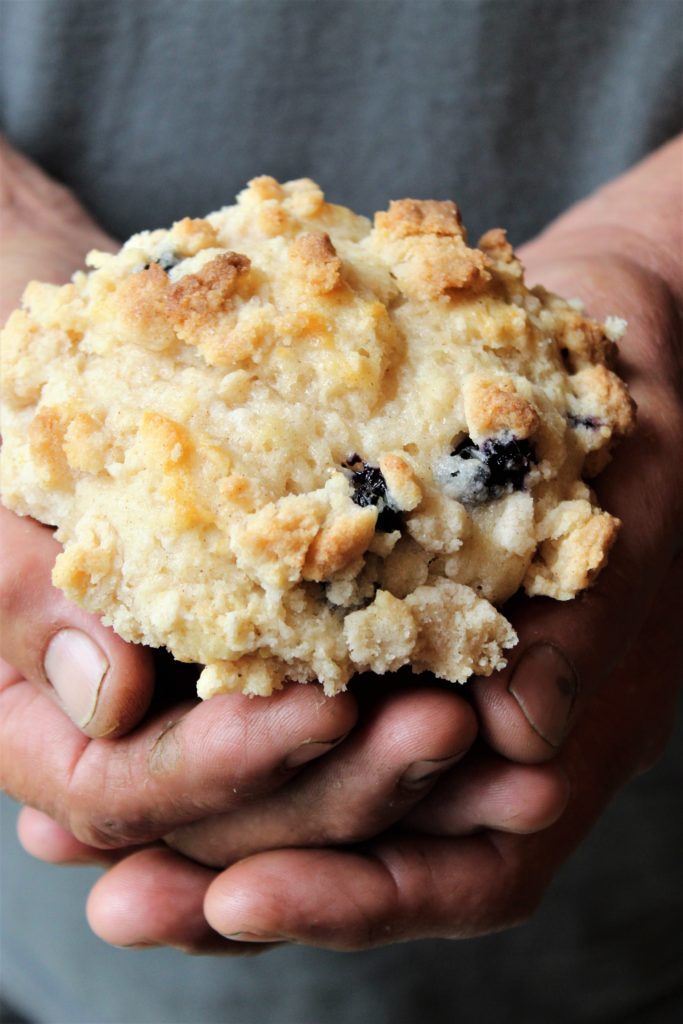 WHAT I'M LOVING THIS WEEK
I love traditional potato salad, but this French potato salad looks like it's right up my alley!
This barbeque ranch dip is perfect for fresh summer veggies!
I'll be baking my way through 18 of the Best Ways to Use Fresh Berries This Summer!! I love making anything with berries so I'm looking forward to trying all of these recipes.
TOP POSTS THIS WEEK
I hope ya'll have a wonderful first weekend of summer!! These two couldn't be more opposite and these pics really show just how opposite they are. Sampson is just chillin, while Gracie is relentless with the squeaker bone. How boring life would be without them 🐶🐶