Good sweet Saturday: 10/05/19!!! It's been a long, busy week and I'm so glad it's Saturday.
Whew, it's been a whirlwind of a week!! I'm almost trying to remember what I did all week because it seems like such a blur, haha!
THE WEEK IN REVIEW
My dad had surgery on Monday, which was very successful. It was pretty funny because he wasn't allowed to lift his head more than 30 degrees, so I was spoon feeding him applesauce. Haha!! My mom got a video and we all were just cracking up! At one point, I said "open wide" and my dad played along. When my mom and I left to let my dad sleep, the nurse outside the door said "ya'll are having way too much fun in there!"
Yesterday I went to my daughter's school to watch her in action as a kindergarten teacher. It was so great to see her doing what she loves because she was absolutely MADE to teach! She's so incredibly good with kids (the kid whisperer) and those kids just LOVE her! She gets down on their level and hugs each and every one as they come through the door every morning.
We made my instant pot applesauce yesterday as the perfect ending to their "apple week" and they gobbled it up!! When she asked them what they thought would happen to the apples when I put them in the instant pot, some of them said they'd blow up!! They are the cutest 😊!
Also yesterday, Bre and her boyfriend, Jimmy, bought a house!!! They closed yesterday so we all went over to see the house and are helping them move today. At 23 and 26, those two have their acts together and I'm just beyond proud of their accomplishments already 💓
If you follow me on instagram, you saw the burrito I made with my gluten free flour tortillas. They are SO easy to make and they DON'T TEAR!!!! To make fresh tortillas daily, just make the dough and wrap it in plastic wrap and refrigerate it. When ready to make a tortilla, just follow the directions and you're in fresh gf tortilla heaven in minutes!! I made my burrito with blackened chicken, cheese, rice, black beans, and salsa (similar to Chipotle). It was SO, SO good 🌯
WHAT I'M LOVING THIS WEEK
Red Velvet Cheesecake Pops?? Yes please!!!
Haagen Daaz used to have a carmelized pear ice cream flavor that I loved, but sadly they discontinued it. This Carmelized Pear Ice Cream sounds JUST like it, so I can't wait to make it!!
Do you love tahini as much as I do? I'll put this Tahini Sauce on just about everything!!
This Creamy Cauliflower Soup looks amazing!!!
WHAT I POSTED THIS WEEK
Gluten Free Copycat Olive Garden Alfredo Sauce — if you've been missing alfredo, this is the BEST you'll ever have!!! So thick and creamy and full of real Parmigianno Regianno.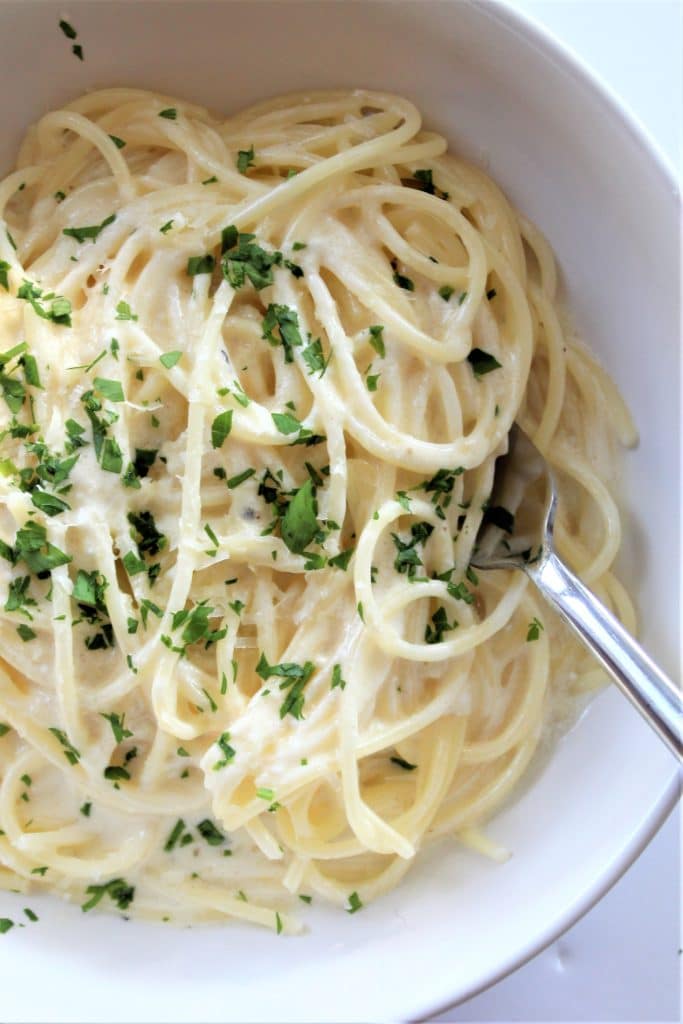 Gluten Free Cinnamon Raisin Biscuits (Hardee's Copycat) — remember these? How I miss the convenience of drive thru. But we can pull these out and warm 'em up and we won't have to hop in our car to have a sweet breakfast treat!!
TOP FIVE POSTS THIS WEEK
I'll leave you with the cutest crooked-front-teeth smile from Sampson and a photobombing Gracie! May your days be as sweet as these dogs are 🐶🐕