We are into the month of September on this Sweet Saturday: 09/07/19 and, although I hate to see summer go, I'm looking forward to all the fall foods and sharing them with you 🍲🍝☕🍏
My boy is home!!!!!!! I'm so happy he made it home before the hurricane hit (just hours before actually). And boy, it was a shocker to see how skinny he is! Maybe I need to go to boot camp, right? Haha! Like I'd last there 🙄
We pretty much sat around the first day (after getting Chick–fil-A of course!) and then yesterday we watched Avengers: Endgame while the hurricane hit. Luckily, we didn't have much damage and never lost power, so we're very thankful for that.
Since almost all businesses were closed, we decided to wait until tonight to do our "pizza party" at my mom and dad's. I'll be making my own pizza while everyone else orders pizza from Papa John's (Brandon's favorite).
This girl right here had her first week ever of teaching her own kindergarten class and I couldn't be more proud of her!! She truly has a way with kids (and animals) and we call her the kid or animal whisperer. Lol! Her students are going to love her, if they don't already, and they have no idea how lucky they are.
WHAT I POSTED THIS WEEK
Chopped Chicken Salad — the BEST chicken salad, AND the easiest! It has so much flavor and yet only has five ingredients.
Gluten Free Apple Bundt Cake — such a moist, dense and wonderful apple cake, perfect for fall!
Fire Roasted Artichokes with Garlic Aioli — let me tell you, these will be the best artichokes you've ever had, no lie!!! Smoky, vinegary, and garlicky. Heaven 😍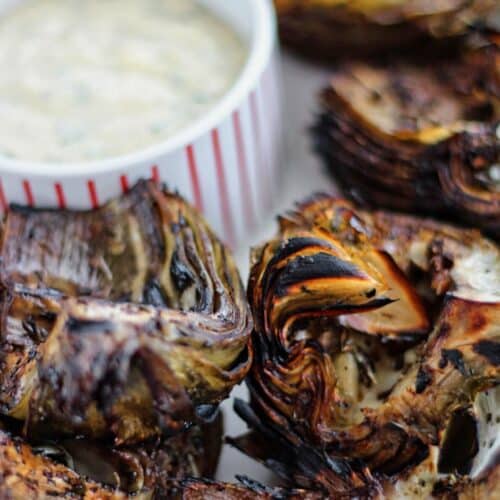 WHAT I'M LOVING THIS WEEK
Tangerine souffles?? Yes please!!!
Oh my goodness do these Homemade Snickers look soooooooo good!!!
These Dark Chocolate Orange Meltaways look incredible and super easy, too!
I'm addicted to fresh cherries, so these Cherry Crisps are right up my alley.
What a cool way to eat cucumbers! This Sesame Cucumber Spiralized
Salad is a must try!
TOP FIVE POSTS THIS WEEK
A boy and his dog!! Brandon is Gracie's favorite person in the world.
What are your plans for this weekend?? Other than our pizza party, we don't have anything else going on 🍕🍕🍕. Have a wonderful weekend ya'll!!